You may have heard or even said yourself – the effective digital transformation is completely based on digital adoption. But if you look closely, many of the enterprises who endeavored on transformation hit a roadblock.
Of course, the first and foremost solution is adopting technology, but they overlooked the customer expectation. This misstep can spell doom for transformation, but Margaret is the business leader who managed to try again with success.
Margaret has started her digital service by building a CMS-powered website, but she didn't consider the competition.
Margaret knows she wants to adopt digital technology for her business transformation. She even sensed CMS is the best investment she can make for the digital presence. But she didn't have a clear idea of her business goals and which way to head.
Many business leaders are like Margaret. Too often, they embark on the digital journey without understanding their actual target. As the customers today, are buying experience, not the products. Delivering a seamless, optimized and exceptional customer experience should be the front line of any business.
Can your customers easily find your service when needs it no matter what channel, device, time zone, etc.? –it is a major factor at play, which makes greater customer experience.
Customization Paves Roads towards Transformation
Let us ask Margaret, what went wrong with her initial digital transformation effort and best practices she realized to proceed with the digitization in the right direction.
Margaret:
When it comes to designing our eCommerce portal, like everyone, we too tempted to buy a monolithic platform, but it was overkill as most of the features went unused.
A few months after the launch of the new website, we were obtaining and activating customers. Still, one piece was missing….
We were doing what other companies are doing, nothing more specific to our customers. We were just another face in the crowd.
We misjudged our destination as an online website and opted for the off-the-shelf commercial CMS. But the actual transformation is a personalized strategy rooted towards improving the way firm serves its customers and unique to how that firm function.
Bringing CMS in the Digital Era
So, how to begin our digital transformation journey?
Of course, the foremost answer to the question is Custom CMS Development.
We directed our discussion around:
Whether, it is worth to add complexity to the CMS?
Are customers asking for what we're thinking to build?
Will the customization value or devalue our brand?
Finally, we got into the game of customization and witnessed how a digitally transformed enterprise will look like:
An enterprise-wide culture of customer-centric service, automated process, analytics, and seamless information flow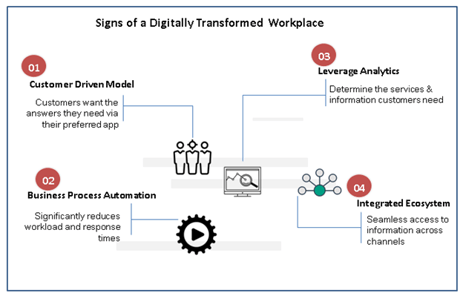 After months of stripping down, tweaking, optimizing, and building up, we had a flexible architecture, where the customers' preferred device could provide the answer they want regardless of which repository the details come from.
Here are the winning ideas we set out to create:
1. Understanding Omnichannel Experience
No matter how we call it (API integration, headless API, etc), delivering a seamless content delivery to any channel or device via APIs gave us a big breakthrough to bring a rapid innovation in the marketplace.
The omnichannel approach inflicts the power in the customer hands where the channels they navigate through are focused and interconnected.
By trying it, we got a ton of opportunity to
Offer complex in-house integration with various systems
Support multiple sites & connect them through the one-single hub
Ensure an interactive, contextual customer experience
To our prospects and customer, this integrated and collaborative environment gave a 360-degree view of related information and processes.
2. Automation of Critical Process
Our "wow moment" came in when we added AI technologies into our CMS. Our uniqueness came from the intelligent platform that empowered the audience to quickly find the data, sorted by topic and presented a meaningful story on their mobile devices
Natural Language Processing, Machine learning, and other AI-based technologies aren't just enabling us to automate the traditional manual processes, but also recommend information to the audience in an optimized and personalized manner.
3. Leverage Analytics in CMS
Predictive analytics is something that a business shouldn't ignore. Well, I'd love to say, this action helped us to identify the customers who are most likely to convert and inflate the value of lead generation strategy. We also found that it could enhance the quality of the website. It supports to validate the content, which can perform better and figure out which nurturing activity will work best for our needs.
With customized CMS, we obtained a solution that works for our individual business needs and optimized our website to reach the audience digitally.
Key Takeaways
Margaret has realized and built her own customized CMS on her preferred technology stack to go from where she was to where she has set her sights & beyond.
Overall, custom CMS will strengthen the online presence, customize functionality, optimize the service for the audience, and maintains flexibility for short-term & long-term future.
Most importantly, a digital transformation just for the sake of transformation won't be effective. You must consider all outside factors as well as tightly coupled to digital strategy. When done correctly, digital transformation can lead to amazing and future proof results.