Cloud computing services are flourishing across businesses today, acting as the IT infrastructure leading new digital businesses. Cloud service isn't simply about resources or services, but about offering full-fledged IT systems. It covers development platforms for storage, servers and virtual desktops.
Since Cloud technology is proving its worth across all kind of industries, several CSPs (Cloud Service Providers) are sprouting up day by day. Amazon Web Services (AWS), Microsoft Azure, Google Cloud Platform, IBM cloud services are the big names of CSPs in the world.
Of these, Azure cloud service market share grew the most and its earnings report indicated that Azure revenues increased 76% year over year.
Having one of the largest cloud service providers, it is imperative to explore more about the Azure cloud services. Let us initiate our discussion by analyzing the market share of the Azure cloud and other cloud service providers.
Azure Cloud Service Market Share
According to the Synergy Research Group analysis report, AWS, Azure cloud service, IBM, Google, and Alibaba are the top five performers and encompassed nearly 75% of the global market in the 3rd quarter of 2018. In terms of market growth, these cloud service providers grew faster in the market. Especially, according to Synergy's accounting, the growth of Azure cloud service amounted to a 2.5 % - nearly a 15% market share gain in the last 4 quarters. It remains a runner-up to the market leader Amazon Web Service, which comprised 34% gain in market share.
Similarly, the Right scale 2018 state of the cloud report states that an enterprise Adoption of Azure service has enhanced from 43% to 58% with a CAGR of 35%, while the adoption of AWS enhanced from 59% to 68%. The graph below compares enterprise cloud adoption between 2017 and 2018: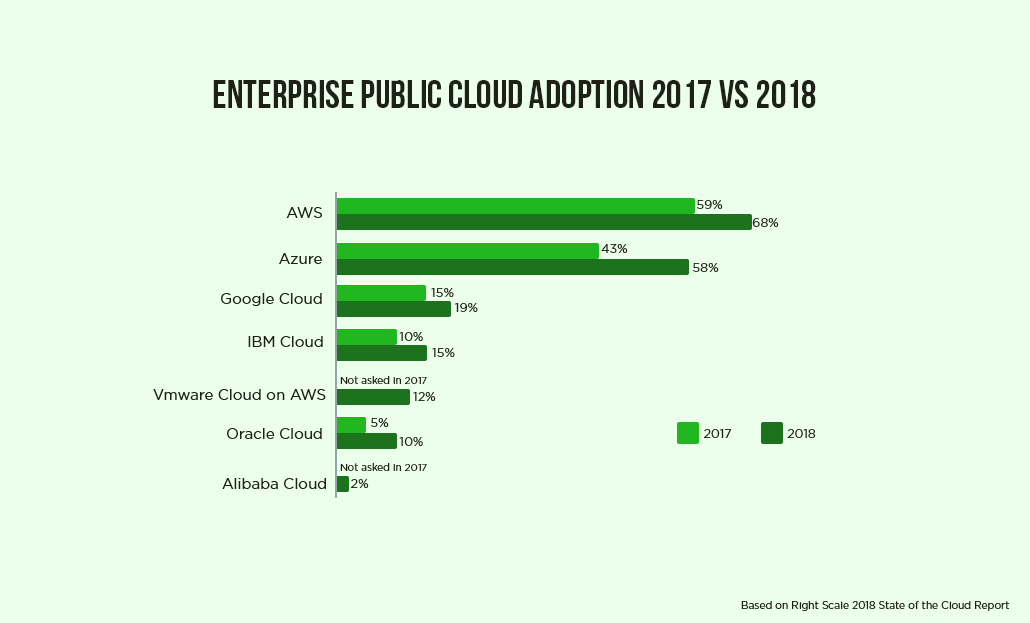 In addition, the Statista revealed the global current & planned usage of these cloud service providers for executing apps. As of 2018, 64% of enterprises are running apps on AWS, 45% of enterprises are running applications on Azure cloud service and 22% are experimenting with this platform.
Second only to the Amazon Web Service among cloud providers, Azure service has been an ever-growing set of cloud computing services available to developers, businesses, government agencies, & anyone who intends to develop an application or run an enterprise without handling hardware.
What is Microsoft Azure Cloud Service?
Forbes expresses that Azure cloud service is set to increase the IT market size by $10 trillion soon! But what is Microsoft Azure service?
Azure is a cloud computing platform that includes cloud-based alternatives for your physical hardware & services. IT professionals and developers use Azure services to build, deploy as well as manage apps through their networks of data centers. Azure virtual machines execute on all of Microsoft's server products and a broad range of third-party products like Linux distributions.
Azure has been the fastest extending segment for Microsoft and undeniably will overtake Windows within 2 to 3 years in terms of revenue. The Azure services cover far more ground than merely transforming on-premise servers to the cloud environment. With Azure, you can run a WordPress based website or develop a Node JS website without having to patch the underlying Linux or Windows Servers. It is one of the most significant choices for enterprises, which prefer both IaaS (Infrastructure as a Service) and PaaS (Platform as a Service)
Azure Cloud services in IaaS

– It offers virtualization using its mature Hyper-V technologies. Azure services entail prominent benefits including increased productivity and reduced IT maintenance cost. Developers of applications and web-based services can use Azure services and storage as building blocks without worrying about the reliability and security of the underlying infrastructure.

Azure Cloud services in PaaS

– Azure server empowers your IT team to generate custom solutions as well as accomplish their design, development & deployment. You no need to purchase & manage any server hardware, security, storage, software or other components used earlier in on-premise to deliver the desired solutions.
Azure services include analytics, storage, web, database and more. You can easily integrate Azure with your existing IT system using the largest network of protected private connections, encryption features, and hybrid databases.
Azure ensures pay-as-you-go services as such you can buy exactly what you need right now and later you can scale up or down based on your demand.
Benefits of Azure Cloud Services
Azure services ensure an ideal ecosystem to obtain the highest level of excellence through leveraging outstanding compliance, availability and data residency. It is one of the best cloud computing platforms for enterprises seeking stable dependability and cost-efficiency. Having explored what is Azure; let us move on to the benefits of Azure that makes it more popular over other cloud service providers:
Faster Software development

– The integrated tools, services and templates in Azure cloud services make it simple to develop and manage web, mobile, enterprise, and IoT (Internet of Things) applications. Azure services support the entire development & delivery processes, including designing, source code control, deployment, and testing. In addition, you can move faster in the Microsoft environment you are familiar with.



Enhanced Security

- Microsoft Azure cloud service has been recognized internationally for its security, transparency, privacy and compliance adherence. Microsoft cloud provides a centralized cloud view to ensure reliable detection & mitigation of security threats. Azure includes the standard compliance coverage of over 50 offerings, and it is the first cloud computing platform that embraces ISO 27018 – the new international standard for Cloud privacy.



Scalability

- Azure's support in scalability goes further than simply increasing your bandwidth over demand and reacting to your website traffic. It ensures scalability principle in all the services you can use in cloud computing. Even if you are planning to develop, test and deploy a new web app; adopt machine learning functionality & cognitive services; employ data processing capabilities and control devices with Azure's IoT capabilities – you merely pay for what you use.



Data Analysis and Intelligence

- Azure enables SQL & No SQL services and implicit support to analyze data to uncover key insights, which enhance business processes as well as decision-making. Azure Cloud service offers Machine Learning, Bots, Blockchain as a service, & Cognitive APIs capabilities. With a huge library of machine learning algorithms, Azure services predict complex behaviors. On top of that, the array of cognitive services tangibly transforms your business. You can go through Azure and Cloud-based intelligence solutions.



Unparalleled Hybrid Capabilities

- The hybrid capability of Azure makes it unique over the other cloud computing services. It enables easy mobility and a consistent platform between Public Cloud and On-premise. Azure cloud service includes a wide range of hybrid connections, including caches, virtual private networks, ExpressRoute connections, and content delivery networks (CDN) to enhance performance and usability.


You can explore further on the reasons why Azure Cloud Service is an excellent choice for start-ups
Being evidence of the growth of the Microsoft Azure services, most enterprises across the globe have realized great success with this platform. They are redefining their business with secure & scalable cloud-enabled enterprise applications. Using Azure cloud services, businesses can rapidly develop, deploy and handle simple to complex apps with ease. Microsoft Azure supports a broad range of frameworks, programming languages, devices, and databases, allowing businesses to leverage technologies and tools they trust.
To know more about choosing Right Cloud service provider;- Download the Ultimate Guide for Choosing Right Cloud Provider.