Customer service has always being a top emphasis for any business, and the benefits of AI for customer service are overhyped. Businesses are increasingly adopting AI to enhance brand reputation and customer loyalty. In such a way, Salesforce has empowered customer agents with Einstein, artificial intelligence (AI) for CRM. Einstein enables the enterprises to transform into the intelligent customer service with its new sophisticated features.
How does AI support in customer service? Also, what does Einstein change the way of customer service in the business?
Importance of AI for Customer Service Platform
Imagine a shop where a customer enters to buy shoes. The shopkeeper should have a proper understanding of the customer choices to match their preference and requirement like size, type and model with the shoes to offer the best service. He needs to collect all the data to understand the end-user needs and give a recommendation. This scenario applies to all sorts of industries including brick & mortar and online businesses.
To give recommendations, you need a massive amount of data, data scientists, engineers, preparation of that data and huge technology infrastructure. It takes a specialized team of data scientists to access& process data, build correct models, and then provide predictions back to an end-user. Artificial intelligence (AI) is a technology with the ability to store large volumes of data in the cloud. We can also say AI is machine learning, deep learning, natural language processing, and analytics. The AI learns from our interactions and helps to identify your customer's expectations.
AI can have all customers' data and perceives everything about their choice. This will aid the business to grow smarter. AI is completely based on three things as shown in the below image: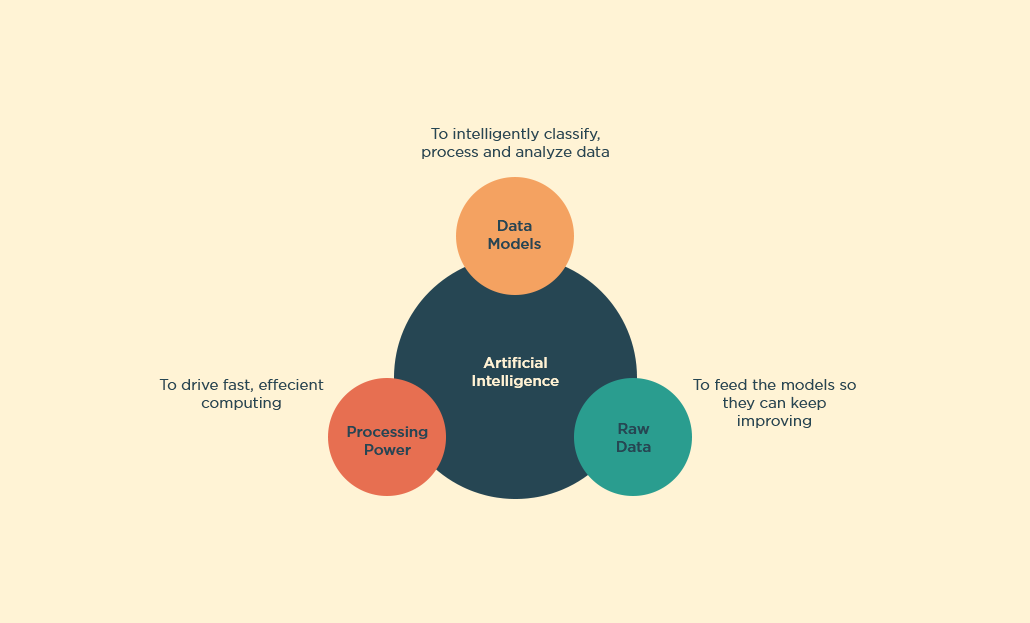 How does Einstein Upgrades CRM?
AI is an important factor at the business level, which help to improve companies sell, service and marketing. Salesforce AI makes it possible for everyone to work smarter to enhance customer experience. Now everyone in any organization can easily use AI to analyze their data, predict and plan next steps, and automate their tasks and decisions.
You might wonder why we need Salesforce Einstein when you are enjoying out of the box service with the Salesforce CRM.
Just imagine, suppose a bank has an application built on Salesforce CRM, which is upgraded with Einstein. The AI would know who the customers are, their historical banking activity, and the best way to answer their questions based on past inquiries. As such, the customers can get their question answered faster, which makes them happy and happy customers help to increase revenue for the bank. Significantly, the customer service managers no longer have to go through long lists of incoming service calls to prioritize their time.
Salesforce Einstein is like keeping dedicated data scientist to bring AI in your customer relationship. It learns from your data sourced from email, CRM data, social, & IoT and offers recommendation and prediction in the context of what you are trying to achieve. AI has benefits for all parts of the business besides customer service. Sales representatives no longer have to enter sales data manually. Marketers no need to use manual testing to select the best social media images for their next campaign.
Benefits of Leveraging Salesforce Einstein (AI)
Every Salesforce cloud is getting smarter. To adopt Einstein, you don't have to enable Salesforce Einstein. You don't have to do anything. It's already embedded right there. Salesforce Einstein is a self-intelligent tool to identify your company's most important business insights. It predicts what will happen next and recommends the best action to take.
Let us explore how Salesforce Einstein (AI) helps your users:
Sales Cloud Einstein:
Sales representative always needs to focus on the right leads and close it as soon as possible. Einstein provides a list of features like Activity Capture, Lead Scoring, and Insights on Opportunity, Accounts, & Contacts to achieve the same.
Service Cloud Einstein:
Service Cloud Einstein enables the contact centers of the Salesforce to automatically crack deep customer insights using AI and ML in real-time. This feature helps to offer a transformation in the customer service experience.
Marketing Cloud Einstein:
This will help the marketing team to generate campaigns by predicting and recommending content as per the customer's need. Salesforce Einstein empowers you to predict the optimal audience channel, timing, as well as content for any marketing message.
Community Cloud Einstein:
Recommend the right content for customers' question. It adds to the power of artificial intelligence to develop customized feeds on chatter, recommend articles, experts & topics and show unanswered questions.
Analytics Cloud Einstein:
Automates and prioritizes the next insight you need to know. As such, you can now continue your analytics journey with modern analytics features built right into your Salesforce CRM. This new Einstein feature makes the CRM analyze billions of data to obtain predictive insights & prescriptive recommendations.
Commerce Cloud Einstein:
Einstein makes AI-powered commerce much easier than you imagine. Recommending the right products and offers at the right time, to increase order value with cutting-edge features. Mobile site reference, architecture blueprints, order management, Google Android Pay integration, and predictive Sort are few example features.
Salesforce Platform Einstein:
The capability of Einstein is not limited to making your Salesforce CRM apps smarter, but also leads the way to make your custom application. It also enables developers to establish their custom deep learning models from image data and unstructured text like social media posts, customer emails and meeting notes.
Salesforce IoT Einstein:
Salesforce has combined Einstein and IoT in one platform. Einstein attained access to IoT signals, which come from the customer to build artificial intelligence predictive models. This model can automate and predict events, and enable end-users to act on their most important insights.
Latest news on Salesforce Einstein
- Salesforce Einstein Voice
At Dreamforce 2019 – Salesforce announced its extended voice capabilities with Einstein Voice.
Salesforce Einstein Voice Assistant Pilot:
Create, read, update, and display information from Salesforce. Use any of the Einstein Dashboards on the Fly.
Einstein Voice Skills Pilot:
Create your own voice-powered assistant for every role
Einstein Call coaching Pilot:
Monitor all sales calls and get insights into them from a single terminal. Develop strategies based on conversation trends.
- Commerce Cloud Einstein AI Dashboard
Salesforce Einstein AI Dashboard provides you with real-time metrics to take actions on the go. This helps further optimize the AI powered recommendations, measure success and grow revenue.

Artificial Intelligence has already influenced your life and undeniably, it will grow further in the upcoming years. In particular, AI-powered Salesforce makes your daily experience smarter with predictive intelligence. As Salesforce helps in predicting the outcome, it helps you in decision making, automating most of the repetitive activities and recommending next steps. As such, you can spend your time in creating a strong relationship with your customer instead of making entries in the system.