In the current technologically progressive era, the global business market is highly competing. No longer is a product or price the reason why a client does business with you. Now, it is all about the customer relationship and experience. To be competitive, a company needs to go beyond the customer expectations and deliver an admirable experience.
But, how? This is where a CRM comes into the picture. Today, CRM becomes more important to businesses since it supports to retain existing customers and gain new ones. Without a proper framework for managing customer relationship, service delivery lacks compatibility and the priceless relationship may suffer. In this blog, we will share what does CRM stand for and how it supports different business functions.
What Is A CRM?
CRM stands for Customer Relationship Management. It refers to the system or software that manages the company's relationship with the prospective clients and customers. Managing customer relationship is a primary function for any organization.
The CRM system includes various techniques and strategies to maintain an effective relationship with the existing and potential customers. It is inevitable for organizations make sure that their customers are satisfied with their services and products for higher customer retention.
In simpler words, CRM refers to the study of expectations and needs of the customers and offering them the right service. At its core, CRM system is simple but can be implemented in an immense array of methods like social media, websites, mail, chat, telephone calls and even several marketing materials.
Significance of Customer Relationship Management
Enhanced Informational Organization
Understanding more about the customers can assist the organization to service them with the sense of positive experience, which really pays off. Each and every action and interaction of the customer with the organization should be determined, documented as well as recorded. To accomplish this, companies need to think beyond the sticky-notes and disordered filing cabinets and begin using advanced technology that accurately categorizes and quantifies data for future reference. The customer relationship management system makes this possible by allowing the team to store an abundant list of the customer as well as any vital information regarding them. This will effect in less wasted time for employees and customers.
Boosted Analytical Data and Reporting
With a CRM system, the miscalculated data can no longer be the reason behind the failure. Since the system keeps information in one place that leads to enhancing evaluation of the data as a whole. As it can easily integrate with different plug-ins and tools, companies can make automatic reports and save hours of employee to meet the core business needs. The customizable dashboard feature that easily locates required information, like sales goals, performance reports and customer information unlock potential opportunities. The better reporting data can support to make effective and resourceful decisions, which in turn gather the rewards in client loyalty.
Improved Brand Monitoring and Social Listening
With social CRM, it is possible to store information about what experts in your domain are sharing on social media, what they're saying about your competitors and what they're influential in. It helps in evaluating an individual's response to any of your offering like service, product or website by observing their behavior in the way of clicking on links, downloads, comments, etc. The social CRM also measures how many followers are speaking about your brand or company.
Which Division Should Implement The CRM Services?
The short answer to the question is: everybody. In general, the solution should apply to all business regardless of its type, size, and industry. Any department in a company, like marketing, sales/business development, HR or customer service, will benefit from running the CRM systems. Maintaining a centralized point where the entire company can easily find contact information, multiple sales pipeline status, customer service inquiries, sales insights and information from the marketing as well as email campaigns can considerably boost the productivity of the company.
When it comes to CRM system, most people think of it as a contact management and customer database. However, a CRM system is a key source for handling and raising process, determining customer requirements and marketing associated content to them while being capable to attain a 360-degree view of every customer. Small – Midsized Enterprises are increasingly using the CRM for the Lead Nurturing (65%), Customer Contact Management (94%), Sales Forecasting (59%) and Email Marketing (59%), according to Scribe software.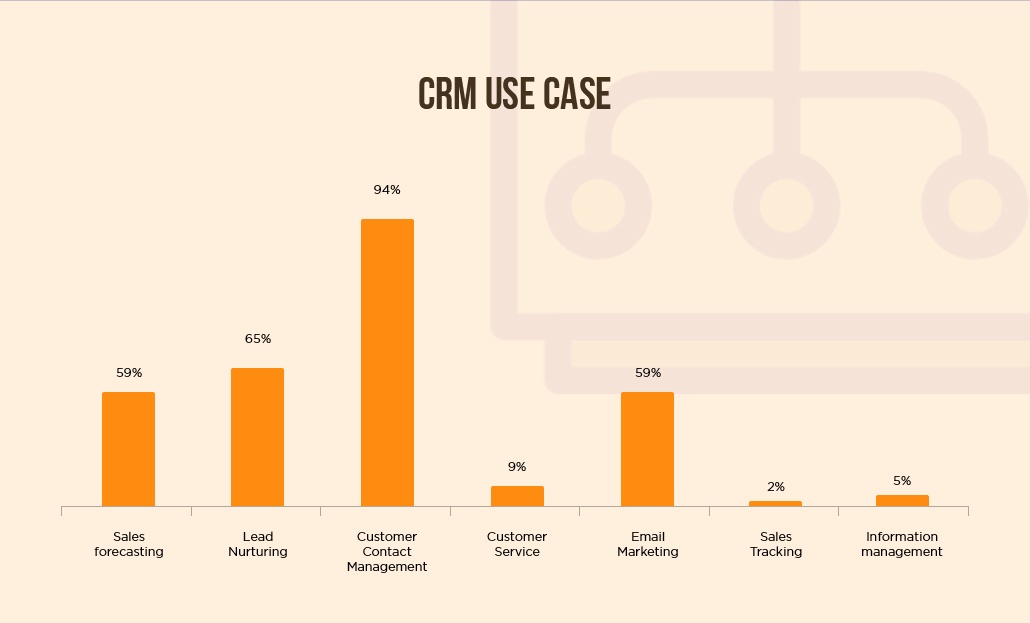 In addition, a survey of Tech News World found that the features of CRM technology can benefit in various different functions. In fact, it is hard to find any other business-oriented technology that is as multifaceted as CRM that includes as many benefits shown below: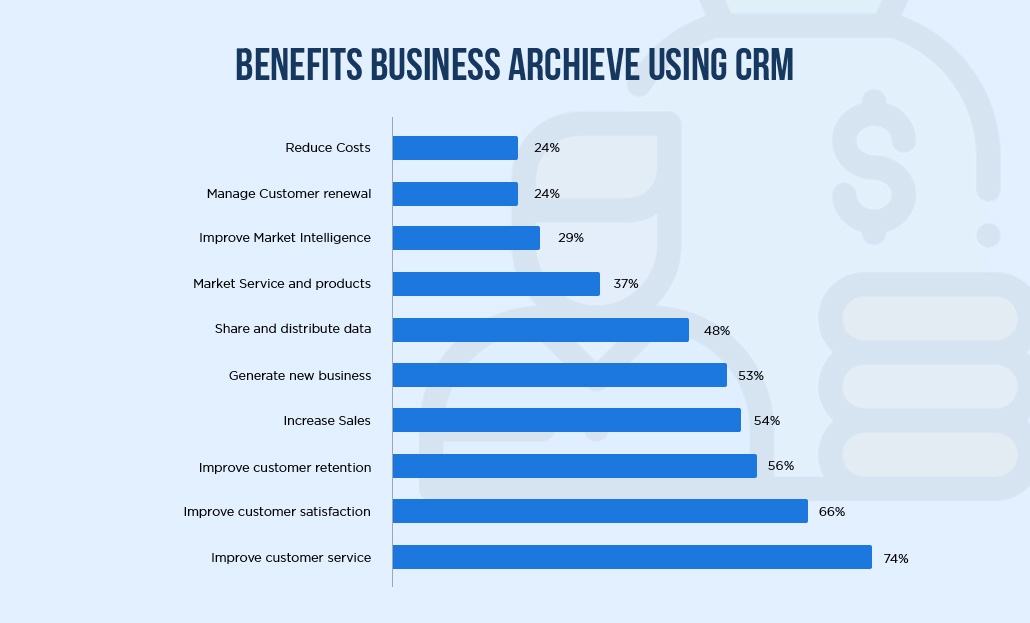 How CRM Benefits in Different Business Functions?
So, what does CRM stand for in Sales and Marketing? With this software, the sales team can realize their sales pipeline better and understand their clients. CRM prevents the sales representative from spending more time in inputting data and provides an opportunity to concentrate more on selling. Furthermore, sales managers can track the progress of their team members in achieving their targets. For instance, they can see how well the sales teams, campaigns, and products are performing.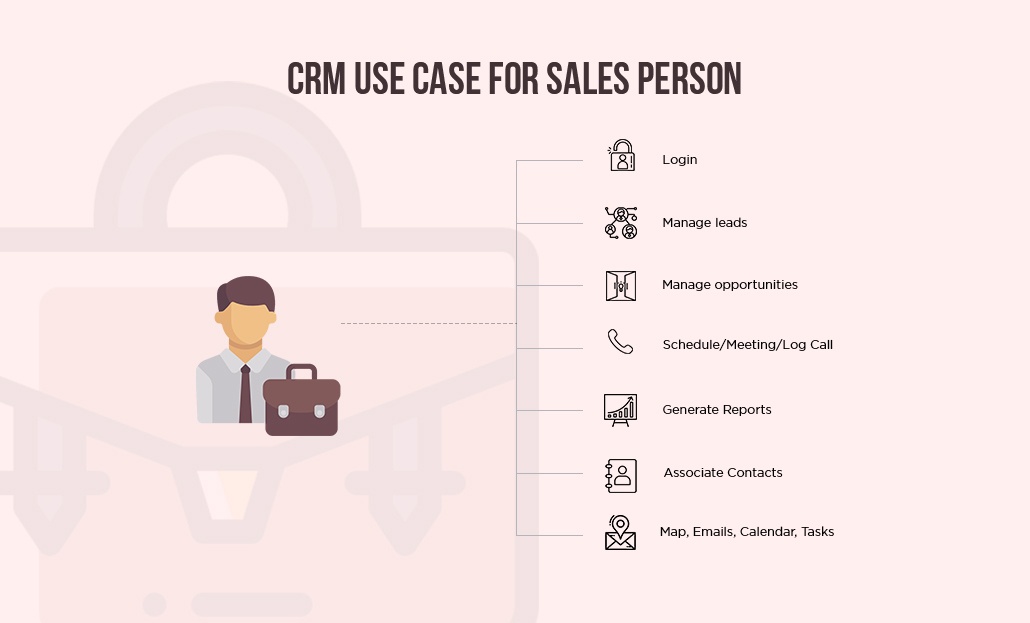 The following use case gives an idea about CRM sales:
Similarly, marketing teams employ CRM to make their forecasting tasks simpler and accurate. The team can receive clear visibility on each lead or opportunity and map out the entire customer journey ranging from enquiry to sale. Hence, it gives them an enhanced understanding of the prospective work coming in.
Customer Service team can collect details from customer's social media activities – their likes, dislikes and their interest in certain businesses and brands. Missing of customer communication in the flood of information might lead an unsatisfactory response to the valued customer. However, with CRM services, the team can track conversations across various channels. For example, if a customer raises an issue in a channel like Facebook or Twitter, it is possible to switch it to the common interaction platform like phone, email or live chat in order to fix it in private. Information like purchase histories and previous interactions help customer support representatives solve complaints as well as cross-sell services and products.
Similarly, Procurement, Supply-chain, and Partner management teams can handle relationships better. CRM allows them to track their meeting with partners, and suppliers, add useful notes, record requests made and schedule follow-ups. Reporting facilitates businesses to track the competency of suppliers and consequently manage their entire supply-chain effectively.
The HR team applies Customer Relationship Management solution to stimulate the recruitment process as well as track workforce performance. Adding to this, the software assists the HR function by accelerating the on boarding processes, analyzing resourcing needs, automating the tasks of managing candidates and helping the chase of employee retention targets.
CRM Tools in the Market
CRM product can be anything from basic software for maintaining contacts to a highly comprehensive tool with billing and pipeline features. An abundant number of CRM tools are available on the market today. Some of them are listed below:
Salesforce CRM
Fresh sales
Zoho CRM
Hubspot CRM
Pipedrive
Outreach
LessAnnoying CRM
Nimble
Insightly
Nutshell CRM
Infusionsoft
Microsoft Dynamics CRM
Oracle CRM
SAP CRM
Overall, CRM software will support an organization to build customer relationships by forming mutually satisfying objects between customers and organization, creating and handling customer rapport as well as delivering positive feelings for them. Therefore, organizations, which implement CRM, will find innumerable customers ready to welcome them.