What is Zoho CRM Plus?
Zoho CRM Plus is a complete customer engagement suit with 11 applications. With a 360-degree customer view, it offers seamless experiences to the clients. Zoho CRM Plus enables you to manage marketing, sales, project management, and team collaboration on a single platform.
Zoho CRM Plus helps you to:
Get engaged with your customers through various channels like email, call, social media, live chat, survey, etc.

Coordinate with your team members with a real-time messaging tool

It turns the data into significant insights

Zoho CRM Plus automates the complex tasks and thereby increase team productivity

Access the app on mobile phones
This blog discusses the Zoho CRM Plus features with an in-depth analysis and deep understanding.This CRM app is featured with two primary web applications and they are:
SalesIQ

Zoho Desk
SalesIQ: Turn visitors into prospects
Zoho CRM Plus offers Sales IQ, which tracks and engages visitors on the websites in the following ways:
Geolocate your visitors

Track visitor's footprints

Personalized chat

Automatic chat translation

Identify fresh vs returning visitors

Start chats depending on visitor activities

Interactive email campaigns

Screen sharing
Besides managing the website visitors, SalesIQ also helps to monitor the website traffic in real-time. It offers customized chatbox as per the designs of the website. Further, it makes a list of website visitors as per priorities to get indulged with the visitors in a better way. It also focuses on the specific group of visitors who really need attention. The visitor's insight drives insightful engagement.
The SalesIQ by Zoho CRM Plus supports you to concentrate on the website visitors with personalized engagement. With such efforts, it can decrease the sales cycle and develop more sales conversions. And SalesIQ also optimizes the email campaigns and create abandon sales.
If you integrate SalesIQ with Google Analytics, it shows promotions to the visitors during waiting times. The pre-built reports, which are getting delivered daily and monthly tells about what is exactly happening inside your inbox. In addition, the instant chatbox monitoring helps you to train your sales professionals.
Zoho SalesIQ also works very well with the leading CMS and e-commerce companies like Shopify, Joomla, Wordpress, Magento,
Bigcommerce, etc. It is designed to support cell phones and tablets too.
Zoho Desk
Zoho Desk helps you to put the customers first with an efficient ticket and brand management system. Let's have a look at the key features of Zoho Desk:
Zoho Desk helps to manage a multi-channel ticketing system. Such software collects all the support ticket from various sources in one tab. In addition, this application allocates separate space for every brand by making customer support easy. You can customize the look of your help center and create a base of knowledge with articles.
Sentiment Analysis by Zia
The AI chatbot of Zoho CRM Plus, Zia can do a perfect sentiment analysis behind every ticket. This chatbot can identify the emotions behind the ticket and add the context. It helps in prioritizing the tickets as per the urgency of the reasons. In addition, Zia can tag the root cause of the negative sentiment which further helps the agents to solve the tickets as soon as possible. This chatbot can also type response for the same on the basis of the knowledge base.
Zoho Desk is an integral part of the Zoho CRM Plus and uses the built-in knowledge for customer self-service. It creates a community where intelligent discussion happens, and customers can get the answers to their queries by digging into the same. In addition, the multi-brand helps centers serve as a perfect source of the self-service to the customers. Zoho offers ASAP service to give links to the customers on recent topics and articles.
With Zoho Desk, you can automate the basic functions to run your enterprise like well-oiled machine. The automation technology helps you to assign tickets and set notification rules. It also manages the service level and escalates issues automatically. Any workflow and layout are also not beyond the boundary of Zoho's automation.
You can integrate Zoho Desk with Bugtracker, Creator, SalesIQ, Forms, Analytics, Assist, Cliq, Books, and Invoice. In addition, you can integrate other third-party applications.
The Work Mode of Zoho Desk manages the opened tickets in a systematic manner and thereby increases the team's productivity. In addition, you can track the time spent on every ticket.
Zoho Desk is enriched with various reports as well as dashboards to visualize the team's performance. HQ, the live dashboard presents the finest details to the management. And, Radar the mobile application allows the users to have an eye on the insights as well as impacts.
Zoho Desk allows you to customize everything,including layouts, ticket status, templates, domain mapping, etc.
Zoho Desk protects customers' data with access and data sharing rights. It is featured with GDPR, which is an EU wide privacy policy.
Omnichannel Engagement
Today's marketplace is crowded with smart customers who use various channels to express their opinions. Zoho CRM plus connects all channels like email, live chat, surveys, social media, and phone on one single platform:
Email: The email management in Zoho CRM Plus gives you a completely personalized experience with the whole package of micromanagement. It empowers the users to personalize the email messages as well as campaigns with relevant data from the leads. With the following micromanagement, you can target the content as well as the timing of emails to nurture leads in Zoho CRM Plus.
Social Media
Zoho CRM Plus enables you to plan, implement, and manage your social media campaigns. It has a wide range of content publishing features to control your content management.
Schedule posts crossing various social channels

Create a publishing queue

Control your content pipeline with publishing calendar

Bulk schedule your posts

Users can pause their scheduled posts during any crisis

Share articles quickly with a browser extension

Make short URL with a built-in URL shortener
Real-Time Communication
This CRM application helps you to create real-time communication with SalesSignal. This specific tool sends real-time notifications when the prospects open emails and mention the company name in social media. It helps to seize the opportunities and communicate with the customer at a fast pace. You can also get real-time notification from the integrated third-party applications.
Make calls that count: Zoho CRM Plus is featured with PBX, and telephony system that helps you to call, receive, record, and transfer calls with ease. You can personalize your sales calls, as well as, interaction with customers.
Call quickly with single-click dialing

Give prompt reminders for upcoming calls

Zoho CRM Plus helps you to call your customers with their names

The automatic call logging and analytics gives you a correct scenario of the current call management situations in your organization
Make nimble decisions with surveys: You can create personalized surveys with Zoho CRM plus. Send the surveys via web links, custom domain link, private group access, email campaigns, social media, QR codes, etc. to the right customers at the right time. It gives a wide number of options to collect responses from customers. In addition, you can invite reviewers to analyze and share the surveys to get the correct outputs. We can create the following types of surveys
Question types

Drag-and-drop questions

Scoring

Skip logic

200+ templates

Multi-lingual surveys

Custom variables
In addition, you can analyze the surveys with the following reports:
Real-time Reports

Filtered responses

Custom reports

Trend reports

Cross-tab reports

Shared reports

Scheduled reports

Multiple export formats
Inter-team Communication
Zoho CRM Plus overpasses the gap between your marketing, sales and support teams. It ensures real-time communication as well as collaboration among the teams. This CRM application enhances team collaboration in the following ways:
It drives teams to a common goal with clear-cut project management

The Zoho CRM plus application allows sharing & discussing ideas to work better together

Stay in the loop with the latest updates on updates and projects

Do real-time communication across multiple teams
Insights and Intelligence
Zoho CRM Plus offers the best insight and intelligence to give positive customer experience.
Zia, the Zoho sales assistant:This conversational sales assistant is empowered with artificial intelligence. This chatbot communicates with the visitors with text and voice. With built-in intelligence, it predicts leads, sales trends, and deals. Further, it supervises the automation flow and gives suggestions to enhance the same. Zia also can recognize the sentiments of the customers from their emails. We can divide the functions of Zia with the following diagram:
Zoho Analytics: Zoho analytics turn raw data into intelligent insights with thoughtful integration and built-in skills. It is featured with the following essential connectors: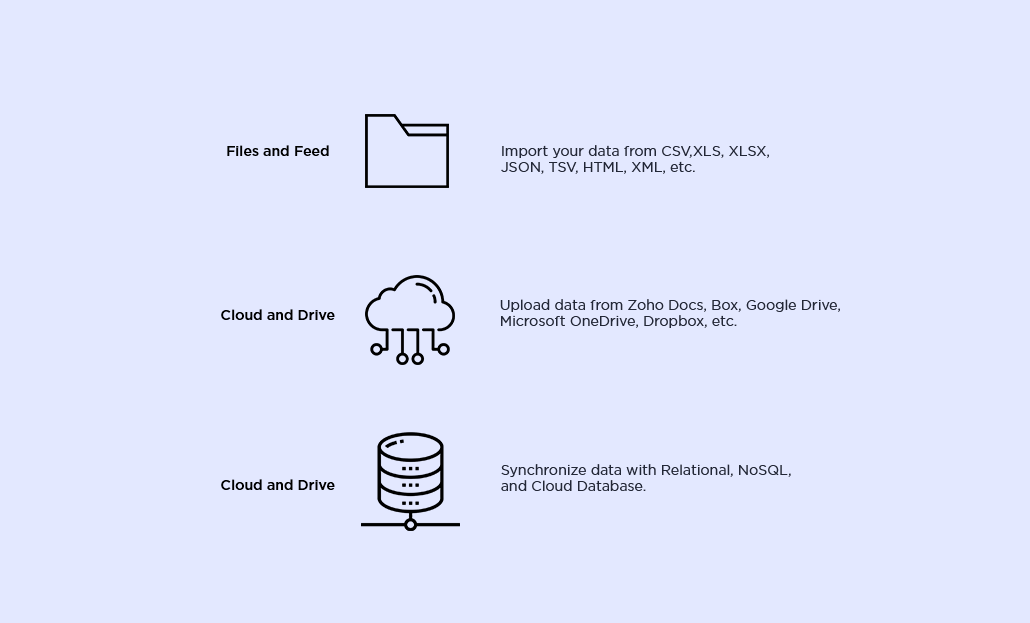 In addition, you can synchronize Zoho CRM Plus with the following applications.
Sales Analytics: Salesforce CRM, Microsoft Dynamic CRM, Hubspot CRM, Pipedrive CRM, etc.

Marketing Analytics: Zoho Campaigns, MailChimp, Google Analytics, Google AdWords, Bing Ads, Zoho Survey, Facebook, Twitter, SurveyMoneky etc.

Financial Analytics: Zoho Books, QuickBooks, Xero, Stripe, etc.

Project Management Analytics: Zoho Project, Teamwork project, etc.

Helpdesk Analytics: Zoho Desk, Zendesk, Teamwork Desk, ManageEngineServiceDesk Plus, etc.

HR Analytics: Zoho Recruit & Zoho People.
Increase your Productivity
Zoho CRM Plus supports you to manage all your business process with an automated and efficient workflow. With Blueprint, you can seize every stage of the lead following, deal closing, discount process, and order management. Blueprint assures a balanced work distribution among your employees.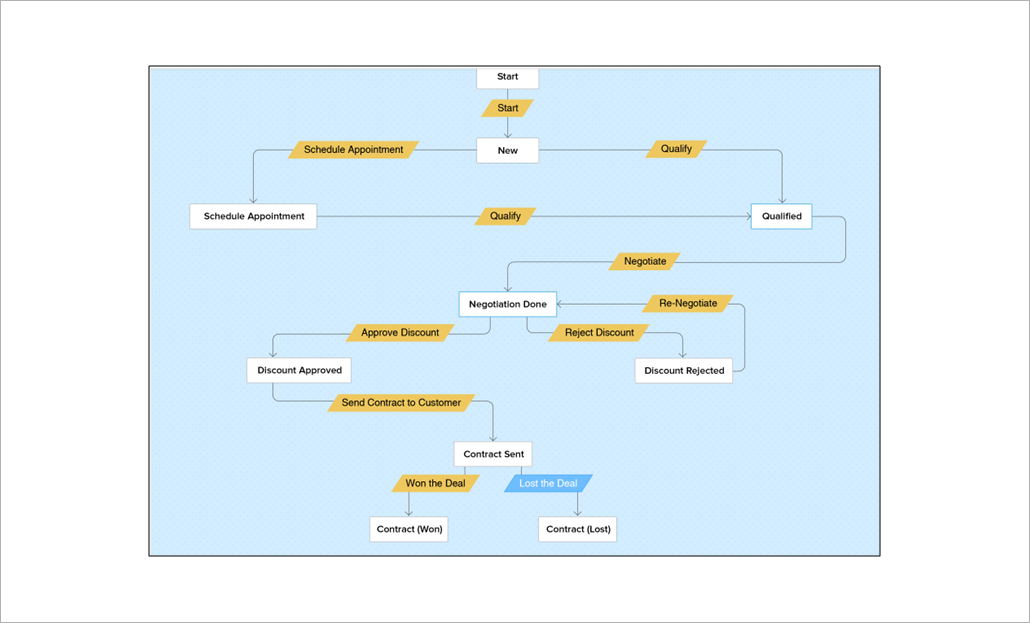 You can edit this Blueprint and design as per your requirements. It enables all your team members to follow the same process. Such teamwork helps to remove any hurdle and the built-in reports assist you in identifying the process that needs revision.
In addition, Blueprint helps you to achieve the following:
Build, sell, and repeat using Blueprint

Automate your sales process

Offers an on-demand help desk

Run consistent campaigns, everywhere

Hit your numbers faster

Proactively engage website visitors
Mobility
Zoho CRM Plus provides you with a wide range of mobile applications by allowing you to work from anywhere. We are explaining the applications below:
Projects: This mobile project management application is available for both iOS and Android platforms. It helps you to keep on track with every phase of project development, including on-going discussions, comments, tasks, etc. In addition, the timesheet module helps to log all your work even if you are working from home or outside the office.



SalesIQ: The SalesIQ mobile application tracks and engages visitors on the websites in an efficient way.

Zoho Business Card Scanner: Available for both iOS and Android, the Business Card Scanner application helps you to save contacts in your phone automatically.

Zoho Motivator: The Zoho Motivator mobile application energizes the teams to give the best performance with leaderboards and recognition.

Zoho Social: From Zoho Social, you manage all social channels from a single platform. In addition, you can schedule and monitor unlimited posts and keywords from here.

Zoho Reports: With Zoho Reports, you can have the analyzed reports in your phones with graphical & interactive visualization.

Zoho Survey: You can also access the surveys with your cellphones.

Zoho Desk: With the mobile application of Zoho Desk, you can have instant ticket updates and customer information at the fingertips. In addition, users can create tickets and respond quickly for any task from this app.

Zoho Campaigns: This Android and iOS apps help to send campaigns from phones as per convenience.
Unified Administration and Setup
Zoho CRM plus streamlines the setup and administration for the users with a pre-integrations approach and a centralized administration panel. In addition, this CRM application is featured with a single payment plan for buying multiple applications.
The Last Word
From the above in-depth discussions, we can sum up that Zoho CRM plus is not only mere customer management application! It comes with a complete package that streamlines every single management system inside your business with cutting-edge technologies.