RPA is considered as the crucial technological breakthrough because of advent in software engineering, artificial intelligence, and machine learning capabilities that makes the implementation of robotic process automation commercially viable for organizations. As such, several enterprises are considering RPA now as this technology slashes cost, reduce errors, and enhance workforce productivity.
If you have started kicking the exhausts of the solution, then continue reading. You will get an idea of market growth and recent trends in RPA along with its application in industries.
Know more about the features of RPA tools
Market Overview of RPA
The RPA markets are rapidly evolving. For some enterprises, the RPA has offered value for several years. In 2017, RPA technology becomes the forefront of industry requirements because its valuable benefits offer a fast ROI. This year, the number of enterprises and industries that gain a clear view of what they can get from RPA deployment accelerated their implementation. According to a report from HFS, the RPA market that was 270 million USD in 2016 will unsurprisingly touch 1224 million USD in 2021. From the chart below, it is significant to note the growth rate between the years 2017 and 2018 that is close to 50%. This proves RPA technology is becoming a necessary solution for the competitive business environment.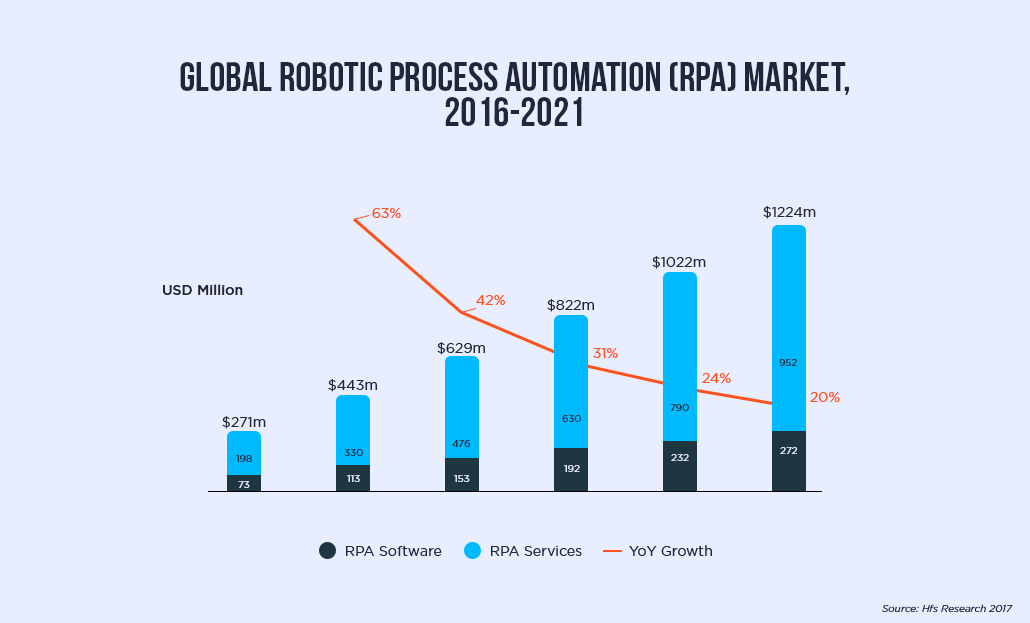 At present, we can discover the more real-world application of RPA and enterprises experience firsthand where bots fit within their process automation workflow. Opportunities are increased for smart businesses to capture the augmented power of RPA tool when it is compiled with other recognized technologies in the field of document classification, capture & data extraction, and BPM (Business Process Management). Furthermore, the RPA vendors continue plotting significant intelligence into bots to convey the immense value of the technology journey towards intelligent automation.
Increase in Industrial Application of RPA
RPA was not established to replace the human workforce, but to assist them and ease their tedious tasks. RPA technology has been increasingly used in various sectors like insurance, finance, and banking where businesses commonly process immense numbers of operations. They employ RPA tools as low-cost workers for mundane and repetitive tasks. Robotic process automation can enable these industries to meet their data quality and security needs while enhancing operational efficiency. In the retail sector, RPA can be introduced to tackle updating orders, fake accounts, and process shipping notifications. Similarly, in the telecommunication sector, RPA can oversee CRM subscribed feeds, fraud management, and customer data updates. With the increased innovation in the technology, the RPA vendors can now enable fast and precise operations across various industries to enhance enterprise efficiency as well as cost effectiveness.
Know more about the features of RPA
Recent Trends in RPA
In addition, to bring excessive value to the market, RPA drives productivity innovations and improvements. As RPA shines in automating routine and mundane tasks in an enterprise, today's software bots can handle an increasing number of front & back office business activities services. As RPA gets better and adopts assisted as well as unassisted machine learning, its functionalities continue to expand. As a result, the opportunity for RPA will grow along with its addressable market. Here are some most recent RPA trends to watch out: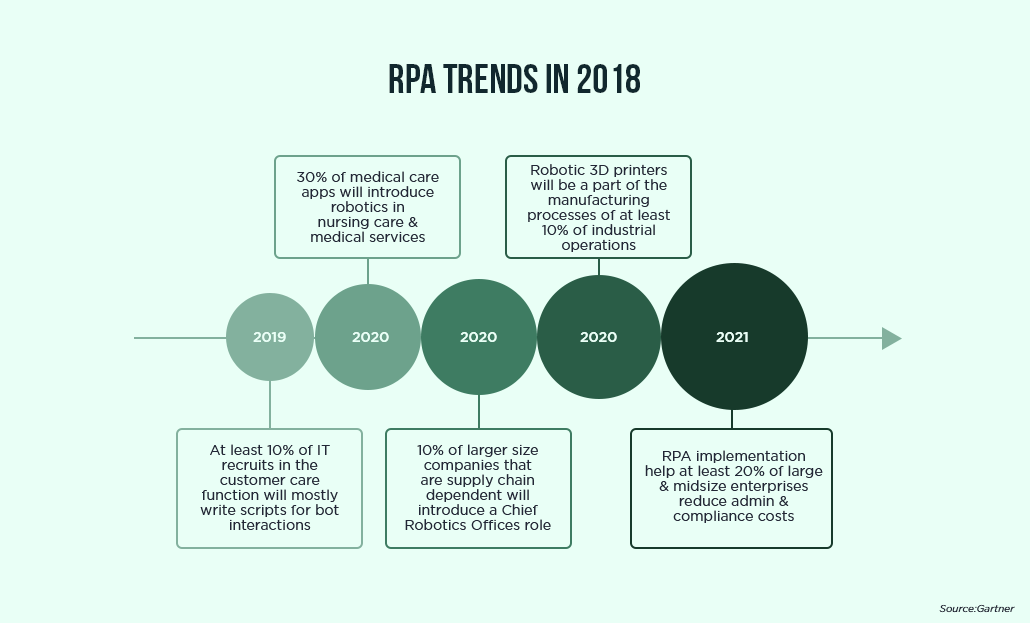 RPA Will Transform To Smart Process Automation (SPA)
As enterprises are experiencing a positive ROI with the deployment of RPA and integration with available digital transformation platforms, RPA will transform their focus towards SPA. This evolution will enable a smarter business process that acts smart in decision making and gathering more profound data visions for further automation. This smarter process automation technology will intensify the human potential and will facilitate enterprises to attain more strides in their automation journey of business processes.
Progression with AI and ML Technologies
With intelligent technologies like artificial intelligence, machine learning, and cognitive computing, business leaders can make the best frameworks for everything from execution to productivity and from staffing to general expenses. At the end of 2018, undoubtedly a vast majority of use cases used will incorporate AI and ML, as there are technology revolutions that encourage organizations to exploit cognitive intelligence in RPA software. This involvement will generate a new era of data analysis and understanding. With the combined effect of intelligent technologies, the potential of automation will find a significant advancement. As a result, we will have the chatbots, analytics, and artificial intelligence with prebuilt RPA scripts that comes with plug & play option to incorporate into the system.
Automation inclusive UI design
To date, RPA software has made the bots to see the work screen as humans do. As more and more mundane task becomes automated, the designers in the enterprise will start considering the strengths and weaknesses of computer visions while designing applications that will be shared between bots and human. As a small step further, this innovation will take place in interface areas – the most challenging hurdle that prevents RPA tools from rapid learning. However, over the course of this year, the RPA software vendors will come up with a new standard called "Hybrid workforce UI design".
By the end of this year, the businesses can find a significant move of the RPA solution to the cloud. This transformation will be aligned with the other enterprise technologies move to the cloud over the past few years. Most enterprises prefer this model since it promises to further minimize their dependencies on the technical team along with potential cost savings determined by a shared infrastructure.
Transform Towards Verticalized Offerings
Each industry includes some unescapable common operation inefficiency that demands automation to solve. As these problems affect most participants, industries are potentially open to general themes of automation solutions. The upcoming days will perceive the outline of some industry-specific aids. While it is doubtful whether the RPA vendors will verticalize their services (so far), their authorized service partners are likely too. The professional partners are likely to incorporate such verticalized aids as a primary go-to-market strategy. This trend might evidence in various forms like pre-built bots, and framework to speed up software bot implementation.
Contribute to the Growth of IoT and Big Data
As more and more devices like tablets, mobile phones, industrial equipment, wearable device are connected through IoT, there is an immense amount of data in both structured and unstructured forms that can call the action of big data. The progress in RPA technology produces the bot to contribute in the big data analysis as they can monitor as well as record their steps at the time of execution. It also plays a crucial role in IoT by enhancing data management as well as reforming the data processes. The RPA bots can analyze the data and disclose the time required to process the data as well as the number of automation actions remaining at the end. These details will support to uncover several hidden facts & figures, business insights, and trends that can highlight the challenges in business operations.
Increased Integration with Other Tools
There is no wonder that the action of combining RPA with other technologies exist in the digital space, will result in an efficient avatar of RPA. The resulting benefit of the RPA will exceed its usual offering and provides process outcomes faster. RPA software will be discovered expanding when integrated with other automation software and not in standalone systems. Undeniably, it will provide a rise to the new digital workforce that will seize every possible benefit available from all the existing automation technology.
Taking RPA solution one-step further, a leading RPA solution vendor has recently defined a solution called RI RPA (Risk Intelligence RPA), by employing RPA within a risk-based intelligent framework. This solution works to optimize the business process, hence the users can outrun from balancing the workload as well as eliminating manual operation to analyze the data in the prospect of problem-solving. In addition to delivering improved business value, the RI RPA can be recognized as the high-value work to attract as well as retain high-quality people. It is expected that there will be an increase in the number of companies begins to adopt this solution in their business.
Overall, the RPA market and trends will continue to experience growth in the future and the pace never slows down. More and more companies are increasing their investment in this technology to effectively streamline the business processes. The influence of the RPA will have on the enterprise will be greater in upcoming years.