The ever-changing customer preference demands an agile and reactive IT landscape. However, the time that an existing IT platform takes to integrate with new cloud-driven systems can slow down the speed to market. To stay relevant to the business, organizations need to rapidly shift between SaaS vendors and cloud, scale to meet demands, handle process results when SaaS services are unavailable and possess the flexibility to perform on a private cloud.
An ideal approach to meet this challenge is adopting iPaaS solutions.
An iPaaS (integrated Platform as a Service) is a cloud-based integration technique that can link applications, data and processes faster than a conventional platform. As iPaaS is specially designed for the cloud, it can effortlessly handle the demands of SaaS applications; possibly enable connection to any applications or databases. Read this post to find the benefits of iPaaS to businesses that you never imagined.
Why Business needs iPaaS Solutions?
Enterprises use iPaaS solution for their integration requirements. Data integration occurs between on-premise applications and cloud applications or between the cloud applications. With the data integration, data is synchronized in real-time on both ends. Undeniably, it is the most profitable method to exchange data within an enterprise both internally or externally between a CRM/e-commerce and ERP/ Marketplace applications.
The following figure illustrates how organizations end up with unmanageable point-to-point integrations when they tried to solve their needs with embedded integration capabilities: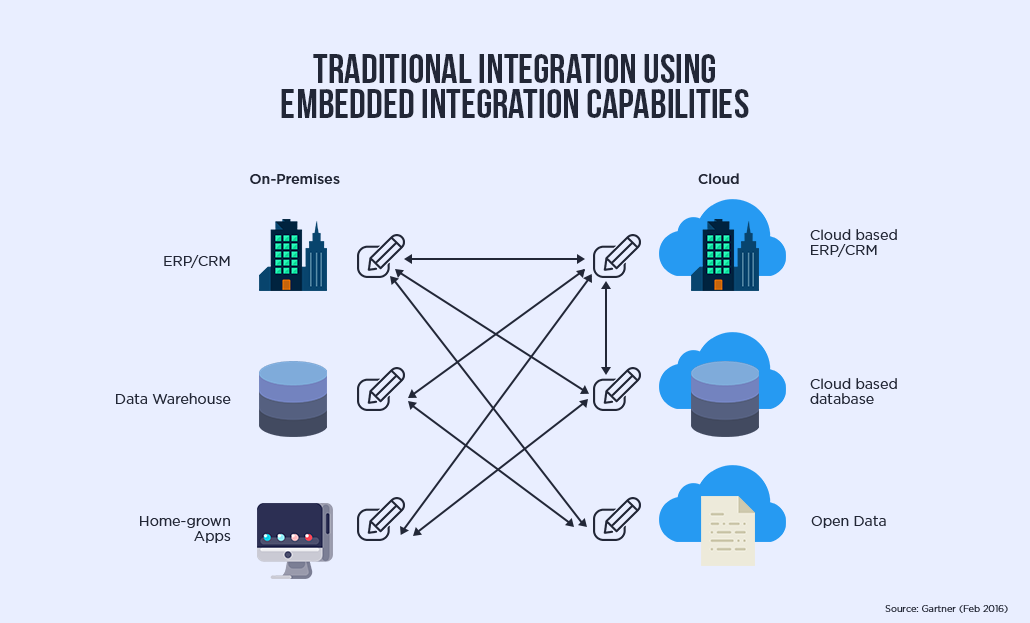 This is where organizations need to enhance their integrated approach to deal with the challenges brought by the hybrid ecosystem of cloud and on-premises. iPaaS provides a compilation of capabilities that are generally found in data integration tools, API management platforms, ESBs, B2B gateways, and managed file transfer products. It supports organizations to avoid point-to-point integration challenges since the design, as well as administrative functions, are centralized as shown below: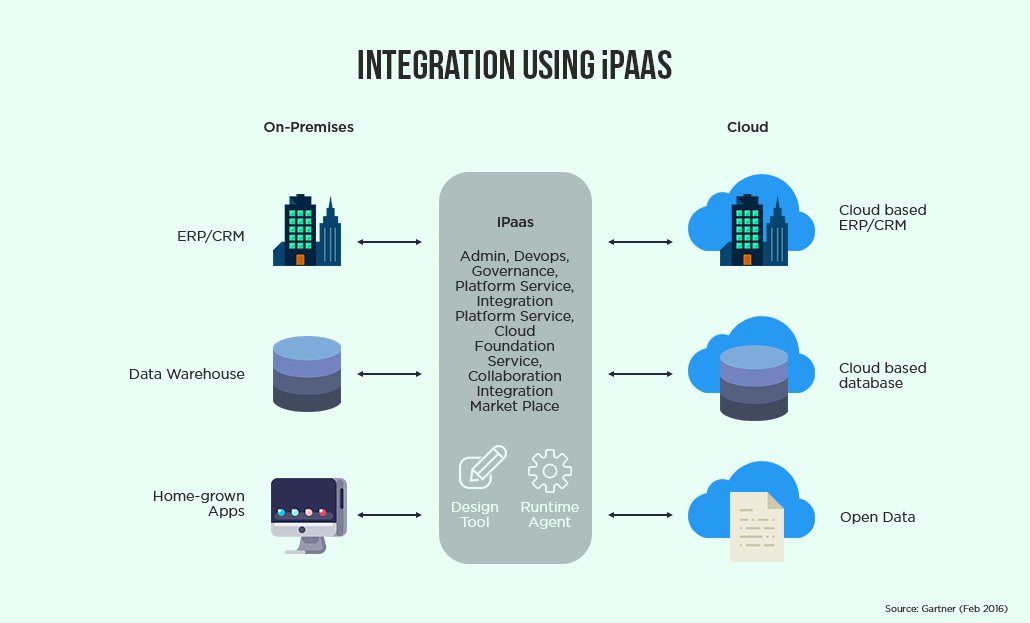 The investment in integration may appear like a massive amount of money. However, leaders should consider integration as a planned investment opportunity. Just consider an example explained below: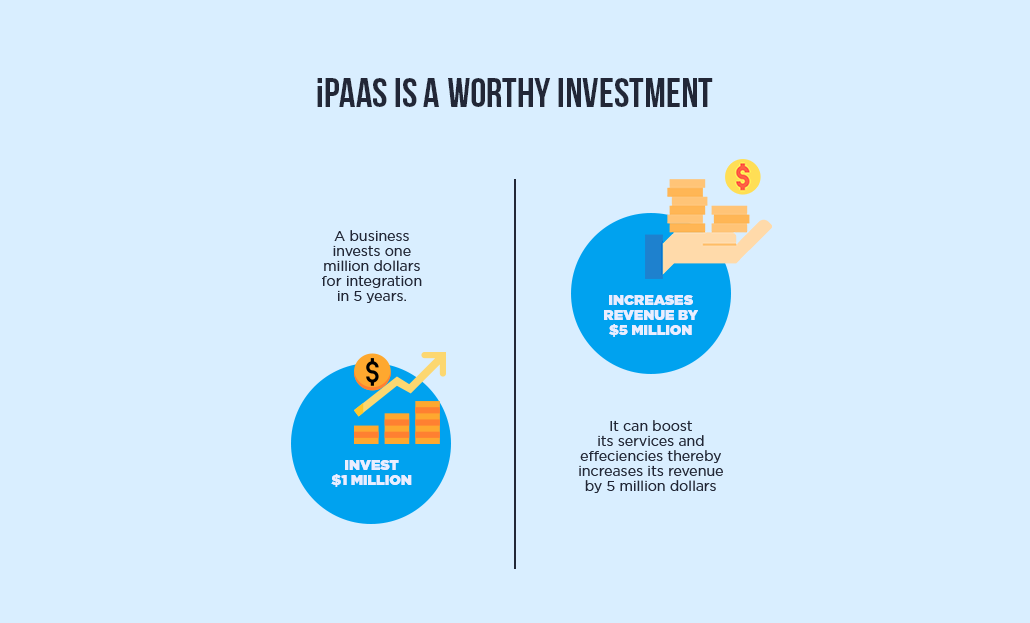 Undoubtedly, this would be a worthy investment.
Core Functionalities of iPaaS Solutions
A strong iPaaS solution includes distinct characteristics, which are vital to the achievement of the platform.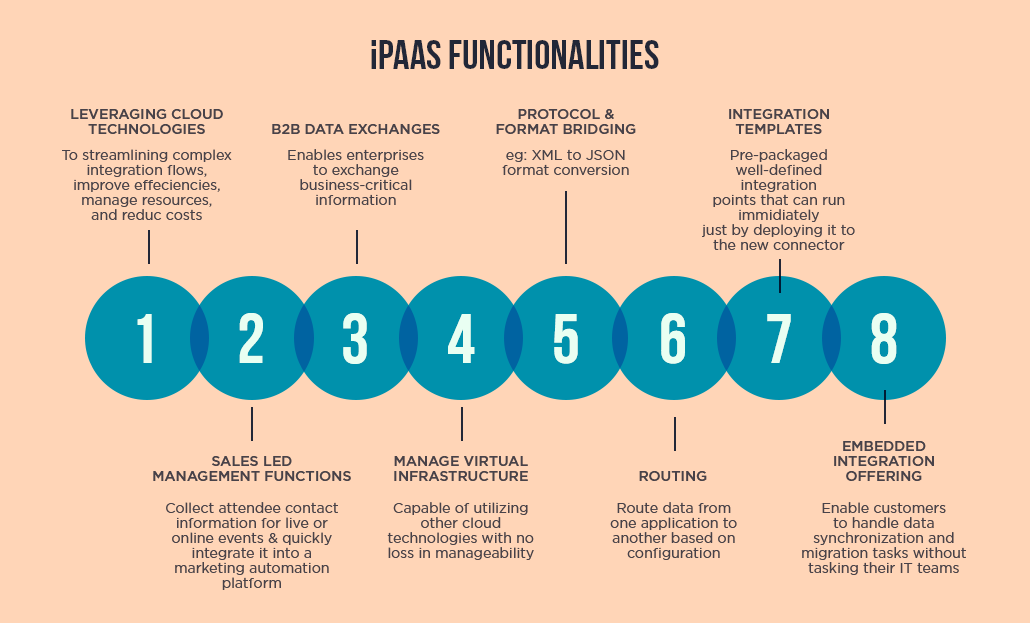 Benefits of iPaaS Solution
An iPaaS platform influences the agility, speed, and economics of cloud service to support business attain its digital transformation objectives and produce several major business benefits.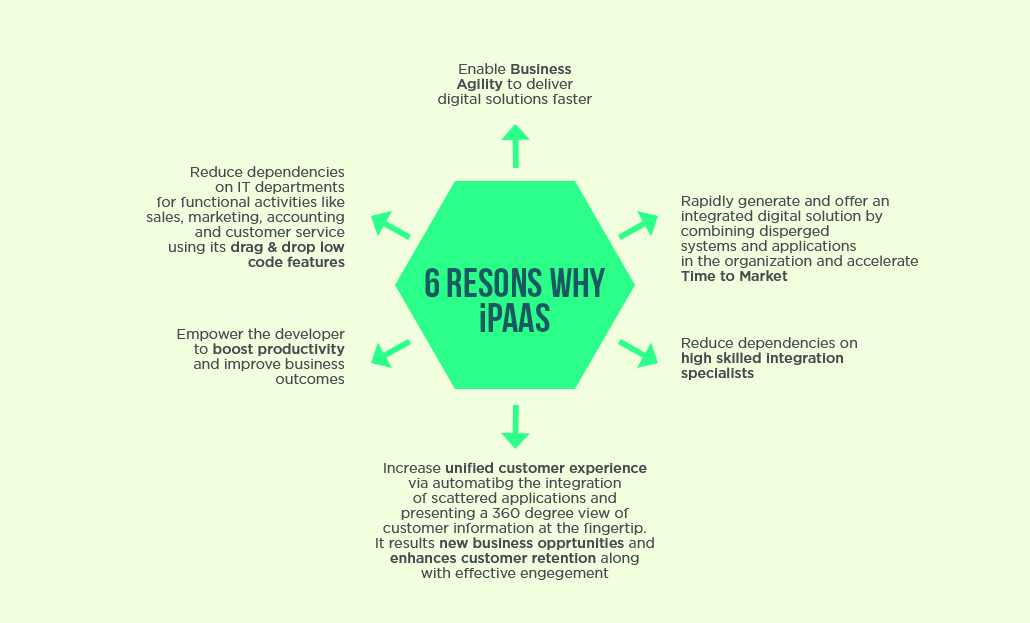 Detailed benefits of iPaaS:
1. Cost-Efficiency
An iPaaS removes the requirement to recruit expensive developers to generate code for customer integrations. Since the required platform is accessible as monthly or yearly subscriptions in the cloud. In addition, no software and no hardware are needed to integrate the applications.
2. Change Architectural and Licensing Models
The iPaaS solution removes the restrictions of these models for an ESB or other legacy middleware. As iPaaS modifies the engagement rules, a shared CPU licensing model or a shared computer platform no longer binds the integration. In addition, it is controlled to a single point where entire integration should play well together. Most iPaaS allows the enterprise to deploy an integration runtime engine wherever they want – on the on-premise server or in the cloud (in a public or private cloud). The architectural swing to iPaaS progresses the business strategy to offer an "always-open" multichannel digital platform, which connects data, applications, processes, devices, and people.
3. Support Low-Code Development
Another baseline benefit of iPaaS is low-code nature. It indicates point & click and drag & drop capabilities of iPaaS that allow developers to visually map out integration and employ prebuilt connectors. It offers a great productivity gain while accelerating organization to digital transformation. This feature allows developers to solve any sort of integration complexities across on-premise and cloud applications. With the low-code development tooling, the proper visibility of integration flow removes time-consuming, paper-oriented design phase of the integration projects. As a result, the integration is accomplished with far less technical knowledge. Even a non-technical person can directly build an integration, which can be effortlessly tested and polished in the fast iteration.
4. Superior Customer Experiences
The iPaaS platform offers new and dedicated customer experience by firmly integrating back-end data and application for instantaneous collaborative communications to the web as well as mobile devices.
5. Increase productivity
Another ideal way that integrated platform as a service benefits enterprise is increased productivity while developing integration flows. The monitoring and management process of iPaaS prevents failures and supports to include new members to the process securely. The user-friendly and intuitive design of this solution enables businesses to speed up its linking process with multiple systems in a cost-effective way.
6. Updates over Upgrades
iPaaS offers automatic, reliable, and regular updates that lower the maintenance costs, enhance reliability and promise that business can use the latest features and upgrades. This becomes crucial when integrating with SaaS apps that offer updates to their security protocols and APIs regularly. A proper iPaaS solution updates activities on a regular basis so that a user does not need to concern about sustaining with updates.
7. Enhanced Decision Making
In this ever-changing business environment, decision makers require being capable to react to changes on an instant notice since, each wrong decision can come with huge consequences. That is why it is vital to have as many details as possible to frame a right action in every situation. Since, iPaaS can typically reduce the gap between business intelligence and data entry, companies possess the chance to track real-time data about operations and make a decision that is as precise as possible. In addition, as the iPaaS solution works on the cloud, it can acquire data from various multiple devices. Consequently, it drastically reduces the time it takes to discover relevant details.
8. Secure gateway
A major concern in cloud-based integration is the security between cloud and on-premise applications. iPaaS is capable to transfer data in a more secure way without demanding the customer codes. This solution can reduce the risk of security breaches since it offers essential security features like real-time intruder alerts, fraud detection, and easily accessible reports. In addition, this solution upgrades regularly that ensures that the entire latest security measures and features are in place to provide maximum protection.
9. Scalable
Another reason for a business to adopt this solution is scalability in terms of both technical and commercial. It allows business to grow up to meet demands. Even a business starts small, it still benefits from enterprise-class capabilities.
10. Agile Enablement
In this digital era, the enterprise requires being agile. iPaaS provides speed and flexibility that facilitates greater business agility. Business agility represents the capability of a business to adjust cost efficiently and rapidly with reference to changes in the business ecosystem. Hence, with iPaaS, the desired integration can be accomplished, edited and destroyed when required, without concerning about providers' permission or any additional cost.
11. Better Sales and Marketing Alignment
Connecting marketing automation or CRM through an iPaaS solution can remove duplicate records and accelerate data flows. Hence, sales and marketing follow up becomes more effective and timely.
Conclusion
iPaaS is an obsolete alternative for conventional integration methods. It offers the framework to integrate SaaS, first-party services, and legacy systems with scale and speed. By considering all these benefits, iPaaS have begun to gain more interest in both large companies and SMEs.