The digital transformation continues to increase, and one of the recent trends is iPaaS (integration platform as a service). iPaaS is defined as the suite of cloud services that enables development, governance, and execution of integration flow merging any blend of cloud-based or on-premises processes, applications, data and services within an individual or across various organizations. Some medium-scale to large-scale enterprises have incorporated iPaaS solution, but the adoption is comparatively slower for small-scale enterprises. This blog aims to assist the enterprises that are scared of the iPaaS concept by presenting the market growth of the iPaaS as well as the recent trends that are playing an effective role in the increased adoption.
Now, the iPaaS tools have developed to support businesses connect their cloud applications in addition to ground applications. Of course, it is not enough for the modern businesses as they require something that is digital native & agile, simple enough for end users and features rich to permit for AI and advanced workflows. Unbelievably, the iPaaS technology has expanded well to match all these needs of the businesses. Let us begin our discussion with a market overview of iPaaS.
Know more the features of the iPaaS software
iPaaS Market Overview
iPaaS is a developing technology wherein process, data, application, and application programs are integrated. This integration facilitates enterprises to reduce the intricacy of its operation as well as to connect with cloud apps. The integrations effectively save time by offering a common platform for diverse apps. With all these benefits, the market of an integration platform as a service touched $1 billion in revenue in 2017 with the growth of 60% in 2016 and 72% in 2017, according to Gartner. This makes the technique as one of the fastest evolving software segments.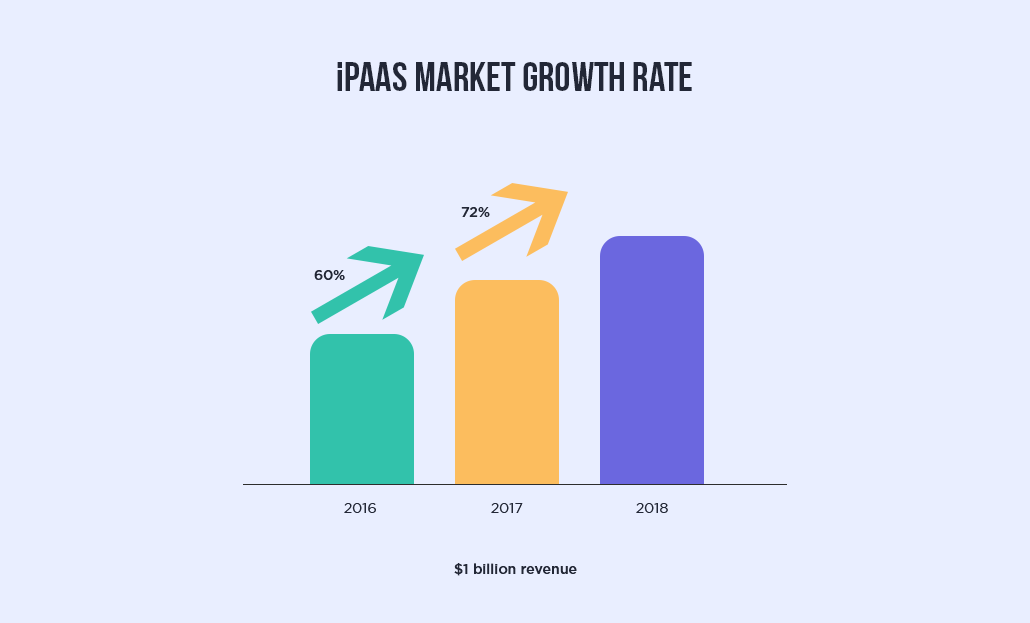 Likewise, according to the iPaaS market research by Grand View Research, Inc the market growth is expected to attain $2, 705.8 million by 2025. The enhancing requirement of advanced systems to improve the process of developing, managing and deploying enterprise apps globally drives market growth. Likewise, recent development in cloud computing, big data and IoT (Internet of Things) within enterprise's processes also greased the wheel for the greater expansion of iPaaS solutions.
Recent Trends in iPaaS
The iPaaS landscape continues to enhance their platform by including data hubs, API management, B2B integration, workflow automation and so on. That is why it is believed as the next generation integration technology. The iPaaS platform has been in the market for around 10 years and the products become more matured stage now. At present, the iPaaS strongly positioned itself in the enterprise application architecture and recognized its role in Hybrid integration platform.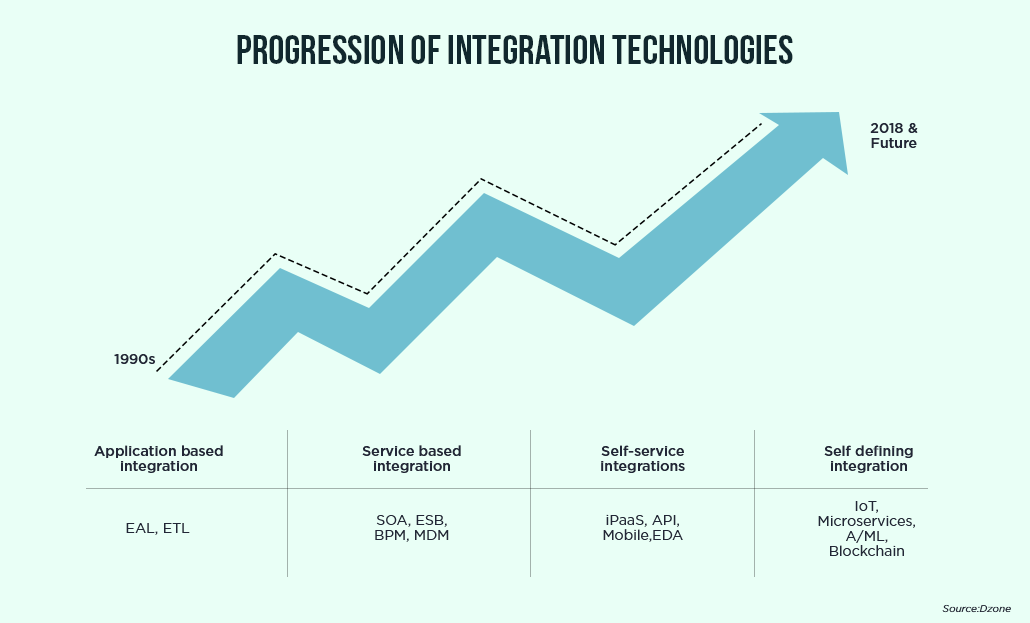 As enterprises have come forward to gain the benefits of the iPaaS, the integration solution will witness a significant growth at the end of this year. With the increased consideration of the important elements like e-commerce, mobility, and real-time synchronization, there is a rapid incorporation of cloud-based integration. Similarly, the hybrid integration begins gaining more popularity because of its huge potential. In addition to this, the data-centric and IoT-focused integration is adopting a primary position in the integration platform in order to meet big data challenges. Chatbots, DevOps, and integration outsource will position an interesting sensation in the iPaaS integration. Let us dig deep into the recent trends in the integration platform as a service:
1. Innovation in Scope of Integration
Exciting researches are happening in the domain of iPaaS and that offers enormous benefits for businesses like:
Integrate Things - iPaaS solutions are evolving gradually with the aim to offer self-service functionalities and integrate 'things'. Things can generate time-series data, activity tracking events, wellness stream and many more from various devices. The iPaaS providers are expanding their services to address the innumerable connectivity issues with 'Things' through some specialized protocols.
Integrate Service – DevOps - With the widespread application of API and IoT designs, companies are increasingly embracing microservice architecture where the huge monolithic app stack is broken into numerous module microservices. These modules are deployed on the various container execution environments like PaaS, IaaS, or on-premise. In addition to providing the common features as reusable services, iPaaS is expanding to offer a container environment. It is expected that the solution will provide access to integration code pieces and deployment APIs; hence, the team can integrate the apps into their own DevOps environment that ensure deployment automation.
Integrate BlockChain - Big enterprises involved in research to provide BaaS (BlockChain-as-a-Service). A consortium or private blockchain along with exclusive contracts and distributed ledger possesses myriad of use cases for enterprises. This, in turn, supports data governances and data quality. As some iPaaS vendors are researching on the BaaS technology, it is expected that soon in the future, businesses will obtain the option to integrate blockchain as the functionality of iPaaS.
2. Connectivity is everywhere
In earlier, every software the employees needed to achieve their job was installed on their own system. However, presently, the things have changed. The apps that people want to do their tasks exist in various places. As we all aware, iPaaS solution plays a key role in connecting this application. Undoubtedly, iPaaS will continue to comply with the requirement for dynamic and flexible connectivity.
3. Increase in E-commerce Integration Solutions
The rise of e-commerce dealing in B2C and B2B platform demanding the businesses to handle multiple jobs like placing orders, online selling, inventory management and many more. iPaaS solutions will provide a dedicated e-commerce integration solution to merge back-end processes, ERP system, and e-commerce website. Enterprises expect that these integration tools guarantees the free flow of data across front-end and back-end systems and reduce IT outlays.
4. Integrating CRM with ERP, &Analytics/Business Intelligence
While enterprises are increasingly using CRM systems to integrate their customer service systems and contact databases, still there is a gap in integrating CRM systems with ERP, &Analytics/BI. These integrations enable enterprises to get a 360-degree view of customers, gain access to sensitive information as well as automate business processes. By the end of this year, iPaaS will come up with a single platform solution to integrate these front-end and back-end systems.
5. Agility Driven Integration
As the companies today deal with frequent updates of systems, applications and software, there is an increase in the need of agility. Apart from ensuring agility, the iPaaS adoption also provides scalability, quality, and high velocity. The trend of agility-driven integration facilitates businesses to create and execute pipelines of micro-services. This solution links the loosely coupled micro-services through a shared messaging layer that supports to execute modern system integration.
6. Use case of AI/ML in Integration Space
At present, the use case of artificial intelligence and machine learning have expanded to a new level. AI-driven voice commands or chatbots with NLP connects various pre-defined applications to extract data and derive meaningful information. The following figure depicts the AI/ML- driven integration features offered by iPaaS solutions.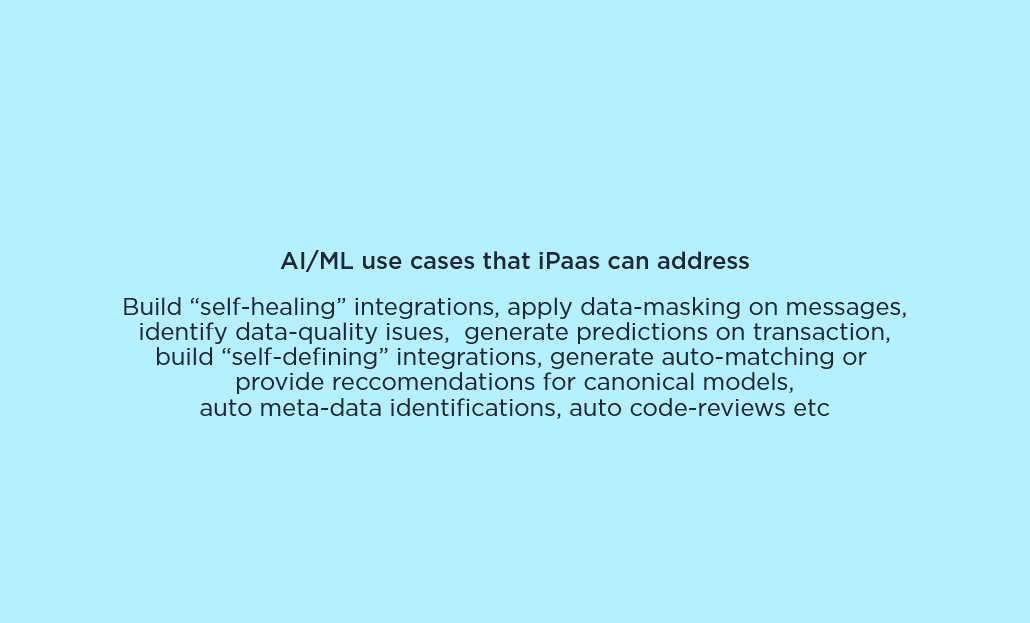 Most of the features mentioned above are considered as the recent trends of iPaaS. Hope they are in the continuous enhancement and may be obtainable sooner than later.
7. Integrating Chatbots with Mobile
It is the most significant factor to consider when it comes to iPaaS trends 2018. The chatbots are actively used in e-commerce platform, and they rely on spoken or written messages. With the advent of integration middle ware, businesses can now integrate chatbots with their companies' mobile apps as well as databases to seize all the required information dispersed across the enterprise at a single click. At present, a huge opportunity for these developments enables the business to understand their customer and boost m-commerce.
8. Fully Integrated Apps on SaaS Marketplaces
Communication Service Providers (CSPs) are adding new apps with new features then and there to offer more value to their customers. It is crucial that these new applications should flawlessly integrate with the already existing ones regardless of where they are bought from – SaaS vendor or CSP providers. In 2018 and beyond, businesses will observe fully integrated apps that offer integration layers under SaaS landscape to support CSPs enhance customer retention and customer experience.
Conclusion
In addition to the above mentioned iPaaS trends, there are continuous enhancements occurring in this platform such as self-service B2B, EAI & ETI functionalities, offer a marketplace for connectors, support various forms of on-premise to on-premise integration, build once & deploy many supportabilities and so on.
Overall, the iPaaS solution is well positioned to meet the next-generation integration challenges and the benefits of this solution for overshadowing the current limitations.