In today's competitive market it is important to maintain your business standard to build a sustainable future. Online resource availability and customer service are the two primary factors that play a game-changing role to achieve the same.
To support teams in their service level goals, several enterprises have invested in customer service software like Jira Service Desk – the tool allows them to manage and automate their jobs efficiently. Jira Service Desk helps enterprises to provide excellent customer service experience and supports their long-term growth initiatives. Come and explore the excellent Jira service desk features through this post.
Atlassian Jira Service Desk Overview
The Jira Service Desk is reliable help desk software offered by Atlassian and serves as a place where your customers can report bugs, contact you for help, access your knowledge base and request new changes. This service management software is used across a broad variety of teams from diverse fields including IT & operations, finance, and HR. However, almost 50% of Jira Service Desk users incorporate it primarily for their external customer service. This helpdesk software is equipped with real-time reporting, customizable templates, automation rules, and problem & change management. Further, it supports to automate mundane task as well as handle software bugs and as a result, deliver a better customer service experience.
Jira Service Desk Features for Better Customer Support
The following features are the main reasons why customer service teams depend on Jira Service Desk for their day-to-day processes.
Intuitive UI For Customers
The efficient UI of Atlassian Jira Service Desk ensures your customers can access exactly what they want. Its customizable customer portal comes with intuitive design, simple instructions, and natural language. Therefore, you can ensure your customers are not confused by Jargon or complicated submission process.
Receive Requests By Emails
Though JiraService Desk includes its own customer-facing UI, your customers can submit their request through their own email & embedded widgets. The emailed request is then added in your queues, so the service team can concentrate on a customer without concerning about missing requests. Once the request has been received, soon the customer will be informed with the status through an automatic email notification.
Jira Dashboard For Transparency
Each team member of a given project can create his or her own dashboard in Jira Service Desk and access significant detail that will be helpful to track routine activities like an issue list or statistics. Hence, your business unit can obtain perfect visibility into the sales practice while working on their own individual project issues simultaneously. As a result, your customer can receive the exact deliverables they demanded, and the sales team can feel efficient, productive, and connected to other teams in the enterprise.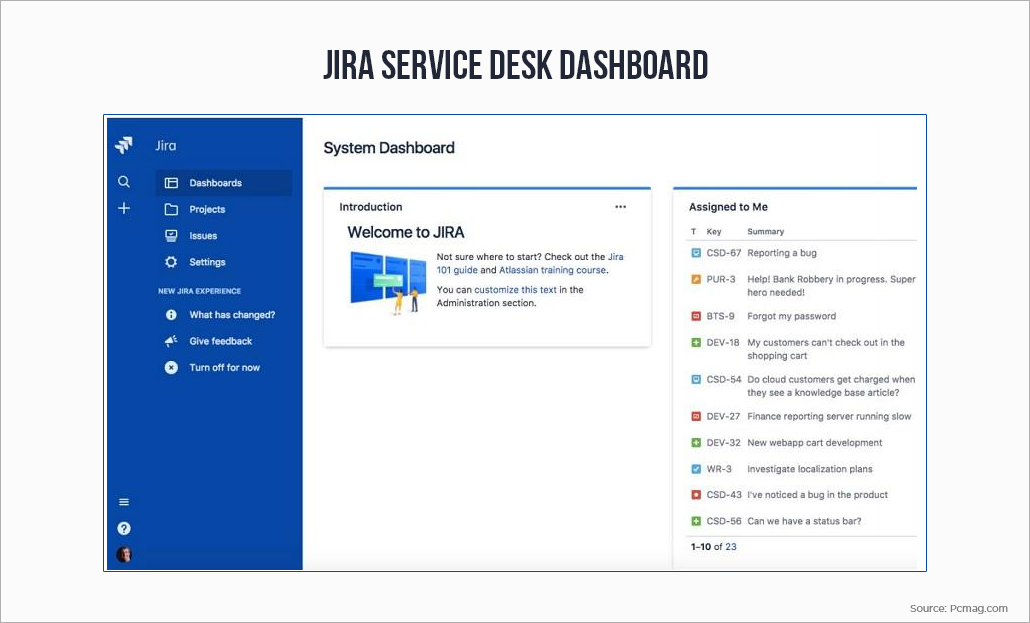 Collect & Analyze Customer Satisfaction
Among the Jira Service Desk features, the CAST (Collecting Customer Satisfaction) feedback is the most used option as the service desk users apply it as a key metric to measure the success of their team. With this help desk software, you can enable your customer to place his or her feedback through email with a single click. And, your support team can view this feedback in the JiraService Desk issues & reports. Measuring customer satisfaction can help to understand customers and enhance service levels. As this feature is available out-of-box, it requires zero configurations.
Service Desk Performance Metrics
In addition to CAST, Jira Service Desk software offers other detailed metrics to track the service team's performance in the customer service experience. Some of the metrics include incident reports, SLA goal & if they're being met, and total workloads. This feature is beneficial for supporting agents working on various projects and handling different ranges of customer support.
Click here to learn about Jira Service Desk Alternative: Zendesk [link]
Streamline IT Service Support
The intuitive user interface not only entices the customers but also provides flexible service desk experience to your IT support team who work on the customer request. The project sidebar on the left-hand side of the Jira Service Desk 3 (shown below) allows your agent to accessthe reports, queues, customer ports, etc. This feature helps the helpdesk team to identify and fix the customer problems faster.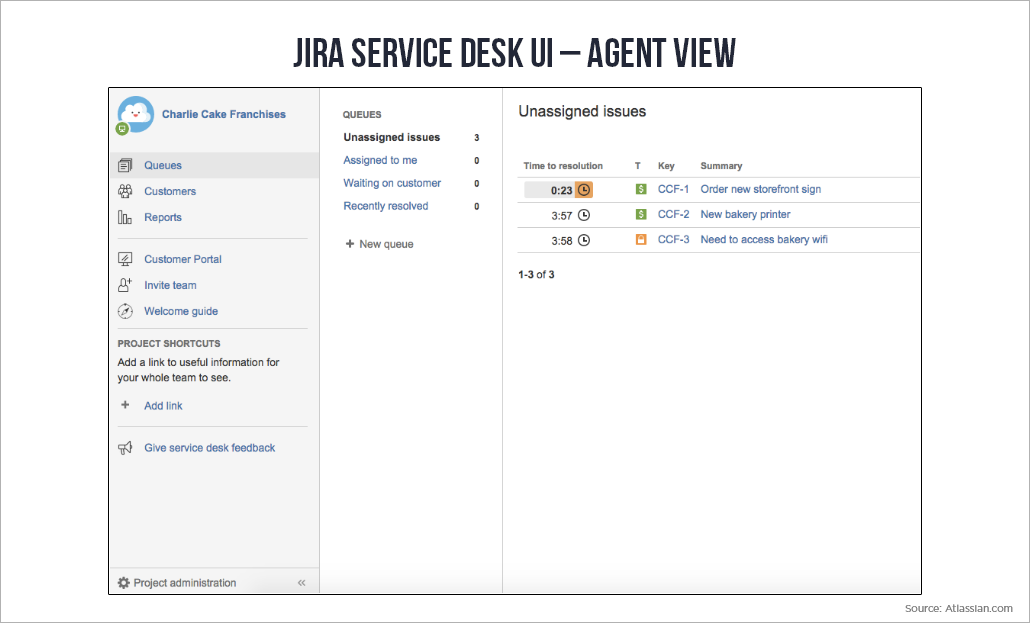 Powerful And Customizable Jira SLA
The advanced Jira SLA (Service Level Management) enables the support team to create an advanced service agreement with simple to configure parameters based on severity level and issue type. You can customize the Atlassian Jira Service Desk to fit your service agreement requirements. The customer service software enables you to track different SLAs and create reports by custom fields, priorities, issue types and more. In addition, it allows your team to prioritize the queue's tasks based on the SLAs.
Search Smarter Using Global Help Center
The Help Center of the Jira Service Desk is redesigned to concentrate exactly on what matters to customers. With the global Help Center, customers can look popular service desks and search for knowledge base articles and typerequest across all service desks they've access to. Its improved search algorithm with machine learning capability can learn from the previous searches or past requests. Hence, when customers want to submit a request, searching through the help center will help them by automatically listing the related request types.
Furthermore, the help center also enables customers to help themselves by searching for FAQs and how-tos.
Ensure Real-Time Collaboration
For efficient help desk ticketing system, the supporting team needs to ensure an effective way of communicating with its client and other team members. The Atlassian Jira Service Desk offers service team and customers the options to attach screenshots and files directly into their tickets, pulling off much simpler to communicate and analyze issues. Similarly, the internal team members can collaborate with other support agents by looping them to address tickets whenever possible. In the service tickets, the support case can be marked with custom labels to enable better categorization and track past issues quickly. This customizable feature can allow the team to recognize trends with certain customer support issues and establish additional processes to address them.
Real-Time Reporting
The real-time reporting is one of the notable Jira service desk features to know as it enables you to track your team's performance and determine blockages, without wasting time on building spreadsheets and trend lines. With the built-in reporting features, you can easily track as well as report on requests. You can create customizable reports and get complete visibility on what is going well and what requires to be enhanced.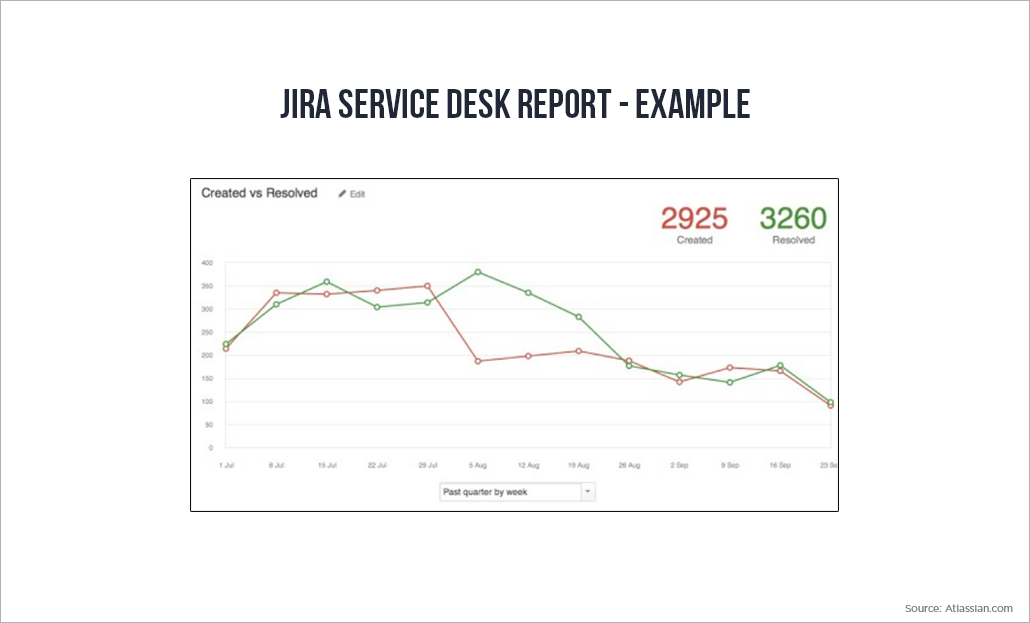 Some example reports are as follows:
Time to resolution
SLA waiting for support
SLA first response
Time waiting for support
SLA resolution
Created vs. resolved
Time to first response
11. Reduce Notification From Jira Software
The customer service software can send numerous email notifications to customers to notify what is happening with their Jira tickets. However, sometimes, these emails might be too much to handle and leads customer dissatisfaction. Thankfully, the AtlassianJira Service desk software enables customers to opt-in and out certain email notifications, which cut-downs the emails from Jira.
Assign Support Tickets Quickly
With the powerful functionality of JIRA software, it becomes easy to assign the support tickets to the right agent. When a support ticket comes in, you are providedwith a high-level of details about the issue and what kind of support is required; therefore, you can easily find who is best to take on the ticket.
Jira Confluence For Highly Responsive Knowledge Base
Jira service Desk integration with Confluence[link]empowers your customer with the knowledge base. Your support team can save time to spend on solving usual issues by creating a knowledge base that will allow customers and team members to integrate those powerful Atlassian tools. For large-scale processes and business, it is not possible to answer one-on-one on common requests.
The knowledge base ensures the process optimization as it stops agents from doing repeated things and offers self-servicing solutions. Using the knowledge base, the customer can search and access information about their issues and obtain the answers by themselves without contacting the customer service team. This feature reduces the number of requests your service team needs to deal with.
Automation Rules
With the simple to use automation feature, Jira Service desk allows you to automate the common task without doing hard-coding or requiring additional resources. This service desk software includes preset automation rules that can make the tedious task automatic. It includes over the 1000s of supported use cases, including Auto assign issues, Track SLAs, Add sub-tasks on creating, and Keep sub-tasks & parent issues synchronized.
Learn about Atlassian Jira software
Conclusion
Jira Service desk features listed here are the most important capabilities that ensure a better customer experience. Through these features including real-time collaboration, performance metric tracking, and automation capabilities, Jira Service Desk becomes a valuable investment for any business wishing to keep their customer service values apart from the competition.