Once your service or product becomes even slightly successful, you will notice that you will receive many feature requests, feedback and bug reports. This arrival of incoming messages can turn overwhelming for you. Specialized service desk solutions need to be in place to serve all these customer requests in one place. Thankfully, Zendesk, the best customer service software for small business make this much easier. This ticket system offers everything you require for a comprehensive customer service set-up. If you want to provide a better customer service, just go with the Zendesk features listed in this blog.
Click here to know why we need customer service software
What is Zendesk Software?
Zendesk is a popular all-in-one customer service platform. A broad range of businesses from massive organizations to small startups uses this robust cloud-based help desk software. By providing organizations with a reliable support, the Zendesk support software assists them to succeed in self-service and proactive engagement. As it is designed for various types of users, you can utilize the Zendesk features no matter of what your business is, whether it is for SMBs, retailers, HR teams, enterprises, educations, and IT teams.
The help desk ticketing system serves as a centralized hub for all your conversations, resolve issues efficiently by gathering the right information from the customers, gain insights and allows you to take your customer service system apart from your competitors.
Zendesk Support – A platform for handling customer support operations and offers support by email, mobile, social media and voice with complete data reporting and 90+ integrations.
Zendesk Chat – A platform that offers live chat solution and support businesses to increase sales conversation through engaging leads on their websites.
Zendesk Explore – A platform that offers instant access to customer and business analytics to measure and boost the entire customer service
Zendesk Guide – A knowledge base that supports your customers to tap into your institutional knowledge and bring into play
Zendesk Talk – Call center software offers more personal phone support and enhances enterprise productivity
Zendesk Connect- Customer communication management software manages communications across channels and delivers better customer experiences.

Here is the sample feature of each Zendesk product: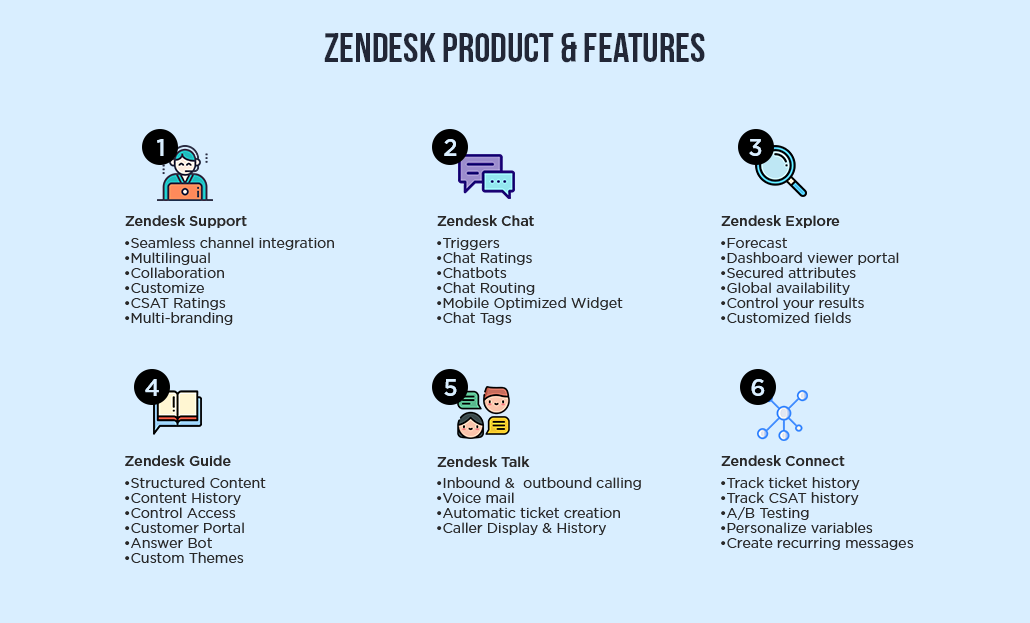 Read the standard features of customer service software
How Does Zendesk Support Customer Services?
Among the broad variety of Zendesk features, many can be usedto enhance customer satisfaction, anddevelopa positive outcome for your company and customer. Let us explore how the features of this help desk support to track, prioritize and handle your customer interactions efficiently:
Consistent Customer Service through the Ticketing System
Our Zendesk features list begins with its capability to create, manage and handle customer service tickets. Zendesk ticketing system collects your customers' requests from a broad range of sources and deals them in one place. This system allows you to support agents to handle more than one ticket at a time and improves efficiency. The Zendesk capabilities that support to achieve the same are listed below:
Multi-Channel
With Zendesk, the agents can work with tickets from any sources, including Help center request forms, emails, text chat, mobile phone, and from social media like Facebook and Twitter. Hence, your customers can connect with you through any channels they want.
Zendesk Workflow
The help desk agents can create a workflow to track the status of the tickets like assigned, routed or escalated. This feature ensures nothing gets lost and thus entire customer interactions are on the track.
Conditional and Custom Ticket Fields
These fields allow your agents gathering all the information from the customers about support issues or service. It makes it easy for them to decide what type of support your customerswant. In addition, the dynamic request form offers your agent the right context, so he/she can be prepared to offer personalized supports.
Automated Ticket Sharing
It allows automatic sharing of tickets from one Zendesk account to other accounts and vice versa. The automated sharing agreements with your partners or vendors ensure the effective collaboration on tickets.
Multilingual
The localized admin interface of Zendesk is available in over 40 local languages. You can localize the help center contents, so it can be displayed in a different language as stated by the locale code in the URL.
Multi-brand
Zendesk can support up to 5 brands, and you can include a multi-brand add-on to extend its support up to 300 brands, regions, business rules, products, and service tiers. Your agents can easily figure out, which product or service is in problem when they receive tickets through brand-specific portals.
Excellent Internal Helpdesk Management
Zendesk is help desk support software that unites everything to support you in customer experience beyond what others can offer. It equips the following features that enable your agents to support your customers proactively.
Mobility
As you can access the Zendesk from your mobile phone, you can manage a home-based customer support team. The Zendesk for mobile enables the agents to respond to customer tickets even when they are away from their work desks.

8. Zendesk SLA Views


With the built-in SLAs, your agents can frame their own parameters and track their ticket status down to the minute. This view allows your team to monitor SLA status and prevent breaches.

Compare features with Zendesk alternatives: Jira Desk Software &Freshdesk
Audit Log
Audit logging feature of Zendesk saves and shows various changes of your help desk software by tracking details like what, when, who and where. With this option, you can search your entire change history. In addition, your agents can have a complete audit trail of each discussion in its whole even if it extends in multiple channels and agents.
Agent Collision Detection
This is an option to aware whether any other agents are viewing on a given ticket at the same time. It indicates when agents are actively working on it. In addition, the Zendesk ensures real-time collaboration between support agents working on a particular ticket together by updating the ticket fields instantly.
Responds to Support Tickets Faster
Most of the Zendesk features aim to empower the agents with better information to offer a faster and more tailored customer experience. They are as follows:
Help Desk Automation
This customer service software comes with the opportunity to automate common tasks that include the repetitive process, thereby frees up your agent's time and enables them to solve the complex problem faster.
Macros
Zendesk includes the pre-configured macro, and you can customize them or even turn them off. In addition, your agents can create macros for their own use – a response to recurring requests for example. Then they can share these personalized macros as standard replies to common tickets.
Skills-Based Routing
This feature dedicatedly supports your enterprise to scale and boost team productivity. Skills-based routing routes the tickets to the right agent in accordance with their expertise in handling such kind of tickets. As it reduces the complexity, make the agents solve more tickets faster.
Customer Context
Customers constantly expect seamless interaction with their customer service agents. Zendesk support ticket system offers agents the related customer context that includes relevant details about the customer they are serving as well as the interaction history. These details offer agents a complete visibility on all previous interactions and events with the given customer. Hence, they can be capable to offer faster and more personalized responses.
Multiple Language Support With Dynamic Contents
Zendesk service desk allows you to communicate in your customer's local language. The software dynamically inserts the ticket content in accordance with the customers' preferred languages, the agents no need to perform the translation. The dynamic content helps you to organize support for multiple languages.
Multi-tab Interface
This help desk software comes with a multi-tab interface where each tab can open a customer profile, Zendesk ticket or search results of the knowledge base. As it allows opening multiple tabs at a time, agents can do multi-task simultaneously.
Triggers
Triggers in the Zendesk initiate a workflow in accordance with the specific actions or changes on a ticket. It includes recommended pre-configured triggers, and you can create your own custom triggers from scratch or modify the default ones.
Collaboration
When a complex issue arises, the agents can share the details with other agents via private comments in order to handle the ticket faster. With the collaboration add-on, your agents can efficiently initiate a standalone side conversation with their own team or other teams like billing, returns, and sales in solving customer questions.
Personalize Your Solutions and Boost Branding
The following Zendesk features offer you a flexibility to customize your customer service tools based on your team requirement.
Zendesk Customization
You can design, refined customization within the Zendesk customer support software using 100 plus different API. This software also has the option to customize the Zendesk community to express your company's brand. The customization panel in the Zendesk guide allows you to change logo, name, fonts, and color.
Zendesk Integration with Third-party platforms
When it comes to Zendesk features, we can't skip this great feature called third-party integrations. The help desk software includes the ability to integrate with various apps like Slack, Salesforce, Magento, and others. They encompass everything, including automatic reminders, time tracking, E-commerce &CRM, Analytics & reporting, Survey & feedback, chat & collaborations and many more. These technologies allow you to customize your support ticket system to adapt the needs of your business. Eventually, create more valuable and efficient customer engagements to boost both productivity and sales.

21. Workflow Scale-up


Thelargest, as well as dispersed enterprises need to handle multiple agents, and their different unique skill sets. Zendesk Suite comes with the flexibility to personalize your help desk solution with options like AI-powered automation, self-service, and advanced workflow capabilities.
Measure Success with Reporting and Analytics
Zendesk includes analytical tracking system and reporting module that instantly analyze data on agent performance, tickets and customer satisfaction. With the filters and responsive dashboard, you can manipulate the data to make new findings. Here are the features that support to measure as well as improve customer service:
CSAT Rating
It allows you to find the range of your customer satisfaction. Enables you to aware how happy they're with your customer support.
Satisfaction Prediction
Powered with machine learning, this feature predicts the issues that lead to customer dissatisfaction before it happens.
Net Promoter Score (NPS) Survey
This survey measures how possibly a customer will return or remain loyal. With the NPS survey, you can also identify customers who are thinking of leaving or aren't happy to continue business with you.
Performance Dashboard
It allows you to track the performance of your support by offering insights on agent performance, ticket volume, and support metrics.
Supports Your Customers with Self-Service
The Zendesk help desk software supports you to build an online help center to offer valuable information like answers to FAQs, and knowledge-based information such as community forums, user guides, related articles and search tools. Let us explore the Zendesk features that support self-service:
Knowledge base
The knowledge base of Zendesk offers the resource of useful articles that answerfrequently asked questions. You can also restrict the contents within the knowledge base for a certain group of customers. There isan option to translate your articles into different languages to offers a localized experience for your customers.
Answer Bot
Zendesk includes a basic AI bot called answer bot that relies on machine learning technology to examine customer inquiries and provide possible answers. It offers recommended answers, and the customer tickets will not be routed to an agent in case the customer is satisfied. Hence, it frees up your agents time to handle complicated inquiries. In addition, the answer bot learns from its mistakes and enhances its competence over time.
Community
Zendesk support software also aids the formation of an online community, which serves as the knowledge base for the customers. It allows forum discussions and the customers can interact as well as help each other. Insightly, Dropbox community, JustGiving, and Dreams are some of the sample communities assembled with Zendesk.
Conclusion
Overall, Zendesk comprises several customer service features in its help desk system. From easy ticket tracking options to complex pre-configured automation rules, undeniably this support ticket system can save both money and time while ensuring better customer satisfaction.