CRM Customer Relationship Management is an information system that supports businesses to handle customer relationships in a systemized way. With effective CRM implementation, an organization can obtain operative internal processes. The system also supports in external relationship customization by outspreading the firm's value across the company via customer loyalty, data integration and retention. It offers the firm a better position in the market. As we have already covered "What does CRM stand for?" here we are going to explore the significant benefits of customer relationship management software.
Why Is CRM Important To Your Business Success?
The CRM technology is gaining popularity among enterprises as it allows them to arrange the entire customer data that makes it simpler for the workers to process it. Maintaining a productive and healthy customer relationship is the ideal way to guarantee a bright future for your business. Therefore, good customer relationships are crucial for an enterprise to attain faster growth and higher revenue. Sales, marketing, and customer support departments require to collaborate more closely, to develop a continuous customer experience. As the name implies, a CRM system concentrates on handling a good relationship with the customer. The CRM system allows the enterprises to automate, streamline, and enhance sales, marketing & customer support tasks as well as workflows. Hence, they enhance customer relationship, improve operational efficiency and boost revenue later.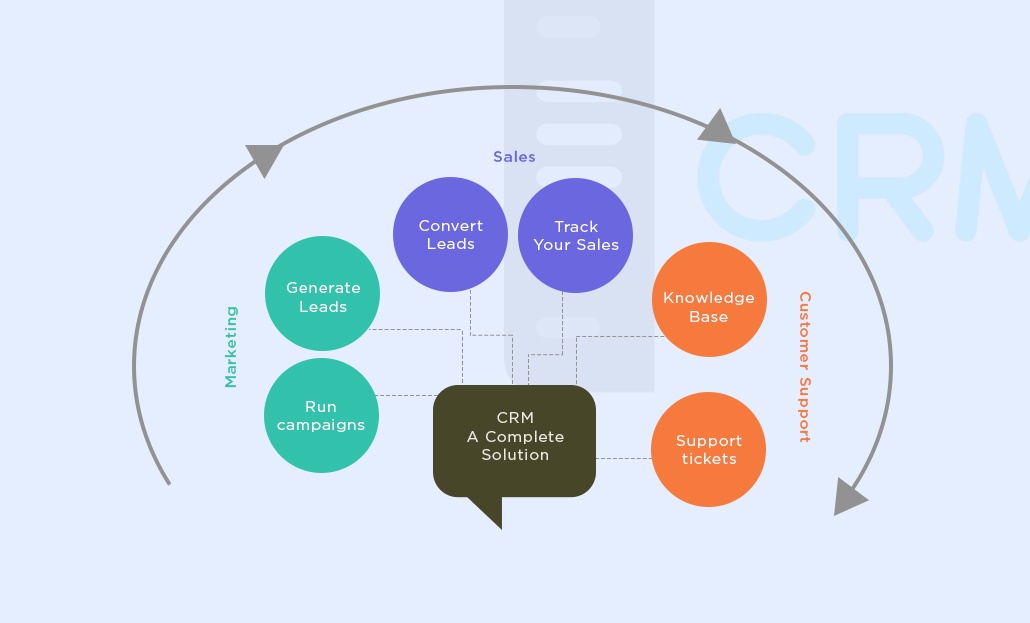 CRM remains as the essential tool for an organization desiring to make a long-term, profitable relationship with its client and customers. It can support to gain a new client as well as retain existing ones. According to Gartner report 2017, the revenues of the CRM software amounted $39.5 billion have exceeded beyond the database management systems and become the fastest growing software market.
CRM in Sales, Marketing, and Customer Support
A CRM system can include the benefits for various business sectors. It plays a notable role in the lead management and lead conversion that makes it worth for marketing and sales departments. Moreover, the strategy of CRM focuses mainly on the customer-facing processes. It has a significant role in customer support too. The CRM services offer countless benefits to these departments. Here we list the top three benefits of customer relationship management in each department.
Top Benefits of CRM in Sales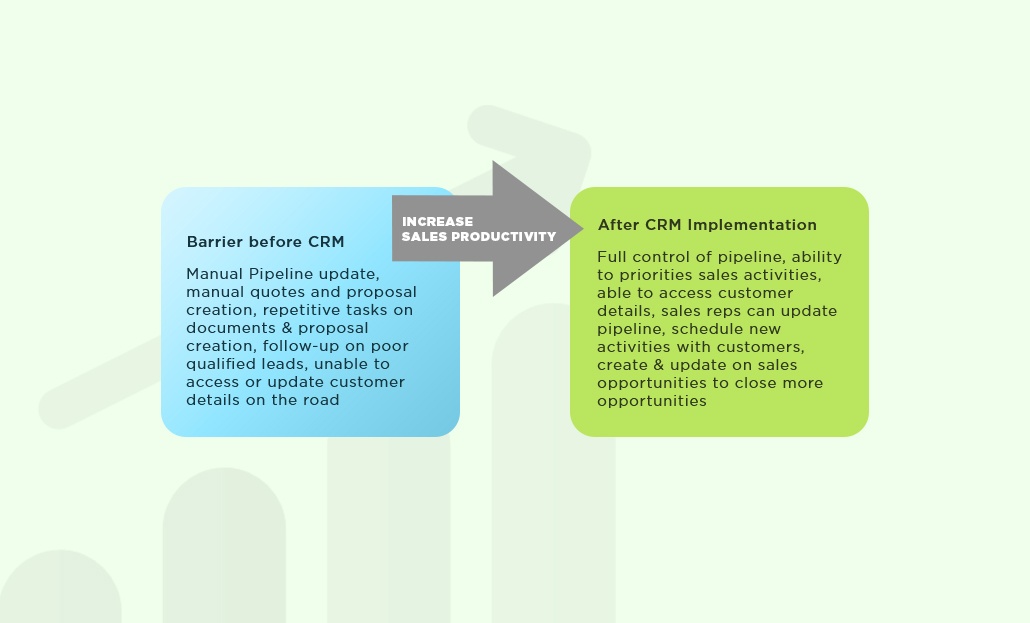 Enhanced Lead Management
This sales automation software offers a deeper vision into prospect customers and strong analytics to determine which quality leads to concentrate on priority. Before implementing CRM, the sales process of the business was handled on emails, excel sheets and a broad range of static tools. However, as the number of leads grow, the traditional method becomes harder to handle the leads and customers. After CRM implementation, a business can track their lead's ride down the sales funnel. It supports to ensure that there are no holes in the sales funnels.
Effective Upselling and Cross-Selling
CRM software collects plenty of customer data like behavior patterns, purchase history, and makes customized offers, which are possible to be relevant for the customers and clients. This, in turn, not only enhances the revenue and sales, but also the positive customer experience with the service.
Improve Lead Conversion
As the CRM system automates the routine and repetitive tasks, the sales professionals can now focus away from these peripheral tasks and can spend their time on selling. The data gathered using CRM services could support to supervise sales allocations, catch deals that haven't closed yet and improve strategies to streamline sales cycles. The CRM can monitor and evaluate incoming leads and allocate the most promising leads to the corresponding representative to close the sale. With this software, the sales team can foster effective collaboration among them by organizing tasks.
Top Benefits of CRM in Marketing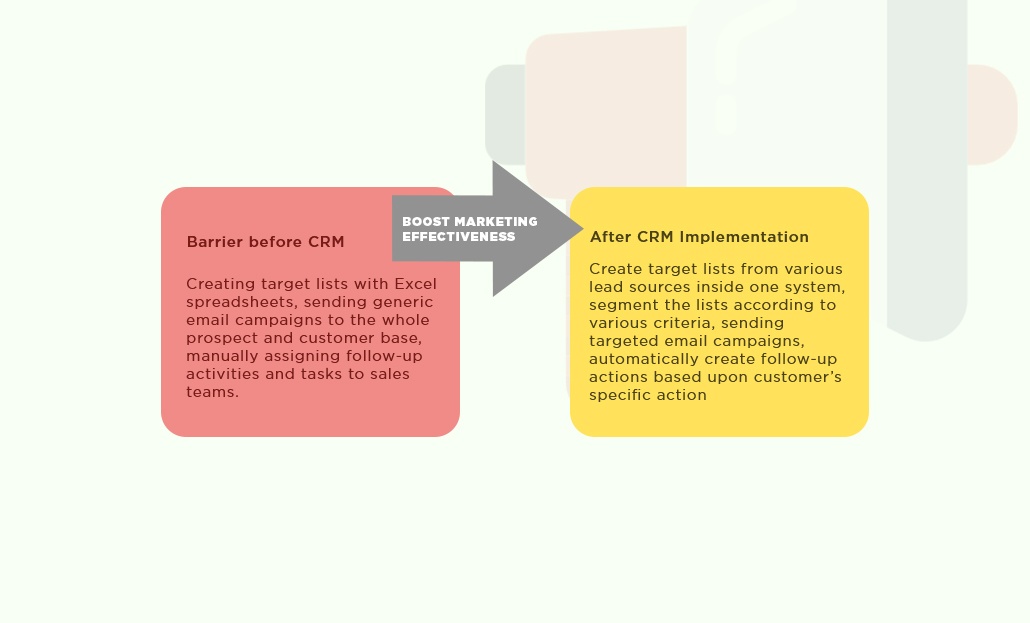 Automated Lead Qualification & Assignment
A common clash between the sales and marketing team is due to poor quality leads. A marketer can develop a countless number of lead sources. However, it is largely unfeasible to tab between various channels like surveys, social networks, websites and referrals for the lead activity. CRM allows integrating multiple lead channels into a single dashboard. Now, the marketers can collect, score and grade leads from various lead streams, thereby only the qualified leads are moved out to the sales team. Here the lead score measures the interest of a lead in your service or product, and the grade reflects its prospective fit. When a lead reaches a threshold score as well as a grade, the CRM system assigns it to the sales representative automatically. It reduces the manual processes and guarantees that qualified lead assignment is efficient, fair and effective.
Social Branding
It becomes essential for businesses today to promote their product and brand on various social media platforms. With CRM, monitoring and handling the social media presence of a company is much more efficient and less time-consuming. It allows tracking of any products or brands mentions, reacting to them instantly and validating the responses of social media campaigns. In addition, the CRM software can have an eye on the online activities of the customer that is vital to determine what matters to them and develop the business value based on this data.
Data-driven Marketing
A CRM provides the marketers with databased visions. The outcomes of several marketing campaigns are gauged in figures and echoed in various diagrams and charts. These are the necessary information for effectual campaign resource adjustment and budget allocations. It may refer tracking conversions of certain marketing campaigns and activities and is undoubtedly priceless in finding which efforts get the best ROI and which should be carried on.
Top Benefits Of CRM In Customer Service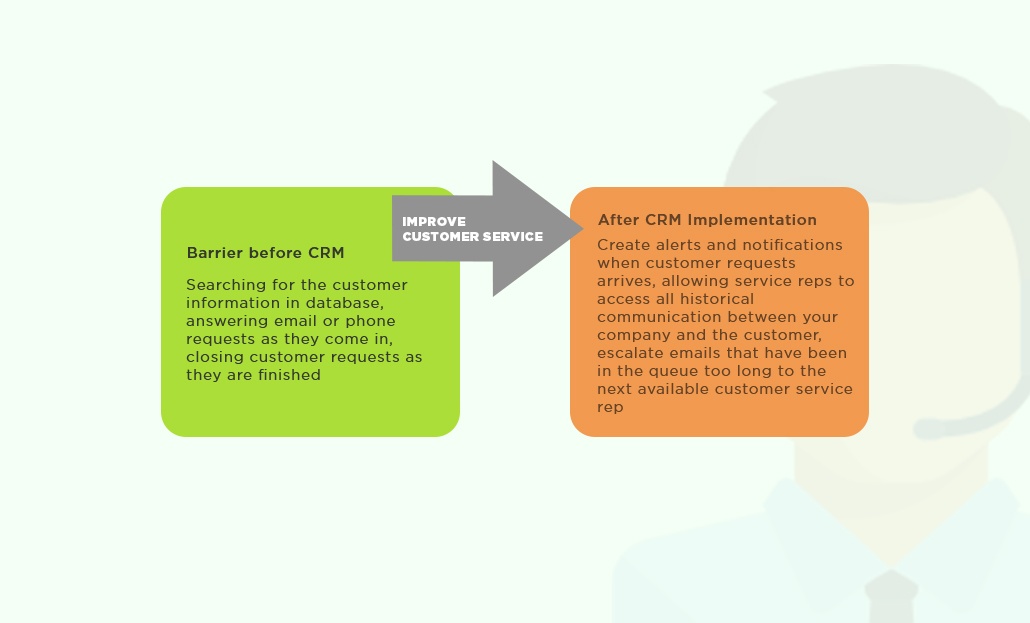 Multichannel Customer Service
Businesses deal with an increasing volume of multichannel customer collaborations. The entire idea is providing flexibility to customer interaction when they have any complaint or query. The multichannel customer service with CRM software doesn't simply entail fax or email but live chat, phone, social media & self-service aids. CRM enables the company to offer consistent level of customer service across each channel to make the clients feel that they're communicating with a single firm, whether via telephone or social media. It offers a "single customer attitude" with the power to track customers' purchase behavior and communications across multiple channels. The CRM system makes the customer service quick and prompt, thereby improving interactions with customers and supports rise in customer satisfaction.
Fix customer issues faster
Faster response time to customer requests results in a more satisfying and enjoyable customer experience. To accomplish this, customer data requires being just a click away. The customer relationship management connects important customer details like customer history, products purchased and previous interaction with each support ticket. Hence, the support team can solve the customers' problem quickly and effectively.
Personalize the Customer Experience
The most standard feature among the benefits of the CRM is customer experience personalization. By knowing the history of an earlier conversation with the customer, the support team can offer excellent customer service. With the accessibility to comprehensive notes and interactions of the customer, the team can identify the customer behind each ticket.
Overall Business Benefits of CRM
With all these benefits, CRM services become the driving force for business success. Here are the top six business benefits of CRM:
Save Time
CRM systems maintain the centralized data; therefore, an authorized person can access the data at any time on any authorized devices. There is no chance of time wastage or opportunity holding for the data to be extracted.
Expand Business Reputation
Developing relationships with customers is definitely not something business can afford to overlook if it looks to achieve success. By offering the customer what they require, resolving their issues, and responding to offer a good customer experience, CRM system increases the customer satisfaction. It stimulates loyalty and enhances business reputation.
When it comes to reputation, the CRM system supports business to perform with perfection without any delay or interruption at all. The customers will consider the company as one among the efficient ones in the market. This aspect will groom the brand image.
Efficiency & Cost-effectiveness
With CRM systems, companies can reduce their paper usage, remove redundancy and streamline efficiency while working with customer details. Business can make their entire employees aware of where their customers are in a relationship with it at all times. Even warehousing departments can initiate the action after a sale to converse delivery and installation plans with clients.
Reduce Costs
Customer relationship management can be simple to implement even in the cloud. The cloud-based system does not require any special hardware and installation setup. Hence, CRM retains the IT cost low and removes the headache of updating schedules and version control. It is also cost-effective in the name of capital outlay as it is extremely flexible. It enables companies to scale up and includes more people as their business grows.
Enhanced Decision Making
CRM technology enables visibility of several decisive customer data; so, with the all-inclusive reports, you are better capable of tracking sales activities, estimating sales and monitoring your business performances. Most high performing organizations frequently employ sales analytics of CRM systems to gather customer touch-points and interactions that enhance their decisions as well as concentrate on the overall view of their business.
Strengthen Data Security
The customer particulars and trade insights are stored in a centralized CRM system rather than in separate and disconnected systems. This enables to manage the human resources, budget and capital infrastructure on one point - the CRM ecosystem. By setting parameters, only the authorized person can access those data that will prevent the possible security exploits.
Conclusion
Companies, which are considering the customer at the heart of their business, should invest in a CRM, as it is the fastest way to enhance sales and revenue. Hopefully, the above-mentioned benefits of CRM make you understand that customer relationship management software is no longer an optional solution, but an essential for your business.