Why do SMEs need developers? How can businesses show their uniqueness to customers and leverage brand building? With the help of technology, developers can help SMEs leap forward in digital space.
How do websites, apps, and social media development help SMEs to thrive? 71% of SMEs have a website, as per a study by top design firms. People spend around 90% time on apps, as per a survey by flurry, a company that provides analytic solutions. Mobile Apps have become the most preferred solution for SMEs to gain clients. Integrated e-commerce help SMEs maximize sales through digital channels.
Hiring developers helps businesses to show their brand online. A good developer can help a business capture 60 to 95% of its revenue online. With developers, companies can combine old traditional marketing and new information technologies.
How to Search for Developers Who Will Help Businesses to Evolve
Hiring offshore developers helps SMEs to optimize their business without investing too much. Lower production cost means businesses can magnify their profits.
Offshore development services are more affordable than in-house services. Offshore development services have access to a larger talent pool. They can complete big projects in a short time. Businesses can scale up or down and ensure quality and best practices. It is where freelancers or in-house teams may be at a disadvantage as compared to offshore development team.
Here is the hourly rate of offshore developers from different regions.

Developers Who Can Help Develop Different Web Aspects –
Back-end, front-end, and full-stack developers specialize in different aspects of web development. If you want to hire a web developer, you will be happy to know that full-stack developer skills are in demand. But, what is full-stack vs. front-end vs. back-end web development? To put it in another way, what distinguishes them? Here are distinctions between these three roles -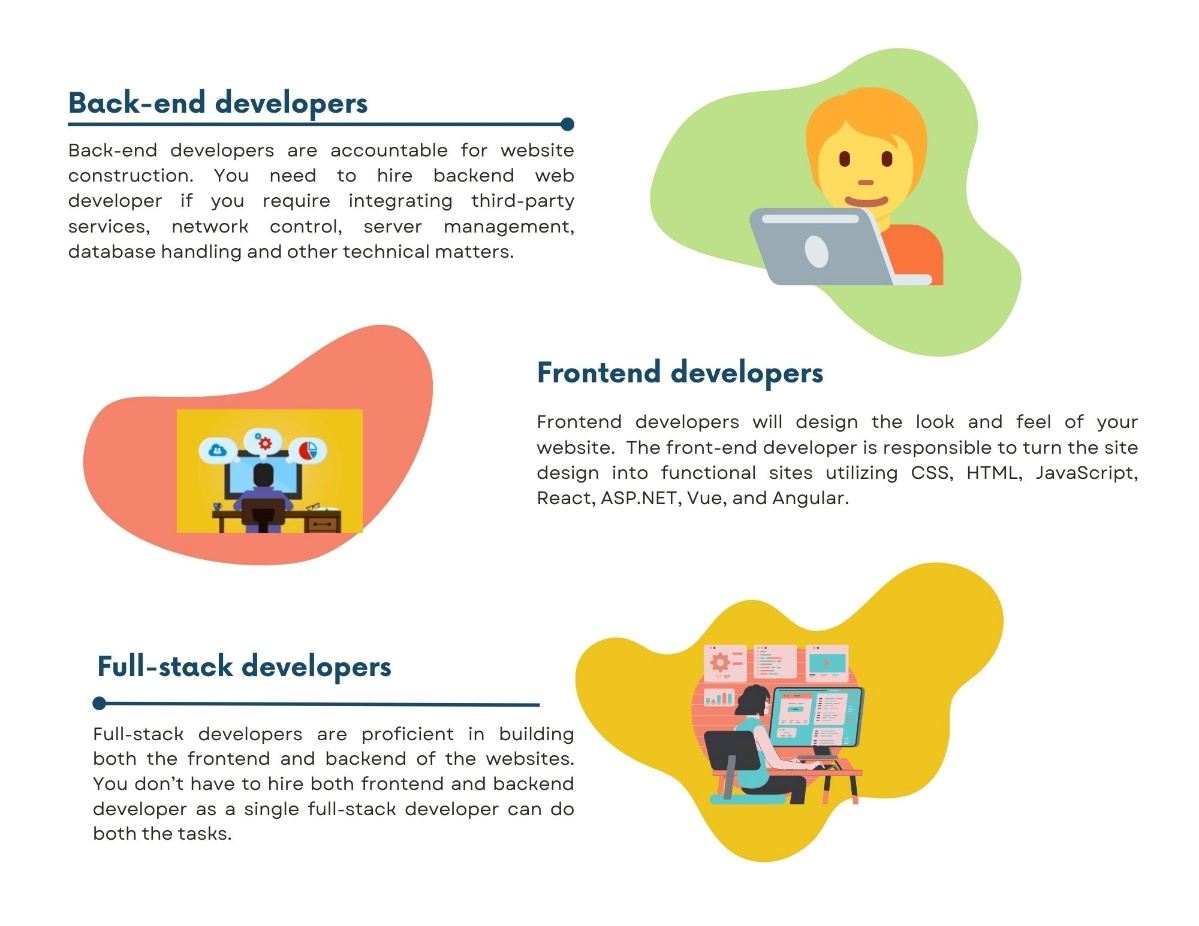 Checklist for Hiring the Perfect Candidate
While hiring a developer, check for right skills needed for the job. Find out their proven track record. Check their technical blogs for valuable insights to know their technical acumen. Pose a programming challenge to gauge technical strength. Focus on evaluating requirements and addressing potential errors.
Clutch shows rankings of developers where you can check their reviews. Take advice from an IT consultant to help you in hiring. Ask about workflow planning and flexibility. Check if they can add more developers or scale down in course of a project.
Request for NDA and keep track of codes on Stack Overflow or GitHub for reviewing code quality. Modern tools such as Slack, Jira, Trello, etc. help in tracking and collaboration. Access latest code and hold all admin rights of Github, TFS, and clouds to track progress.
What Businesses Can Expect from Developers While Hiring?
A good web strategy can help companies to follow their vision for their business. Web development can be altered and corrected, so have a things-to-do list. Here are a few things that can help businesses achieve their goals –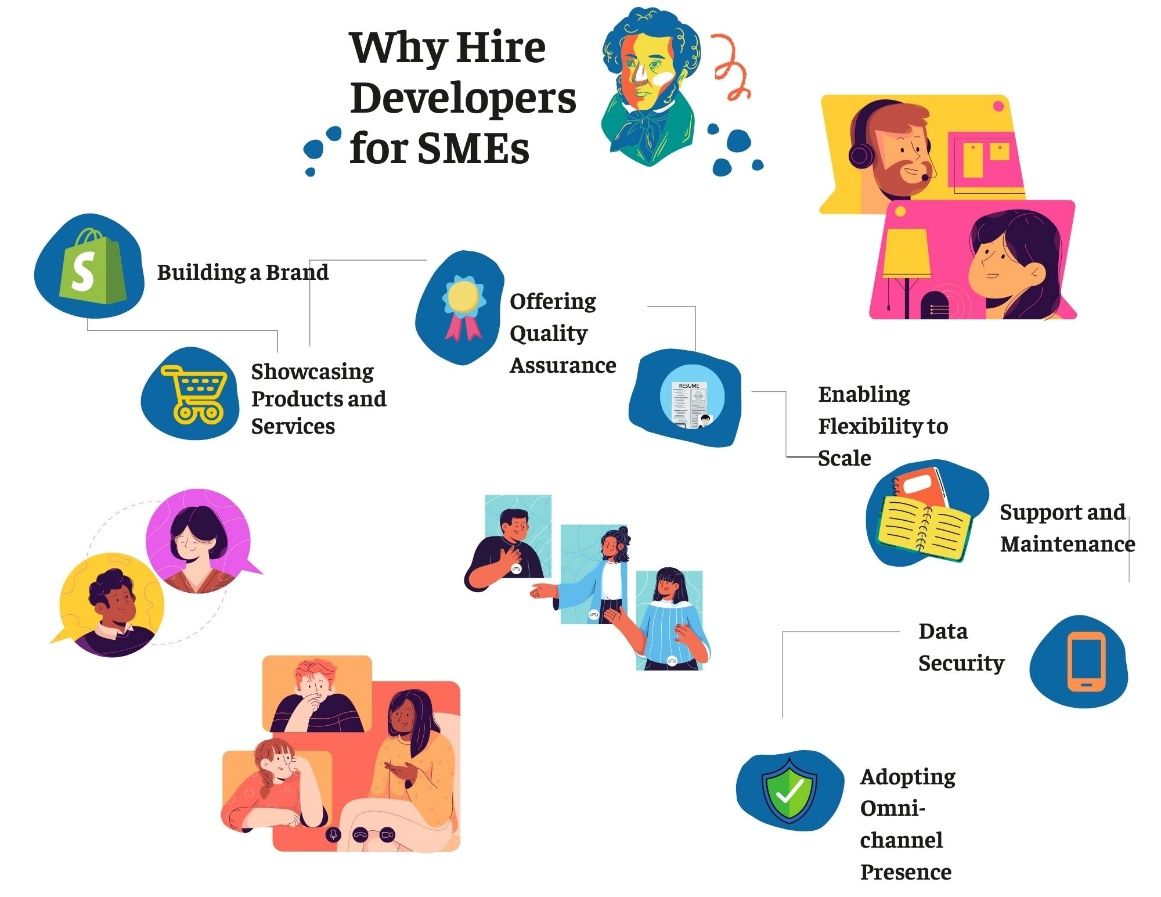 Building a Brand
75% of users associate credibility with a website, as per research by Stanford University. Making a good first impression on the buyer is critical. Customer loyalty, brand awareness, and emotional connection helps build a strong brand. A negative first impression will turn away visitors. It is about user experience and good services for customers.
For example – Amazon has memberships and services like Amazon Prime, Amazon Streaming, and Twitch. All of these are apps designed to promote people participation, connect potential customers, and attract clients from all niches.
Showcasing Products and Services
Businesses can show their products with descriptions and client testimonials. After reading content from a brand, 82% of consumers feel more positive about it, as per a study by demand metric. Even if there is no deal, buyers will remember and return to the website. Customers can check the company website, read testimonials, interact, and avail services.
For example - Nike has been fast to embrace new platforms. The marketing strategy has remained similar across all platforms. They highlight product benefits and use cases instead of products on social media. Their website has online e-commerce platform and as part of its D2C push, Nike will exceed its expectations to reach 50% digital penetration in 2022 as per the company.
Offering Quality Assurance
Enhancing performance and meeting evolving needs can give exceptional results. Get a 2nd opinion for Quality Assurance. Functional and non-functional testing helps improve operational efficiency, productivity, security, and user experience. Get an outside perspective for improvement. QA can ensure quality of products, customer experience, and other complexities. It can also help assess security of apps. A data breach means a disaster for an SME. Quality assurance prevents error, systems, manufacturing, processes, design, and security.
For example, how does a firm that created the most popular search engine manage its testing? The team in charge of the Google search engine maintains a testing system. Google's fundamental business is searching. The team strives to ensure quality while avoiding mistakes. They have internal testing by dedicated testers, dogfooding, crowd testing, and beta testing.
Enabling Flexibility to Scale
Agile methodologies were only suitable for small-scale projects. But, now agile can be scaled to be used in larger projects. Agility meets business needs and helps to respond to challenges of scalability. With flexibility to scale businesses can up size or down size development team as per their requirement.
Support and Maintenance
Maintenance includes regular visits to main page to ensure proper display. Database files and other files can sometimes become damaged. Problems like sites going offline or hacking affect businesses. The site needs to be updated to reflect any changes. You also need to check the broken links.
Data Security
Data is the most precious commodity in the digital age. Hacking can result in losses for an SME. 62% of respondents noted hacking activity, as per a study by ACSC. Small businesses must guarantee top-notch cybersecurity when partnering with an IT firm. They should have an emergency response team that can respond at any time of day.
Adopting Omnichannel Presence
For SMEs IT management and operation, understanding client behavior, and resourcing is challenging. Developers should consider an omnichannel approach to engage with customers. Different channels can be used as PCs, laptops, smartphones, and tablets.
Here's a case study – Our team of developers at Clarion helped our client to create a website for flight booking and hotel reservations to customize customers' vacations with responsive UI and better UX.
Where to Look to Find Good Developers?
You may find outsourced development companies using Clutch to find a good business partner. Results can be filtered based on service categories, business size, hourly rate range, industry experience, and company location.
Finding a software development partner by searching the web could provide some results. However, getting in touch with businesses and finding out if they have experience in your specific industry is also a smart idea. The best software development businesses will provide you with an information package that contains case studies, and this may be enough to convince you to move further.
Search for a company that sees you as a partner rather than just a client to find a cultural fit. You want a software developer that shares and understands your enthusiasm and will realize your vision because startups are passionate undertakings that call for teamwork and vision. At Clarion, we serve not only as an addition to your firm but we become a part of their DNA.
You can go through the company's profile on Linkedin and Clutch to check reviews, portfolio, area of expertise, focus clients, and company specialties.
Considerations For Selecting an Outsourcing Development Partner
Capabilities
Finding out a potential project partner's degree of knowledge is crucial. They must have technological expertise, be familiar with the tools your IT team uses, be able to carry out necessary duties and assist your projects, have excellent communication skills, and be knowledgeable about your industry.
Clarion is SEI CMMI Level 3 certified organization, which means that we are qualified to undertake US army projects. We are in operations for nearly 19 years and we have built strong partnerships and have certifications in leading technologies (Microsoft, Zend, Magento, Shopify, etc.)
Project Management Techniques
Every IT organization has a unique process for developing projects. Some businesses use the agile methodology, while others use other development techniques or none at all. It's critical to comprehend the approach you prefer. Clarion also follows the agile development methodology.
Cost-effective choice
The majority of outsourcing decisions are made when a company wants to boost its bottom line and profit margins. Never sacrifice dependability or quality for cost savings. The hourly rate of our developers at Clarion is $25 to $49 / hr.
Accessibility
Software engineers with talent can be found in many places throughout the world. The location must be considered while selecting your development partner. Communication may be impacted hence, you need to ensure better communication and collaboration.
You may create a productive workplace with the help of effective communication, which will benefit your company greatly. We at Clarion have responsive communication ingrained in our working culture. Through the appropriate channel, we were able to surprise and please the clients with a fast and relevant update.
Conclusion –
Before hiring a web developer, make sure that their talents meet your project's requirements. Do you need help finding experienced web developers? Contact Clarion's team of web developers who have successfully helped small businesses evolve. We will assist you in finding the top web developers to work on your project.