You are looking for a developer who can give your SME (small and medium enterprise) a makeover and transform your digital space. You want to offer user-friendly services and break out your existing complex process. You have to wave your wand and break the spell of your old aging infrastructure.
You want to explore the magic of the virtual model, as the SMEs did during COVID-19. With just a 'click' – you will start working virtually only to gain increasing profits. For small businesses, going virtual is a big deal. It means you can avoid a world health crisis and unforeseen events.
Imagine you went to a small private local hospital. You realize it is taking hours with manual processes. You want to go home. If you want a service as fast as a vending machine, just put a coin and grab your soda.
Well, it can be that easy! You can turn your small business into a swift and resourceful experience. All you need is to move your business into a digital infrastructure. You can easily communicate with your customers in any part of the world and deliver your services at the speed of light.
How do you do it? The answer is simple - you hire developers or a team. The software developer services in the US, Canada, and Europe are expensive. You can hire a software developer from India at a reasonable cost. According to the Progressive Policy Institute (PPI), India is expected to overtake the US with the world's most significant number of developers by 2024. So, instead of paying a hefty amount, you can afford to hire an offshore development team with the best talent pool in India.
What Do You Look for While Hiring a Offshore Development Team?
Set Your Eyes on the Expertise Level
If you want to know the level of the developer before working with them, you see his portfolio to check his expertise. You can check his coding skills through projects. The portfolio also gives you an impression of his caliber. It will also help you develop your own set of questions and help you to understand his way of thinking.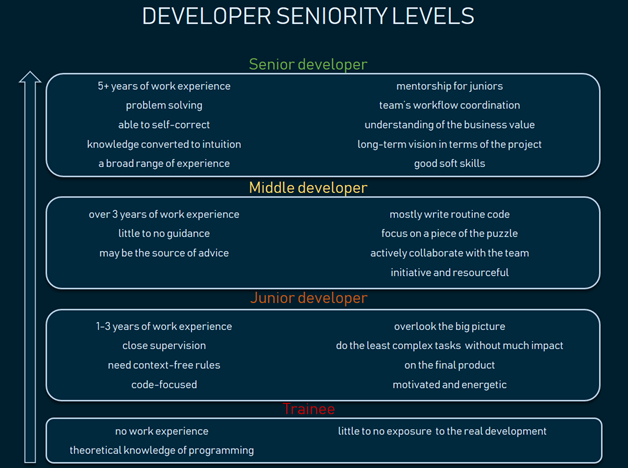 Image Source - altexsoft.com
Watch Out for a Proven Track-Record
You should check the hands-on experience and customer retention before hiring. Developers rank on a website like Clutch or check their LinkedIn to view their previous clients. You may also get in touch with their previous clients and ask about their experience working with the developer. You do not want to fumble with inexperience, drive away your customers, and lose your money.
Look for a Good Cost-Advantage
You do not want to outsource and pay for additional access to other resources. You do not have the resources to build a team. You want a direct source who already has ample resources. As an SME, you want well-trained talent in your company. Your goal is to boost Return on Investment (ROI). You can save costs while hiring world-class talent from an offshore technology partner like Clarion Technologies. You can also use our knowledge and leverage our premium service at a reasonable price.
Ensure You Get a Quality Assurance
Quality assurance helps to identify mistakes and avoid delivering a faulty product. Making mistakes is only human; it is natural to make unintentional or silly errors. But, it can have an impact even on big companies. You cannot take such chances in SMEs.
Remember when Starbucks lost millions of dollars in sales in 2015 with an issue in their daily system refresh? They had to close point-of-sale registers in many locations across the United States and Canada. They had to give away free drinks until the systems they were using were corrected.
How do you ensure quality assurance? Getting a CMMI level 3 company as your offshore partner will help you as they have defined, mature processes and quality management systems.
Collaborate for Agile Development Methodology
Agile methodology means continuous planning, improvement, learning, team collaboration, and early delivery. It increases adaptability in times of challenge. Big corporations like Philips, Adobe, and Accenture have shifted to agile methodologies. It will help your SME leaps and bounds in saving some extra bucks. It will help you set a purpose and a vision, develop a flexible approach, design fulfilling roles for employees, encourage transparency and learning, and provide user-friendly technology.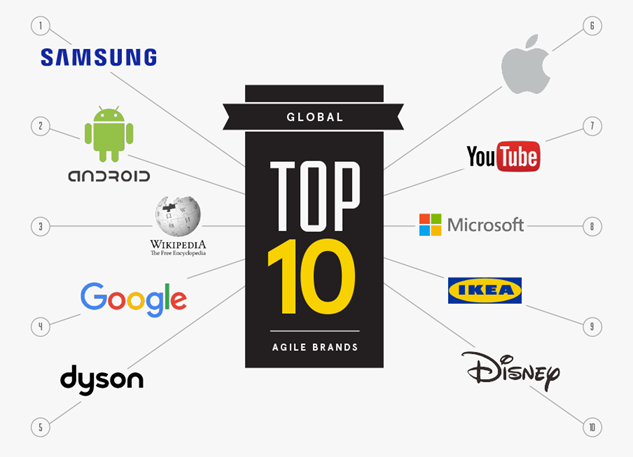 Image Source – landor.com
You Want Flexibility
Flexibility motivates the developers you hire to be creative. DevOps and continuous deployment are valuable for your SME. The developer you work with should be able to upgrade or alter necessary portions to simplify and streamline deployment processes and save time and effort. You can smoothly make extensions and upgrades by adopting a flexible approach.
Transparency is the Best Policy
You want to ensure smooth sailing. It will happen when you are a part of the software development team. You get to know vital information about the stage of development. The more you are involved, the fewer questions you have as a client. The project can be smooth since you and the development team work amicably. You will not be sitting on edge waiting for any shock or surprise. You know if the project is going on the right track, the people working on it, and you can easily breathe a sigh of relief when the project heads to its conclusion. You know the efforts put in by the developers are entirely worthy of every penny you pay.
How Does the Right Talent Help Your Company Achieve Business Goals?
As the saying goes, "a problem well stated is a problem half solved." You want developers who value participation to brainstorm and validate ideas. Collaborative team activities, pair programming, and feedback will help you and the developer tackle problems effectively.
"Adaptability is the simple secret of survival" - You want to work with techies who evolve with ever-changing technology. You want developers to adapt and hone their skills, as their initial learning may become obsolete in a few years. You expect them to be well acquainted and trained about the latest additions.
Customer requirements can shift as incase of COVID-19. You want developers to adjust and satisfy the needs of your customers. You want to address the increasing use of smartphones instead of desktops. Adaptability is necessary for you as it provides efficient service as priorities and usage habits of your customers shift. Your need for adaptive communication becomes even more when you work on a project with a tight delivery timetable.
Knowing MVP (minimum viable product) and validating an MVP is crucial for you. You can use it to measure whether or not the project can be lucrative and serviceable. You can go for custom software development. It will help you in the long run as demands and customer needs change. The agile approach will help you build adaptable and scalable user needs as they evolve.
How will Companies Benefit from Hiring Offshore Development Team?
There may be a variety of reasons why many companies hire an offshore software development team and seek far-off places for their software needs.
One main reason businesses prefer to recruit engineers from other countries is flexibility. Adding or removing coders from a team while using offshoring is straightforward. You might not even require having the complete team there from the beginning of the project. Instead, you can include the appropriate experts at each stage of the procedure. Flexibility is crucial for company success, and software development is no different.
Additionally, many businesses use offshore developers to cover team vacancies on their software development or IT teams. For instance, you could easily contract out that position to a different nation for the duration of the process if your team lacks a mobile developer and has to create a mobile version of an application. Since offshore employees don't need additional training, they can start working as soon as they are employed. Thus, this helps in creating a project without delay and promptly.
It helps to cut project expenses. Anyone who has worked on software development projects will attest to how expensive it can be, especially when hiring and onboarding professionals and purchasing the necessary infrastructure. The cost in other nations is also substantially lower than in the West, despite the same quality of education and abilities. Employing programmers from abroad gives the development process new viewpoints. If your business is trying to go global, the far-reaching perspectives of foreign professionals can help you assess where your business sits about international standards. For instance, hiring eCommerce developers will give you access to their unique expertise and knowledge.
Here's a case study – Our developers at Clarion helped a client from the healthcare industry model a feature-rich website by orchestrating the right combination of modern technologies.
Conclusion:
Since India has emerged as an IT hub, you want to hire an offshore development team from this part of the world in your SME. When you gain a knowledgeable developer, you can build a strong foundation for supporting growth, increasing productivity, and revenue generation. You want a successful and experienced offshore partner who understands your requirements.
You can use our developer or hire a team with vast experience in this field. We at Clarion Technologies guarantee best practices with premium services to suit your requirements. Reach out to us, and we will resolve all your queries with an offer of 2 weeks risk-free trial.