Chances are that you have dealt with clients demanding about software integration with other business software they use.
The increasing number of standalone applications is undeniably a game changer. Because all applications are cloud-ready, they're not only portable, but also intelligently designed and simple to synchronize across multiple devices. However, the setbacks arise when it comes to deep linking these applications with one another.
Since its inception, app integration has traditionally been the field of technical specialists, and integration software has been code-heavy. In addition, the two major technology trends - acceptance of open sources and rapid cloud adoption are forcing enterprises to rethink how they will meet the demand for application integration middleware. Therefore, enterprises today begin to adopt modern integration technology called integration platform as a service (iPaaS), which addresses the open sources and cloud combination that is describing the future.
When it comes to application integration, Workato, an iPaaS leader provides cutting-edge, integration and automation solution enabling IT and business users to collaborate. As we already discussed what is Workato and its features, now it is time to observe how it works. Let us explore how to create a sample integration workflow in Workato between two applications with an example.
Workflow Automation and Serverless Integration with Workato
The average organization uses over a thousand different applications including both on-premise and cloud-based apps. In addition, business productivity apps like social media, calendaring and chat constituted a key part of day-to-day work, and data from these often require integration with other business data.
Workato offers intelligent workflow and serverless integration that allows you to leverage the ample power of your data across multiple apps and constantly switch across apps to complete tasks without demanding comprising security and governance.
Forrester research ranked Workato as a leader in "2019 Strategic iPaaS & Hybrid Integration Platforms" Report.
With Workato, you can address any kind of integration and automation use cases, no matter of which apps you are connecting. The iPaaS tool offers out-of-box connectivity for more than 300 on-premise and cloud apps.
The IT and business teams love Workato since its automated workflows called recipes are simple to build and enable powerful connections between your applications. The platform computes the further value in offering intelligent automation connections into existing resources in an API centric model that makes integration serverless.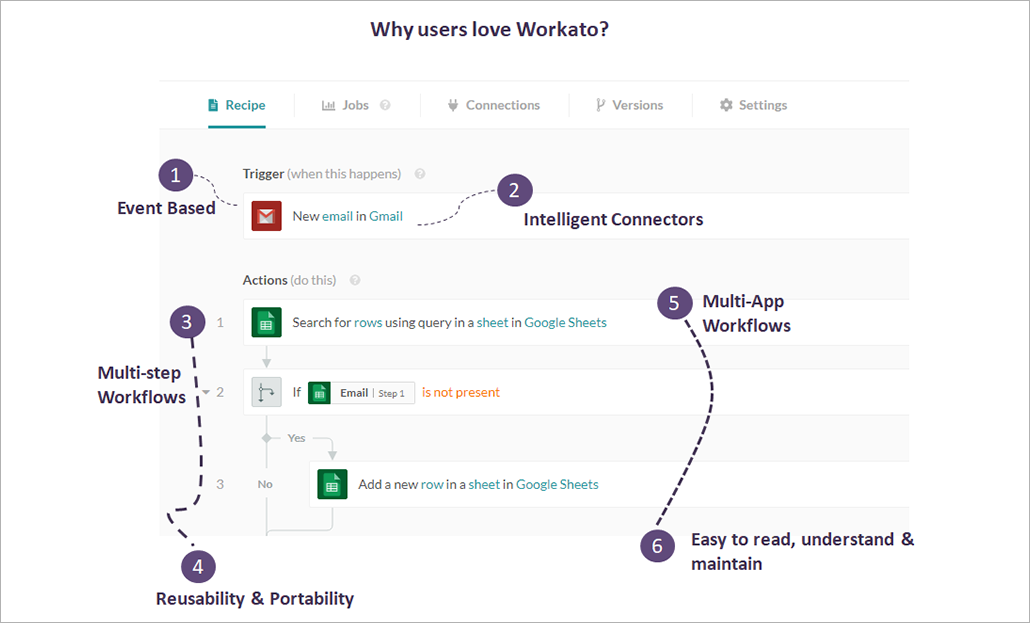 Looking for connectivity between applications or learn more about Workato? Let us explore how to use Workato with an example.
Example: Synchronize Salesforce cases with Jira's Issue
Customers expect information to be available in real-time across all channels whenever they want. For successful customer experience, the business enterprise needs to seamlessly access as well as synthesize information across all systems and departments. Resolving issues promptly can strengthen customer relationships. However, when different teams employ different apps to track issues, it is difficult to coordinate. Synchronizing Salesforce case with issues in Jira is an ideal solution to this problem. The following workflow can illustrate the scenario:
Getting Started in Workato – Creating Workflow Automation
Let us switch over to Workato and create a simple workflow between Salesforce and Jira.
Now it is time to create the recipe for the sample workflow. The first thing when it comes to creating a new recipe is initiating a connection. For that, select the app and the trigger event as shown below: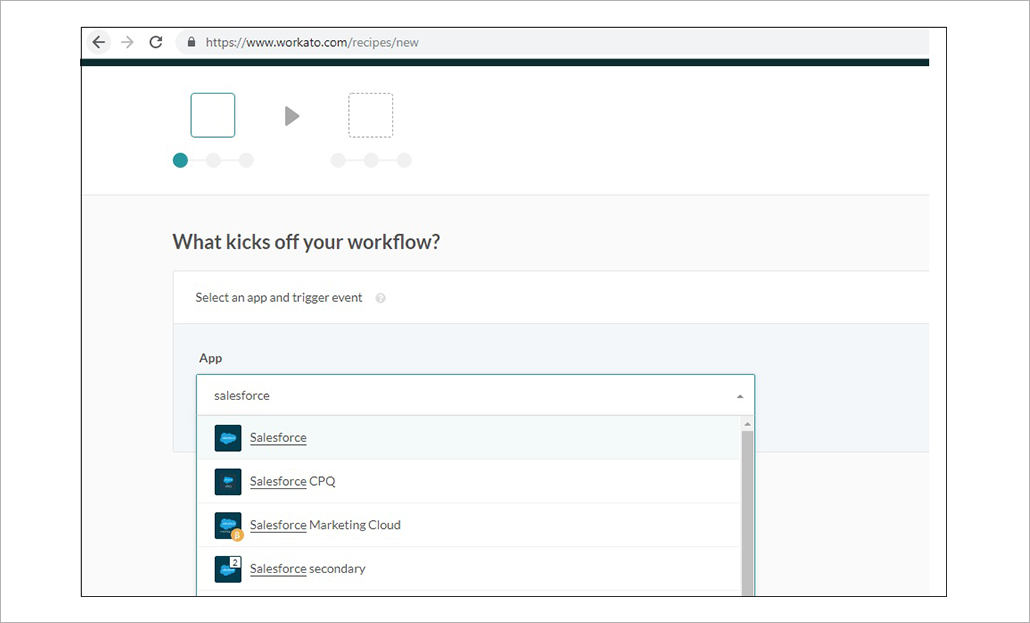 As we are going to synchronize Jira App with Salesforce, connect the apps using your salesforce and Jira accounts. The following screenshot portraits the same: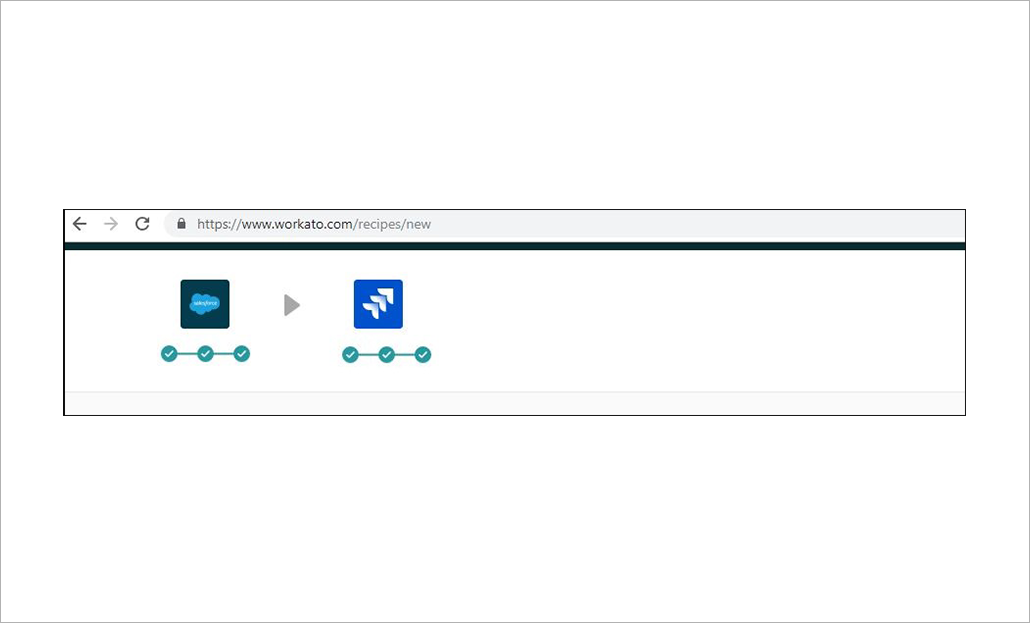 Now that connections and triggers are defined, let us create our action: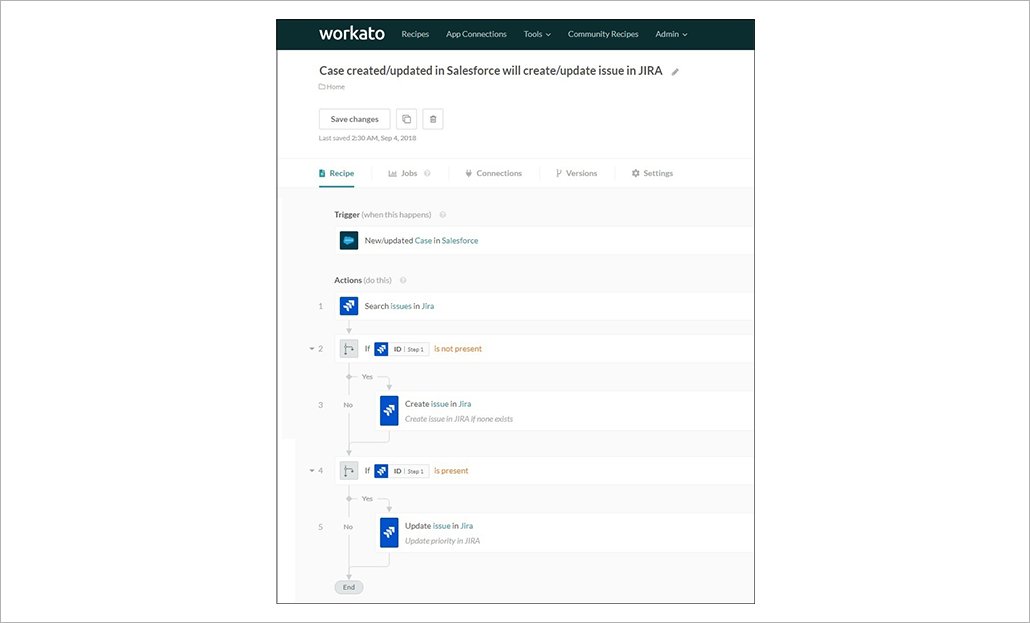 Recipe source: Workato.com
The above Workato recipe creates an issue in Jira when there is a new case in Salesforce. When you create or update a case in Salesforce, the Workato first checks for the matching issue in Jira. Then, it creates one issue if none exists else updates the matching issue.
The recipe keeps a link between Jira issues and Salesforce cases by entering the Salesforce case number into the Jira's 'Issue description' field.
Click here to learn more about this recipe.
Just imagine your customer contacts your supporting team and complaining about an issue on your web page. Then the supporting team logs the interaction in Salesforce and creates a case. The recipe synchronizes the issue in Jira, so the technical team knows about the complaint immediately. Integrating the supporting apps with Salesforce, Workato allows you to automate the sharing of customer insights and experience.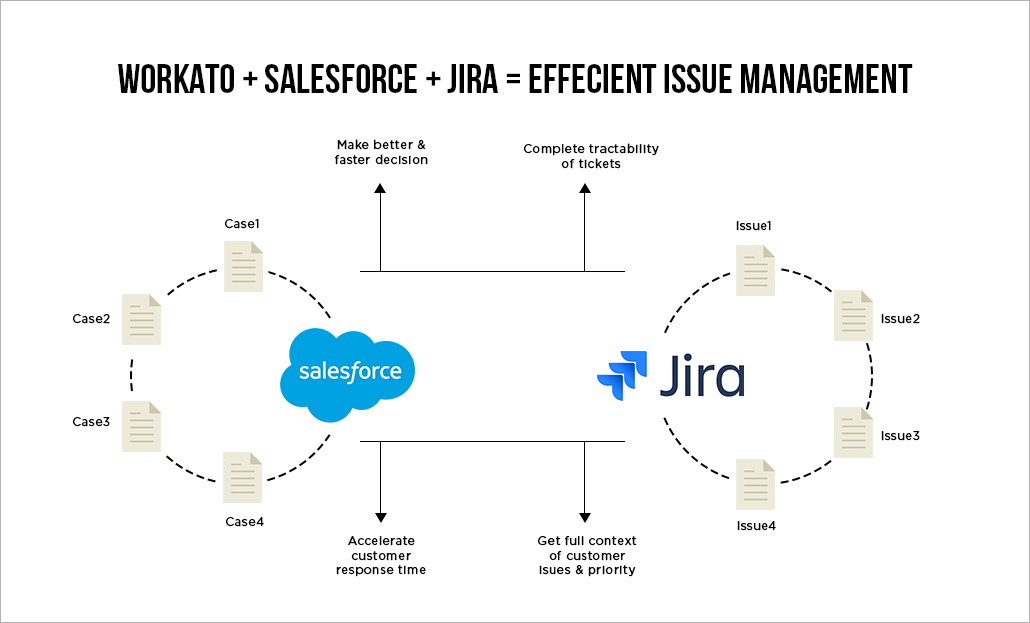 Similarly, any time when a case is updated, the recipe takes effect and ensures that both systems include accurate as well as up-to-date information. Additionally, this integration is customizable – You can make as simple or as robust as you want.
Workato provides you complete transparency on application integration, the logical steps & flow of information, calculations, business rules & validations and formulas & dependencies on a single UI. As such, it is easy to understand for both technical and business users alike.
Final Words
Overall, the Workato ensures the users across the organization, can access the powerful automation tool via an intuitive user interface. In the world of high-speed businesses, the iPaaS tool enables a seamless digital transformation and information flow by connecting all of the applications and empowering new business services.