They say, if you want to save money, never go grocery shopping when you are hungry, and always write a list. If you don't, you'll be tempted to buy things you don't need. The same principle holds true when it comes to selecting a Content Management System (CMS).
Here's what happens when you go about selecting a CMS without having a clearly defined set of requirements.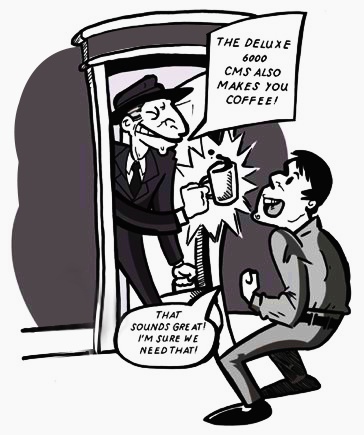 Without a clearly defined set of requirements, you will be seduced by fancy functionality that you will never use and before you know it, you'll be spending thousands of dollars on an enterprise-level system when a free blogging tool would have been sufficient.
But, how then do you establish your list of requirements? What should you look for in a CMS? Although your circumstances will vary, this blog uncovers the ten things that are particularly important.
Core Functionality
It is a common misconception that all CMS platforms perform the same functions such as creating, editing and organizing pages and content. Although this is true at the basic level, there is a range of functionality that not every system can support such as eCommerce, events ticketing, multilingual support, multiple website support, etc.
Contrary to the popular belief, unused functionality isn't excess power, its excess weight slowing you down and making your system unnecessarily cumbersome.
Creating a conclusive list of what you need and don't need from your CMS and making provisions for future requirements will help you make the right decision.
For example: When we started with the project for a client (A group of English colleges offering unique English courses in Australia). We initially made a list of all the functionalities that we would require and then went on to develop this multi-network web portal. This web portal shows the available locations, features of the college. Students can take a free test to check their English level.
The multi-network web portal describes in detail about the 3 campuses, the courses available and their levels of description are available.
Students can book/register for an exam through this website and can also view the timetable with the exam dates for each of the courses available. Agents can login into the website and can download study/resource materials depending on the region/country.
Interface & Usability
One of our client is a well-known lifestyle magazine that recently ventured into the digital space with a web portal that has brief details & listing about various lifestyle categories such as latest news, reviews, trends, competitions, entertainment, food, home decoration, wellbeing, technology, outdoors, motoring, caravanning, road trip, travel, advertisement etc. Such kind of a portal, especially requires a great interface and usability. So, we used a CMS that would allow us to develop a responsive website with a mobile device first approach.
We chose to invest in an intuitive interface as it enables non-technical people to make changes and update the content of the website easily, makes the user's life easier can cumulatively add up to a substantial amount of time saving. Additionally, navigating through the administrative portion of a CMS should be easy and the user should at least be able to figure out its basic functions without much instruction.
Another aspect that needs equal consideration is the time taken to create content. We systematized this in the Ad Management section of this digital magazine by construing a dynamic logic to render Google Ads or Programmatic Ads based on an availability of advertisements in Google AdSense account for the respective pages. And if all the above conditions are not met then default Ads would be rendered and displayed within the respective Ad Management sections.
Initial Set-up & Deployment
Although open source CMSs may be available free of licensing costs that may result into an initial saving on up-front expenses, the system still needs to be installed and configured to your needs and basically run somewhere.
But, configuring and optimizing CMSs for production use is often a complicated task. If you happen to have the hosting facility as well as the required technical skills, then you may be able to do this yourself.
If not, the safest route in many cases is utilizing a dedicated vendor to take care of this for you.
Flexible
While certain technological limitations in the past may have existed in terms of the way content is retrieved and presented, the presentation of the content or the functionality of an application should not be dictated by technology.
Flexible CMSs have a provision that enables you to create your own custom design. Moreover, it provides administrators an interface to choose / change / modify front end layout in order to suit & match their marketing & branding requirements.
Several well-known content management systems are inflexible in their presentation of the content and place unwarranted constraints on the design as well, which can have a serious impact on accessibility.
Therefore, it is necessary to check the flexibility of the CMS before opting for one.
Extensible
Most CMSs permit a certain degree of configuration and customization, in fact some are more customizable than others due to their superior code base.
But, once you go beyond the fairly common functionality, then the CMS will eventually need extending in some manner. For example, A custom module was developed by our team for a popular merchant payment gateway with more security and single checkout option to integrate them for Drupal & Magento applications.
The capability of the CMS to integrate additional features into a website or an application via custom-made development or plug-ins, such as photo galleries, media players, event booking systems etc. is an important deliberation.
Integration
Some businesses have processes that require multiple systems to operate efficiently (e-commerce websites, procurement systems, CRM systems, Volunteer Management Systems etc.). However, without integration of this system, the business owner is left with nothing but dispersed data that can hinder the business ability to operate effectively.
On the other hand, integrated systems help business owners make the right decision by collecting, analyzing, sharing and reporting important information in a timely manner. The ability of the CRM to integrate with the existing systems or third-party applications is a very important consideration.
Therefore, the ability of your CMS to integrate with existing systems or third-party applications is an extremely important consideration. To give you a first-hand account - We chose a flexible CMS as it was for an Ecommerce website. Through this website, customers can locate the salsa stores as well purchase family owned chips and salsa.
Due to the unique nature of the website, we created a module that provides users with the facility to create their own product bundle and can add this complete bundle to cart for purchasing. Currently there is no option in the Drupal commerce for a normal user can create bundle of product but it provides the flexibility to create these bundles. This makes it a good choice for a CMS.
Search
Search is one of the most important aspects of any website yet an element that is often overlooked while selecting a CMS. Here are a few things to look for when assessing a CMS's search engine friendliness.
Title Tag Customization
Static, Keyword-Rich URL Customization
Meta Tag Customization
Enabling Custom HTML Tags
Internal Anchor Text Flexibility
301-Redirect Functionality
Image-Handling & Alt Tags
We recently helped a client with their search functionality by selecting a CMS that let us integrate a Store Locator plugin with Google Maps API & Retail Service Store Locator API. Using this custom developed application, we provided an interface to users to search & review various stores/vendors located within the specified city which offers various products of the brand.
Solr, the open source enterprise search platform integrates with popular CMS applications and provides an interface to search through wide range of articles and documents along with powerful matching criteria such as characters, wildcards, joins, grouping, across any data type. It has a proven record & an optimized solution to deal with high volumes traffic at very large scale across various regions globally.
Budget & Licensing
When choosing a CMS, you can either opt for a commercial branded CMS offering a robust set of features and ongoing support, or follow the free open-source CMS route, based on your budget and requirement.
However, choosing one over the other boils down to your business, your needs, your budget and often the preference of your staff or the developer building the website.
Nowadays, several organizations are opting for the open-source route as it is viewed as a substantial cost saving while still giving the space to customize.
Nevertheless, no matter what CMS you opt for, it's always best to investigate the costs in terms of licensing fees and ongoing development - otherwise a cheap solution in terms of initial outlay may blowout very quickly.
Support & Stability
If you opt for an opensource CMS, the level of community support is very important, unless you have in-house technical support. Such large and active communities help to resolve queries, help in developing the CMS and provide suggestions. In addition, in open source Platforms, source code being available in public domain.
However, you must remember that community-based support is by no means guaranteed – in fact in most cases, there is no customer support line either that can be contacted in case of any issues. Paid professional support is an option that should be pursued in most cases, such as larger sites. This doesn't necessarily mean that you must spend money on a branded CMS. Many companies generate revenue from open source software by offering a comprehensive paid support service.
For branded CMS solutions, support is often built into the licensing arrangement, however it is important to understand the extent of this support and what limitations are placed on the licensing arrangement.
Scalability & Security
After spending so much time and efforts in researching for the CMS that is perfect for your organization, you don't really want to redo it again within a year just because it is limiting your ability to expand your web presence. Therefore, it is important to select a CMS that will work for you not just right now, but in the future as well.
The CMS that you choose should have the ability to scale with your organization as you grow and change over time. Moreover, the CMS should be viable to support Multiple Delivery Channels such as (Web, Mobile, PDA etc.)
The CMS should be able to work with data interchanging tools such as an API (Application Programming Interface) allows efficient data interchanging across CMS platform & other applications.
Support of CMS applications with regard to security measures should also be given equal importance if not more. Moreover, it is imperative to ensure that the application remains secure as ever even after frequent release & up-gradations related to security patches.
Conclusion
Selecting the perfect CMS is far from an easy decision. It requires a great deal of thought, planning and future considerations – whether open source or branded.
Every CMS should be evaluated based on your needs and its own merits - Does it fit within your budget? Does it do what you need? Will you get enough support? Can it adapt to the changing needs of your organization?
Finding a CMS that closely aligns with your needs is the best way to get assured value for your money.