In the vast world of technology, businesses have discovered the power of software development to drive their success. As the demand for software solutions continues to soar, companies search for skilled developers who can bring their digital dreams to life. But amidst the bustling talent landscape, one question lingers: What is the hourly rate for software developers in 2023?
To unlock this enigma, we dive into the depths of this guide, revealing the factors that shape the hourly rates for these coding wizards. From experience and expertise to project complexity and market demand, everything matters in the magical dance of pricing.
As per Glassdoor, the hourly rate for software developers ranges from $46 to $70 in the US.
Let's delve into the primary factors that impact the hourly rate of software developers.
1. Experience and Skill Level
A software developer's experience and skill are essential in how developers charge their clients. Junior developers with limited experience typically have lower rates than mid-level and senior developers.
The chart below shows hourly rates according to the software developer's experience.
| | | |
| --- | --- | --- |
| | Junior Developer | Mid to Senior Level |
| US | $38 | $63 |
| India | $18 | $25-40+ |
(Data Source - Signity)
2. Geographic Location
The variation in the cost-of-living leads to changes in hourly rates. Developers from places where living costs soar have high rates than in the suburbs.
The table below shows the Software Developer's Hourly Rate by Location.
| | |
| --- | --- |
| Region | Hourly Rate (Beginner Level) |
| US | $132-$140 |
| India | $15-$25+ |
(Data Source – Uplers)
The software development hourly rate in India at the beginner level starts from $15 per hour. At this rate, India offers the advantage of hiring developers to avail of the best software solutions.
3. Expertise in Technology
Technology Stack: A developer uses tech stack to create a frontend application, to create databases for the backend. They also use tech stack consisting of different frameworks and programming languages. The bar chart below shows the developer rates based on language or tech stack.
Full stack developers: Backend and frontend development are handled by full stack developers. In India, they charge around $41-$80+, while in the US, they charge anywhere from $61-$120+ approx.
Software Developers Hourly Rate in US Dollars by Technology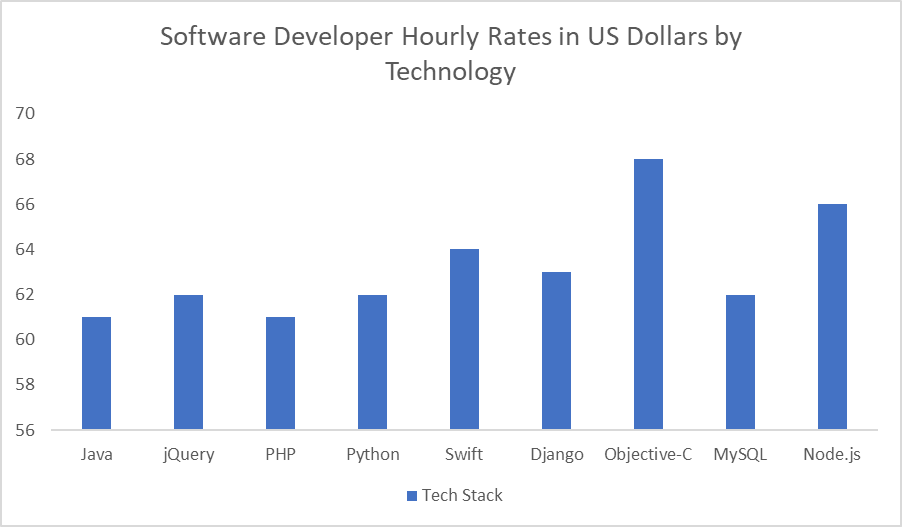 (Data Source - Codementor)
4. Mobile App Developers
Android App Developer: Developers specializing in Android app development typically use Java or Kotlin programming languages.
iOS App Developer: Developers use specific coding languages. Objective-C has a base of C programming, while Swift can be used for multiple purposes in iOS app development.
Cross-Platform App Developer: Mobile app developers specialize in frameworks like Flutter, React Native, and Xamarin. Using a single codebase, they can develop apps on multiple platforms, known as cross-platform app development.
This chart shows how much mobile app developers charge in India and the US.
| | | | |
| --- | --- | --- | --- |
| Country | iOS Developers | Android Developers | Cross-Platform Developers |
| US | $150 | $168 | $125 |
| India | $30 | $26 | $23+ |
(Data Source – Statista)
Besides factors like experience, location, and expertise, the hourly rates can also vary based on the specific industry or domain in which a software developer specializes. For instance, a developer with financial background might leverage that knowledge to design financial applications.
Need a Software Developer?
Clarion Technologies allows businesses worldwide to hire developers from India at a highly competitive cost. Our expertise in seamless project management enables us to deliver quality solutions while accommodating your specific needs. With our offshore software development services, you can quickly scale your team and enjoy the benefits of virtual employees.
By entrusting us with your software development requirements, you can focus on business growth while benefiting from our exceptional services at affordable rates. Contact us and work with our top talent.
FAQs
Q: How much can a software developer charge for a project per hour?
Answer: Generally, it can range from $15 to $50+ per hour. It varies based on experience, location, and technology expertise.
Q: Are there any industry standards or benchmarks for software developer hourly rates?
Answer: There are no universally recognized industry standards or benchmarks for software developer hourly rates; rates can vary significantly based on experience, location, and project complexity.
Q: How can senior developers be any different from their junior counterparts?
Answer: Junior developers typically charge lower hourly rates than senior developers due to their relative lack of experience.
Q: As the project advances, will the developers hike their charges?
Answer: Yes, the hourly rate changes based on previously negotiated terms or project milestones as the project advances.
Q: Can I negotiate hourly rate with a software developer?
Answer: Yes, hourly rates are often negotiable, especially for long-term projects or hiring multiple developers. However, it's essential to remember that meager rates might indicate a need for more experience.