The digital transformation of many businesses starts with Drupal – one of the most innovative and flexible open-source CMS in the world.
Drupal's features offer the digital experience to your business more than you imagine. This is the key reason why big brands and several industries are adopting Drupal.
It's not enough to just adopt Drupal; you also have to keep your website up-to-date. The suggested lifespan of a site is 3 to 5 years. If you have had your Drupal site for four or more years, you can feel confident in its ROI. However, as the technology continues innovating, being top of the Drupal upgrade is vital to keep your site secured and functioning well. An outdated CMS will leave your site vulnerable to security risks and even cause critical problems with mandatory server changes.
Drupal periodically releases the new modules to keep the CMS up-to-date, fix problems, especially to address critical security issues and add new innovative features. On June 3, 2020, they've crossed another milestone - released Drupal 9.0.0!
Now, it is the peak time to hire Drupal developers and get a quick solution to upgrade; since the community has already announced the End-of-Life of Drupal 8 & 7.
Let's explore why to migrate Drupal 9 and what it means of Drupal 7 and Drupal 8 website owners as well as what action they need to take.
Why do you need to upgrade? - Drupal 7 vs Drupal 8 vs Drupal 9
Every new release of Drupal opens the opportunities for the digital business. Five years ago, the Drupal 8 was released and most businesses fell in love with the innovations of top-notch Drupal 8 features and improvements.
Despite Drupal 8 being launched, almost thousands of websites still running on Drupal 7. Behind the powerful features of Drupal 7, the long update process of Drupal 8 deterred many users from adoption.
D7 and D8: End of life is around the corner
With the release of Drupal 9, both D7 and D8 versions are reaching their end of life in November 2021. After that, both versions will no longer receive support & fixes from the Drupal community.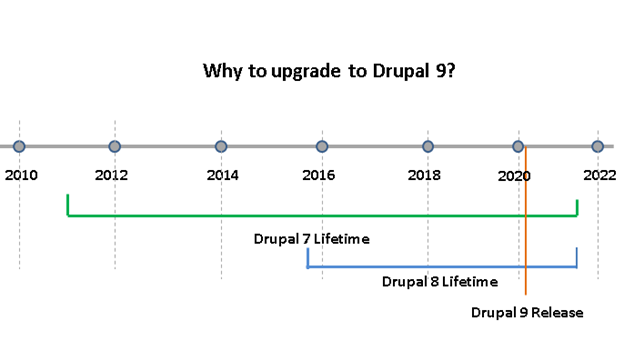 Reasons to Migrate from Drupal 7 to Drupal 9
There will be lesser maintenance for Drupal 7 and lots of themes and modules left unmaintained. On the other hand, Drupal 8 and Drupal 9 encompass several key improvements. You've already missed out the awesome features of Drupal 8 including the performance improvements at the core of all updates and modules being introduced in Drupal 8.
Configuration management enables you to deploy config between environments
Drupal's default markup is empowered to meet HTML 5 standards like new semantic elements
Extended security coverage
Mobile centric experience on a mobile device
Incorporated multi-lingual capabilities
PHP template with new, simpler, faster and secure theme engine
Improved content editor experience through the mobile-friendly toolbar, WYSIWYG editing, and in-place editing
Thanks to mobile-first UI – you can make changes from a mobile device
Built-in JSON API for fully decoupled applications
Why should you move from Drupal 8 to Drupal 9?
Drupal 9 is quite similar to Drupal 8 except upgraded 3rd party dependencies and removed deprecated code.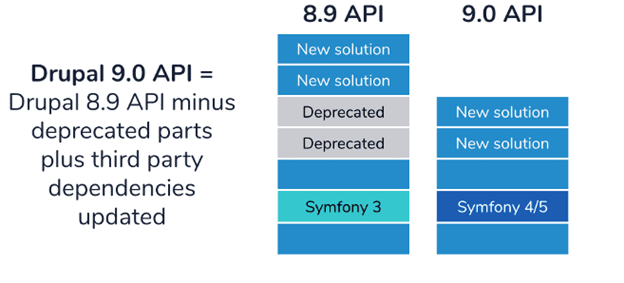 Image source: Drupal.org
If there are no major differences means, what is the big deal of releasing Drupal 9?
There is no separate code base for Drupal 9; it is built within Drupal 8. Hence, Drupal 9 seamlessly accepts all the modules of Drupal 8 as long as they don't depend on deprecated APIs.
By stripping off all the unwanted cruft – Drupal 8 turns into Drupal 9.
During the previous upgrades, its backward incompatibility caused so many headaches, but Drupal 9 is backward compatible with Drupal 8.
To get started to Drupal migration, be sure to explore the top 10 Drupal Development Companies.
Best Approach to Drupal 9 Migration
If you already in Drupal 8, you're already ahead of the project and can seamlessly upgrade to Drupal 9. Drupal development companies are already aware of what code is depreciated and what will change in Drupal 9, they've begun to tweak the sites to align with Drupal 9 upgrades.
Whether the challenge in the migration process holds you back in Drupal 7 or not interested in migrating your site twice a year. Whatever it is, now, the available transformation is only Drupal 9.
Is it safe to upgrade from Drupal 7 to Drupal 9, by skipping Drupal 8? Will the site be secure?
This approach will cost the same effort as migrating from D7 to D8 to D9. Since it is a complete rebuild
The APIs that don't have conversions will still remain with your Drupal 7 code, so there is no guarantee for full coverage
Another concern comes with backward compatibility. If any error occurs in Drupal 9, you can't date back to Drupal 7
As such, the sensible approach to do is start the steps to migrate to Drupal 8, which includes migration of entire content of your website and re-development of themes that displays the content.
This massive structural change is inconvenient but certainly vital to keep your site modern we all wish it to be. Further, this massive upgrade holds only for Drupal 7 to Drupal 8, not for the later upgrade to Drupal 9.
The Closure
The above mentioned are just a sample of the importance of Drupal 9 migration. Consider all the modules, which have been enhanced to make an effective digital experience, which engages your customer base better than ever.
Are you still willing to be behind the pack? But, waiting until the Drupal 7's EOL date is not a good idea. If you need support with enhancing your existing Drupal 7 website, we can help.
Clarion Technologies, an expert in Drupal development service aligns speed, agility, and technology to meet your business requirements, keep you upgraded and offer ease of migration from Drupal 7 or Drupal 8 to Drupal 9.
Hope, now you're sure enough that remaining on Drupal 7 or 8 means hanging to a less effective CMS. Drupal 9 is simply more capable of better features.