Do you recall a moment where you were seeking out a technology partner for your small to medium-sized business and it didn't go as you assumed?
Maybe they were not aligned with your business objectives or maybe they lacked the expertise to react to the new competitive realities and customer needs!
And this is the reason why despite the presence of 2.4 million development firms in the market, SMBs struggle to land a partnership with the right organization.
The need for a business technology partner is progressing rapidly. And they have become a crucial part to make business scenarios viable and executable for their SMB partner's ecosystem.
In a survey of 3000 small to medium-sized businesses worldwide, it came to attention that a greater number of SMB owners are inclined to work with technology solutions partners that bring thought leadership and functional business expertise.
In addition, one-third of SMBs rated, 'expertise in a specific technology as a highly demanded aspect in choosing their technology channel partner.
Here is how hiring a technology partner has panned out for SMBs.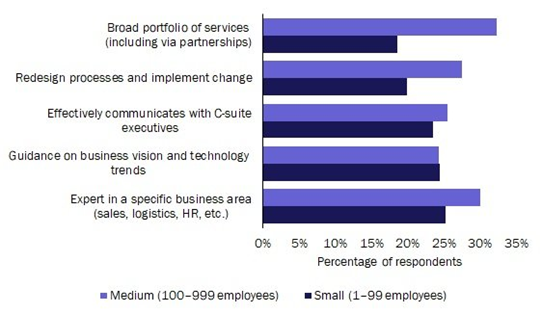 This proves that SMBs are aware of the impact their tech partner will have on their business, but does every SMB know how to find the right one?
Fortunately, there are a few ways that can help you to find the right Technology solutions partner with SMB experience.
We are sharing some proven tips that we believe will help you to build a strong partnership.
Before we jump into cores, let us shine some light on the background!
What is a Technology partner?
A technology partner or business technology is a firm or organization that offers the latest IT-related or digital transformation services and helps businesses to thrive. A technology partner can be anything from the following,
IT Service Provider

Digital Transformation Service Provider

Web Design and Development Services Provider

Mobile App Development Service Provider

Cloud-based Service Partner

Software Services, etc
Even though your business is small to medium-sized. It is not given that you will only need one service. The possibility is you might need app development, web development, and also a few digital transformation services.
Hence, it is essential that you are entirely aware of your business requirements. And once you know that, then you can keep this blog as your checklist and follow our lead.
Being a small to medium-sized business, should I use an in-house team or tech-partner?
It is one of the most debated topics. And a lot of SMB's have asked us; Why must I risk hiring a completely new technology solution partner when I can hire an in-house team? Well, the in-house team might work for some businesses that are ready to invest a lot in management and resources. But we can ensure that 99% of the businesses benefit from their tech-partner.
And being an SMB owner, you need to multi-task to manage everything, from accounting to planning to marketing. In the haste of multi-tasking, managing new technologies, data backup, business planning, etc, falls to the bottom of the list.
Following are the added benefits of hiring a dedicated tech partner.
Covers the technology support
Having an in-house support team might look safe and ideal choice. But what happens when they are out, sick, or on vacation? Can you risk your business? The answer is absolutely NOT.
On the flip side, when you hire a dedicated partner they will be monitoring and supporting your business 24*7. In a nutshell, allows you to have a peaceful sleep.
Stay away from the hiring headache
With a growing business, your need for IT services will grow and so will the resources. You might need to hire a lot of experts throughout the development cycle. This pain, cost, and effort can vanish with one solution; Hire a tech partner instead!
Training and Accreditations
Training your developers for all the latest technologies is the only way to stay ahead of the game. It needs consistent investment to train your technical team to keep them relevant. You can easily skip this added cost by hiring a good business technology partner.
Here we have assembled vital points to consider while seeking out a technology solution partner with SMB experience.
Check out Area of Expertise
The first thing to consider in the quest of finding the right technology partner is the range of services they offer. It is important because a tech development firm with an extensive service range will help you in the following,
Analyze the market trends

Select the right technology

Guide you to achieve a scalable solution.
Therefore, ensure that your chosen tech partner is highly experienced in the concerned field.
For instance, if you are looking for web development, go for a firm that not just works with renowned platforms like .NET, PHP, Angular, etc but also deals in Laravel. DotNetNuke, Joomla, WordPress, Mongo DB, etc.
Similarly, if you are looking for mobile app development, your ideal choice must be the firm that offers the services for Android, iOS, and also cross-platform, etc.
Know their Clients
Every development firm offers its portfolio and case studies for your reference. But we insist you go beyond that. Try to search their clients online and how their presence looks like. There is a great possibility that the web development or the app you are looking at is built by your potential tech partner.
Another technique to know their client is to contact them. Because nobody will give you a clearer picture than them. Also, a reliable development firm will always offer video testimonials of their clients that prove their authenticity.

Ask for trial
A reliable development firm will not shy away from offering you a risk-free trial. When a firm is confident enough in its services and deliverables they offer such trials to prove their potential and gain the trust of their SMB partner.
Besides, this trial will help your tech partner to understand the central ideology behind your project. They will get a glimpse of your business and the problems you have.
Focus on asking the right question
A very important aspect to determine the potential of your tech partner is to ask them the right set of questions. The questions can be as the following,
What all platforms do you use?

How much experience do you have?

What are the industry domains you have worked in?

Once you are convinced by these sets of questions, you can further ask them,

What will be the time and cost of the development process?

What was the efficiency of their previous projects?

How big is their SMB clientele?
Look for their unique offerings
Every development firm has one thing or other that they believe gives them the edge over their competitors; their USP.
This is a great parameter to judge the potential of your possible partner.
A lot of companies promote their experiences, their clientele, the kind of professionals they have on board, a business model, the best practices, etc.
For instance, Clarion has a vEmployee model, that is tailored for SMBs. It is a unique delivery model that is an amalgamation of best practices, powerful team, and value-adding factors.
What it really does is allow you to have a team consisting of a testing professional for quality audit, project manager, and in-house experts all at a cost of a developer.
Conclusion:
Opting for the right technological allies can make or break the organization. SMB's achievements are measured by its caliber to serve the customers and the way it thrives through the challenges.
The right technology partner can help you achieve ground-breaking goals.
Clarion Technologies help SMBs in creating an ecosystem that consists of developers, project managers, testers, etc. We aim to offer best-of-breed technologies and help SMBs to achieve continuous success.
Learn more about us or be our partner by clicking here.