Innovations in the field of automation, cloud computing, artificial intelligence, machine learning, and cognitive intelligence have made the practicability of adopting RPA (Robotic Process Automation) in daily life. RPA is broadly being considered as the new revolution in several industries including HR. It is generating new opportunities for C-level executives and managers to expand their operational areas within the business. The tasks that were once time-consuming and boring can now be done with machines or intelligent systems programmed to analyze business metrics and run calculations based on pre-defined algorithms. This post aims to explore what could the robotic process automation mean for HR domain.
RPA in HR Domain
HR Management has been thought of as a manual department process. However, all that is changing now. A recent research states that around 93% of human resource workforces' time is spent on mundane tasks. In addition, around 65% of HR processes are rules-based and can be automated. This is where the influence of robotic process automation comes in.
Over the years, HR has increased its approachability towards the raising business demands. It has been extended to adopt new technological innovations like cloud-based information systems, shared service infrastructures, and advanced predictive analytics. The significant investment in cognitive technology like RPA demonstrates how fast it is adopting RPA automation. A research by HFS revealed that 52% of enterprises are evaluating, piloting or implementing RPA in HR as shown below: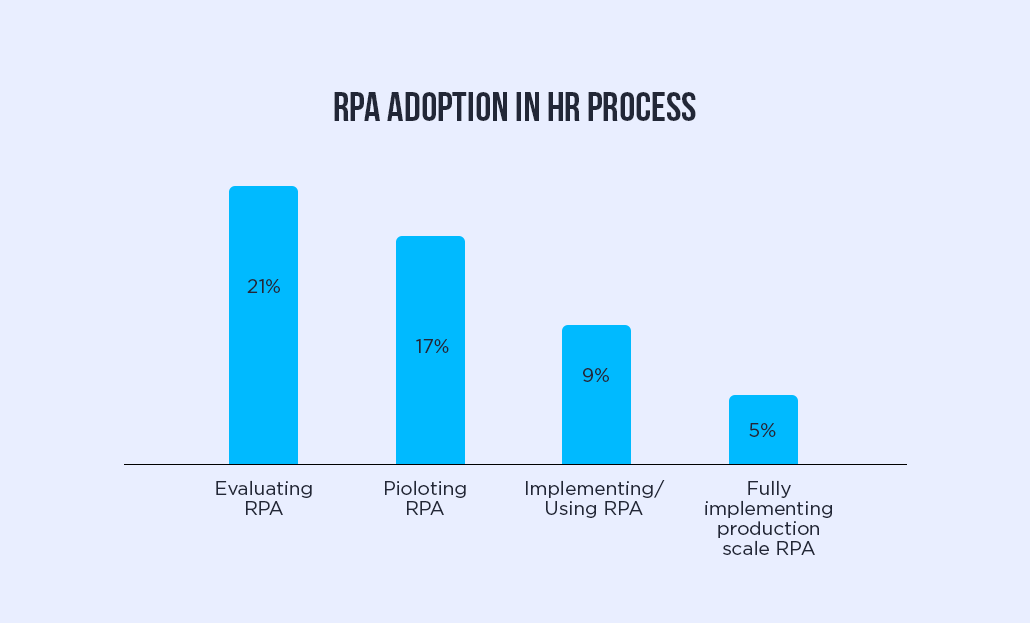 Therefore, we can say automation is occupying the HR space and soon everything that has the potential to automate will be automated.
The RPA adoption will not just favor the HR professional, but also provide new employees a more efficient and personalized onboarding experience. It empowers the HR team to organize everything like the introductory meeting with the manager, personal paperwork, and in-depth job training in a more personalized way that enables new employees to feel that their enterprise values their happiness and time. Moreover, RPA tools are capable to automate crucial HR processes like performance management, hiring employees, payroll administration, online learning and many more. The following figure depicts how the HR process is working with and without RPA: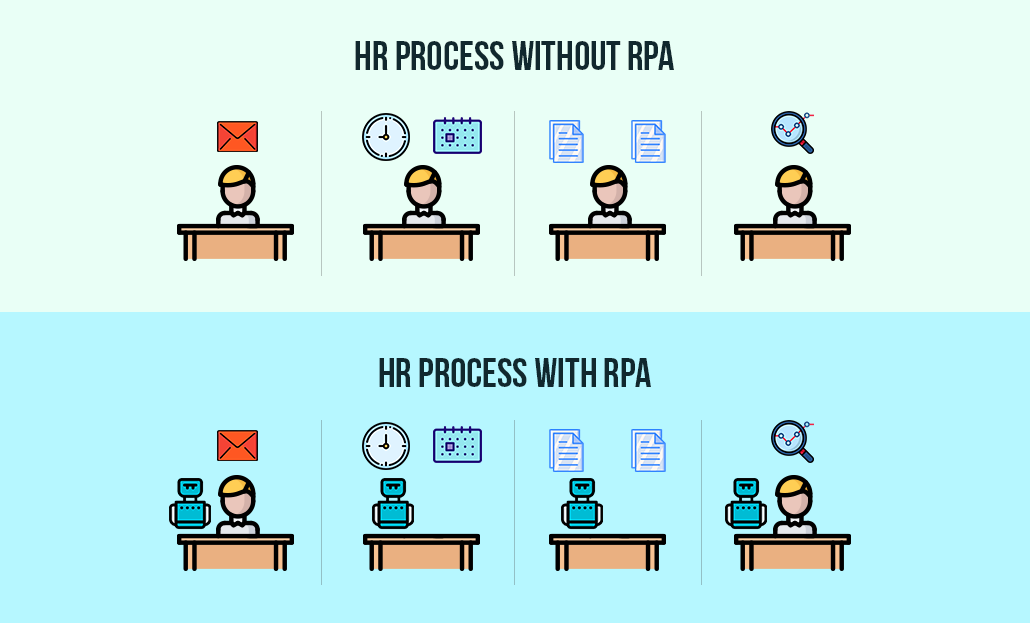 In addition to interpretation and decision-making, the HR employee works on tasks like gathering, copying, evaluating data files, etc.
However, the adoption of RPA enables humans and bots to work together. Thereby RPA bots can take care of the routine & rules-based tasks and the human employee are allowed to focus more on critical interpretation and decision-making activities.
RPA solutions within the HR domain can address the pain points in HR process by accelerating the automation competence of the conventional HR system.
What Drives the HR Domains to Incorporate RPA Solutions?
Advanced HR teams are started applying RPA to support tasks like running, formatting & distributing reports; data management & validation; and substituting manual spread-sheet based tasks. Some enterprises are planning for advanced cognitive automation technologies like NLP and machine learning to enhance the HR process from the role of talent acquisitions and benefits administration and beyond. In a recent survey, 45 percent of HR executives expressed that they were in confident in RPA implementation at it will lead 10-20 percent of business savings. Here are some of the measurable benefits of RPA in HR processes: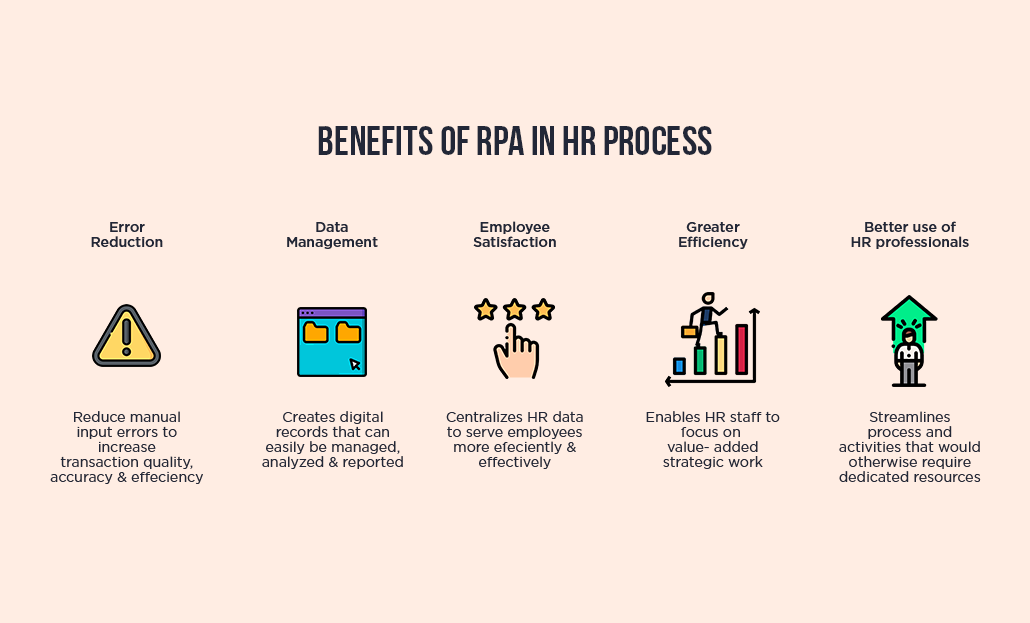 Recruiting & On-boarding
There are mountains of paper works involved in the process of onboarding a new employee. RPA tools support in filling as well as processing forms rapidly and without any error. As a result, a business can experience the following outcomes:
Reduced HR On-boarding process cost – As it supports the HR team by automating rule-based repetitive processes and transcribing information from multiple sources.

Enhanced on-boarding process speed – As it automatically validates and enters data of new hires into diverse systems.

Reduced error rates & improved quality in on-boarding processes – As it ensures full quality with zero error rates, accurately updates personally as well as account details across multiple systems. The improved quality ensures a better output and performance.
Better Ways to Handle Data
Human resource management is constantly flooded with data on past and current employees, interns and contractors, sometimes across various geographic locations. In addition, much of this data is in continuous flux. For example, a change in employee phone number or home address requires to be recorded. The RPA solutions can handle this data without the requirement of HR employee to update such details manually.
Deliver Scalability and Flexibility to the Business
Increasing business requirements demand HR team to bridge the gaps imposed on the recruitment and talent management teams. Especially, the requirements of short-term or contract employees can include a plenty of complications and thus cause pressure on the HR team. Such fluctuating employee requirements can be reduced with the adoption of RPA bots. In addition, the RPA platform can be extended to process with new roles and responsibilities.
A Better Way to Run Payroll
When an enterprise includes a week payroll system or equipped with a large number of employees, the payroll tasks include large bulks of data entry activities. As the payroll process is incredibly repetitive, it can be automated with RPA software to result in reduced processing time and enhanced accuracy.
Ensure Compliance
The continuous changes in government regulations influenced many of the HR activities like compliance reporting. This challenge intensifies several times when the company functions in different states, as well as countries as each has its own set of laws and regulations. With RPA, the HR team can ensure the process adheres to the compliance policy.
Incorporate Mergers and Acquisitions
The mergers and acquisitions continue to be the challenges for the HR departments as it causes additional costs and risks from handling the disparate processes, systems and procedures across the enterprise. However, with the end-to-end automation, RPA ensures seamless function and transition across all applications without any code demands and disruptions. As it allows for effortless and rapid deployment immediately, the businesses can save a large amount of money.
Know more about the feature of RPA
Robotic Process Automation Use Case in HR
The human resource department of any business is accountable for the excess of tasks ranging from recruit to retire process and many of which are time-consuming and repetitive processes. Undoubtedly, more than 50 percentages of standard HR processes can be automated with RPA. The following figure illustrates the applicability of RPA in HR process: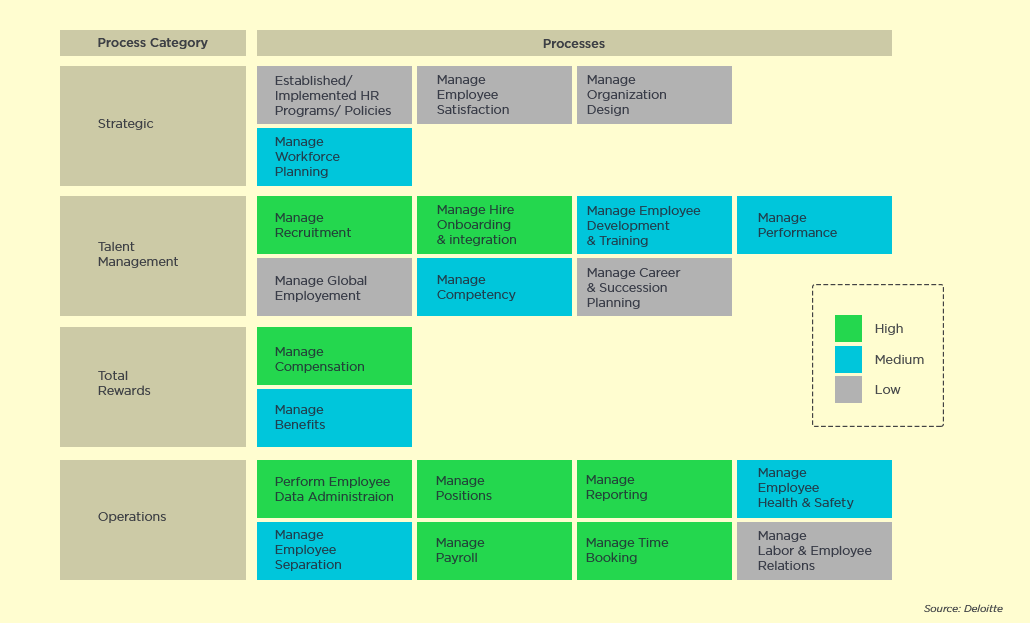 Source: Deloitte
Conclusion
From the above discussion, we can conclude that RPA has a huge competent to make human resource management more efficient, effortless, and cost-effective. It can support to hire faster and discover higher-quality candidates. Ultimately, it can support businesses to make positive changes that benefit the workforce, and the HR teams support them.