Over the years, enterprises have invested millions of dollars building their supply chain processes and infrastructure. While most retailers, manufacturers, and logistics providers have embraced some types of SCM Supply Chain Management system, complete process automation and data integration remain a challenge.
Moreover, the digital transformation is playing a vital role in supply chain management and changing the way that enterprises deliver products, conduct operations and fulfill orders. What if you could boost your enterprise's overall supply chain process and cut costs, all without making a major IT investment or hiring new staff?
The rapidly enhancing technology of RPA (Robotic Process Automation) promises this outcome – and more. This blog addresses the application of RPA in supply chain management and its outcome.
How Robotic Process Automation relates to Supply Chain?
RPA is being used in supply chain management to automate and accelerate tasks that were once performed manually. As an integral part of the recent ongoing digital transformation, RPA redefines the business supply chain process and minimizes inefficiency across the business. In addition to menial administrative tasks, enterprises can apply RPA to integrate and automate data-driven activities. Some of the top challenges that the supply chain process faces today include:
Discovering which supply chain enhances to focus on
Lagging performance metrics
Struggling with wide-ranging complexities between customers, transporters and manufacturing facilities
As shown above, RPA can enhance your supply chain as it offers benefits like labor & utilization stability, decreases long-term costs, reduces the error rate, increases worker productivity, minimizes the frequency of inventory checks, enhances access to dangerous locations and optimizes selecting, sorting & storing times.
How RPA makes Superhuman Supply Chain Management?
As the market for RPA bots grows, the end-to-end supply chain functions' alignment becomes simpler. At present, many enterprises that use robotic automation have implemented them within their supply chain management and piloting various bots to verify targeted efficiency gains. Let us explore RPA use cases in supply chain management.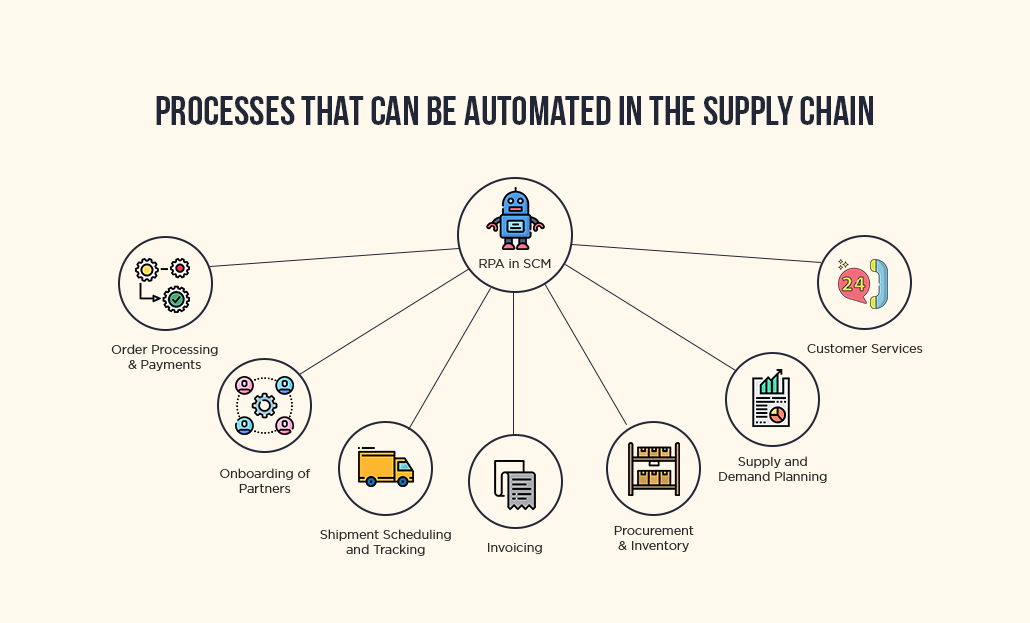 Order Processing and Payments
The order processing part of the supply chain includes manufacturers, distributors, and retailers as well as accompanied with the following phases:
Product selection
Manual entry of customer information
Payment processing
Order confirmation and updates
The enterprises that depend on paper documents and manual labors for processing these transactions potentially encounter inaccuracy and excessive time consumption. To make a smooth supply chain and optimize productivity, you should ensure flawless functions in the order-to-cash cycle. RPA in the supply chain can automate these back-office tasks and reduce the requirement of manual labor.
Efficient Vendor Selections
Vendor selection is one among the time-consuming operations in SCM as it includes loads of manual processes like:
Request preparation
Communication with vendors
Vendor's document verification
Vendor credits evaluation
Vendor finalization
With robotic process automation, your autonomous bot can assess credit value and even finalize the vendor selection in accordance with predefined criteria.
Automation to Reduce Procurement Risk
While managing and expanding the supply chain network, the business faces a wide range of risks in its procurement area. To minimize risks, enhance the product mix, and minimize procurement costs, it is vital to adjust supplier relationships. The adjustments accompanied by processes like:
Monitoring existing supplier's performance
Selecting new suppliers
Negotiating contracts
These processes typically include many manual steps like form filling, document creations, and notifications through emails. RPA aims to automate these manual tasks and take rules-based decisions to reduce the efforts involved.
Inventory Management Automation
You should be aware of your inventory levels to make sure you have enough products as well as spares to meet the business demands. Implementing RPA in supply chain management can automate the inventory management and notifies you when the stock levels are low. In the best case, bots can reorder the products that go below a threshold level. Additionally, supply chain automation can consider historical data and predicts the optimal inventory levels.
Email Automation
For optimized supply chain management, it is important to maintain effective communication between customers, transportation service providers, suppliers, and manufacturers. To build trust and credibility, you should ensure open communication during situations like:
A shipment is delayed
Facing blocks in order fulfillment
Orders are processed and shipped
Handling the supply chain with RPA can automate this communication by triggering an email to the recipients when their order is processed, delayed or shipped.
Transportation & Logistics Management
Logistics is a core part of SCM – it prepares, executes and manages the flow as well as storage of products and services to satisfy customer's needs. In logistics, the scheduling & tracking of shipping demands many manual labors to work with multiple labels, websites, applications, etc. The process involves a bill of lading, invoices, and proof-of-delivery. RPA can automate such tasks and ensure real-time accurate tracking of shipments that further aids planning.
Supply And Demand Planning
Supply & demand planning remains another process that can be automated in supply chain management with RPA bots. Because this process demands data from multiple sources like sales target, sales history, seasonal fluctuations, price trends, current inventory levels, product roadmaps, shipments expected, etc., to make decisions. As the RPA can be applied across multiple functions like procurement, warehouse, inventory, and shipping, it supports enterprises to manage demand & supply planning. With the help of artificial intelligence and machine learning, RPA bot predicts the demands and automatically notifies the procurement team about it.
Partner Onboarding
Setting a communication with a partner requires you to process contracts & government forms, verify your initial requirements, and then maintain a track of each document. Additionally, different partners follow different formats for data transformation and different business rules. As like RPA in HR, the RPA bots can accomplish all these steps in just a fraction of time to accomplish, which consumes several hours of the human workers to finish. Bots can improve efficiency by offering an automated approval workflow.
Sales Order Creation
While receiving purchase orders through email, you have to manually develop corresponding sales orders. To minimize the time and reduce the risk of errors, you can use bots to handle these repetitive tasks. You can get the opportunity to automate real-time report generation and sales-performance analytics instead of spending days to compile reports manually.
Customer Service and Relationship Management
Customer information is updated in multiple systems as businesses utilize a separate system for business functions and need to be synchronized to ensure effective customer service. For example, in the supply chain process, the system requires the suspension of customers' ordering privileges until the account manager is notified. RPA can automate these manual tasks, which spans multiple information systems. Such kind of automation supports enterprises to ensure that their customer service team can focus on quality tasks, which strengthen the customer relationship.
It is worth to explore the application of RPA in Manufacturing, to understand the out-of-box competencies of RPA.
Conclusion
By applying robotic process automation in supply chain process, the enterprise can experience a massive increase in order quantity, increase in order fulfillment accuracy and reduction in shipping delays. Companies that desire to remain competitive should grab the benefits of effects like enhanced efficiency, productivity, cost-effective and employee & customer satisfaction. Better yet, cutting-edge RPA bot offers even advanced long-term value with AI and ML to enhance its own performance over time.