Automation Anywhere (AA), the world's largest RPA software provider comes out as a front-runner once again in 2018 and occupying a determined position in regards to market impact. More organizations today rely on robotic automation platform to develop their intelligent digital workforces. Automation anywhere tool employs software bots that enable several industries to automate their repetitive business processes. In addition to the comprehensive enterprise RPA platform, AA includes build-in artificial intelligence technologies and predictive analytics to offer even greater business value. This blog aspires to offer a balanced outline of automation anywhere features to automate complex tasks.
What is Automation Anywhere RPA?
Automation Anywhere is one of the most popular RPA vendors offering powerful and user-friendly RPA capabilities to automate the business processes that are performed by humans. AA is a web-based management system that includes a control to run end-to-end automated business tasks for companies. Over 500 leading brands across the world use this tool to handle and scale their business processes with near-zero error rates and minimizing operational costs. The AA allows building scripts to perform repetitive tasks instead of writing code. They can automate a broad range of chores from basic level Windows configuration steps to the ultimate networking and remote database processes. The three core components in the AA architecture are:
Bot Creator – It allows the developers to create bots to automate their desktop-based applications.

Control room- An application that works as a controller and handles the entire execution and management of clients, scripts, credentials, roles, security, etc.

Bot Runner – A machine allows to run the bot. The status of bot execution is reported back to the control room.
The company offers various products to support enterprises in their journey of the digital transformation. They are as follows:
Automation Anywhere Enterprise RPA
The product is dedicated for the business user and comprises advanced capabilities to offer an intuitive interface for the business user, bot developer, and the automation administrator. This platform is easiest to use, supports to avoid complexity and ensures fast adoption & rapid deployment. It not only fulfills the requirement of the digital workforce but also be flexible to evolve with the business needs.
2. IQBots
IQBot is a cognitive bot designed to support as well as learn from business users and enable the business user to experience the power of advanced artificial intelligence technologies. Integrated with the automation anywhere enterprise RPA, the IQBot offers enterprise massive gains in productivity, as it includes competent of automating complex tasks involving unstructured data. The table below explains the different types of bots in automation anywhere: Task bot, Meta bot, and IQ bot.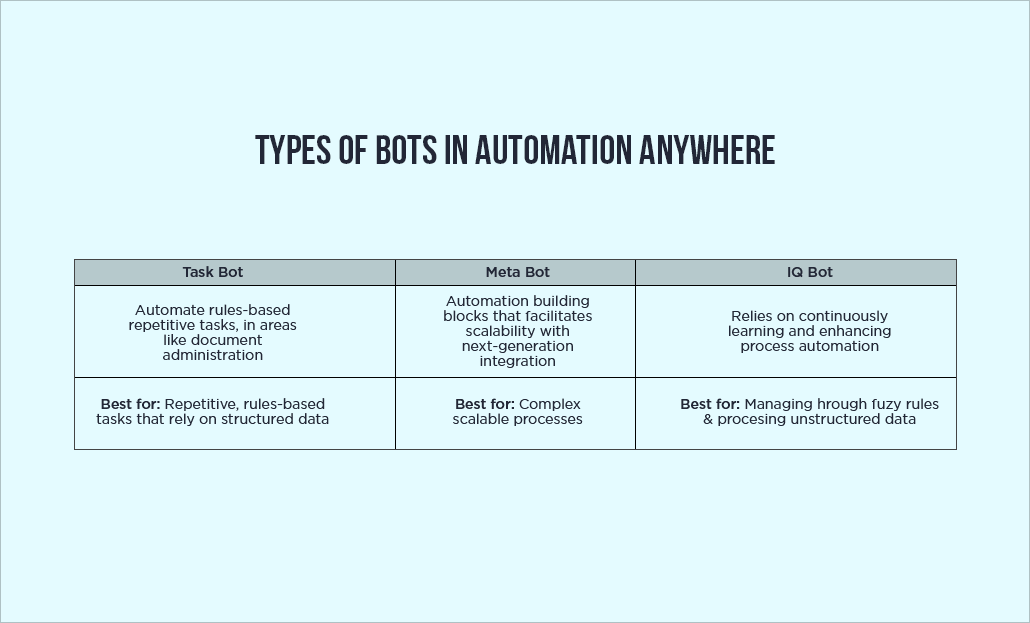 3. Bot Insights
The platform displays statistics and graphs to analyze bot performance in the system. It also allows calculating the time saved in the automation process. It is the first analytics solutions build for bots. Bot Insights tightly integrates the real-time business insights with the digital workforce performance.
4. BotFarm
It is an on-demand enterprise-grade platform for RPA bot. The platform scales the capacity of the digital workforce by deploying bots anytime, anywhere with a single click. It can create, deploy and handle thousands of software bots and can ensure resilience, elasticity, and scalability.
5. Bot Store
The first marketplace for plug and play bots dedicated for business automation initiatives. It enables enterprises to discover, deploy and mobilize bots, including process bots, application bots and cognitive bots in a fraction of seconds.
The following figure highlights the unique features of each product: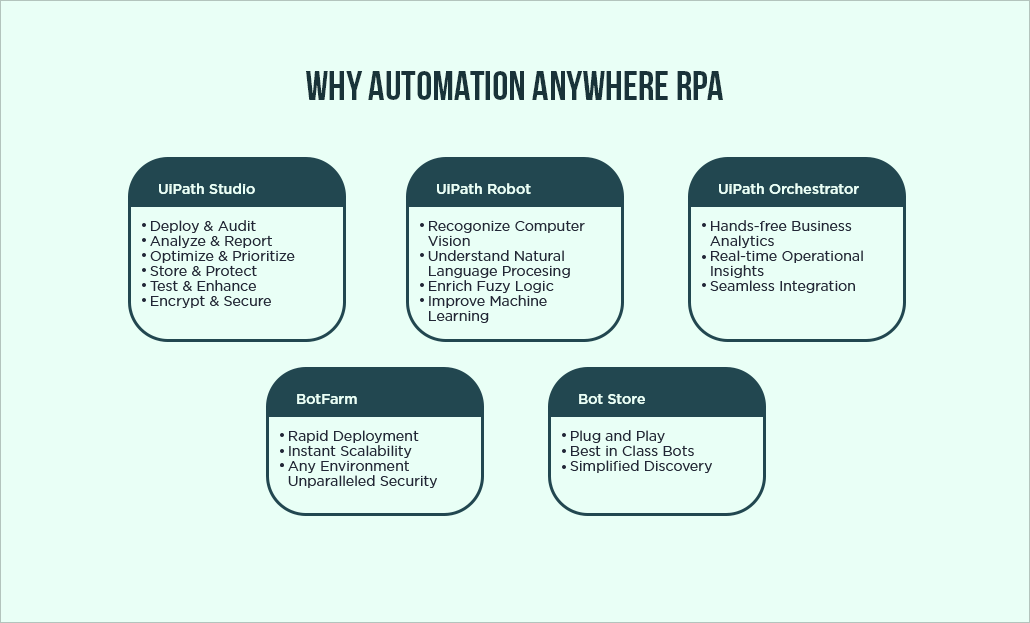 Know more about the benefits of RPA
Prominent Features of Automation Anywhere Tool
In the realm of the RPA, the automation anywhere RPA is notable for its functionalities to reduce the time taken to meet the processing. With this tool, the enterprise can create SMART bots to perform tasks in various areas of the businesses. And no programming knowledge is required for automation as it allows point & click actions or record actions. Undeniably, the automation anywhere software comes up with plenty of unique features to support the process automation. Let's dig deep through some important functionalities offered by this tool:
Know more about the features of RPA
Task Editor
In the automation anywhere, it is possible to generate tasks by dragging and dropping the items from the toolbox. With the help of the task editor, the user can alter, break down and even improve the recorded tasks. The task editor includes 380 plus actions including:
Keyboard & Mouse actions

Windows actions

Database actions

Conditional Actions

Files/Folder Actions

Loop actions

Internet actions

Clipboard actions
2. Workflow Designer
This feature allows creating a simple-to-understand, inbuilt graphical representation of the business processes. It is dedicated for automating processes that include multiple tasks into a series along with alternate paths to support when a step fails.
3. Report Designer
With this automation anywhere RPA feature, the user can generate and print reports displaying the execution history of certain tasks. It also allows creating custom reports. The AA tool features Task Timeline, Task Run, Workflow Timeline, Visual Logs, and ROI reports.
4. Trigger Manager
This AA feature facilitates to execute workflows or tasks based on the external events like a process or service start/stop, a file or folder change or system performance changes like CPU consumption/disk space.
5. Workload Management
This feature includes prioritized queue management to fulfill the demands of enterprise-class SLA. Workload Management (WLM) allows the manual prioritization of high-value transactions inside the automated queue management model. Fully integrated with BotFarm, the automation anywhere enterprise RPA offers the SLA calculators & RPA-as-a-service functionalities that enable to turn on thousands of bots to meet the automation demand instantly. Thereby this feature ensures the better process optimization.
6. Automation Lifecycle Management
Automation Lifecycle Management (ALM) enables an order to the hectic process of building RPA automation in large organizations. It empowers the RPA bots to progress through the entire stages of the software lifecycle as mentioned by the enterprise. ALM includes the best practices of software development to ensure successful repeatability. In addition, this feature comprises a complete version control, version comparison, lock/unlock, rollback and more.
7. High Availability & Disaster Recovery (HA/DR)
The HA/DR makes disaster recovery virtual nonissue. While the typical business continuity solution only offers disaster recovery at the server level, the full-fledged HA/DR ensures the recovery through the bot level as well as across multiple locations in the occasion of interruption.
8. Predictive Operational Analytics
With the built-in bot insights, the central room of version11 features predictive operational analytics. The RPA analytics from the visual dashboards includes actionable insights like bots at risk of failure, bots with the highest return on investment and much more. In addition, the analytics and reporting features offer the business with intelligence about the bots performance and their influence on the business.
9. Tray Notification with Numeric Indications
In Enterprise 11, the central control room is updated with the tray notification, along with a numeric indication that alert or warn users about issues to resolve them instantly.
10. Cloud-Ready Architecture
The automation anywhere enterprise RPA can be installed and deployed on both on-premises and cloud provider platforms like Microsoft Azure and AWS. This cloud-ready architecture offers infinite scalability and flexibility. It also offers the best range of options to fulfill the highly demanding deployment requirements of large organizations.
11. Citrix Automation with AISense
Some security environments, including Citrix, are image-based systems and are difficult to automate. In these environments, bots are only allowed to employ keystrokes and mouse clicks, therefore the choices are limited to coordinate based automation, OCR based automation, and image-based automation. An AISense feature of automation anywhere applies notable AI capabilities to facilitate the automation of any data. As a result, the AISense scans the application image to detect UI elements and automatically builds all the UI objects.
12. Recorders
Using the recorders in the automation anywhere, the users can record, save and run the testing actions. This option records the user actions in accordance with the control coordinates. It offers the easiest way to create a bot without writing programs. Constituting an RPA task through a recording is faster than making a task manually. Three types of recording options are available in the recording functionality of AA. They are:
Smart Recorder - Captures entire activity as object cloning. It provides more flexibility during recording tasks that involve various technologies like Java, HTML, and Flex.

Screen Recorder – Captures activities like mouse move, mouse clicks, and keyboard operations. It captures the web and window screen. It is also known as a standard recorder.

Web Recorder – Used for web data extraction. This option accurately and reliably records as well as automates web-oriented tasks without programming logic.
13. Visualize Technology
The inbuilt visualize technology of VB script facilitates the storyboard and pictorial views of the automated tasks. This technology can be used in various views in the Task editor to capture image recognition using IF command and images on demand using a Snap point icon.
14. Image Recognition and OCR
Another feature in the automation anywhere tool that allows recognition, as well as a comparison of images, is image recognition. This command enables to perceive part of an image from any document or the whole web page. Similarly, OCR (Optical Character Recognition) feature is valuable where image recognition becomes more sophisticated. It allows converting text and images into characters in an advanced way.
15. Screen Scrapping or Web Data Extraction
This feature allows extracting both structured (tables) and unstructured data scattered over the web pages, just as users would manually. In addition, as these actions are saved, they can be automated in an accurate way in later runs. With the web data extraction feature, AA becomes flexible to match any type of web technology and non-intrusive.
16.Centralized Backup, Security & Disaster Recovery
With AA tool, users no longer required to log on to each system on the network, instead, they can centralize their works to apply all backups as well as updates in one place. Similarly, with the bank-grade security protocols, automation anywhere enterprise RPA assures that the sensitive information is well protected in the central repository.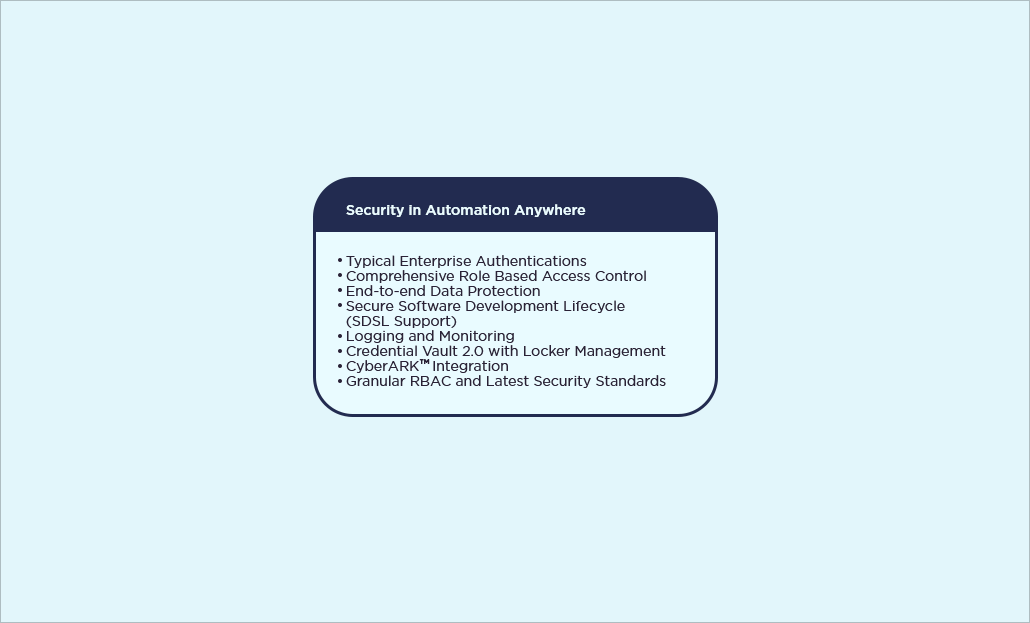 The tool also allows scheduling backups of the test case; hence, users can recover corrupted or lost files if needed.
17. Process inVision
Process inVision helps users to document the process. With this solution, users can record their process just once and then convert & share the entire process captured in a video, storyboard, PDF or PPT. In addition, anybody in the organization can analyze & separate area of repetition, cross-division task duplication and automate processes instantly. Process inVision features instant recording, broad collaboration, automation agility and editing of the available automation process.
18. Snap Point Icon
Even the tasks execute in an automated way, still, it is significant to track the behavior and execution of the software. Snap point icon provides screen snapshots of the recorded steps on demand to support users to diagnose a failure. Therefore, instead of reading the tasks, they can visualize them in a graphical manner.
19. ROI Calculator in COE Dashboard
The return on investment calculator resides in the center of excellence dashboard that allows businesses to assign financial values to their tasks and calculate the savings obtained through RPA automation. This feature weights the costs as well as benefits of automation. ROI calculation analyzes the factors like
Reduced error rates

Training benefits

Resource cost for time-saved

Resource realignment

Knowledge capture

Automated troubleshooting
20. Other New Features in AA Enterprise 11
In addition to the above features, the version 11 comes with new features like DBCS (Double-Byte Character Set) to support international languages, Credential Vault API, best of breed OCR engines and workbench for TaskBots and MetaBots.
Conclusion
With these features, we can declare automation anywhere RPA as a powerful tool, which can simplify life for information technology across multiple empires.