More CIOs are turning to RPA to create software robots that could reduce human error and staffing cost. Robotic process automation automates a tedious process usually performed by human sitting in front of the system. To create, RPA system, some tools are needed like UiPath, Automation Anywhere and Pega. Among the RPA automation tools, UiPath remains a fully-featured and extensible tool that can automate any desktop or web application. The UiPath have blazed in the last two years onto the RPA technology and are rapidly dominating the market share. This post highlights the prominent features of UiPath that make it as unique RPA software.
About UiPath RPA Platform
UiPath is the leading RPA process automation vendor and offers a software platform to automate business. The UiPath products automate almost all web-based and internal applications. It also offers unparalleled solutions for SAP, Citrix, and BPO automation.
Along with cognitive capabilities, it extends towards advanced solutions of intelligent automation to create innovations in the businesses dealing with RPA technologies. In addition to being fast, efficient, and affordable, the UiPath RPA is simple to integrate with an existing legacy system of an enterprise without any disruption.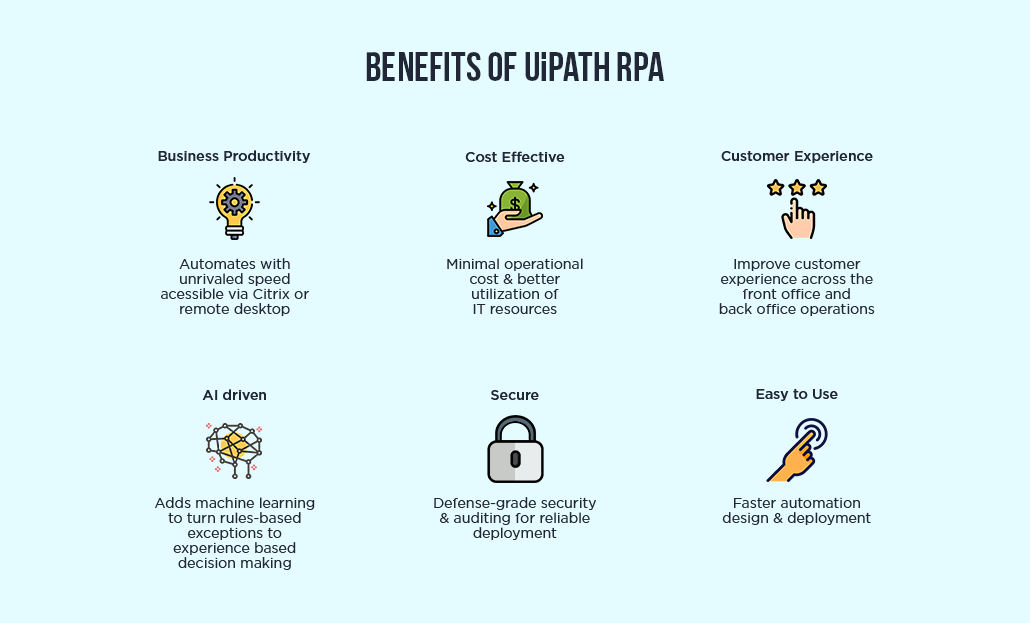 Know more about the benefits of RPA
UiPath deployment is possible in the cloud or on-premise. UiPath aims to achieve the requirement of the business environment and it comprises three major products, they are as follows:
UiPath Studio-An advanced automation tool enables the process-modeling environment to create process automation in a visual manner through recorders. The UiPath Studio includes two parts, one is processed designer, where the bot is built and another one is the execution part where the bot is put into work and run the automation. Additionally, as the studio enables automation using the point & click and drag & drop feature as well as workflow foundation technology, the process designers can use this tool without any programming knowledge.

UiPath Robot – A digital worker that executes the processes created in the Studio as a human would. It can work with or without human supervisions and in all types of environment. With the influence of advanced computer processing, it accelerates accurate automation for SAP, Citrix, and Mainframe processes.

UiPath Orchestrator – A management console that licenses the configuration as well as the deployment of the UiPath RPA platform. This web application enables the user to adopt, schedule, manage and supervise software robots and its processes whilst business exception handling is existing through centralized work queues. Also, it offers deep workflow information and dominant analytics for better decision-making.
Important Features of UiPath RPA
The UiPath products promise new development in the process automation and exercise a profound influence on the business with its powerful features listed below: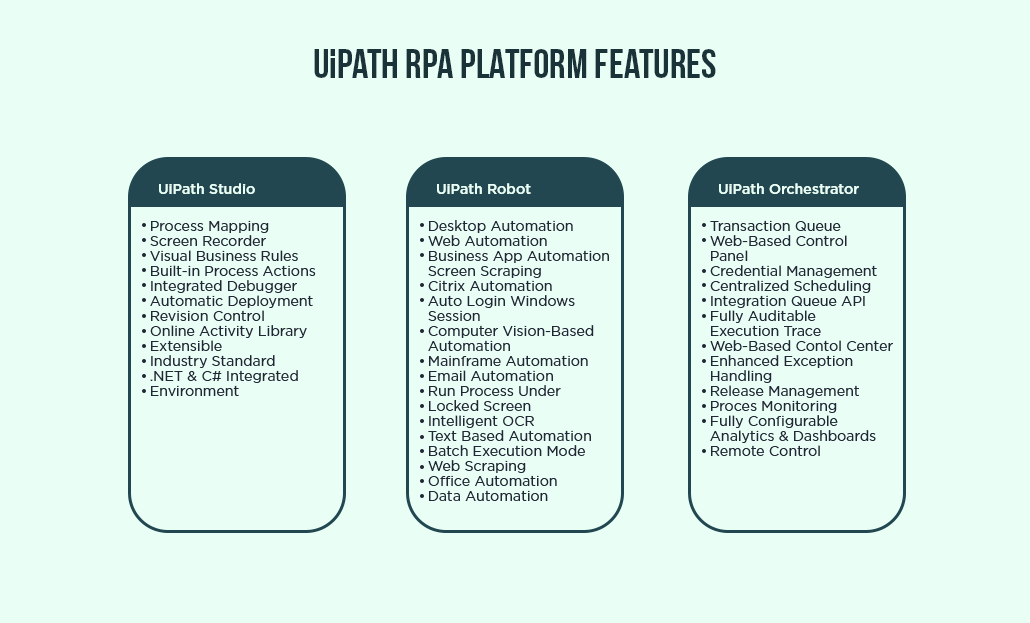 Know more about the standard features of RPA
To support decision makers in understanding why the UiPath is a boosting tool for their business requirements, the following section highlights the important RPA features of UiPath products:
Pre-defined Activity Sets
UiPath includes 300+ inbuilt activities that cover the broad spectrum of process automation as well as application integration design works. These activities are available in activities pane (as shown below), and they cover the bulk scope of design works like data extraction, data entry, and automation activities.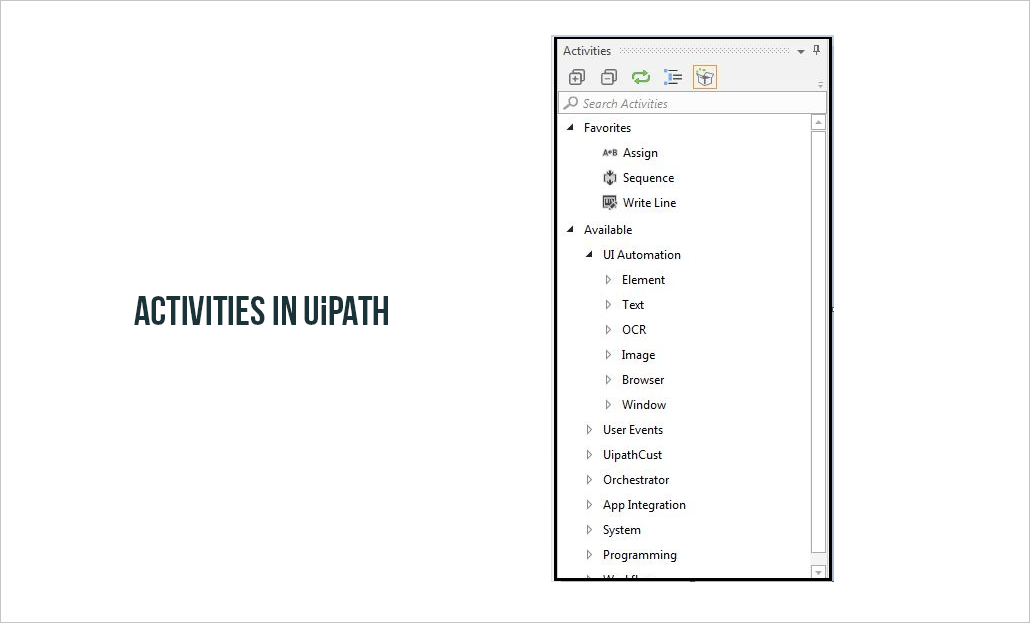 In addition to built-in packages, the user can also import packages like PDF, Mail, and Excel.
In UiPath, the user can create visual process steps by simply dragging and dropping associated activities onto the graphical workspace. Then, they can convert those process steps into the visual workflow with the help of connection properties. Alternatively, the UiPath tool also allows users to create web-based or application workflow by using recorder wizard.
With this feature, the user can record the actions and create it as an automated process sequence. The four kinds of recording options available in UiPath are:
Basic Recording – Dedicated for automating single activities and widely used for the creation of the full selector of each activity

Desktop Recording – Applicable for multiple actions as well as desktop applications.

Web Recording – Widely used for browsing and recording activities in the web pages.

Citrix Recording – Extensively used for recording the keyboard, images and virtualized environment automation.
Attended and Unattended Automation
UiPath is the only one RPA tool that delivers both the attended and unattended automation in the enterprise RPA system. An attended software robot can run on your PC, and you can decide when to begin it. An unattended automation enables automation on the remote system even out of sight on a timed schedule.
Workflow Templates and Reusability
UiPath makes it easy for the users to save their workflows as templates and it preserves the original workflow because the modifications are only done on the copy in production. In addition, it is possible to copy the templates to create small chunks of common automation. It enables users to combine the small workflow chunks together and build a large portion of the complicated scripts of automation.
With this unique feature, UiPath RPA improves the cost and operational efficiency as it provides segregated and protected spaces for multiple users from various departments in the enterprises like a CFO, HR, etc. It allows working across geographies without superseding automation within the certain project.
Inherit .net and C# Functions
Some of the RPA automation requires coding, but less compared to hard programming. In that case, UiPath inherits.net and C# functions to develop custom activities and macro coding. As the visual activities are integrated with these languages, the developers get a Visual Studio touch but in the UiPath context. In addition, they can design their own C# packages and import them to Studio to employ as visual activities.
Intelligent Scheduling of Process Automation
This unique RPA feature in UiPath Orchestrator can scale as well as prioritize software bots on demand in order to encounter service level agreements. If automation is designed in Studio and placed in a queue with a priority level or fixed deadline, the Orchestrator will consider that priority. Based on that deadline, it arranges work queues and provides each work assignment priority. This can ensure intelligent scheduling and evade an exceptional spike in work.
Screen Scarping &Data scraping
UiPath Screen Scarping facilitates to scrape data from web pages and applications. In addition, the data scrapping wizard assists to scarp data, which is repetitive in structure - for example any tabular content and query result in google search engine. Data scraping enables the extraction of application, structured data or document.
Collaborative Integration
Along with the new artificial intelligence technology, UiPath makes it possible to integrate with any ERP and DMS. Enterprises can integrate such a system using the orchestrator feature. Moreover, UiPath products integrate well into the desktop applications and include rich built-in handling for Word, Email, Excel, and other applications. Web browser integration is straightforward and offers some advanced capabilities comprising Java and JavaScript within the web pages.
Debugging in UiPath enables to identify and reveal the errors for a certain project. It includes breakpoints and logging that supports to collect details about projects and errors step-by-step. Logging allows understanding what the project is going through when coding is completed and is displayed in the output panel. Thereby the tool makes the debugging process easier. Furthermore, breakpoints support in pausing the project execution to check the program status at a certain point.
Image and Text-based Process Automation
To support this automation, UiPath comes up with some features that can stimulate the mouse or keyboard inputs like clicking, hover, text recognition, and OCR activities. Image or text automation is generally used in the scenarios where the UI automation would not work as in the settings of a virtual machine or in the cases where the conventional methods are inadequate to discover selectors.
OCR (Optical Character Recognition)
UiPath offers an all-inclusive solution to automate semi-structured data sources with the help of the OCR feature. The UiPath robots automatically interpret the process as well as classify non-standard forms and documents. UiPath RPA is stronger in its capability to recognize the images on the screen.
UiPath products' UI layer automation is based on the logical control level rather than depending on the position of screen elements. As the automation is independent of screen resolution and size, there is no effect when the automated app alters its layout. Thereby the logical control level automation makes sense of what user ever clicked based on a mathematical coordinate rather than a button.
Robust Governance & Optimal Security
With the centralized management for complex operations, UiPath enables effective governance as well as compliances through release management, scheduling, remote control, asset management, robot workload, and custom roles authorization. Moreover, UiPath operates with a locked screen, hence automated processes can execute in total privacy. It uses TSL 1.2 protocol to ensure data protection in the cloud environment. As a result, businesses can deploy at an overall scale consistently without compromising security.
In addition to the above features of UiPath RPA, it can also facilities inbound as well as outbound integration and offer a significant roadmap to uncover any chances for AI faster. As this tool is designed with a flexible architecture, it allows scalable incorporation of cognitive features from Microsoft, Google, ABBY & IBM cognitive. This intelligent automation offers language detection, unstructured data extraction as well as sentiment analysis. And, it enables robots to learn in real-time.
UiPath follows the influence of Elastic search monitoring technology, an out-of-box data visualization solution from Kibana. It adopts the personalized visual dashboards for each operational need. The tool tracks every action of each robot as well as every user decision & changes and logs these details centrally on the server. Thereby it offers full visibility into operational statistics and process execution with robotics analytics.
Final Words
Hope this blog has offered you an idea of what UiPath can offer for business automation. UiPath RPA platform is a graphic designer - vibrant with loads of potential features. Undeniably, UiPath remains an excellent RPA tool and highly competent to provide returns on your investment.