What about a cloud-based documentation platform that runs entirely on the Java framework? Well, such a platform is a dream product that can store all your information in an easy-to-edit safe place. With such high ambitious aim, Confluence was designed by Atlassian in 2004. Atlassian is an Australia based software company, which offers Confluence along with an array of other solutions as on-premise and SAAS (Software as a Service). At the initial time, Confluence was designed as a knowledge management system in an enterprise. However, it is developed as an integrated collaboration platform to serve the growing needs.
Are you aware of all Confluence features? Read this blog to know everything about this collaborative software.
Content Management
Atlassian Confluence allows you to create dynamic content by inserting images with customizable sizes. You can create an infinite number of pages with versioning and history. The history helps you to understand the number of changes done by users in a specific period of time. In addition, you can create a completely centralized content repository by hyperlinking the pages. Create parent pages as well as child pages in low code in confluence tool.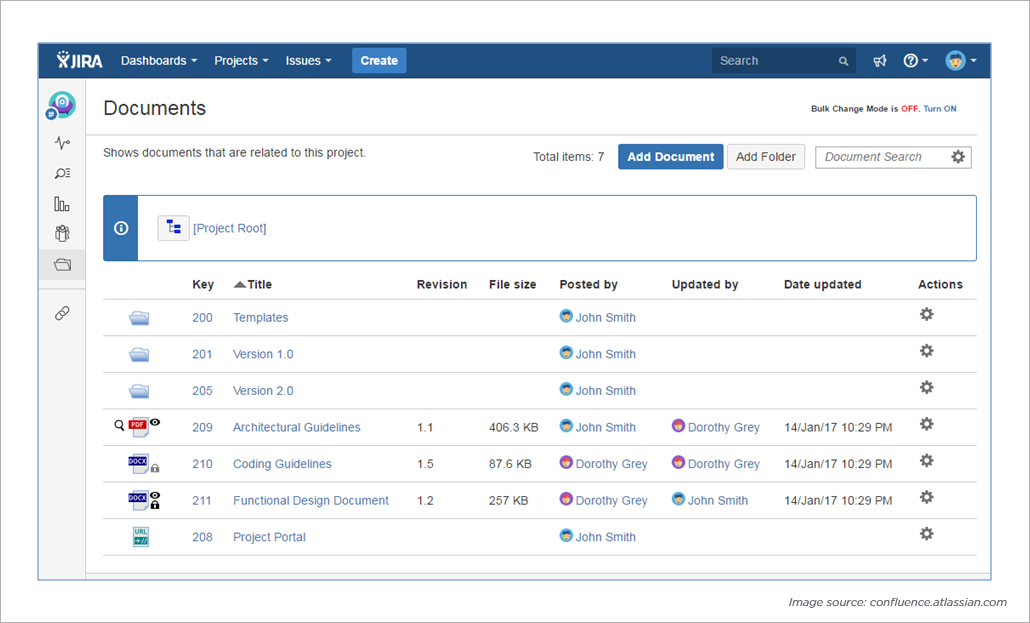 On the other hand, you can upload various PPTs on Confluence and start a discussion thread for the same. Various built-in readymade templates assist in offering documents as per industry standards. It is also popularly known as Confluence wiki where anyone with user permission can create content as per requirements.
Space Management
The best thing about Atlassian Confluence is that it offers unlimited virtual space to an organization. You can distribute this space to various departments like development, human resource, marketing & finance, etc. inside your organization. These are cloud-based space which stores the information, by making it easy to access from anywhere at any time. The users can keep a backup of all data of a specific space by exporting the same to an XML file.
The below-mentioned image is depicting the hierarchical relationship between the dashboard, spaces, and pages in Confluence.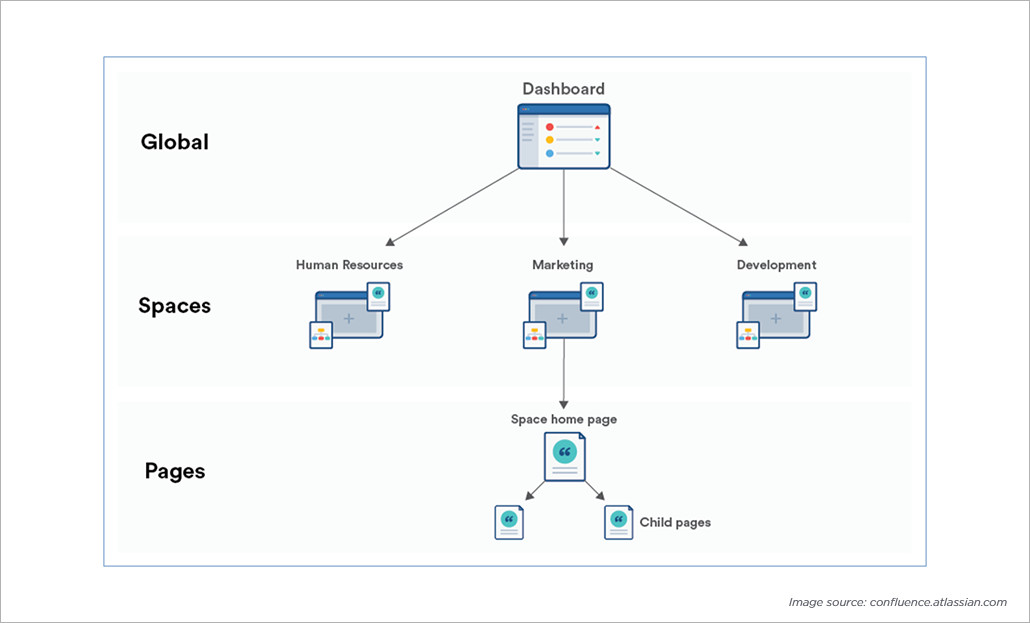 You can view the spaces and add them to 'favorite' from the Space Directory. Moreover, users can publish blogs in all the spaces.
Add-ons
Confluence is featured with powerful add-ons that make finding answers for common work questions easy with planning events and internal Q&A. These add-ons include team calendar and questions for Confluence.
Team Calendar allows you to:
Plan projects as well as events
View timeline monthly and weekly
Integrate with Outlook, GCal, and iCal
Plan team's leave, rosters, and travel
Question Management allows you to:
Vote on, ask, and answer questions
Leaderboards for subject experts
Notification for new questions as well as answers
Earn points by voting for answers
Type-ahead search integration
Site Management
You can rename the pages with links update in Confluence. The users can import the spaces or pages from plain text files. In addition, they can export the same to PDF and HTML. Keep a backup of the pages on a daily basis automatically. You can view the report of the 'orphaned' pages that are not linked to any parent page and eventually link the same or delete them on the basis of requirements.
User Management and Security
Atlassian's Confluence allows you to follow industry-standard user management practices. As an admin, you can assign permission to individual users and groups for viewing, commenting as well as editing content.
Confluence is a secured platform that asks users, whether they are human or robot while logging in via captcha. In addition, it uses the same security filter while adding comments, creating as well as editing new pages. It also restricts pages from viewing and editing. There is a temporary secure session for the administrators that expire after 10 minutes of inactivity.
If the users fail to login via CAPTCHA, they need to answer the security questions. It offers safety against any malicious attack.
Jira Integration
Jira is an agile software development platform of Atlassian, and Confluence is featuredwith a powerful integration with the same. You can insert the issues of Jira in Confluence to give a better understanding of the scenario. The OpenSocial gadget specifications are used to share content between the two i.e. Jira and Confluence. In addition, you can search Confluence knowledge base directly from Jira with Quicknav search gadget.
Work in one Place
The unlimited space in Confluence allows you to assign designated zones to every team in your organization. It helps to keep your works in an organized way at one place. You can find work fast with a powerful search engine and a structured hierarchical system.
Platform Synchronization
With Atlassian's Confluence, you can work from anywhere with a perfect synchronization between mobile and desktop platforms. Confluence has two mobile applications:
Confluence Cloud Mobile App
Confluence Server Mobile App
With these mobile applications, you can create and edit pages from anywhere. In addition, you can view activity, find work, and take action from these apps.
Project Management
Project management is a major part of Confluence,and it offers a flexible platform to all companies irrespective of sizes. You can track all of your projects in Confluence, and Jira tickets help to give a clear understanding of the progress.
Learn more about the Jira Service Desk [ link to the blog, Top 15 Jira Service Desk Features For Better Customer Support]
Macros
The Confluence tool is featured with macros that help to add dynamic content as well as extra functionalities in a page. It has various macros (more than 35) and you can also add the same by installing plugins from the Plugin Exchange of Atlassian. The macros are:
Chart Macro
Gallery Macro
Tasklist Macro
RSS Feed Macro
JIRA Issues Macro
Office Excel Macro
Office PowerPoint Macro
Office Word Macro
View PDF Macro
Widget Connector and many more
Get Notification
Stay up-to-date with the in-app notifications of the Confluence tool. You can share pages and blogs with other users to attract the right people for an insightful discussion. The RSS feed enables you to subscribe to any Confluence activity. In addition, you can also (only watch) the spaces with user permission to know any new development.
The users get network as well as follow notification for respective activities.
Full Customization
Confluence offers complete customization facilities to the users. You can customize the following things:
Layout & color schemes
Themes and stylesheets
Universal plugin manager & welcome message
Logo
Remote interfaces
Dashboard
The dashboard is the main landing page of Confluence that also comes with the full customization facility. The users can select an ordinary page to keep as a landing page. You can also edit the global layout file under advanced customization. One needs the velocity knowledge to do so. Once you have modified such features in Confluence, you need to do the same with every upgrade.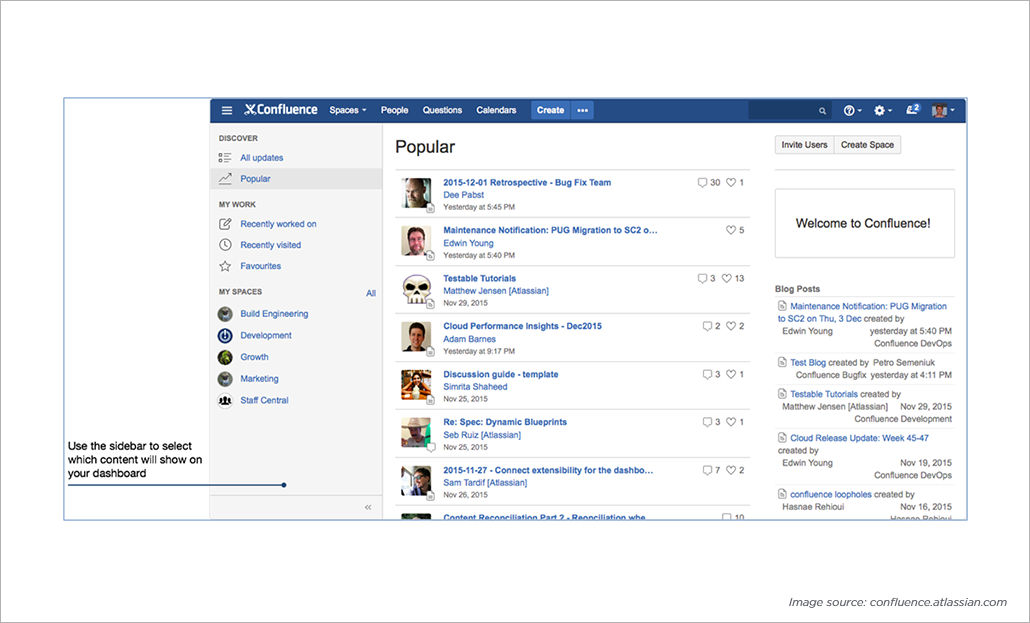 Moving On
Atlassian's Confluence is an integrated cloud-based platform that not only offers a dynamic documentation platform, but also gives an opportunity for complete team collaboration. Further, the third-party integration with other software makes Confluence a better place to work in.