Business process management and workflow management software makes life simpler. It is meant to handle the chaos around the business and bring automation to the work. The BPM software is generally complex and hard to understand. However, Kissflow has reformed the rules of this software. As it comes with full-fledged BPM office automation suites, it offers more features and flexibilities than other tools and at an affordable price. As a result, more than 10,000 businesses worldwide are invested in this BPM software to create, design as well as customize their applications. As we assessed the standard features of BPM solution in our earlier blog, here we present the features of the Kissflow software to support you see if it adapts your needs.
What is KiSSFLOW?
Kissflow is well known as the simple SaaS workflow management and BPM software that employs Google App engine to offer the platform of Software as a Service. This platform comprises 48workflow applications that can be personalized easily or applied as a template to build new workflow applications. With the lightweight strategy to regulate different workflows and operations, Kissflow allows managers to understand and avoid issues instead of fixing those. This cloud-based process automation software is designed to support customers to rapidly build as well as deploy workflow-based apps and automate chaotic administrative processes. It is no surprise that businesses are huddling to it and are experiencing the unbelievable benefits.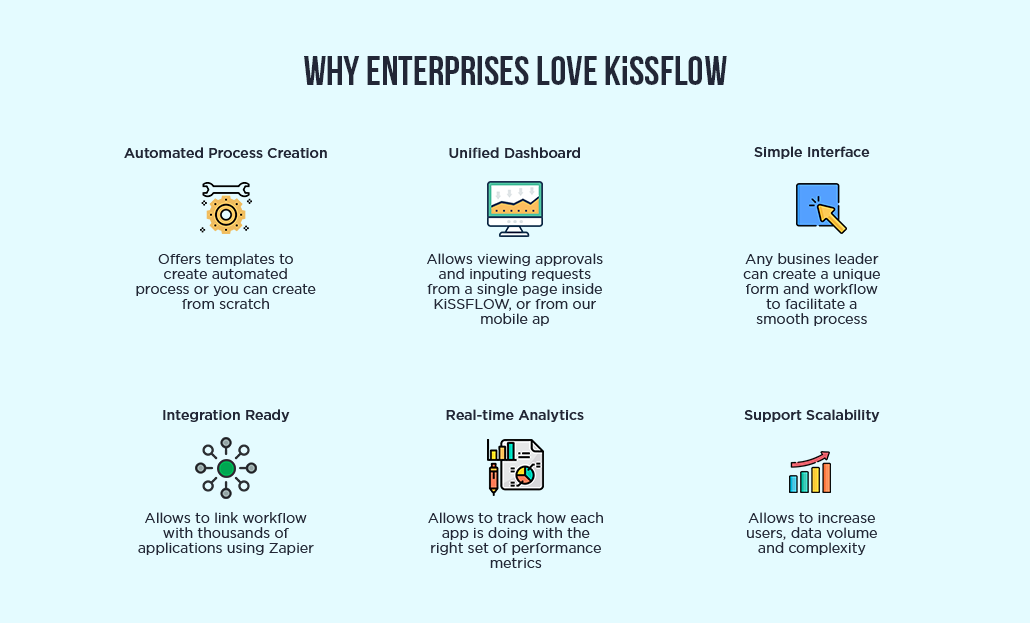 Know more about the benefits of BPM
Leading Features of KiSSFLOW
The Kissflow BPM is designed to do something outstanding. This software offers identical features as high-level BPM software while being a simple and cost-effective solution that everyone can utilize and afford it. The following image lists the possible features available in the Kissflow software: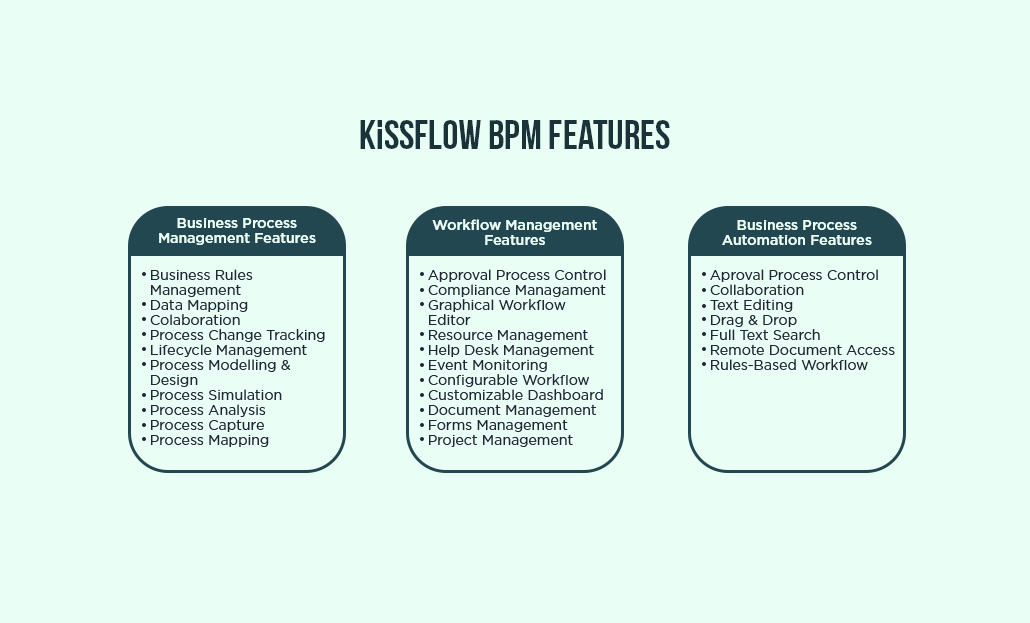 Let us have a look at the dominant features of the Kissflow tool:
1. Predefined Apps Templates
Kissflow BPM is all about rapid development and modification. This feature allows installing the ready-made applications from the marketplace. The tool offers app templates of popular use cases and you can install & customize them instead of making your own from scratch. Thereby, you can avoid redundant work and reuse when required. The following screenshot shows the ready-to-use app templates: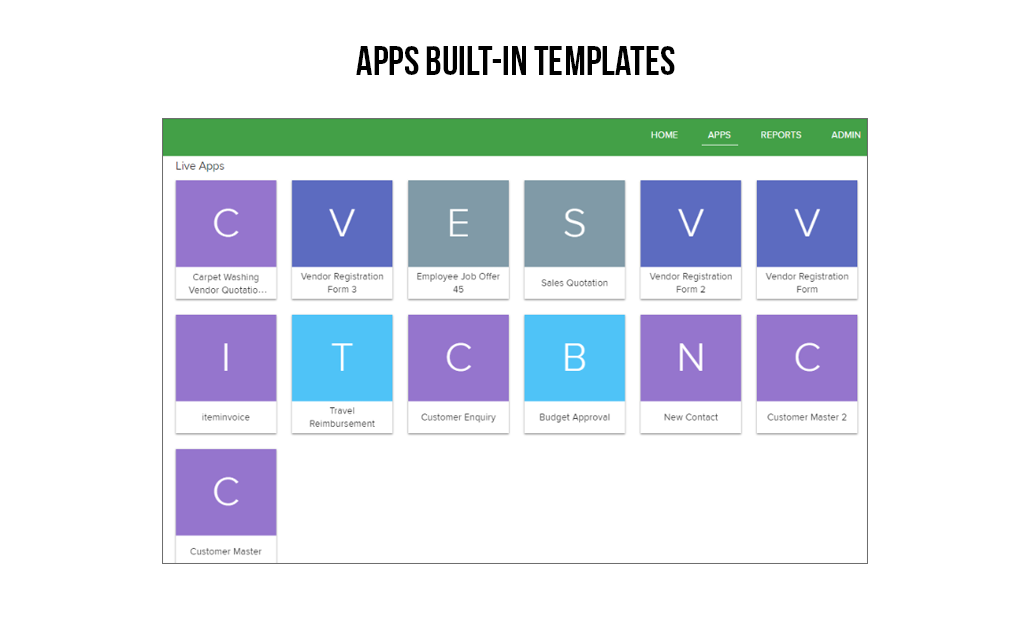 2. Visual Workflow Tool
The main idea of Kissflow BPM is being capable to create as well as edit workflows and processes in a way that a system can trail along. The visual workflow tool offers a consistent graphical representation to create a business process. With this feature, you can see graphically how a process looks like instead of involving text fields and programming languages.
3. Administrative Features
It is worth to have in-house support to fix simple issues when processes go erroneous. You might be stuck with either expensive consultants or waiting a long time for support to get your tickets fixed. Kissflow offers some controls to the Admin and this admin console can enable the first line of defense to be at your hand instead of requesting for a support. By giving power to the admins, the tool allows them to have the accountability of processes and ensure task continuity and data security. Some examples of admin superpowers in the Kissflow BPM software are as follows:
Manage user access requests

Billing & adding additional licenses

Restrict & grant access to processes

Delete the process

Append the process temporarily
4. Single Sign-on
It is the most common feature of BPM solutions. SSO supports login with a single set of credentials across various independent software platforms. The Kissflow feature supports the IT Department to grant access permission and track activity.
5. Drag and Drop Form Designer
This BPM feature allows building online forms without writing any codes. The drag and drop technology ensure flexibility using the user-friendly point & click. As a result, you can build a form, customize its design, create integration and go live at a fraction of minutes without waiting for a developer. Kissflow includes 16 plus types of fields to generate an ideal form. It enables to make pre-populated fields, insert tables, group related data into the section as well as apply logic to create a form. The screen below shows the action of dropping drop-down menu to design the form:
6. Mobile Support
Business processes are increasingly getting more mobile and the users have a less tolerance for apps that can only be accessible on the system. Kissflow, the cloud BPM system offers whole functionality for mobile users. In addition to the browser, Kissflow is available for iOS and Android. Within the Kissflow app, you can approve items, construct new ones, upload images to workflows, and track progress.
7. Role-based Access Control
Most of the workflows include sensitive data that is not supposed to be shared with everyone. The workflow management system of Kissflow allows you to customize what your team members can view and edit based on their roles. In addition, the permission assignment in the workflow doesn't break it or disturb historical requests.
8. Cross-Platform Integration
The Kissflow software comes with integration functionalities that facilitate systems to share tasks and merge data across other systems flawlessly.
The software can be fully integrated with Google Apps like Google Drive & Gmail. It also includes webhooks and open APIs to connect the business apps to other software. Furthermore, the Zapier endpoint in Kissflow enables it to connect with more than 400 cloud-based software services.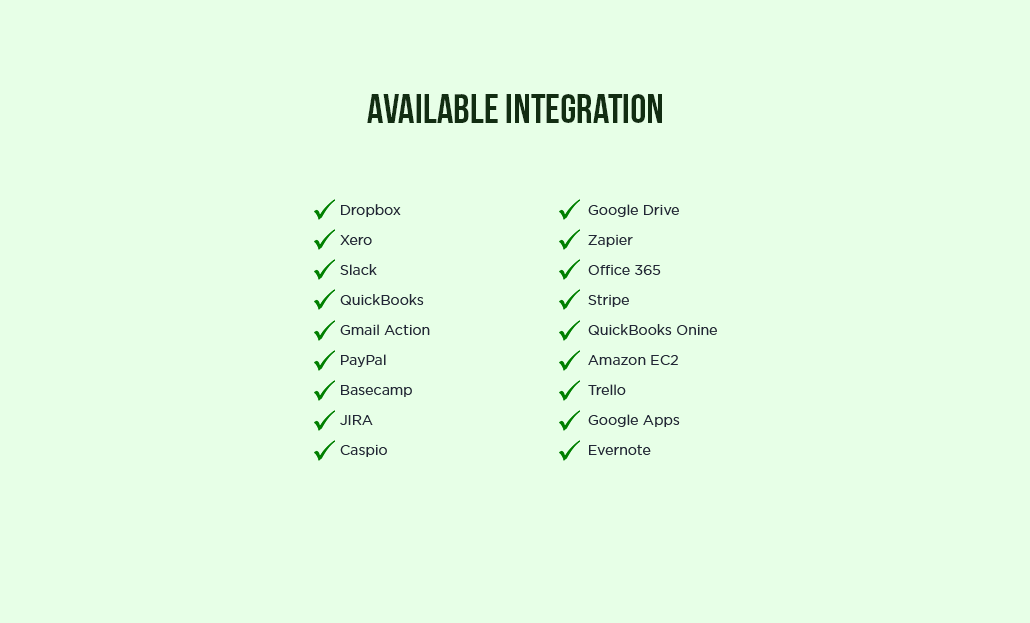 9. Process Performance Metrics
Process performance metrics feature to spot the problems with the processes and support businesses to make valuable decisions to enhance process performance. This functionality in Kissflow captures process data and enables the administrator to detect what is sourcing the lag or problem and how it can be resolved.
10. Report and Analytics
The reporting feature of this BPM solution is powerful as well as customizable. With the built-in reporting features, Kissflow BPM provides ready-to-use process metrics or process stats. The pre-built reports allow you to view, analyze, and collect insights on the workflows. Moreover, the report lists the combined number of requests at each stage like In-progress, completed & rejected. As a result, you can instantly check the workflow status to observe where their blockages are forming and develop an estimated completion time. This tool allows viewing KPIs, exporting report data, configuring ad-hoc reports, as well as analyzing dynamically created data with its advanced reporting features.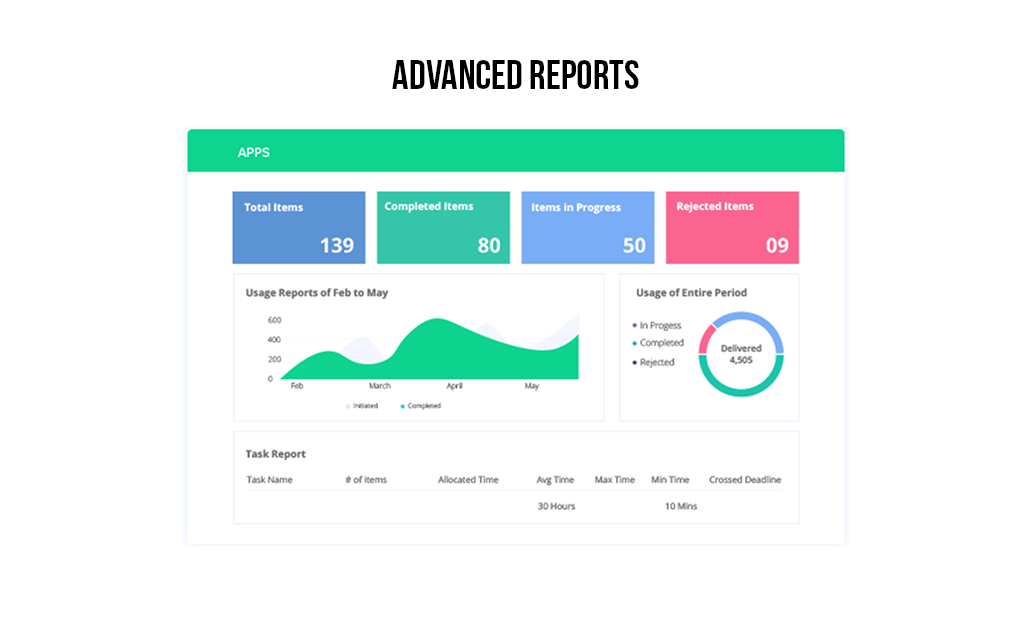 Source : Kissflow
11. SLA Status Indicators
The Kissflow workflow management system supports to run multiple core process at any time. Consider a scenario where you want to view all the running processes on your dashboard. In that case, there should be a control to ensure you're current on all the tasks. This is where the SLA status indicator feature comes in. This indicator makes you understand which tasks are the most important ones, and which one can wait until you finish other tasks. The dashboard of Kissflow implements a color code to highlight the most demanding workflows.
12. Progress Tracking
In this BPM software, you can track every item in the process to check where it's in the workflow and what tasks are remaining to complete. It is a valuable feature to track backlog and instantly detect what requires happening without wasting time on the old emails. Through this action, businesses can produce a vital calibration for faster processing, fewer errors and reduced costs.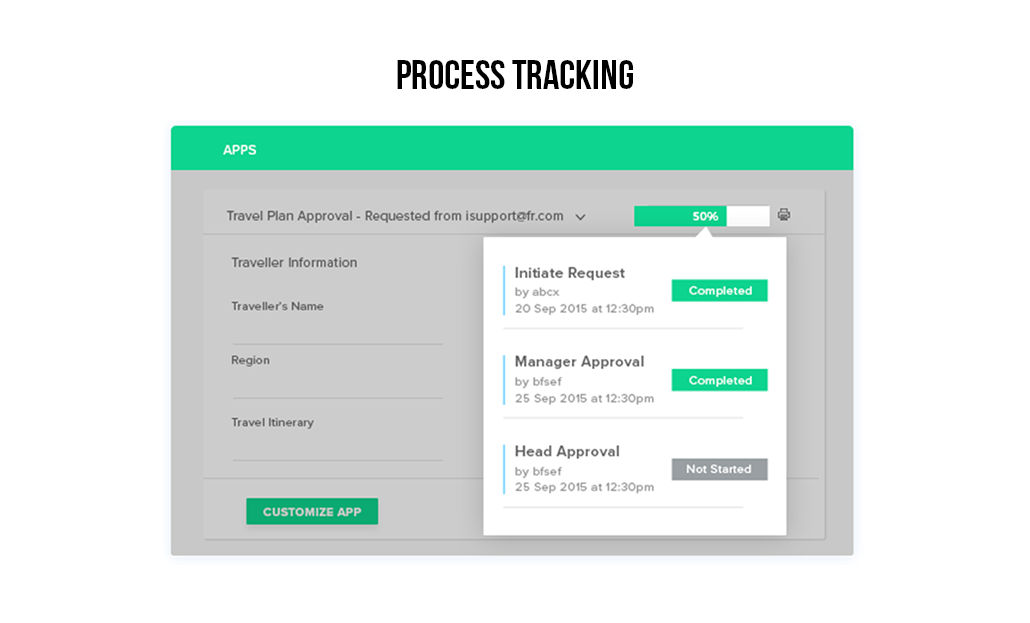 Source : Kissflow
13. Security
As the Kissflow is developed with the Google cloud environment, it includes their premium grade reliability and security. The entire data that goes through this tool is encrypted using SSL over HTTPS. The data is stored in the excellent data center offered by Google. For enhanced backup and recovery support, the data is stored in multiple geographies thereby it ensures the prevention of data loss.
14. Real-Time Notification
With the customizable, automated notification, the Kissflow bpm alerts the participants about the new tasks. It also reminds them about upcoming approvals and processes. You can also customize the notifications to make them rolling on your emails and mobiles as well.
15. Business Process Automation with Kissflow
Kissflow engages cloud-based business process automation to automate repetitive rule-based processes with ease, flexibility, and accuracy. This uncomplicated BPM automation software eliminates manual tasks and enhances visibility as well as tracking for processes. Data processing, notification, transferring and other business processes can be automated with Kissflow. This BPA tool allows you to house on all the automated process on a single platform.
16. Business Process Mapping
Business process mapping is a technique inside the Kissflow tool to visually represent steps and depict how a process should perform from beginning to end. This technique laid out the business processes visually thereby allows each stakeholder to understand and adhere to the exact functioning. Process mapping uses flowcharts, charts, and symbols to visualize the business processes.
Conclusion
If you don't have a BPM system set up or not satisfied with your own system, try giving Kissflow a go. As discussed above, the tool comes with all the mandatory features that a powerful BPM solution should have.