Liberating enterprise from the burden of complex app development and unleashing the power of digital transformation has become a critical success factor for business today. To achieve this, IT and business must work together faster and better than ever before. A powerful, modern, and business-friendly digital platform is required.
A low code development platform enables enterprises to fast-track their digital transformation process.
"By 2024, low-code application development will be responsible for more than 65% of application development activity." - Gartner.
If you are considering a tool, that develops mobile applications rapidly with no or minimal code, then, Mendix is one of the most effective tools in the market you must explore.
Mendix was recognized as a leader in the "Gartner 2019 Magic Quadrant for Enterprise Low Code Application Platform".
What is the Low-code application Platform (LCAP)?
LCAP is an application development platform, which supports rapid app development in one-step handling, deployment, and execution. It allows developers having varied levels of experience (even non-technical) to create apps, using a Graphical User Interface.
Why do we need a Low Code Development Platform?
These platforms support faster development of business logic, user interfaces, and data services. They enhance productivity at the cost of portability as compared to traditional app platforms. Whether it is developing an app or streamlining the development process by automating manual processes, a low code development platform makes it simpler than ever to develop flexible applications. These tools offer several benefits and most of them contribute to the app development process. Few benefits are as follows:
Decreased Costs
Improved Agility
Higher Productivity
Better Customer Experience
Change Easily
Faster Transformation
Effective Risk Management & Governance
These platforms include the features of drag & drop interfaces, visual modeling, security, scalability, and mobility. The graph below depicts the reasons to use Low code platforms: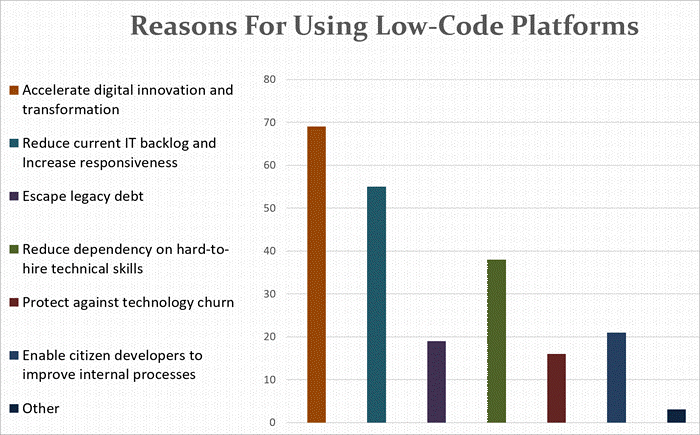 Image source: softwaretestinghelp.com
Mendix – A leader in LCAP
Mendix is a low code and high productive platform, which allows you to transform how your business innovates as well as competes with apps. With its visual models, you can build apps fast and effortlessly. It allows a wide range of professionals from developers to business analysts, to make innovative apps without the need for complex code.
The main aim of Mendix is to accelerate the app development process with best practices and a comprehensive set of tools for developing, testing, deploying & iterating. As it is a cloud-native architecture, you can deploy your apps on on-premise or any cloud with a single click.
Features of Mendix
First low-code platform to support AI-assisted development
low-code and no-code collaboration via Mendix Studio
Model API & SDK
Model sharing
Cloud Foundry support
One-click cloud deployment
Full application lifecycle management support
Integrated app store
Web-based applications, AJAX
Mendix provides both low-code and no-code tooling in one fully integrated platform:
No code ( Mendix Studio ) – It is a visual, no-code online environment, designed to be used by business users, who are often non-technical, but know best about the business; the developers - users with no or very little experience in software development.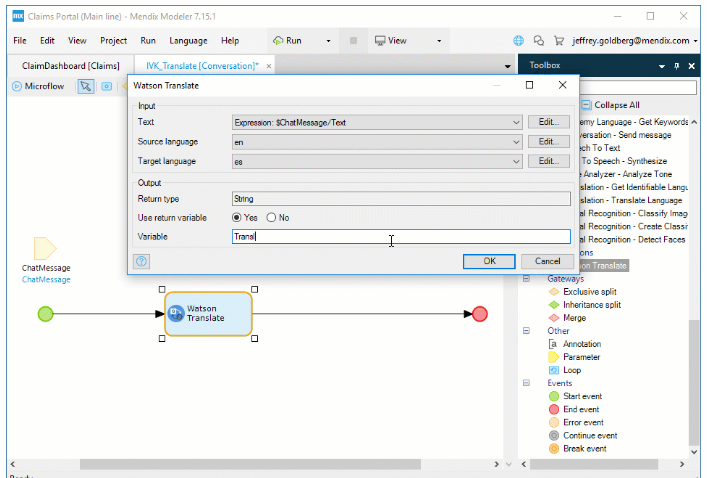 Image source: Mendix.com
Low code (Mendix Studio Pro(License version)) – It is a powerful desktop application, which can be used by the full stack developer to create complete applications with more complex logic, integrations and perhaps even some custom coding if necessary.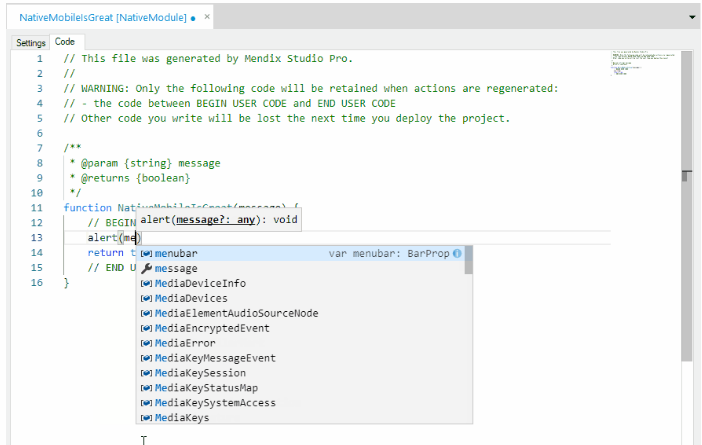 Image source: Mendix.com
The developer/business users can design a prototype of a business-driven idea in Mendix Studio, completely without coding. Then the low-code developer can use Mendix Studio Pro to further enhance this prototype with more complex logic or external integrations. This is how business and IT work together!
It is even possible to upload an Excel sheet and let Mendix Studio create your application for you, based on the data in the Excel sheet! It offers Collaborative development/Version control support.

It supports responsive and native app development right out of the box with a single visual model. Hence, you can deliver applications to all your users without the need to navigate multiple codebases and tools. The resulting app is compatible with all devices and reduces the failures commonly encountered with traditional development models, which are slow and siloed.
Further, its AI-assisted development environment increases your developers' productivity as well as reduces the learning curve for naïve developers. With ML (Machine Learning) analysis of over 5 million apps flows across 15 domains, Mendix offers next-generation suggestion and high-quality performance & maintenance recommendations that enhance developer productivity as well as app quality.
Cons of Mendix
When processing many data with its single database, you need to aware of your data processing, data model, etc to avoid any blocks in the application since your database cannot manage it anymore.
Further, the application is not useful for all kinds of the publicly accessible page as it is not giving proper updates in the address bar and it is not a simple method to index by search engine bots.
Though Mendix is a wonderful low code platform and has been recognized in the top lists of IT awards, few professional expects some improvements, which will make it more user-friendly.
Conclusion
Undeniably, the Mendix low code development platform brings outstanding innovation for the development of smart applications. Leverage this platform as a rapid and convenient way to develop groundbreaking apps using IoT, Machine learning, and big data platforms & services.