In today's digital age, the importance of mobile technology cannot be overstated. Choosing the right mobile app development company has become crucial as businesses strive to stay competitive. With cutting-edge technologies like AI, ML, AR, and VR making their way into mobile apps, companies need a partner to deliver innovative and engaging solutions.
The mobile app development industry is set to experience a rapid growth rate of 7.89%, and it is projected to reach a market size of USD 218.80 billion by 2027. This blog post will help businesses navigate the complex landscape of mobile app development by highlighting the top companies in the industry in 2023.
List of Top Mobile App Development Companies
Clarion Technologies stands out as one of India's top mobile app development companies that extends innovative and cutting-edge offshore mobile app solutions in the rapidly evolving mobile technology landscape.
With 22+ years of experience and SEI CMMI Level 3 certification, Clarion has become a trusted partner for enterprises and startups in the US, UK, and Australian markets looking to transform their digital presence.
Whether you need iOS, Android, Xamarin, Flutter, React Native, or Ionic development, Clarion's expert mobile app developers are well-positioned to meet your evolving business needs. Clarion is well-equipped to meet your business's software development needs, from custom mobile app development to end-to-end web solutions.
Key Features
Get a 2-week risk-free trial.

Hire mobile app developers at 60% less cost.

Get complete control of the mobile app developers' team.

Get a 98% success ratio

No cost for termination.
Mobile App Development Services:
Mobile app testing

Mobile app maintenance and support

Mobile app upgrade and migration

UI/UX design

Custom native platforms

Cross-platform applications

Testing services

Support and maintenance
Clarion Technologies is an ideal choice if you are searching for an efficient and trusted Mobile app company in India.

2. IntellectSoft
Founded in 2007, Intellectsoft is a leading digital transformation consultancy and software development service provider across various industries, including construction, dental, healthcare, fintech, insurance, and many more. Whether you need custom mobile app development, software consulting, or end-to-end digital transformation solutions, Intellectsoft has the expertise and experience to meet diverse business needs.
Mobile App Development Services:
Custom iOS apps development

Android apps development

Second platform app development

Maintenance and post-warranty support and more
3. Peerbits
With over 12 years of experience in the field and a global presence in four countries, Peerbits is one of the leading mobile app development companies. Their team of over 180 skilled in-house developers is dedicated to providing exceptional services, making Peerbits the go-to choose for businesses across various industries, including Fintech, Health Tech, Logistics, and Transportation. From custom mobile app development to end-to-end digital solutions, Peerbits is reputed for consistently delivering top-tier solutions tailored to their clients' unique needs.
Mobile App Development Services:
Digital Transformation

Product engineering

IoT

Resource as a Service

DevOps
4. RichestSoft
RichestSoft is one of the leading mobile app development companies in India. The company is dedicated to delivering exceptional services since its founding in 2007. With a team of 175+ skilled developers, they have completed over 1000 projects and boast an impressive 99% customer satisfaction rate. From custom mobile app development to end-to-end digital solutions, RichestSoft enables businesses of all sizes to stay ahead of the curve in today's rapidly evolving digital landscape.
Mobile App Development Services:
Android app development

iOS mobile app development

iPad App development

Custom application development

Hybrid mobile application

Mobile app porting and more
5. Hyperlink InfoSystem
Hyper InfoSystems, with over 11 years of experience, has earned a reputation as one of the best in the business. From ideation to deployment, their team of experts provides the best possible service to clients across the globe. With an impressive track record of developing over 4500 mobile apps, Hyperlink Infosystem has the expertise and know-how to help your business succeed in the digital age.
Mobile App Development Services:
Android Mobile App Development

iPhone App

Hybrid Mobile App Development

Flutter app development

React Native

Kotlin and more

6. Net Solutions
Net Solutions has established itself as a leading provider of digital transformation solutions for both enterprises and startups. Working with some of the biggest names in the industry, such as Microsoft and PayPal, their team of experts is dedicated to delivering top-tier services and products that help their clients stay ahead of the competition.
Mobile App Development Services:
Mobile App Strategy Design

Mobile App Audit & Optimization

Mobile App Development

Mobile App Modernization
Mobile App Development Pricing and Costs
Mobile app development costs can vary significantly based on different dimensions. One of the most crucial factors is the app's complexity, including the features and functionality required. The platform(s) the app will be developed for, such as iOS or Android, can also impact the cost. The location of the development team, the level of experience and expertise, and the amount of customization required can also affect the overall cost.
It is essential to consider these factors while budgeting for a mobile app development project to ensure that the final product aligns with the desired quality and features while being within budget.

The below Pie chart answers the question of why India for mobile app development outsourcing.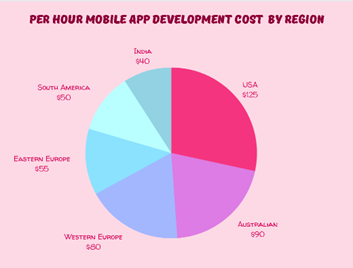 Conclusion:



In conclusion, selecting the right mobile app development company can be the make-or-break decision for any business owner. The mobile app is an essential tool to connect with customers and provide them with a seamless user experience. A well-designed app can positively impact the brand image, result in a loss of customers, and ultimately hurt the business's revenue. Therefore, choosing a company that understands the business needs, has the technical expertise, and can deliver a quality product within the budget and timeline is critical.