The term eCommerce is no longer limited to book stores planning to take their warehouses online. It has evolved to whatever money can buy. Even the smallest of services like plumbing or movers-and-packers have transitioned their services to an online store. The sole purpose is easy accessibility.
Since it has expanded into this vast arena of consumer products, the expectations from eCommerce websites have also drastically increased. ECommerce websites have to handle everything from Sales, Billing to Shipping. These 3 words might be concise enough to wrap-up the functionalities of an eCommerce website, but the detail lies in the intricacies.
As the eCommerce business rapidly expands, so does the need for standardized or ready to use platforms to quickly set up an e-Store. In light of this, various CMS platforms have expanded their services to accommodate eCommerce extensions, which help in easily appending their existing websites with an eCommerce storefront.
According to the research conducted by BuiltWith.com - among a sample data 49MIL websites, 49% or nearly half were using WordPress as their CMS. This presents a very strong case for considering WordPress for your Business.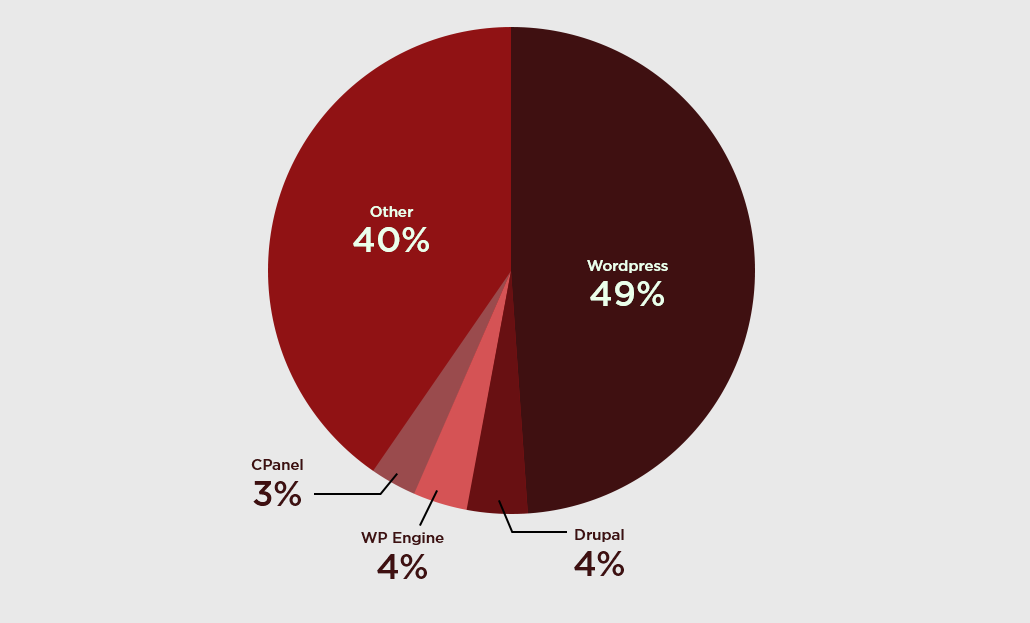 WordPress is one such platform, which identified the need for plugins early, coming up with alternatives for building an enterprise-wide eCommerce website.
Here we will dive into WordPress – the lightest platform for website development, and the plugins/integrations/extensions it provides to align with the most extensively used e-commerce platforms around the world. But before we do that, let's look into what exactly does a Customer/Visitor expect from an eCommerce website? What traits should a business be looking at, while deciding on an eCommerce plugin for their website?
Expectations from an eCommerce website
1. A wide range of products – Reliable CMS
Customers might leave disappointed when they find a limited range in the product they are looking for. The real objective of an eCommerce store is for their options to feel inexhaustive. Not all eCommerce store owners have a wide variety of vendors under their umbrella, unlike Amazon, eBay or Flipkart. Most of the e-stores cater to a single brand, hence not having diverse merchandise. But all storefronts aspire towards scaling up on that front. This demands a robust and lightweight CMS that can easily store and retrieve extensive information.
2. Design – Themes and Templates
Design from an eCommerce perspective is not how fancy the website looks, but accessibility to the products that you are searching for. Accessibility is measured based on how-many-clicks does the user have to perform to reach his desired product. The more the number of clicks, the lesser the chances of a shopper returning to your website.
Almost all initial eCommerce websites that came into the business took their design inspirations from the layout of supermarkets and their aisles, sections, and racks on which the products were stacked. The segregation of menus/submenus on a site were arranged to give the impression that the visitor is making his way through a mall.
To present you with a variety of design or layout solutions, the eCommerce plugins provide you with multiple Templates and Themes to work with. It is up to a good web designer to decide which of these Themes to build upon.
The more difficulty a shopper faces to locate his product, the more he recollects a shabby supermarket where he is wasting his time, going through the items he doesn't want to buy. Professional storefronts help the user reach his desired product and let him ponder on the options.
Recommended further reads on this topic –
How Important Is Frontend Design For Your Organization?
Responsive vs Adaptive Website Design – Know the Difference!
3. Checkout – Payment Alternatives
I'm sure each one of us has been stuck in a payment queue at a mall, one time or the other, wondering why the queue next to us was moving faster. As you glance towards the counter, a customer is counting the exact change down to the penny; you wonder why isn't he using a card?
Payment Alternatives always provide a smooth checkout experience. The broader range of checkout options that your platform facilitates the better it is to serve a variety of customers. The user experience takes a hit if the shopper spends more time completing the payment procedures than selecting the product.
According to BigCommerce – 6% of shoppers abandon the shopping cart due to lack of payment options. Integration with multiple payment platforms is always an added incentive while selecting an eCommerce platform.
Here's a list of the top 10 payment gateways that are extensively used in the market today.
4. Speed
Have you ever reached a physical store, very early in the day to quickly grab something? When the manager informs you that they are yet to open, and you have to give him 10 minutes.
The impatience is far more intensified when you are at an eCommerce website which takes a long time to load each page.
According to Statista–less than 74% of the users are willing to wait less than 5 seconds for a website to load on their mobile phones before they decide to move to another website.
This is an alarming statistic for an eCommerce business, where speed sells. Here the idea is to present a broad variety of options to the customer before he thinks of deviating from his decision to buy.
The format that is used to display a product has evolved. ECommerce websites have images, videos, Zoom-in capabilities, 360-deg images and more which are used for the detailing of a product. This leads to an increase in the weight of the page and affects the page load time.
Your page load time also majorly affects the Search Engine Optimization, which is the soul for an effective eCommerce storefront. Shoppers rarely move past the 1st page of their search results to look for a product.
Numerous factors can affect the Website's performance. Some critical ones amongst them are the Server/Web Hosting platform, Sustainable Traffic volume, CMS/Backend database, File types and sizes used on a page and the plugins used on the platform. An accurate balance of these factors will give you a high performing website.
Top 3 eCommerce Platforms worldwide
Having laid out the requirements you can work on the question at hand, which would be the appropriate ready-to-use platforms for an eCommerce website.
WordPress has come a long way from a blogging website to an easy to use and affordable website hosting platform. A website building platform is as good as the number of plugins that it offers. Plugins extend the functionality or add new features to your website.
WordPress contains a vast number of plugins of which most are free to use. Based on the tasks you want your website to perform you can choose the appropriate plugin or develop a customized one. There are a vast number of plugins that can convert your WordPress website into a fully functional eCommerce store.
Here is a layout of how the eCommerce Platforms are distributed over the top 1 million websites.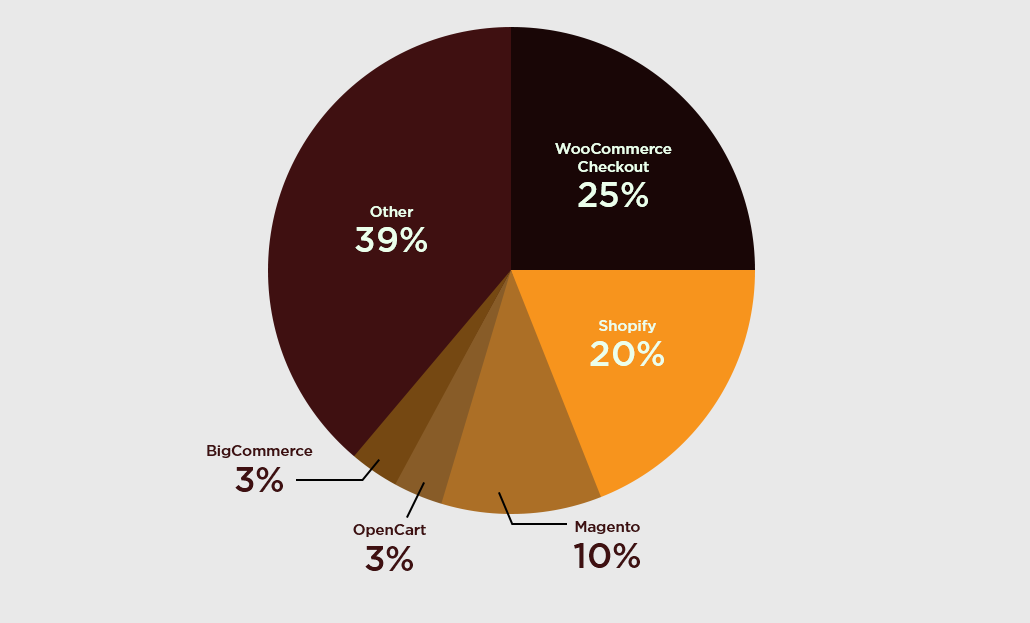 WooCommerce, Shopify, and Magento capture a major portion of the eCommerce market. These platforms also have their plugins associated with WordPress. Their integration with WordPress turns them into a more flexible, reliable and robust platform for hosting an eCommerce business.
1. WooCommerce
WooCommerce is undoubtedly the most widely used WordPress eCommerce plugin. WooCommerce occupies 28% of the market share (according to Statista) of the leading eCommerce software platforms, worldwide. It has been open-source since its origin in 2011 and it targets a range of small to large-size merchants in association with WordPress.
Extensions
WooCommerce boasts of having more than 400 extensions which help you in extending your eCommerce store with functionalities like shipping, payments, accounting, inventory tracking, and even marketing. If you do not find what you are looking for, you can embed an extension created from the widespread WordPress developer community.
Themes
Themes decide the APPEARANCE of your online store. With WooCommerce, you are not only using the existing WordPress themes, but also get access to countless themes that help you get just that precise look you need for your website.
Sell anything
While choosing a plugin, you need to segregate it according to the product you are selling or planning to sell in the future. WooCommerce allows you to sell anything from digital products that need to be downloaded from the store, subscriptions and of course an extensive range of consumer products.
Easy Setup
It might be very easy to download and install WooCommerce if you already have a WordPress site in place. However, there might be some expert craftsmanship required to configure WooCommerce and implement the right theme to get just the right workflow. Firms with website development skills would come in handy here.
In case you need to consult with an expert on how to get your WordPress website setup with WooCommerce, you can read the WordPress services we provide and what you can gain from it.
Community
WooCommerce contains extensive documentation, tutorials that can guide you through your implementations. Further, you can use the Worpress.org forums to get answers to queries that are not listed in the documentation.
Budget-Friendly
While WooCommerce is free, all you need to spend on is your hosting service and domain name. You incur additional costs while using WooCommerce if you are opting for an explicit theme ( around 60$), plugins and extensions (25$-80$ each). Additionally, you need to spend on the expertise who would help set up a WooCommerce plugin for you. To estimate the cost of a WordPress developer, you can reach out to us, and we would be glad to assist you on it.
2. Shopify
Following WooCommerce, Shopify is the most extensively used eCommerce platform, which covers around 18% of the worldwide eCommerce market. Shopify is an independent website builder for an eCommerce website, but you can also extend your existing WordPress website with the Shopify plugin to convert it into an online store.
Convenience
Shopify is renowned for its ease of use, and it provides a simple editor to streamline your website creation experience.
Subscription
Unlike WooCommerce, Shopify is not free, it comes with a minimal subscription fee. The pricing ranges from $9 to $299 per month for basic to advanced packages. But Shopify does come with a free trial for you to check if it is the right eCommerce store builder for you.
Themes
Shopify also provides a range of themes and all of them are responsive – as they automatically align themselves to fit a mobile, tablet or laptop. You can check out the top websites built on Shopify here. It gives you an idea of the range of designs that are possible with Shopify.
Security
Shopify includes SSL security compliance and PCI compliance, which means you do not need to explicitly take care of your website security as Shopify handles protection against cyberthreats.
A few other major selling features that Shopify provides are Abandoned Checkout Recovery, Multi-channel integration (Sell on multiple sales channels like social media or other online marketplaces), and Digital selling (Sell digital downloadable products online).
The combination of a lightweight WordPress platform and a reliable Shopify platform for your online store might prove to be a robust option for your eCommerce website.
3. Magento
Magento occupies the third-largest share of eCommerce software platforms with 13% of Magento based websites. The purpose of the integration of Magento with WordPress is to provide a fast and flexible CMS with blogging and extended interfacing capabilities. With the introduction of Magento 2, the eCommerce platform has incorporated newer features that provide your eCommerce business with more flexibility and scalability.
Robust Architecture
The flexible architecture of Magento is one of the most promising features it provides. It works on both OOP and MVC architecture offering the developers to introduce customizations that can make their e-store more scalable.
Backup
Magento also introduces a backup and rollback system which enables you to take frequent backups of your website. Further, you can roll back the website to a previous snapshot along with the code, database, and files.
Speed
Magento 2 has moved on to using CSS from Bootstrap. With the help of LESS preprocessor and CSS URL resolver, Magento enhances the theme performance and decrease the page load time.
The newer versions of Magento have introduced new features like PHP7.2 support, Multisource Inventory, Progressive web applications studio, Two-factor authentication and much more.
In Conclusion, as we see, though the market share of WooCommerce is marginally reduced and moved towards Shopify and Magento, these 3 remain the top contenders in the eCommerce market. Your choice depends on the area in which your business demands flexibility. Going through their features and pricing you should be able to narrow down on the right platform for you. Alternatively, you can hire wordpress developers who can help you choose the right plugin for your website.