These days, business owners have begun to adopt big data technologies to identify facts they couldn't see before. It has been a crucial task because the recent competitive environment, forced deep changes into the businesses today, especially those relying on mass consumers. With big data analytics software, organizations can study a massive volume of data to realize the recent state of their business and chase still-evolving factors like customer behavior. This article highlights the benefits of incorporation of big data solutions to the business.
Big Data and Small Businesses
It is no longer true that big data is meant only for large organizations. Today, even small businesses need to influence a large amount of data they're gathering in order to stay ahead of the competition. For several years, the cost persisted to be the primary reason why SMEs didn't incorporate big data solutions, but this has changed now. Even small businesses can now capture the benefits of data they're collecting with the abundant number of budget-friendly tools available in today's market. Some business experts state that SMEs can have a better advantage of big data technologies since they're able to make the mandatory changes far more easily than large organizations. According to the recent trend, most large organizations agree that the strategy of big data includes the power to transform how businesses have operated already. The acceptance of big data strategies and technologies by the large organization would strengthen the reality that SMEs could become unconnected if they didn't incorporate the same strategies.
Why are Enterprises motivated towards Adopting Big Data Software?
Followings are the reasons and its benefits that incline every business to adopt big data software: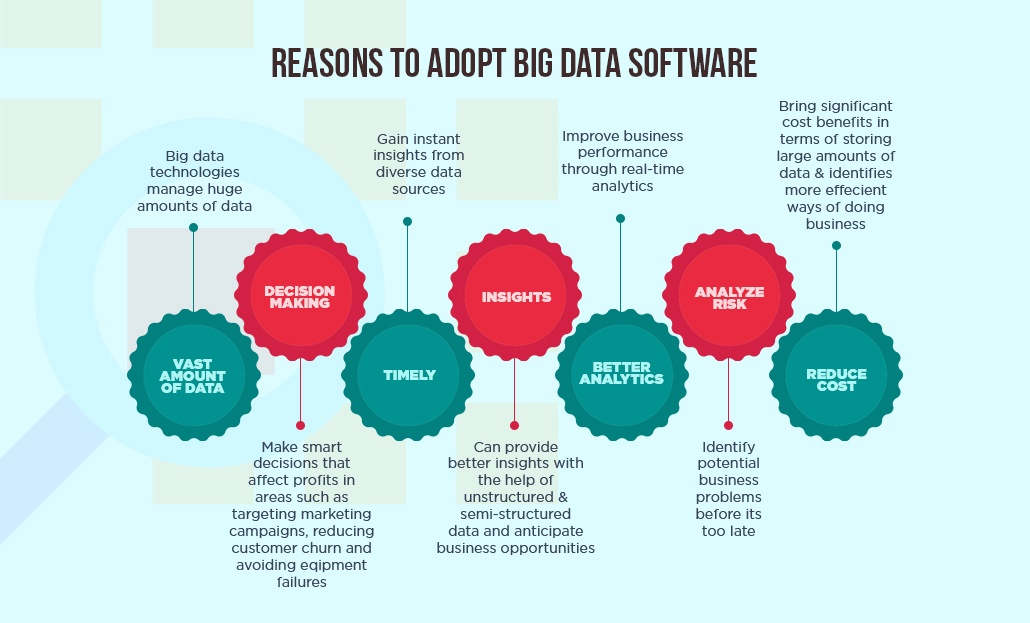 Business Benefits of Big Data
Here are the 10 most valuable benefits of big data software:
1. Discover New Business opportunity
Recognize new business opportunities in the market by discovering trends and patterns in the collected data to forecast future behaviors and possible outcomes with big data predictive analytics software.
2. Analyze Risk
Success doesn't exclusively rely on how business is running but on the economic and social factors as well. Predictive analytics encouraged with big data software allows scanning as well as analyzing social media feeds or newspaper reports. Hence, a business can keep up with the latest updates in their industry and its ecosystem. Detailed analysis of the suppliers and the customer is another benefit that comes with this solution. This will support to initiate appropriate action when any of them is at risk by default.
3. Offer Enterprise-Wide Insights
Formerly, a business user who wants to analyze large amounts of data had to request their data scientist or other IT colleagues for support, as they themselves don't have any technical skills to do so. Sometimes, even as they received the requested details, it was no longer error-free or useful. With the advent of big data software, the technical teams now have the power to do the groundwork and build frequently into algorithms for quicker searches. For example, they can create systems and install interactive as well as dynamic visualization software that permits them to examine, observe and benefit from the collected data across the enterprise.
4. Increase Sales and Loyalty
The digital footprints that customers leave behind uncover a great deal of knowledge about their shopping preferences, likes, etc. Analyzing this information using big data software enables businesses to enhance their services and products to meet exactly what their customer desires. The software collects the digital footprints when the customers browse online and post on social media channels.
5. Provide Data Visualization
Generally, raw data comes with a bewildering volume and velocity. For humans, graphical representations will always provide more insight than that of rows and columns of numbers. This proves that data visualization is vital, and it allows anyone to understand difficult concepts within data without the requirement for complex analysis. However, the data visualization feature is often considered as a good-to-have within the businesses rather than as mandatory. This proves that the potential for incorporation is never fully realized. The recent generation of big data visualization tools is simple to incorporate and provides instant business benefits and effective storytelling.
6. Ensure Security
While focusing more on large data to improve core capabilities, businesses today forget to concentrate on the serious concerns called security breaches and cyber threats. Almost all enterprises are connected to the World Wide Web today. In addition, IoT has widened the exploitable security surface of the business and made it easier for cyber-terrorist to attack networks and capture company databases. As there is an option to link the entire data prospect across the enterprise with big data software, it is possible to examine threats that businesses face internally. They will be capable to find sensitive data that is unprotected in a proper manner and ensure it is stored as stated by regulatory requirements. In addition, the software also analyses the user behavior that can support to enhance the company's cybersecurity resilience.
7. Enhance Sales
With the cost and legwork benefits involved in using of big data software, there should be a financial encouragement for bounding on the trend, right? Of course, there is.
For instance, when it comes to the e-commerce world, an attention to big data analytics could possibly make a business. Big data possess enormous effects on sales in the following ways:
Optimize Price: As it allows tracking trends and purchases in real time, businesses can eventually identify patterns, which results in high profits.
Demand: Analytics tools can predict requirements for inventory and prevent the business requirements to ever be unavailable.
Predicting Trends: Observing closely on business data offers chances to detect which products are vibrant with clients and which is falling flat.
For marketers involving in digital sales, the details discovered via analytics tools could influence major profits or losses. In addition, the information collected by big data solution often provides points that marketers wouldn't even think about.
8. Enhance Decision-Making
It is the most important one among the biggest benefits of big data technology. The software enables businesses to accelerate decision making by sorting out data fast and offering knowledge in a timely manner. Beforehand, business decisions were kept for future strategies in view of the available data as well as trends. Today, the amount of data businesses dealing with becomes huge and it is supposed to give powerful insights. The vast amount of available data demands the use of modern big data analytics technologies. Once the appropriate software is in place, a business can understand its customers better, make the right products what customers really want and build a brand in accordance with most reverenced values.

9. Aid Simplicity
Big data analytics tools are specifically designed for users who belong to the non-expert community. Former products, target mathematicians & statisticians, and they can build and understand the details of how the software works. Fortunately, the current software doesn't demand the users to possess a sophisticated scientific knowledge to attain business benefits from the resulting models.
10. Enhance the Customer Experience
Big data software adds compelling and interactive data visualization to customer-facing apps that offer a more extensive experience for the users and enhance satisfaction and loyalty. Therefore, anything dealing with customers could benefit from this tool. The benefits include customer base segmentation, social influence marketing and appreciation of sales & marketing opportunities. Furthermore, big data analytics can aid to understand customer behavior from click streams.
Conclusion
The power of big data analytics makes the conservation of an enterprise operation more intelligent and optimized. In addition, incorporating these tools also supports the enterprise requirement for transforming entire business by enabling a more effective way to justify its application portfolio.