With the advent of the internet, an abundant amount of data is created, stored and used in various kinds of devices. This data is acquired either privately or using a broad range of public sources like posts, tweets, blogs, product reviews, and tweets. As the volume of data is expanding exponentially, businesses are struggling to handle and turn that data into value. Moreover, the generated data is generally unstructured and demands huge data storage as well as computing power to perform various processes including management.
Businesses are in need to analyze the data to understand the customer needs, predict their requirements and future demands to optimize their service and product offering. Therefore, companies are starting to adopt a paradigm called big data analytics. With the big data technologies, companies can easily analyze the stored data and obtain valuable insights for the businesses. This has aided enterprises to gain competitive benefits along with enhancement in operational efficiency in their ecosystem.
This blog addresses the state of big data analytics technology in today's business. Let us begin with an introduction to big data.
Big Data Definition
Big data deals with massive amounts of data, it especially concentrates on information sets, which are excessively large to manage in a conventional way. In detail, the technology handles the data that cannot be processed with everyday applications like MS Excel or Access. Big data can be in three main forms:
Structured data can be easily analyzed as it can be stored, accessed as well as processed in the practice of fixed format. Ex: Banking related data
Unstructured data covers data with unknown structure or form. This kind of data includes multiple challenges in terms of analysis. Ex: Documents, text messages & social media posts
Semi-structured data refers to the data structured, but not properly defined. Ex: Web server or mobile application log files
Big data is primarily employed by businesses in operational analytics, customer analytics and fraud and compliance analytics.
A Glance of Big Data Analytics Today
Several organizations generate their business in accordance with the insights obtained from the data analysis. Today, there has been a massive shift in the type, size and form of the data as shown below:
The necessity to examine these huge amounts of data to find correlations and hidden patterns encouraged the companies to adopt the big data analytics solutions. With this technology, it is effortless to analyze the data and obtain answers from it almost instantly. As more and more enterprises, including SMEs realized the importance of investing in the technology, there is a massive rise in the big data market.
A study of IDC found that worldwide market of big data analytics software, which was $49.1 billion in 2016, is projected to increase in a next 5 years with a CAGR of 10.6 %.
The major reasons for the rise include rapid growth in data management software in accordance with non-relational databases, increasing shift to public cloud and growth in adoption of automation software.
The "Big Data Execute Survey 2017" states that nearly 95% of the enterprises have accepted significant investment in the big data technologies over the past five years and their range of investments are depicted below: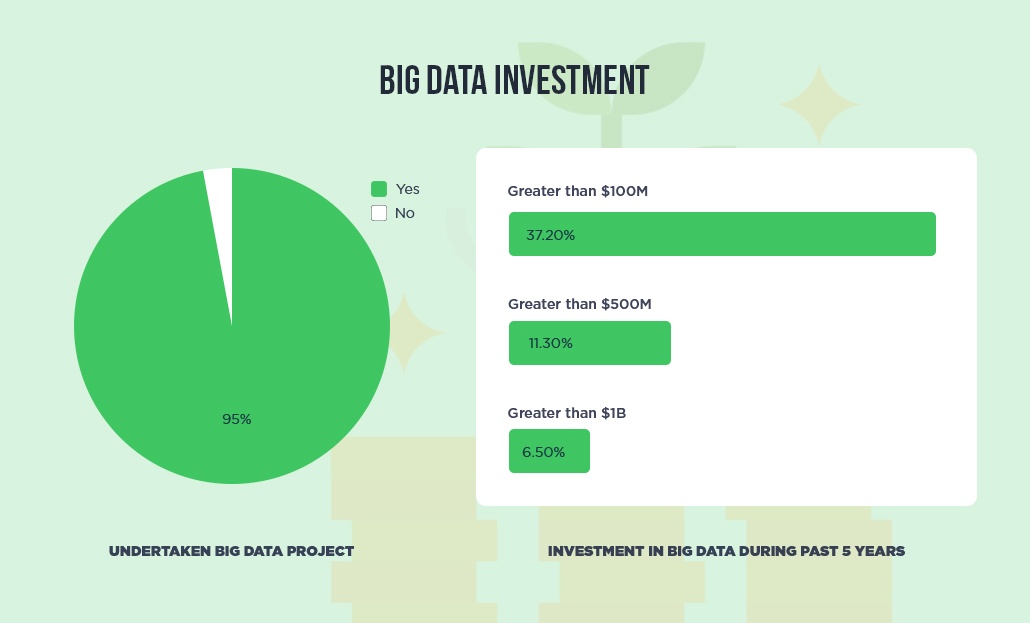 The enterprises who are investing in big data are achieving a significant result of their investments. Nearly 48.4% of respondents reported that their enterprises have realized benefits, and they characterized their big data investment success as shown below: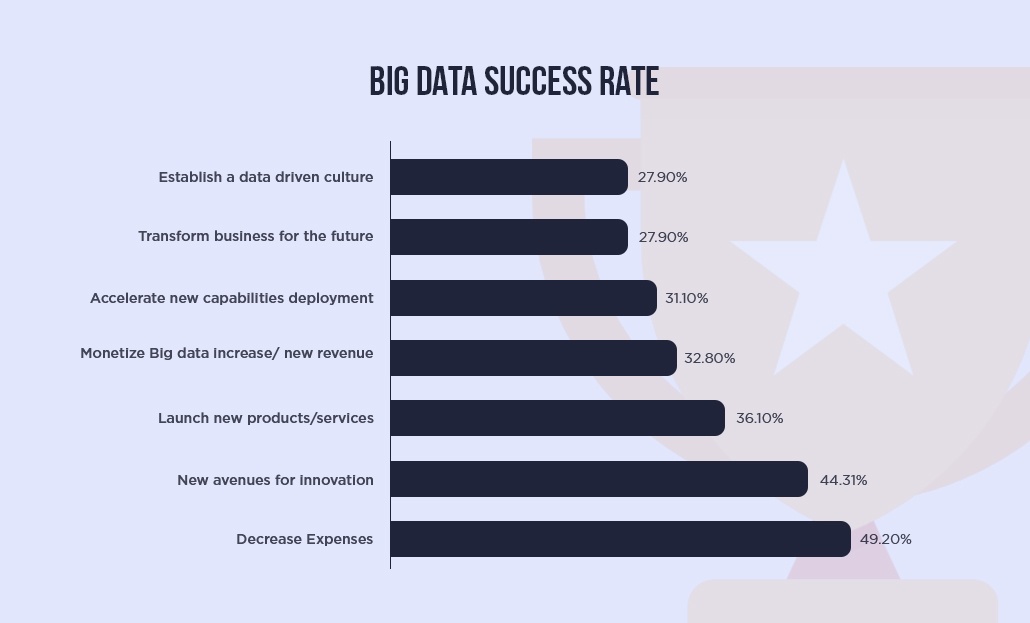 According to the survey, called Analytics Comes of Age by McKinsey, Sales & marketing, Supply chain management, Research and development, Workplace management and other operations where the big data are adding most substantial aids to revenue growth. The following chart provides how big data analytics techniques affect the industry's core business practices: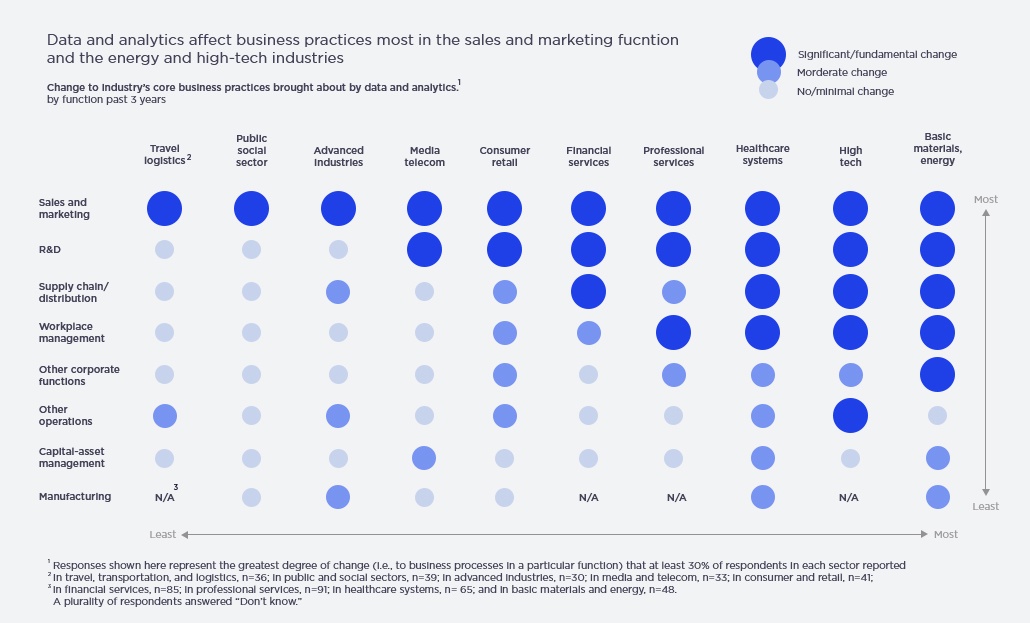 Image source: mckinsey
According to the chart, around half of the respondents accepted that big data has changed their business practice in sales and marketing functions.
According to the EMC survey on Big Data, most of the organizations are accepting that adopting big data analytics is more valued for handling data in real time. Accessing relevant data, ensuring whether the data analysis is helpful and enhancing ROI on big data investment are other core benefits of big data.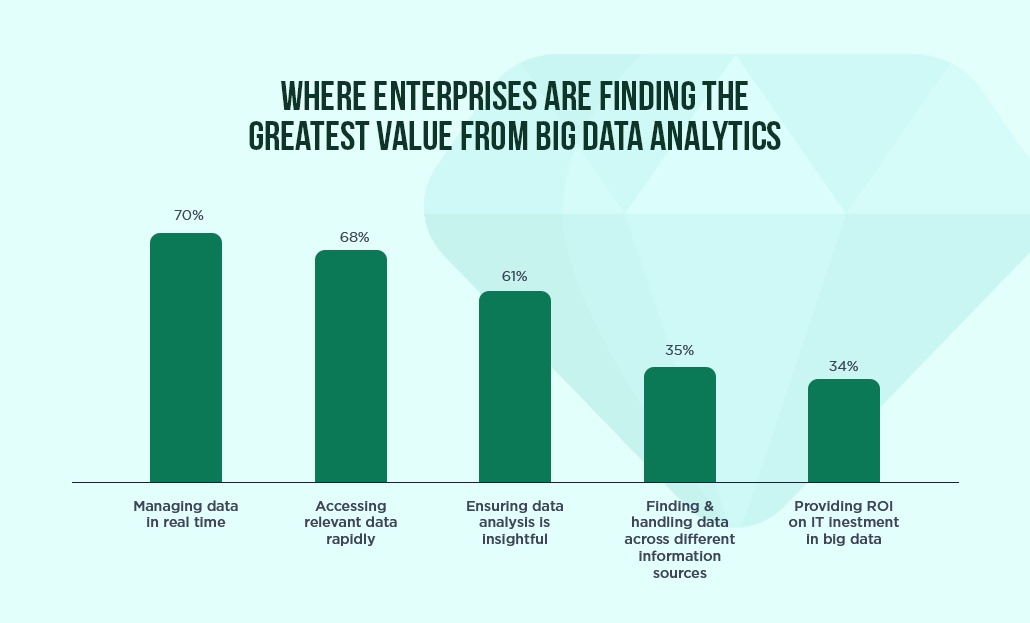 Increasing Business Value with Big Data Analysis Tools
Big data analytics techniques and tools are increasing in demands after the increased use of big data in business. Businesses begin to perform big data analytics with several software tools typically considered as the portion of advanced analytics processes like text analysis, predictive analysis, statistical analysis and data mining. Big data tools are defined as the software products that can support prescriptive and predictive analytics applications executing on big data computing platforms. The software is designed to facilitate users to analyze very large amounts of data within a real-time window.
Furthermore, the tools offer the framework for employing data mining techniques that analyze data, determine patterns, and improve the business processes' performance. Enterprises can gain the new vision to execute their business efficiently and highlight new opportunities for success. The tools can be used as big data reporting tools, big data visualization tools and mainstream business intelligence tools. The followings are some of the best big data software for the enterprise today:
Elasticsearch
Cyfe
Cluvio
FCS Analytics
MongoDB
Phocas Software
Forestpin Analytics
Carriots Analytics
Teradata Database
Worksheet Systems
Common Uses Cases for Adopting Big Data Tools
Organizations can consider the big data analysis software for any of the following applications:
Customer Analytics – It covers analyzing customer behaviors, demographics as well as characteristics to promote a method to segment customers, predict churn and outline the best future recommendations to support customer retention.
Sales & Marketing Analytics – When it comes to marketing, there are two kinds of enterprise use cases. The first one deals with the analytical models to enhance how the end user applications make direct references to the customer. For instance, it supports to identify opportunities for cross-selling & up-selling, reducing uncontrolled shopping carts and enhancing the exactness of integrated recommendation engines. The second use case intends to highlight the performance of the marketing group's campaigns and processes. In addition, it provides a recommendation to optimize the performance. For instance, it aids to analyze which campaign stated the requirements of finding segments or clusters, as well as the success ratios of the marketing campaign's appeal.
Cybersecurity – In order to avoid being vulnerable to security exploits, companies today are required to identify the potential attacks. With the big data analysis software, enterprises can design analytical models to monitor the massive amounts of data that reflect network activities. In addition, the insight about corresponding access behaviors can aid to identify doubtful patterns, which might direct a security breach.
Social Media Analytics – The action of analyzing the contents streamed across social media channels offers many opportunities to understand customer sentiment and determine the brand risk when negative details are broadcasted about the company's service and product.
Supply Chain & Channel Analytics – It supports to analyze point-of-sale transactions & shipments and warehouse inventory on various channels like rail, trucking, and shipping. The analyzed report can support inventory management strategies, pre-emptive replenishment, logistics management, and route optimization & notification when delay endangers timely deliveries.
Price Optimization – Retailers who want to maximize the long-term profitability for their product sales can develop analytical models with the tools to chain a variety of data streams. Sales transaction across several geographic regions to analyze demand, the competitor's price and information on inventories & the supply chain to supervise supply are few of them. The resulting analytical model can support to adjust the product price when demand is on the rise, competitors are incapable to deliver, or even when supplies are low.
Fraud Detection - Several enterprises, including financial institution are in need to detect the fraudulent activity as well as transactions. With this software, they can analyze millions of transactions to determine the patterns of fraudulent behavior. The resulting model can also trigger security alerts to customers when there is a possible fraudulent transaction.
Conclusion
The value of big data analytics software is undeniable since it boosts the power of data to enhance business outcomes associated with the organization. They can use the big data analytics solution to manage the sheer volume of data and derive a real-time vision that can drive the business forward. This further enhances the business efficiency that leads to effective decision making.