Today, organizations rely heavily on software applications. In order to meet the predominant diverse business requirements, organizations need to choose various software applications, which have been developed with different technologies and created by different software vendors. Consequently, they have to combine those applications and make them work together. The task of comprehending different software and forming new software solutions demands an integration service. Traditionally, the requirement has been fulfilled with integration software on premises. However, today, the market has developed in the cloud known as iPaaS (integration Platform as a Service)– provides a hosted integration solution that can serve as a central cloud and can connect several varied applications as well as cloud services together. Let us dig deep into this platform and understand its importance for businesses.
What is iPaaS? - A Brief Introduction
iPaaS combines integration and governance along with other capabilities to respond to ever-increasing user demands to procure, manage, and deploy integration scenarios like application, data, process, things, SOA, and B2B integration as a single, integrated platform. It automates connectivity among multiple business systems, applications, and data sources. Let us dissect the iPaaS definition:
The iPaaS solution provides a combination of cloud services that are collectively called an integration platform service.
The iPaaS flow of integration can enable incorporation in a many-to-many fashion that includes a combination of both off-premises and on-premises applications, processes, services, and data.
iPaaS supports connection within the same enterprise and across multiple enterprises in a B2B model that often comprises e-commerce customers and suppliers but sometimes involves any enterprise collaboration and integration.
iPaaS services are offered to various concurrent user communities in a flexible, scalable and self-service manner with the promise of user security, integrity, and service levels.
iPaaS serves as the core part of the things that an integration solution is expected to accomplish. The following figure illustrates the four significant things that it takes to handle a task of transferring detail from one app to another:
iPaaS Market Size
The concept of integration platform as a service begins to gain popularity and several users have recognized the term. Some people see iPaaS as a developing form of providing data and application integration capabilities by combining multiple cloud services along with the application governance. Another point of prospect presents iPaaS as the evolution of IaaS (Integration as a Service) that have been broadly adopted for cloud-based integration.
According to Research and Markets, the world's largest market research store, iPaaS market size is anticipated to grow from $528 million in 2016 to $ 2,998.3 million by 2021 at a CAGR of 41.5% during the estimated period.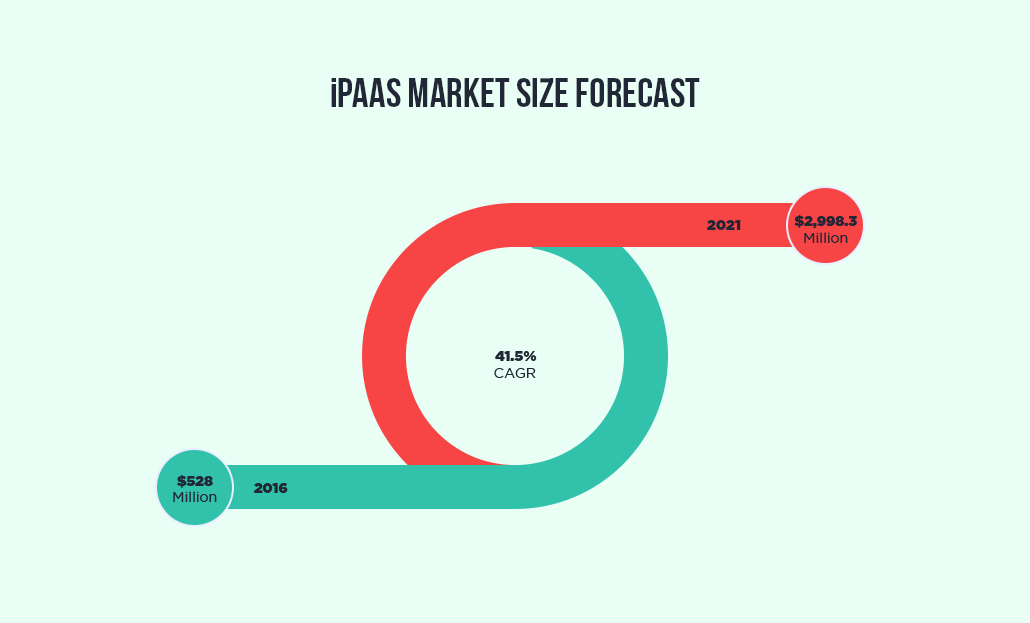 As per the report, the requirement for faster deployment, scalability, business agility, reduced ownership cost and raised global awareness about iPaaS are the major factors that drive the demand for iPaaS.
The increasing market shares evidence the increased adoption of iPaaS among the enterprises today. Banking, financial services, healthcare, and insurances segments are the industries that are expected to contribute more to the iPaaS market share.
Reasons driving iPaaS Model over Traditional Approach
The emergence of SaaS (Software-as-a-Service) and the rising heterogeneity of organizational data sources and application portfolios have imposed the shift to appropriate alternatives from conventional integration approaches. Enterprises have started considering iPaaS as a way to ease the hybrid integration complexity as they endure to concentrate on handling the complex interaction of business requirements and determined budget constraints. In addition, they achieve faster application integration.
Longer integration time affects the delivery of critical composite applications. Similarly, inflexible integration limits the power of the organization to attain speed-to-market and exploit new business models and channels. The conventional integration approach is too slow when there is a demand for rapid switching between SaaS vendors and cloud providers.
Enterprise Application Integration is the vital thing in the business environment as it binds the IT systems and business systems together. Clever integration is a key demand that makes business-critical processes function 24X7. Evolving business process requires flexibility in IT systems and iPaaS can support this demand excellently.
With the advent of IoT, dynamic traffic pattern associations that should be connected in real time become more critical. Unlike traditional suites of enterprise integration, iPaaS highly deals with the context of the real business events and serves as the source of predictive analytics.
Business Opportunities with investing in iPaaS Solutions
The enhancing interest in digital transformation and business process automation drives the expansion of global iPaaS adoption. Especially, the digital transformation is the promising method that every enterprise adopts by investing in the integrated platform as a service. With this technology, they regenerate revenue as it drives service orientation and agility. The adoption of effective iPaaS supports enterprises to simplify the costly and complex enterprise-scale integration. The iPaaS technology facilitates the enterprises to extend or re-platform their existing platform. This will aid them to combine the entire potential of new digital capabilities.
Today, companies can use iPaaS for the following benefits: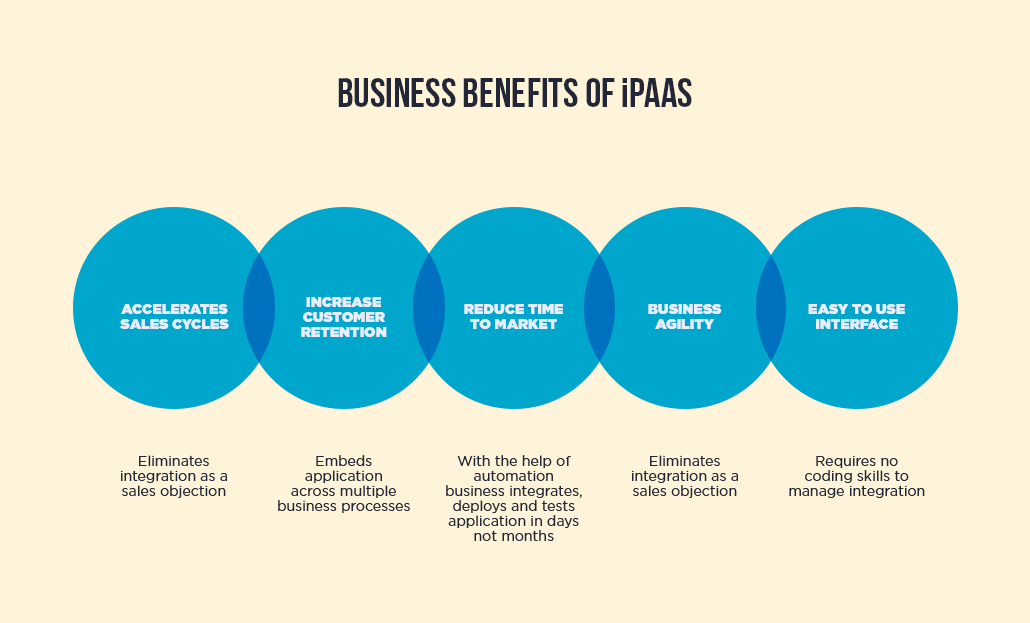 For better understanding, let us highlight how iPaaS solution reduced product integration cost by 73% with reference to scribesoft:
Consider that an enterprise wants to integrate its products with nearly ten marketing automation and customer relationship management software. The time and cost it took to integrate using custom coding to API and with iPaaS is depicted below: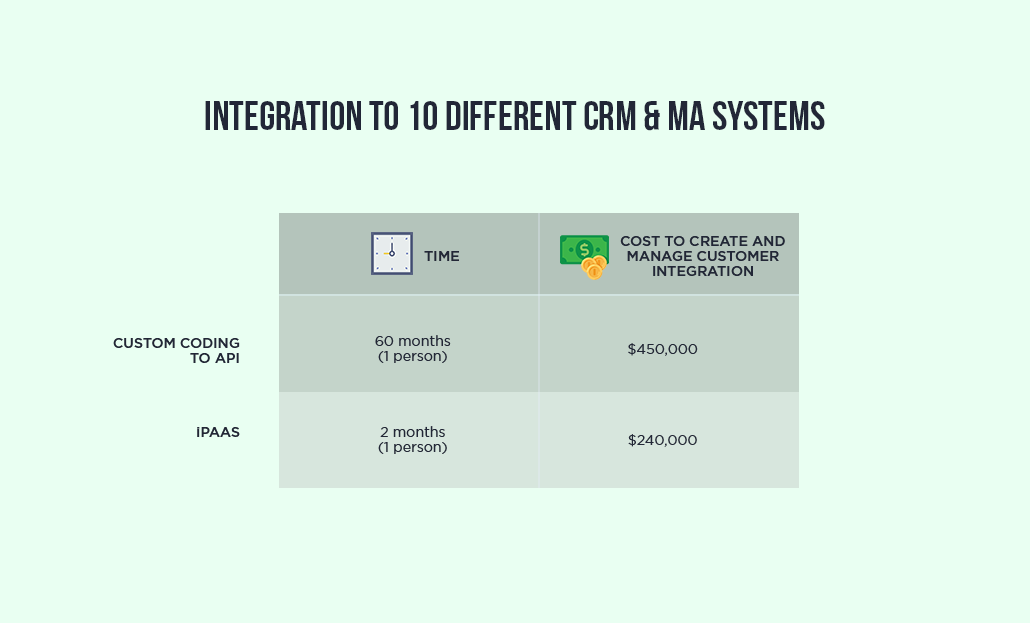 Therefore, if the integration cost is high, then there is less chance for the enterprise to generate profit through integration services. Similarly, iPaaS reduces the time a product takes to appear on the market.
The following are the factors that accelerate the time to market:
An iPaaS solution removes the custom development liability and maps technology integration automatically to match existing workflows.
With this innovative integration method, developers can design and construct the integrations with point & click action. Thereby they accomplish their needs faster.
An iPaaS solution can connect any system in hours, resulting in accelerated time to ROI on a comprehensive range of products, sales, and marketing efforts.
The integration process automation, data standardization, and governance procedures result in the increased productivity. Another advantage called easy to use interface extends the capability of integration by ensuring that even a non-technical person can create data connectors. It requires no specialized or custom programming skills to handle the integration.
Finally, iPaaS provides business agility. This online platform can keep up with ever-changing needs and enable faster decision making. Since the iPaaS solutions offer great scalability as it manages the enhancing volume of data being collected by the business.
iPaaS Vendors
Numerous middleware solution providers are announcing/introducing their iPaaS tools over the last few months. The iPaaS solution providers have amplified the complete value proposal of their solutions by providing low-latency, API management, and data management capabilities of iPaaS. The following is a list of top iPaaS vendors in today's market:
Workato
Jitterbit
Scribe Online
Dell Boomi
Zapier
Anypoint Platform
PieSync
SyncApps
Cleo Integration Cloud
Azuqua
Apache Kafka
Conclusion
The iPaaS integration solutions benefit in overall system simplicity. It eliminates waste and minimizes time to market by enabling faster configuration as well as management of the application and server. This integration platform is ideally suited for non-technical integrators too. Businesses who like to stay ahead of the curve can implement their integrations with iPaaS solutions. Hence, they can launch digitization at a faster pace.