Business people are now looking for more efficiency, increased revenue and a better customer experience. They can attain all of that if they implement artificial intelligence or AI for their enterprise. AI, a new factor of production is being developed, that can boost profitability. It consists of various technologies, which can be compiled in various ways to sense, understand, act and learn. According to a research by Accenture, AI includes the potential to enhance profitability rates by an average of 38% by 2035.
In addition, AI provides new ways to optimize planning processes, evaluate various data sets, automate text/voice interactions & responses and recommend possible next steps. Such features offer the highest level of automation as well as boosts efficiencies of both people and processes. Tech giants are showing interest in AI technologies like computer vision, robotics, expert system, and speech, gesture & facial recognition.
In this blog, we will explore how artificial intelligence technology growing its impact on real business as well as consumer applications.
Artificial Intelligence Definition-
Artificial intelligence can be defined as the design and construction of stimulated intelligence in machines where the machines are prepared to think like a human and imitate the way humans act. AI has its capacity to justify and take steps that hold the best possibility of achieving a certain goal. The AI brings together various different subfields of speech processing, computer vision, reasoning, natural language understanding, knowledge representation, robotics, and learning, with the motive of attaining a result by the machine.
AI is defined as the continuum of:
Assisted Intelligence – Where it has replaced several standardized and repetitive tasks done by humans
Augmented Intelligence – Where machines and human learn from each other as well as redefine the dimension and intensity of what they accomplish together
Autonomous intelligence – Where continuous or adaptive system takes control in some cases
Business Investing in Artificial Intelligence-
Artificial intelligence is quickly enhancing its applications and influence on business as well as society. In 2017, the implementation of AI in businesses has raised to 61%, which was just 38% in 2016 according to a report, "Outlook of Artificial Intelligence in the Enterprise 2018", the third annual report from Narrative Science. Further details found in the report are as follows: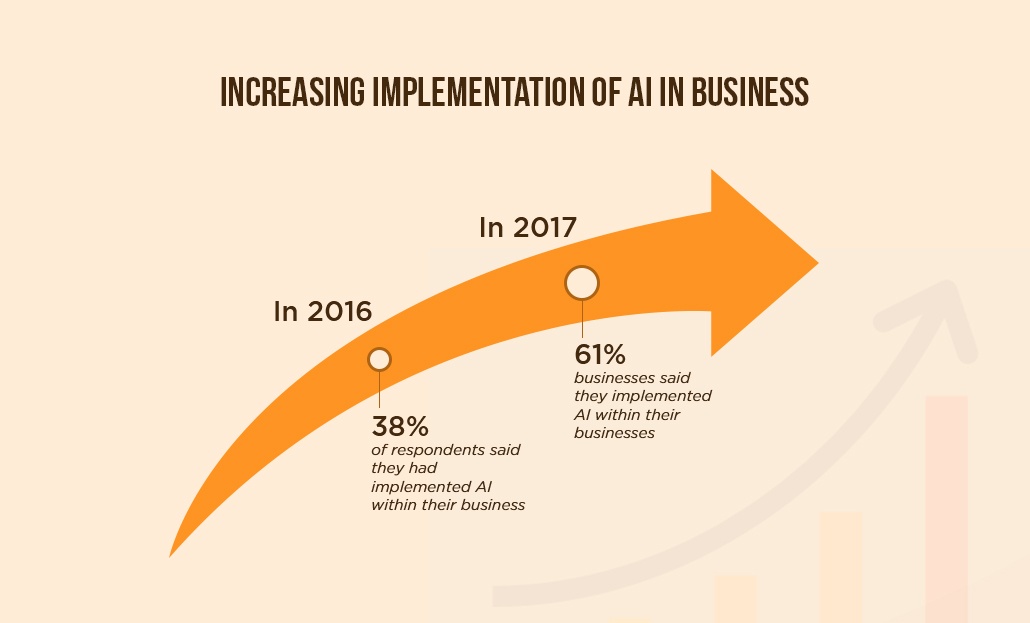 In addition, most of the companies are already realizing the role of artificial intelligence in business. It has been evidenced by the survey data illustrated below: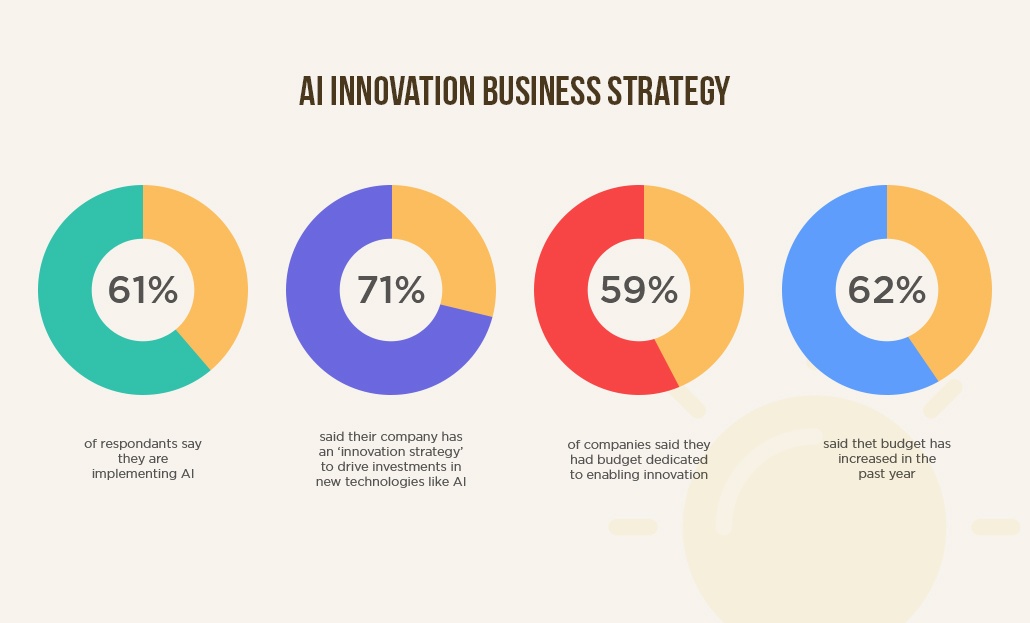 The implementation of AI has enhanced significantly, and the conversation related to AI has moved from the awareness to adoption. Therefore, in 2018, the concentration will be on ensuring that organizations are getting value from the AI investments.
Applications of Artificial Intelligence in Business Today-
Recently, artificial intelligence systems were deployed across various industry verticals. The same research also highlighted where the AI is actually being used today (see chart below).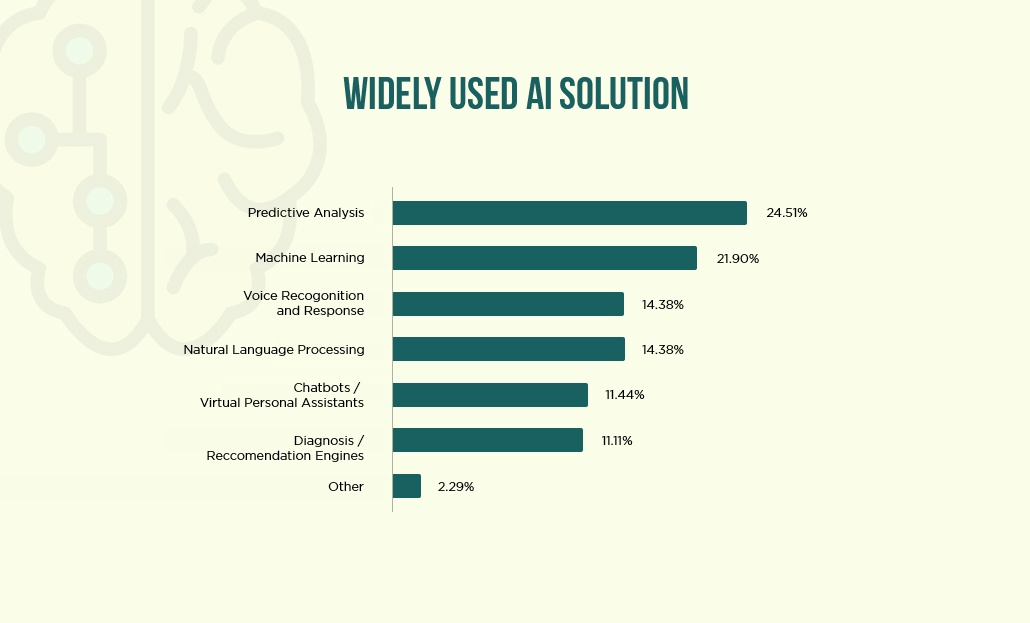 What makes AI appreciated in business is its ability to process as well as analyze enormous amounts of data. The artificial technology uses algorithms to evaluate data from various sources and then spot trends and irregularities based on this data. It can analyze massive amounts of data much faster than a human analyst – proving an effectual tool for real-world businesses.
When it comes to the role of artificial intelligence in business, machine learning is an evolving trend for business applications. It is a competent technology to develop new skills without programming, in which computers continually learn from a new set of data. Just as notable are the increasing applications of artificial intelligence to support humanization of technology. Voice recognition/response and natural language processing facilitate natural speech-oriented communication. With AI software in voice recognition, we can accurately identify who is speaking. It is used to recognize the person by analyzing its voice pitch, asset, and tone. Another subset of AI is natural language processing that makes the system capable to understand the language.
An enterprise can now create AI enterprise chatbots, which can be employed as marketing devices, personal assistant and customer service tools. The implementation of AI personal assistant can provide an abundance of advantages, including saving resources and time by automating repetitive and monotonous tasks. Hence, the chatbots and personal assistants place a more personal touch on the human-machine interaction.
What are the Advantages of Artificial Intelligence to Business?
AI solutions have an impact on every available software category from security tooling, due to scale and increasing complexity to finance by mixing AI into banking operations. Similarly, AI transforms the CRM (Customer Relationship Management) by powering the CRM system into an auto-updating system, which stays unique among companies' customer relationship managements. Wherever, there is a need for more speed, greater efficiency or more security, AI will be there. There are several ways that AI can benefit businesses, it is hard to include all of them. No matter whether in sales, customer support, HR and marketing, the AI always includes something to offer. Here we listed some impacts of artificial intelligence in business management:
Improve Workplace Communication - Channels, contents, and tools influence the business communication. AI will support businesses enhance communication both internally and externally by facilitating individual personalization for every employee, allowing for increased concentration and enhanced productivity.
Increase Efficiency and Higher Accuracy at Lower Costs - With the emergence of powerful AI technology, the boundary for mistakes and error that cost more money and hurt in productivity will be reduced. As it eliminates the human errors and ensures fewer risks, business will be capable of enjoying increased efficiency and accuracy. Furthermore, machines can work faster than humans and they do not demand to be paid constantly, therefore it will also result in considerable cost savings.
Combining Automation in Business – Among the advantages of artificial intelligence, the work automation incorporation enables new age business revolution. With the rising trend in the automation, AI rapidly automates many routine business processes. A recent hiccup of Facebook has highlighted that the key to business success is ensuring that the human workforce can work effectually together with the AI applications.
Crack Unstructured Data for Understanding - Among the information available to us, only the 20% are structures that can be analyzed and interpreted and the remaining 80% is unstructured. If the unstructured data is unlocked, it can be of extensive aid to draw business insights. AI supports businesses in transforming unstructured data into applicable intelligence.
The following chart depicts some desired results from the application of AI in businesses, based on the response of a survey conducted by EY at the Emtech Digital conference 2018: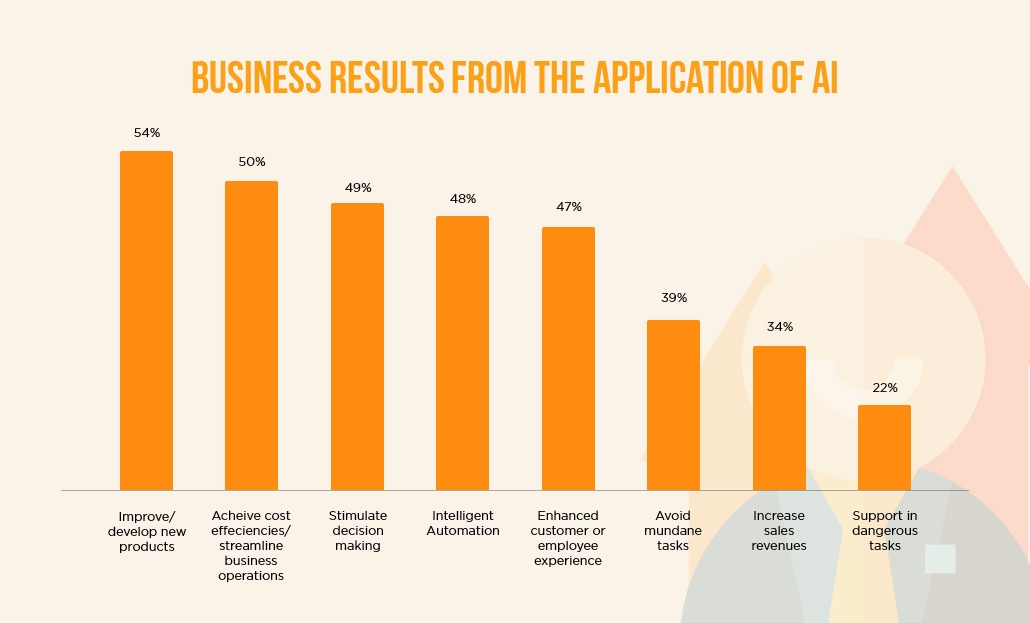 Artificial Intelligence and Chatbots -
While considering artificial intelligence impact on business, we cannot skip the chatbots – human-like conversation platform. With the advancement in AI when compiled with the proliferation of messaging apps, the chatbots has become popular in business today. We can find more bots that are associated with advanced AI technologies like natural language processing, machine learning, etc. A recent report from Grand View Research, Inc, predicts that the global market of chatbots will touch $1.25 billion by 2025, rising at a compound annual growth rate of 24.3%.
Chatbots are being accepted by all sorts of enterprises to carry out tasks like reporting temperature, scheduling meetings, assisting human choose a product, etc. Especially the AI chatbots are powered in businesses that involve customer-facing functions and generate more income via better customer interaction. Chatbots can answer inquiries from customers quickly, cheaply and consistently. The chatbots can act as personal assistants, offer on-demand customer support, provide in-depth product knowledge, streamline business processes and empower the HR and IT Department. Further, the chatbot solution of AI software can perform a process of the simple transaction. For example, telegram bots allow buying train tickets, transfer money, book hotel rooms and more.
The attractive features of chatbots like easy to deploy, minimum maintenance, scalability, cost-effectiveness, and a great return on ROI make them a perfect tool for enterprises who seek to reach customer with greater efficiency.
Conclusion-
Overall, the benefits of artificial intelligence across enterprises and businesses have renowned and there is no endpoint. The research and development in AI have offered many advantages, tools, and knowledge. To enjoy the power of the technology, take steps to adapt AI faster. It can be a crucial point of excellence for your business over competitors; hence, AI should be considered as a specialized technology demanding of c-suite strategy and investment.