While large-scale enterprises have long begun using new technologies like machine learning and artificial intelligence (AI) to streamline their business processes, SMEs (Small and Medium Enterprises) are still trying to understand if the AI technology holds any solution for them. If you are fascinated to know more about the value of AI technologies and the way it will influence your business going forward, then you have reached the right place. This blog entails the importance of AI for SMEs along with the seven notable benefits.
Why is Artificial Intelligence Vital for SMEs?
The main scope of AI is to gain a competitive benefit within e-commerce, manufacturing, human resources, accounting, customer relations, marketing, etc. The processes of AI tend to enhance enterprise performance, raise sales, lower costs, automate customer management, save time, limit flaws and advance data collection & processing. Various artificial intelligence techniques can be employed in enterprise performance like fuzzy logic, artificial neural networks, expert systems, genetic algorithms, machine-learning techniques, swarm intelligence-based algorithms, deep learning, etc. Despite various techniques approached, the core aim of AI service remains straightforward - provide more flexible, adaptive and interactive solutions as per the customers' interests and requirements. Organizations can enjoy the benefits of Artificial Intelligence software adoption in various extends of daily performance and enhance their competitive advantages.
If not more so – Gartner has predicted that AI will recover 6.2 billion productivity hours by 2021 and generate $2.9 trillion in the value of the business when combined with human intelligence.
In addition, the AI software can also perform some mundane tasks like scheduling business meetings, answering common customer requests and many more. Moreover, applications of artificial intelligence in business extend beyond convenience too. The AI apps can dynamically fine-tune marketing campaigns that enhance signals from the audience and can evaluate customer-buying behavior.
With these benefits, AI becomes the most appropriate choice for both SMEs and large-scale enterprises. According to the study called State of Artificial Intelligence For Enterprises, nearly 80 % of the companies have already invested in some form of AI today, and 30 % of companies are planning to increase their AI investment over the next 3 years. The invested companies expect a great ROI for each dollar invested today. The following graph shows the average ROI in US dollars that enterprises could receive for their investment in AI software in the next two years, five years and ten years: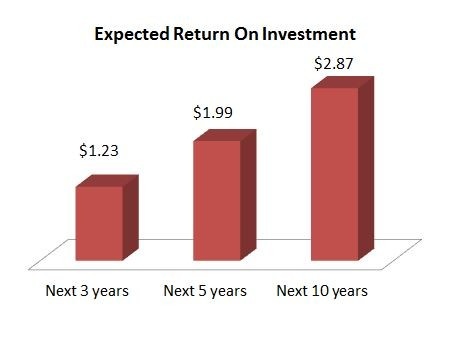 With Artificial intelligence in business, SMEs can reveal new opportunities for business growth.
Benefits of Artificial Intelligence in SME Business
Rapid enhancement of machine learning and artificial intelligence produces the technology more applicable and accessible to small and medium-scaled businesses. Here are seven ways that AI can support the SME owners to enhance their business.
AI Enhance Marketing
The most significant one among the benefits of artificial intelligence is a marketing automation system that may execute machine learning to enhance customer targeting, construct communications that are more precise and build conclusions as per their behaviors. The AI-based marketing stimulates marketing efficiency by driving the efforts, particularly towards the right client. Therefore, AI marketing evolved as a kind of direct marketing that powers the database marketing techniques with the Al-based models and concepts. AI-powered apps support marketing department manage marketing activities across various channels like Facebooks, Google AdWords, and Bing. Furthermore, it automates bids and tracks entire marketing spends; hence, the business people can minimize the time invested in tracking marketing campaigns.
AI Supports Salespeople
Most of the high-growth enterprises involve an inside sales department to generate revenue. AI technologies can coach the sales people to sell better. AI tools record and transcribe the calls the sales reps have. Then they can compare the strategies used by the sales reps to find out the most successful practices. With the machine learning, the sales platform can analyze various variables such as word choice or the ration of time spent on listening versus talking. The AI software supports evaluate performance and train salespeople to converse more like the successful sellers.
AI Provides Better Customer Engagement
Automated chat platform permits the SMEs to scale their customer engagement and experience and free up the resources needed for more critical customer interactions. It drives greater customer engagement, thereby increases the chance to achieve more revenue and increases retention. AI software supports businesses to understand customer needs, determine purchasing patterns and increase the range of services to offer relevant rewards and offers.
In addition to responding to specific customer queries using a database of perceptions, artificial intelligence can also organize the customer inquiries. This tactic can minimize waste times for customers who look for a prompt response to basic queries.
AI Supports Competitive Intelligence
When the competitors produce an abundant amount of contents and updates each day, it could be difficult to track their strategies. However, knowing the competitors well is vital to react to the ever-changing market trends and remain competitive. There are AI-powered competitive analysis tools that support businesses address this challenge. This software can track the business competitors on various channels like social media, websites and web applications to determine price updates and subtle changes in messaging as well as PR activities. When combined with powerful business metrics and natural language processing, this feature can offer SMEs a better insight into the ongoing evolution in their competitors' strategy. Furthermore, these tools also possess powerful analytical ability that support for instant detection of product gaps, strength and weakness of the competitors. With these insights, the business owners can modify their own business strategy.
AI Strengthens Cybersecurity
Over the past decades, businesses regardless of size have come across several cyber exploits that affect both the operation and reputation of the companies. That is why both large and small enterprises are using AI tools to protect their data and battle threats to ensure their data security. With AI and machine learning, companies can detect any strange behaviors, create a concentration on new threats and spot the security vulnerabilities. Just keep in mind that small enterprises are more vulnerable to cybersecurity attacks than large ones because most of them don't have adequate security checks in place.
AI Embeds With CRM
CRM (Customer Relationship Management) platform embedded with AI can take the customer relationship and integration to the next level. This approach seamlessly provides valuable insights, which can handle interactions with existing and prospect customers as well as automate marketing & lead generation. AI integrated with CRM can do a real-time analysis to offer recommendation and predictions based on the business processes and customer data of the company. For instance, it can evaluate customer sentiments in social media posts, recorded conversion, customer reviews, and emails. Furthermore, it can also adjust the lead generation and marketing activities based on the result of data analysis.
AI Chatbots
When it comes to the benefits of artificial intelligence, chatbots are the first thing that comes to our mind. Bots are now used by numerous businesses to communicate with customers and make enterprises available 24/7. Bots provide valuable details and ensure that the customer is engaged. AI technologies include an option to design and deploy the chatbots. The conversational artificial intelligence can be developed for return policies, conversational commerce, company information and more. The AI chatbots create a feeling for a customer that they are interacting with a human support, not a machine. SMEs can employ AI chatbots to enhance delivering business details on their official sites, social media and via mobile apps.
SMEs that are keen on leveraging artificial intelligence early will be powerful enough to attain the benefits of a range of operational competencies and achieve a competitive edge. Implementing AI will be vital for SMEs, but business owners will require being future targeted and ready to touch the next edge with the latest technology.