Your website is the center of your digital ecosystem, like a brick and mortar location, the experience matters once a customer enters, just as much as the perception, they have of you before they walk through the door." Leland Dieno
Do you know how much time we spend on the internet? A typical person spends 6 hours 42 minutes online every day. With everyone depending on the internet for their access to necessities and supplies, web development has become more crucial to any business' success. So evidently, website design and development is something you can't afford to ignore while kick-starting your business.
According to a survey, 38% of your visitors are unlikely to interact with your site if the design is unappealing. This is where you'll need experienced Web developers and Web designers who can work together to incorporate all important elements of the design – from colors to graphics, navigation to UX – in a way that has a consistent effect on the viewers.
The roles of web designers and web developers are usually mixed up – they both work on websites, use similar tools, and sometimes have identical skills. Or, at least, that's how it seems from the outside.
To make it simple for you, we thought of sharing an easy guide on how to tell the roles apart.
Web Developers and Web Designers have very different roles and are responsible for different facets of website development. They both are involved in the task of Web Development, but they're engaged in different roles.
Before diving right in, let's go through the fundamentals of these constructs.

Web Developer vs Web Designer: What's the Difference?
Are you unsure about the differences between web developers and web designers?
Consider the method of building a house to bring these career options into perspective.
You'll need an architect to develop plans for your home, including visual elements, floor plans and layouts, and the overall look and feel. After that, you'll need construction labor to put these architectural plans into action, transforming a concept into a structure.
A web designer is like an architect. The designer's job entails creating a vision for the website's appearance, feel, and functionality. They build beautifully appealing interfaces for visitors. A web designer's role is crucial in ensuring that people spend their time on a website. They research the most recent web design patterns, adhere to design standards and norms, and consider what people experience while viewing a website, among other things.
Let's shed some light on what web designers in different roles do.
UI Designers
A UI designer is responsible for creating elegant and attractive user interface interfaces focused on UX designers' analysis. UI designers are accountable for every interaction between a user and a device, whether it's a computer, a mobile app, or a dashboard in a car.
UX Designer
The UX designer is in charge of assessing the site's users' (and potential users') desires, designing user stories, building user personas, prototyping, and conducting user research. A UX designer must also ensure that the website follows a logical flow and that all communications are natural and satisfy the needs of the users.
Visual Designer
A visual designer's role is best characterized as a hybrid between a graphic designer and a user interface designer. They are professionals in visual communications and have a deep knowledge of graphic design and branding. Typography, composition, spacing, graphics, and color palettes are among their key duties.

A web developer looks after the code. They are responsible for the coding, designing, and modifying websites. Using multiple programming languages, such as HTML, JavaScript, or CSS, a web developer is responsible for building the web site's framework and ensuring it's bug-free and functions as intended.
Web development is divided into front-end development, user-facing side, and back-end development, which is the server-side support side. A full-stack developer can help with both the front-end and back-end of a website and user interface and business logic.
A front-end developer is responsible for coding the website's mockup version. A front-end developer can create the site's interface, graphic features, and interactivity using various programming languages (most notably HTML, CSS, and JavaScript).
A back-end developer works to write and manage programs that run the front-end. This involves running the program and servers and looking after the server that hosts the website. Python, PHP, Java, and Ruby are some languages used by back-end developers.
A full-stack developer is well-versed in both front-end and back-end programming. Full-stack developers can also be asked to recommend and maintain best practices, foresee technical challenges, and contribute to the overall development strategy.
How to choose between a Web Developer and a Web Designer for business?
The table below provides descriptions of various tasks as well as whom you can employ for each one. This will assist you in understanding whether you need the services of a web developer or web designer.


| | |
| --- | --- |
| Task | Web Developer vs Web Designer |
| Design web page layout | Web Designer |
| Build contact forms | Web Developer |
| Website updates | Web Designer |
| Webpages error (Testing) | Web Developer |
| Logo design | Web Designer |
| Website Optimization | Web Developer |
| Responsive page design | Web Designer |
| Update and maintain the website | Web Developer |
WEB DEVELOPER VS WEB DESIGNER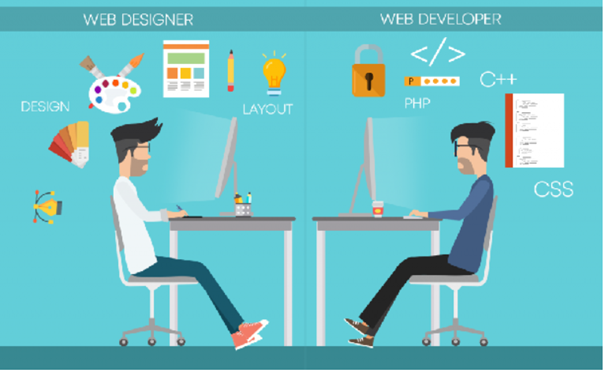 Let's sum up: Should You Hire a Web Developer or Web Designer?
Hopefully, this guide has helped you insight into the key differences between a web designer and a web developer. So, let's recap what we've discussed so far.
If you need to create visuals for your website, you will have to hire a web Designer. He will develop the vision for your website: the stand-out elements, the look and feel, and the functionalities for a seamless user experience.
If the wireframes and mockups are provided by the web designer, you'll need a front-end web developer to code them up. The front-end developer will transform these templates into a working website using one of the front-end coding languages – you'll have clickable, scrollable features, site navigation, and content style that follows the brand guidelines.
You may alternatively look for a full-stack developer who is familiar with both front-end and back-end processes and can create powerful programs for website creation.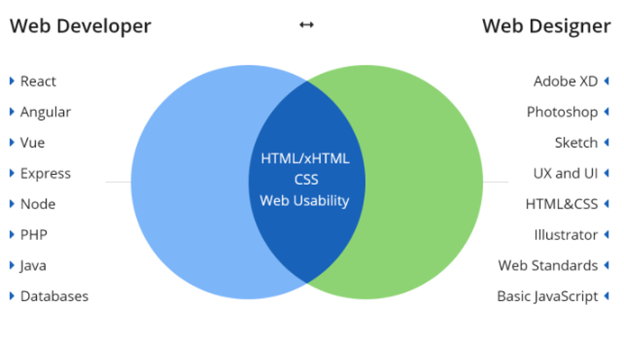 HIRE SKILLED AND VETTED DEVELOPERS AT CLARION
At Clarion, we offer a One-stop solution for Web Development services. We have independent web design and development teams with distinct functions and responsibilities. The front-end developers and web designers are responsible for all visual aspects of the websites we create. They have innovative ideas for creating websites that have a smooth user interface and are appealing to consumers. They also collaborate with back-end developers, who manage server commands and create custom website features.
With our experience and expertise in HTML5, CSS, JavaScript, our designers, and developers offer various services in website development using HTML and CSS like:-
HTML5 Application development

HTML 5 mobile application developments

HTML 5 UI widget developments

Migration to e-commerce/cms frameworks
Clarion comprises the top 5% of development talent, hand-picked for your project's requirements. We have the entire development ecosystem at your service. If you are planning to hire Web Developers or Web Designers feel free to reach out for any queries.