When the stakes are high, and time is precious, the only variable crucial to restrain in your startup is the cost.
The initial mandatory costs that you run into are infrastructure and resources. Once you are over that mountain, the supporting tools required to administer your business seem to be an overhead, and you are willing to avoid any extra costs in that region.
To tackle this, startups are in search of tools that can be procured at a meager cost or for free, and which would be apt for the time being. But for laying the foundation and governance of a startup we need varying tools that would provide flexibility, enhance the productivity of the team and support the daily operations of an organization.
To help overcome most of your initial hurdles, here are a few tools, which are available for free or at a low cost (based on the subscription) and are imperative for the smooth functioning of all startups.
Project Management Tools
In the early days of a startup, there are a handful of employees with a huge pile of tasks at hand. These tasks can be assigned manually to individuals or teams, but keeping a track of these tasks, their status updates, and transitions between teams is a tedious effort to be maintained over emails or excels. There are a few free online Project management tools, which would help you in the basic team management and effort distribution.
If you like a Kanban board based approach, Trello is a popular and rapidly spreading tool that you would like to look at. It operates on a card-based task management approach with checklists and user attachments. In the free version, you can create unlimited boards – one for each project and you get 10mb space for your files. It has a modern user interface and provides easy navigation and modifications to your project.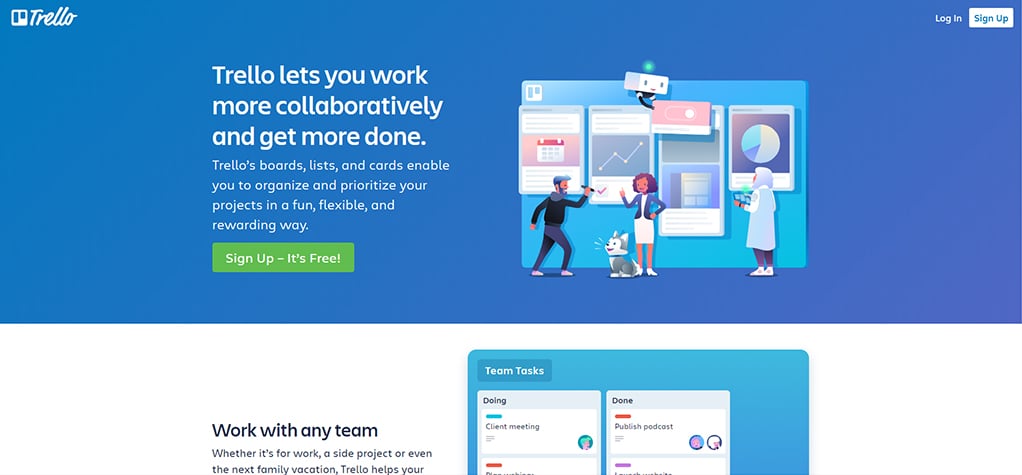 If you are looking for a Gantt chart-based project management, which helps you visualize tasks based on timelines and progress, TeamGantt is a very professional, free software available for you to use. Limiting as it might be, in the free version of TeamGantt you are allowed to create only 1 project which can be administered by 3 users.
Website Management Tool
An organization new or old does need a portal to showcase your offerings. For a startup having a website is fundamental to providing a ready showcase for customers to know what you are all about. But renting a server, narrowing down on an appropriate framework, engaging a development team to build and maintain a website on a customized platform, is not a practical cost and time investment which all enterprises would like to indulge in.
WordPress is a Content Management System (CMS) which is considered to be at the forefront of all Blogging and Business websites. With a low subscription fee, WordPress allows you access to an array of plugins, which help you enhance your website to give a professional face to your organization. There is a wide range of templates for you to choose from and with a minimal amount of coding the site can be up and running as per your needs.

If you are looking for an e-commerce solution for your business, Shopify will be the best option for you. It works on a subscription-based model and is designed to be simple for beginners to build on and customize an e-commerce setup, with a short learning curve. It is the largest e-commerce solutions provider on the market today and has an extensive help center, which provides 24/7support via chat, email or phone.
CRM Tool
Grooming customers and generating leads is a substantial task and needs to be performed in an organized manner. HubSpot CRM is hands down the most popular and widely used free CRM management tool. It provides a dashboard view of all your sales pipelines and is designed to help SMBs track their customer interactions on a scheduled basis. They allow you to record your customer interactions through all channels available like email, phone even via social media. In the free version on HubSpot, you get an Unlimited number of users and 1 million CRM contacts storage. Additionally, in the paid version you get Reporting dashboards, Email marketing, Blog and content creation tools and freedom from HubSpot branding.

Zoho CRM is another tool which has a hold on the CRM market. In the Free version, Zoho CRM allows you up to 10 users to access the tool. Zoho CRM should be considered by SMBs for complete sales force automation, lead tracking and email marketing. Further, it has add-ons like Zoho Desk for help desk and ticketing, Zoho Contact management, Zoho Campaigns for marketing campaigns, which enables it to handle all dealings with your clients.
Development Collaboration Tool
A Development collaboration tool is something you would like your fellow colleagues to get right to it without investing time in learning how to use it. If you are looking for Distributed Version Control Software (DVCS) for your basic development needs and have a small to medium size team to deal with, GitHub is the platform you should be looking at.
GitHub is an opensource DVCS with source code management facilities which allow developers to work from remote locations over the same project in personalized workspaces. GitHub provides you with Integrated issue tracking functionalities and a Collaborative team review before publishing. It supports over 200 programming languages and allows code sharing via GitHub Desktop, which along with its Robust API integration provides your development team with the flexibility it needs.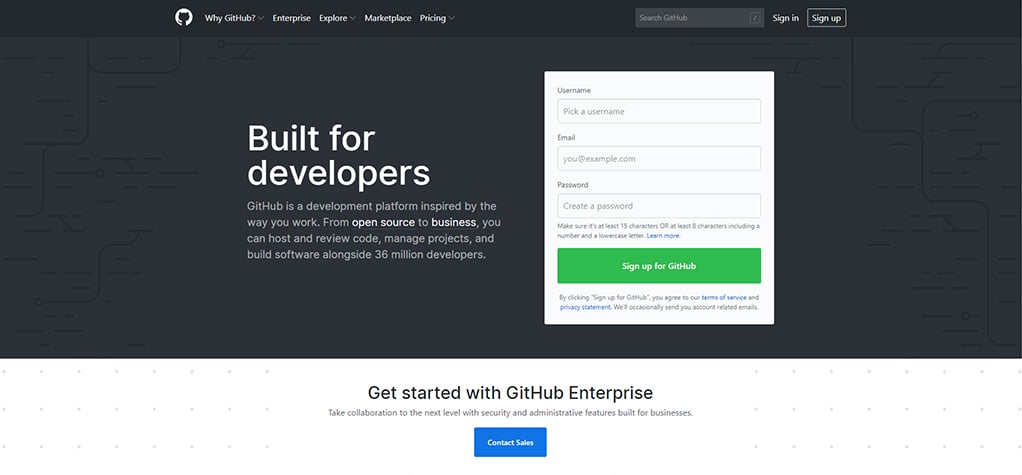 Email Management Marketing tool
Upcoming businesses need to advertise themselves over all prospective domains, and email marketing is elementary amongst them. MailChimp is the most widely used email marketing tools for SMBs. Their forever free plan allows 12,000emails per month to 2000 subscribers, which should be adequate if your business doesn't solely rely on email marketing for leads. Also, their paid plans start for as low as 10$ per month. MailChimp integrates with Salesforce, WordPress, Facebook, Google Analytics and many more. They have extensive reporting facilities and come with built-in customizable signup forms.
SendinBlue is a tough competitor, which allows 9000emails /month to unlimited subscribers in its free plan. Its paid plans start at 25$/month, allowing 40,000emails/month with no daily limit. It is a ready-to-use product and requires limited configuration and marginal skills to get started.
Payment tool
With PayPal occupying around 60% for the payment gateway market, the digital payments arena gets pretty narrow for the rest of the competitors. Through this mist, Stripe is an emerging platform, capturing 21% percent of the Payment processing market share and is the rapidly growing go-to option for SMBs.
Stripe performs its payments on-site, without redirecting to any alternate gateway website; this retains consistency in the user experience on the e-commerce website. Though Stripe is available in limited countries in the US, it offers a service called Stripe Atlas, which permits you to establish a US-based company irrespective of where you are physically located. Stripe has an easy to work with API library and allows you integration with multiple platforms like MarketSpace, Payvoice, Mobip, Foundry, Shopline and many more.
Business Analytics tool
To have a BI setup for your small business you are not quite sure on the amount you should be investing based on the usability. As the size of the company goes, an estimate of the amount of reporting and projection required cannot be judged. Hence, in the initial days, entrepreneurs tend to opt for a BI application that can be explored for a short period and then dived into for its exhaustive features.
Microsoft provides us with a cloud-based solution for Business analytics called Power BI. You can access Power BI over your mobile or through the Power BI desktop app. It is efficient for building custom dashboards and reports. The professional subscription of Power BI costs 9.99$ /user/month, but before buying the subscription you can get a 60-day trial period to test its flexibility. Alternatively, you can go for a Power BI Desktop version, which is free for a single user, which has custom visualization and the ability to publish to the Power BI service.
Tableau is an upcoming alternative to Power BI and is known for its data visualization. Tableau is more flexible in comparison with Power BI and provides more deployment options. But Power BI is much simpler to learn and adapt to.
Chat tool
The Market is overflowing with Chat apps which can provide your services beyond just text messaging. Slack is one such tool which has integrated multiple functionalities to cater to all your business interactions. It allows integration with multiple tools which enable it to share files, organize projects based on hashtags, having an association with Google Drive, Dropbox, Google Docs, Slides to name a few.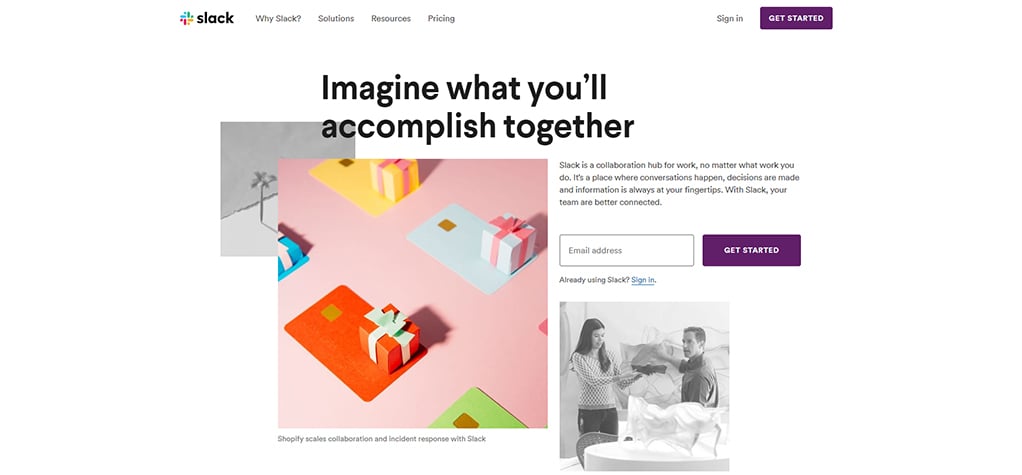 Available over Android, Windows, iOS, Linux and the web; with Slack you get features like advanced search modifiers, setting reminders, Managing and tracking documents with an extensive history recording, and pin messages to channels. It is free for unlimited users with a 10k message history.
There are numerous others that one might find feasible as you go along, but the base parameter of evaluation would be the time investment in learning the tool and the cost involved to procure it. Is the tool over complicating even the simplest of actions in the disguise of features? Well, in the peak rush hours of deployment, whatever aids or overcomes manual efforts is considered as a time saver. But is it adaptable in the long term? is an evaluation, which needs to be done in the early stages. 'One step at a time' and 'Learn as you go' is the mantra for startups.