For small and medium-sized businesses, it is said that there is nothing that business automation solutions or digital transformation can't fix.
Well, a lot of us know this is the ultimate truth. However, inducing automation and digital transformation sounds like a lengthy, costly, and time-consuming process. This is the reason many small to medium-sized businesses are scared to choose business automation services.
But if you ask us, it doesn't have to be unmanageable, big, and costly. And even though it seems not so perfect match, SMB can benefit a lot from it.
The business models of today's era are inherently different from traditional businesses. Large enterprises might have a pre-set workflow but SMBs traverse through a lot of different phases in their life cycles. Hence it is essential that small businesses adapt to intelligent business automation solutions and stay ahead of the game.
Let's agree on some definitions here,
Intelligent and robust programming is the basic need for automation. Also, the security of the network must be taken care of.
Organizations using business automation services need trustworthy data principle
Technologies used in automation are easy and innovative. They enable organizations to automate themselves.
Here in this blog, we will see how SMBs can overcome the challenges that are holding them back with business automation solutions.
Automation Challenges in SMBS
SMB challenges differ from the ones that large organizations have. They are around the processes that demand time slicing, agility, scalability, and skillsets. One thing to consider is that SMBs don't need business automation solutions or digitization from day one. It is a steady process that expands as the business develops. Hence, small to medium-sized businesses need technology that can expand and shrink as per the business requirements. The parameter to identify the right technology are the ones that,
Needs minimum support
Is time-effective
Requires the least investment
Automation potential for various tasks
Software developers and applications – 8%
Computer network support – 62%
Delivery service drivers – 78%
Payroll – 87%
How can SMBs use Business Automation Services?



1. Power BI
Businesses today are building data in huge amounts. If used smartly it can help you gain valuable insights and empower your small to medium-sized businesses to make well-informed decisions. Microsoft Power BI is one such tool that assimilates disparate data from both cloud-based and on-premises applications. This data is then presented in readable and appealing forms like reports, dashboards, graphs, etc. It offers benefits like,
It makes reporting easy by connecting all the data
It enhances team collaboration by giving employees access to the data
It promotes dynamic reporting that offers the highest levels of details
With its mobile capabilities, one can access and generate reports from anywhere
2. Cloud Computing
For the longest time, we have heard of Cloud computing and how it is making a difference to larger enterprises. However, the benefits of cloud computing are not limited to large organizations.
The main agenda to build and maintain separate IT infrastructure is to minimize the cost of ownership for SMBs. It allows businesses to use innovative technology without investing hugely.
Small to medium-sized businesses can use Cloud for things like communication, finance, and customer management.
For instance, a business can switch from their stand-alone on-site software system with cloud-based software solutions that could be operated on the global cloud platform.
Also, cloud platforms like Salesforce simplify the tasks for SMBs by offering business apps and integrated services.
3. Block Chain
Small businesses that deal in the domains involving lawyers, real-estate, financial brokers, etc can use blockchain and minimize the workload significantly. It may include transactions, paying invoices, etc.
4. Mobile Solutions
Recently, smartphones have become the primary choice of small to medium-sized organizations to manage and monitor their businesses. For instance, businesses now stress on having in-app payment solutions. This enables one-click payment making the experiences seamless.
5. Internet of Things
We can address the intent of things as a route that connects small to medium-sized businesses to the real-time information flowing through multiple smart things. Information or data that originates from sensors of the machines offers valuable consumer insights. This enhances operational efficiency, productivity, flexibility, agility, etc.
6. DevOps
To tap into the true potential of DevOps, business automation services are vital. And when SMBs embrace DevOps, they are bound to experience the following perks.
It eliminates the recurring items that permit the staff to prioritize value addition
Enhanced deployment rate
Minimized operational costs
No need to rely on single-source or team

Departments where SMBs can apply business automation solutions
Have you ever wondered why automated processes are so scalable and efficient?
It is because business automation services receive the input, runs it automatically, on a loop through a pre-determined command set, and then sends back the result. It ensures to make processes efficient and allows the company resources to spend time on other brainstorming ideas. SMBs can impart customer service automation in the following areas,
SMBs are characterized by a number of employees that are the bare minimum. Hence, every employee's dedication is essential as it influences the overall service of businesses. Here is where automation comes into the picture. Automated processes help the authorities to evaluate, identify and address the needs and gaps. Besides, it allows the manager to track the performance and important features like KPIs.
Marketing automation is a combination of various tools that takes care of targeted content, Email marketing, SEO, and CRM. It simplifies the process by ensuring that the content and emails are more targeted. In addition, it consistently refreshes the contact list to achieve seamless communication on time.
The finance department can induce automated processes as cloud-based solutions. They can gain features like electronic invoicing, employee self-service management, online procurement, etc. Manual processes and human intervention can promote the rise of errors. However, automation minimizes the chances of mistakes substantially and establishes efficient financial management processes.
The digital revolution has also allowed organizations to enable end-to-end payment for both parties.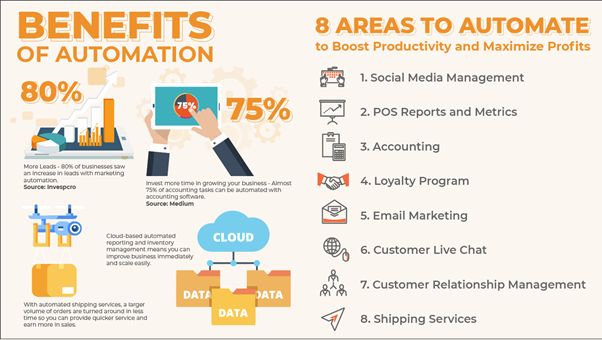 We have some prominent examples of business automation solutions that we have done for our esteemed clients. You can view our case study section.
Conclusion:
It is the need of the hour that small and medium-sized businesses grasp the opportunities that business automation services bring along and strengthen with it. Automation empowers SMB owners to focus on growth and leave the routine tasks to something reliable.
So what are you waiting for? Don't you want a seamless customer service automation that benefits you extensively and bring that paradigm shift to your small business?