When it comes to marketing a business, small or big, there are several outlets today to get your message across to your current customers and acquire new ones. In fact, the rise of technology has made the distance between the business and customers almost non-existent. One of the major inventions in the last few years in this sector has been the Beacon technology.
If you aren't too familiar with this technology, Beacons are battery-operated, bluetooth-enabled small wireless devices that attach to a wall or a counter top inside a store. They sense a human's presence through his/her smartphone and then deliver relevant information, such as deals, special offers and personalized shopping suggestions. Location is the key aspect of the Beacon as it helps businesses take advantage of the nearby foot traffic by converting visitors into instant sales.
According to Statista, there are 2.53 billion smartphone users in the world today!! Moreover, a survey conducted by Swirl suggests that over 70% of shoppers increased their interest to purchase things when they received Beacon-triggered content and offers on their smartphone during a store visit.
If so many shoppers are using their mobile devices while shopping, why not take advantage of that by offering coupons and promotions directly to their mobile device. It's a no brainer, right? Yet, small businesses appear to be behind the schedule on leveraging this impressive technology. You don't see many of your favorite boutiques, art stores, or local coffee shops sending out mobile messages, do you?
One of the major reason for this could be costs as many don't have the budget to create a personal application. Sometimes, they feel that just marketing their business via social media would prove to be enough. Either way, there are options out there where small businesses can take advantage of this rapidly growing trend. Hence, in this blog we want to discuss how Beacon technology works, its benefits to the customer, and how it can drive the customers to your business.
How Beacon Technology Works:
Beacons basically look like mini-sized computers, roughly the size of a standard Wi-Fi router. Beacon technology is an indoor positioning system, that uses proximity technology to detect human presence nearby and prompt pre-set actions to deliver informational, contextual, and personalized experiences.
The Beacon communication mainly consists of advertisements sent through small packets of data. It is majorly a one-way communication. This means that the retailers can connect with customers, but customer can't reply to those Beacon messages on their smartphones. The diagram below will help you understand the functionality of this technology.

Image Credit: Business Insider
When a user walks past an area where an indoor positioning system has been set up, a Beacon sends a code with a message to their mobile device, this coded message is shown in a form of a notification and can only be viewed with a mobile app; either third-party or a brand mobile app.
Now that you're clear with the basic functionality of this technology, let's dive a little deeper and look into the growth of Beacon technology and its potential impact on small business.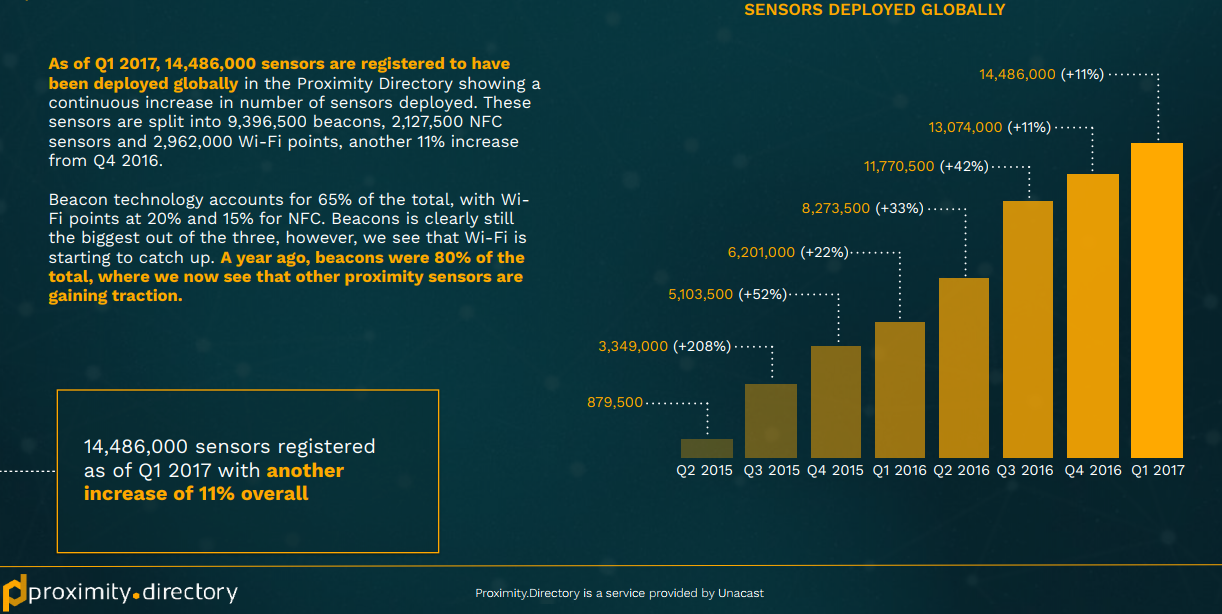 Image Ref: www.neilpatel.com
How Beacon Technology Benefits Retailers and Small Business:
In a short period of time, Beacon technology has proven to be an effective bridge between retailers and customers. It is a great way to engage with consumers and offer them incentives to enter a particular store, cruise around and hopefully make purchases. In a nut-shell, it is all about tailored engagement combined with premeditated in-store experiences.
For example, retailers can offer their customers personalized recommendations, discounts or even rewards via their smartphones.
These personalized experiences ultimately enable retailers and small businesses to deepen their relationship with the end customers. This is especially valuable for small businesses as it presents several opportunities for them to get to know their customers better and upgrade, amend or modify their product accordingly.
But that's not it, let's look into few more benefits to using Beacons in retail and any other big or small business:
Advertising
Relying on print, TV, and radio advertisements to drive customers into stores is now an outdated and relatively expensive way for emerging businesses. Today, customers expect more personalized messaging. Moreover, marketing to the customers at the right place and at the right time is an equally aspect. Beacon technology can trigger the ad based on a customer's proximity to the store with ensures marketing at the right time and place.
Personalization
Just like any ecommerce businesses, Beacons offer customers personal shopping recommendations based on their previous purchases - right from coupons and deals to product recommendations, everything can be well cut to individual customer preferences and shopping style. This helps to develop long-term customers loyalty, as well as engaging shopping experiences.
Accessing Data
Understanding the customer is a pre-requisite for any business to succeed. Beacons help in analyzing these shopping habits and preferences and gives a deeper understanding of the consumer data to retailers.
For example, retailers can track the day of the week and time of day when shoppers are more likely to download and use certain coupons. They can get insights into the demographics, etc.
Affordability
Unlike some common notions, Beacon technology is relatively affordable, easy to set-up and adopt as compared to some other tech hardware and software. Thereby saving a significant cost for small businesses which they can invest in other crucial business areas.
Mobile App Usage
Users often download apps and then forget about it, Beacon triggered notifications act as a reminder in such cases and also increase interest in using the app. In fact, the French retailer Carrefour saw a 400% increase in mobile application engagement following the implementation of Beacons.
How You Can Start Using Beacons:
Now that you've got an insight into what exactly is Beacon technology and what benefits you can reap from it, you next question would be - how to get started.
First things first, purchase a set of Beacons and a Beacon plan. There are several Beacon manufacturers and platforms to choose from. Check the one's listed below:
Secondly, set up your in-store Beacon technology.
Third, develop a mobile application for your stores and business. However, it is absolutely not necessary for you to develop an app in-house. There are two ways that small businesses could go about this so that the go-to-market time is shortened considerably –
Use third party applications - third-party apps that support this technology include Epicurious, List Ease, Coupon Sherpa or even Google's Chrome browser, which includes a notifications feature. In case of Apple, it has its own technology - the iBeacon, that alerts an iPhone or iPad when the device is in a location near a beacon. Besides, Facebook also supports beacon technology, for use with its mobile app.
Hire Expert Developers – You could hire experts to develop the app for you to avoid trials and errors and also ensure that the app is ready and running well despite a rough deadline.
Finally, the last step is to inform your customers, encouraging them to download your store's mobile app for special deals and discounts & you're good to go!
With rapidly changing business landscapes and the rise of cut-throat competition, it has become more imperative than ever to leverage the latest technology to reap maximum profits. This holds true especially for a small business owner.
Beacon technology possesses the potential to revolutionize both - business and marketing. Besides, customers can enjoy more engaging, seamless, and personalized experiences, and retailers can gain deeper insights into their consumers. Ultimately making it easier to achieve business goals using a single piece of technology.