As smartphones conquer the world with apps, we remain occupied with our smartphones. There's no doubt in accepting that interesting apps have captured us, relying on them for everything from social media to net banking. Businesses quickly realized the power to build mobile apps with Apple (iOS) and Android app development tools.
As per a recent study by Statista in 2022, Google's Android had 71%, while iOS captured 28% of the market share.
Isn't it interesting that Android raced ahead of a giant like Apple, and now it's attracting more users and developers?
Android owes its success to its open-source platform and affordable phones. Google Play Store plays a vital role in its rise. It permits third parties to offer plenty of great free and inexpensive apps with a quick upload process. That's not the case with Apple. Its mobile devices are expensive, and the approval time for uploading an app is lengthy on the iOS App Store, which has led to its fall. 
Hence, businesses jumped on the bandwagon to gain quick entry via apps into Android's massive user community. However, as app development is not a minor task, developers need the latest tools to simplify the Android app development tools process for businesses. 
Let's glance at some of these tools that enable smooth mobile app development frameworks. 
Valuable Android App Development Tools:
Developers use many Android app development tools. However, here are some different types of most popular tools -
Integrated Development Environments (IDEs)

Collaboration tools

Libraries

Code review tools
1. Integrated Development Environments (IDEs)
To write code, you can use any text editor. The majority of IDEs offer features beyond text editing. They greatly enhance the effectiveness of the software development process and eliminate the need to integrate and configure various tools separately. Developers can start programming new apps right away. Here are some of the most popular IDEs.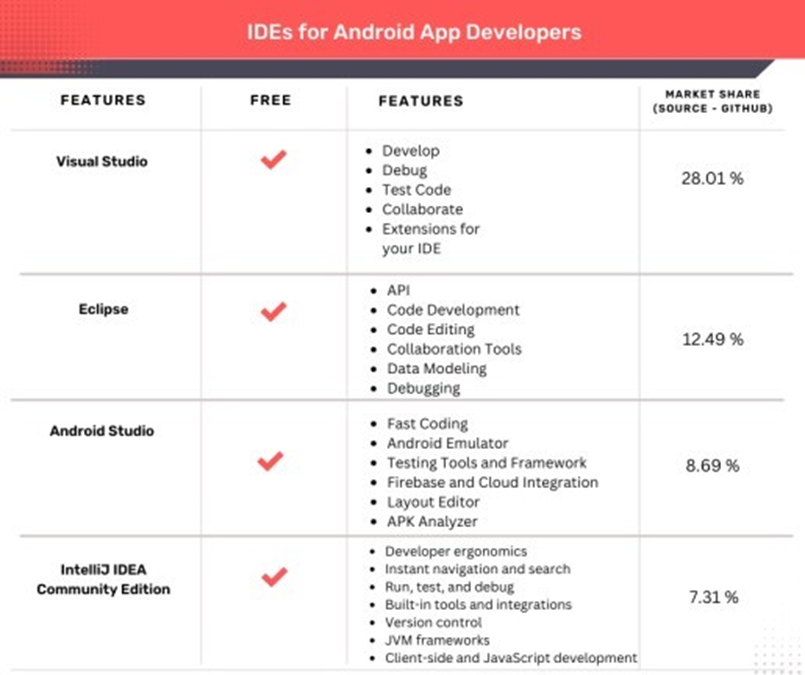 Visual Studio
You may edit, debug, develop, and publish an app using the Visual Studio IDE as your creative launchpad. It has compilers, code completion tools, and many other features added to conventional editors and debuggers to improve the software development process.
Eclipse
It's an open-source IDE that has been available for a long time. It has several capabilities that IntelliJ offers and is well-liked by Java developers. In addition, the eclipse is renowned for its supportive community, which is excellent for newcomers.
Android Studio
It has tools for testing, debugging, and editing code, all within a simple drag-and-drop interface. It is available for free download and has a sizable and active community support of Android developers in addition to Google.
IntelliJ IDEA
JetBrains created the Java IDE known as IntelliJ. It is renowned for its strong autocomplete capability and its powerful debugging features. Due to its simplicity and versatility, IntelliJ is a favorite among many developers. JetBrains created it specifically for Java developers to give them a more productive Android coding best practices experience.
Check out our blog on why businesses need cross-platform app development tools.
2. Collaboration Tools
Collaboration tools help software developers to boost productivity. They have various features, like group messaging, video conferencing, file sharing, online storage, and task assignments. There may be apps for all these things separately, but having everything in one place makes collaboration tools more effective.
Git
GitHub hosts Git repositories, a version control system that keeps track of incremental changes to code. To allow other contributors and team members to contribute to your code, you can build a local code repository and publish it to a hosted GitHub repository using the git tool.
Jira
Jira is a preferred collaboration platform by software developers. It performs admirably in terms of problem and bug tracking and test case management with its Kanban and Scrum boards. It is also sufficient in areas where your team chooses Agile approaches.

3. Libraries
Libraries help developers to complete particular tasks more quickly, efficiently, and with fewer boilerplate lines of code. In short, libraries accelerate development.
LeakCanary
It's a memory leak-detecting library for Android. It helps reduce crashes like:
Application not responding freezes

 OutOfMemoryError
LeakCanary integrates with the Android lifecycle to identify which fragments and activities you have to delete. An ObjectWatcher receives these destroyed objects and stores weak references to them in its memory.
EventBus
This library simplifies the communication between parts and decouples event senders and collectors. It performs well with fragments, activities, and background threads, decoupling all classes from one another. It helps to make code less complex and enables troubleshooting.
4. Code Analyzer/Review Tools
FindBugs
It's an open-source static code analyzer that finds potential flaws in Java code. It gives the developers a heads-up about their potential impact or seriousness.
Android Lint
Android Lint reviews the code and informs you about potential bugs. In addition, it is IDE-independent, so you can use whatever environment you have chosen for your project.
With Android Lint, you can detect missing and new translations, layout and icon issues, inconsistent array sizes, etc. Developers can also configure the review tool to see a specific issue.
Final Thoughts:
Android app development tools help developers add new features and enable easy customization of mobile application functionality. Additionally, it enhances the mobile application's navigation and user experience.
Clarion Technologies offers native and hybrid Android development services. Hire Android developers who can help deliver quality software development solutions and services, ensuring faster time to market.
We help our clients to tackle their challenges besides their project requirements with all our resources to build a strong partnership. In addition, our two decades of experience with small and medium enterprises help us assure our clients of guaranteed quality service that drives business growth.
Have queries about Android app development tools or other software services and solutions requirements? Please email us at info@clariontech.com. You can also visit our contact us page to get in touch.