The business landscape has witnessed a significant transformation over the last few years. Now, the scenario has changed for the better, as operating businesses has become a geography neutral exercise – run businesses anywhere from any device effortlessly. Every enterprise, in general, is a system of interconnected processes. As the landscape of business enlarges, these processes expand in quantity as well as complexity. In this respect, businesses need to leverage the power of automation platform to streamline their processes and decrease the difficulty of handling them simultaneously. This is where the BPA - Business process automation appears. BPA involves using various software applications to automate as many business processes as possible.
Of course, businesses begin adopting automation, but the state of business process automation in the organization today is still not satisfied. According to the survey, Business Process Automation in 2017 conducted by AIIM only 19% of the companies possesses exceptional automation capabilities. The survey details are as follows: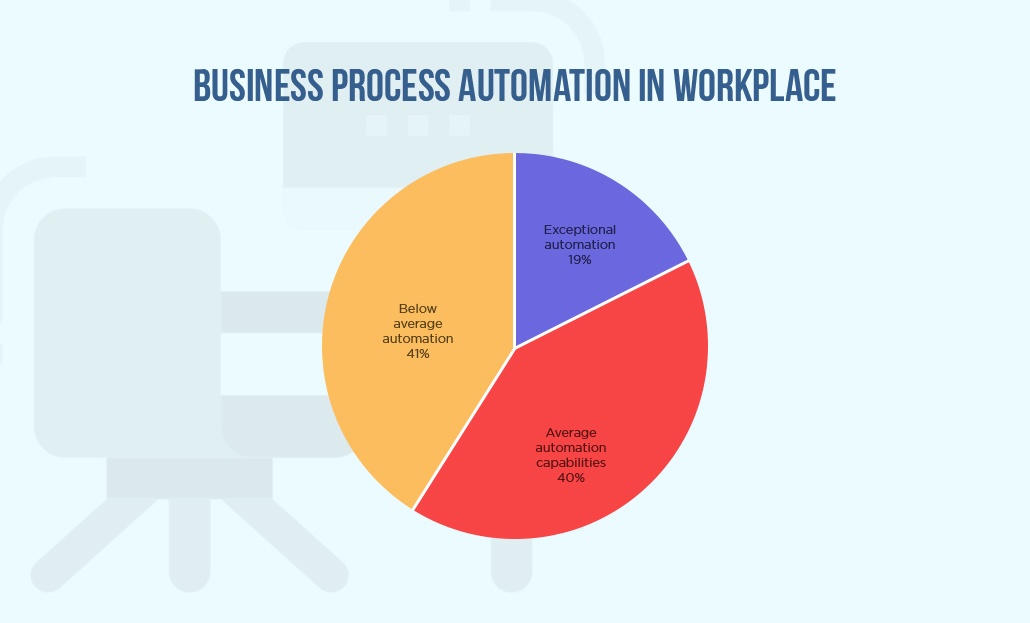 Several businesses that are not based on technology are hesitant about the automation, wishing to do their business in the traditional way. This blog aims to communicate the importance of business process automation solutions and its benefits.
What Is Business Process Automation?
BPA can be defined as the alignment of BRM (Business Rules Management) and BPM (Business Process Management) to meet evolving market demands. Businesses consider this approach to systemize and automate their processes, using modern technology and unifying personnel via workflows.
Business automation can allow a company to keep control over various problems like analytics, sales, customer relationship, development, and standardization. The business process automation solutions target not only the complicated IT tasks like handling system users and solving network problems, but also services like email marketing.
Automating business process enhances process efficiency, accuracy, compliance, and visibility as it removes the demand for employees to perform repetitive time-consuming tasks. In addition to automating business processes, it simplifies and enhances business workflows. Therefore, the professionals can concentrate on generating key interpersonal relationships to stand unique in the marketplace, instead of spending abundant hours to deal with tasks, processes and team updates. As the process automation rationalizes these processes, the time, detail and accountability are not lost anymore. Businesses that implement extendable and reusable business process automation can handle these processes effectively and focus on what matters as it releases resources and time.
BPA is often treated as a subset of BPM. BPA can be implemented as a standalone strategy and as a part of an overarching BPM strategy.
Learn more about Business Process Management -
Why Business Process Automation?
For best business outputs, each segment of the framework must function accurately. At any rate, even if only one of the small frameworks is not working great, the entire business will encounter the influence. Incorporating process automation is an effective approach to ensure that entire business is working well.
The main advantage of the BPA is that even users with no programming skills can benefit from business automation. Furthermore, an effective BPA can eliminate technology silos. Regardless of the interaction of processes across the enterprise, each team or department will adopt the BPA solutions, which function to its individual requirements. Though the tasks within a department are running seamlessly, the team might face problems when they require sharing reports with other teams or transfer data between various applications. Business process automation solutions guarantee that all this work is streamlined and supervised by a single tool.
Let us explain how business process automation supports the business with an example: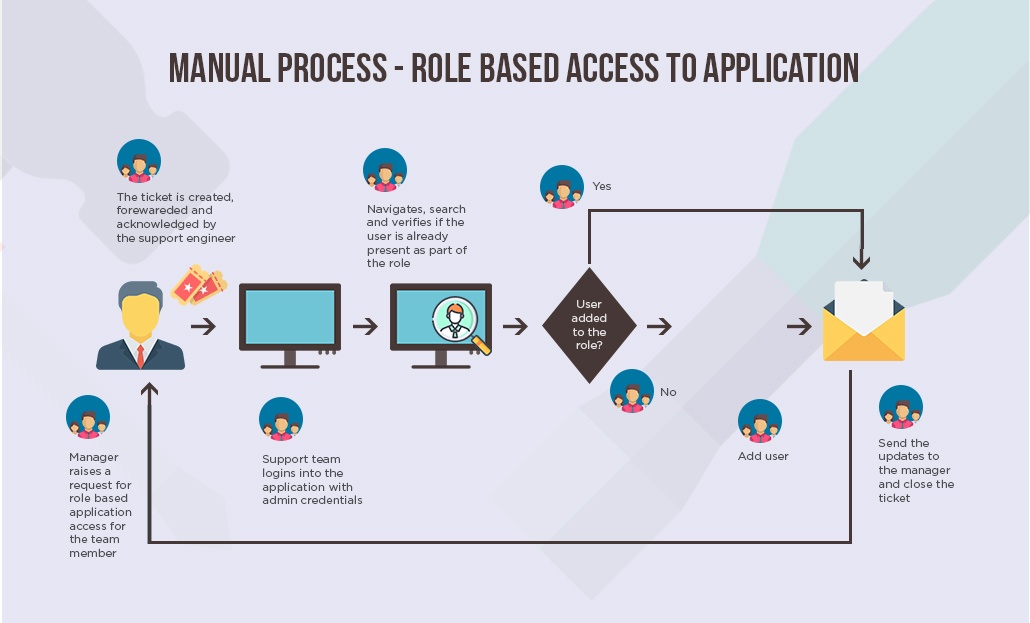 In the process, the entire workflow involves the manual steps. Though this method accommodates the basic needs of providing user access to the application, it consumes more time and prone to error. Because too much dependence on a human workforce that commits oversights and bottlenecks.
There is no solution in the traditional approach to ensure accurate verify process. Alternatively, an automated solution limits the risk of errors.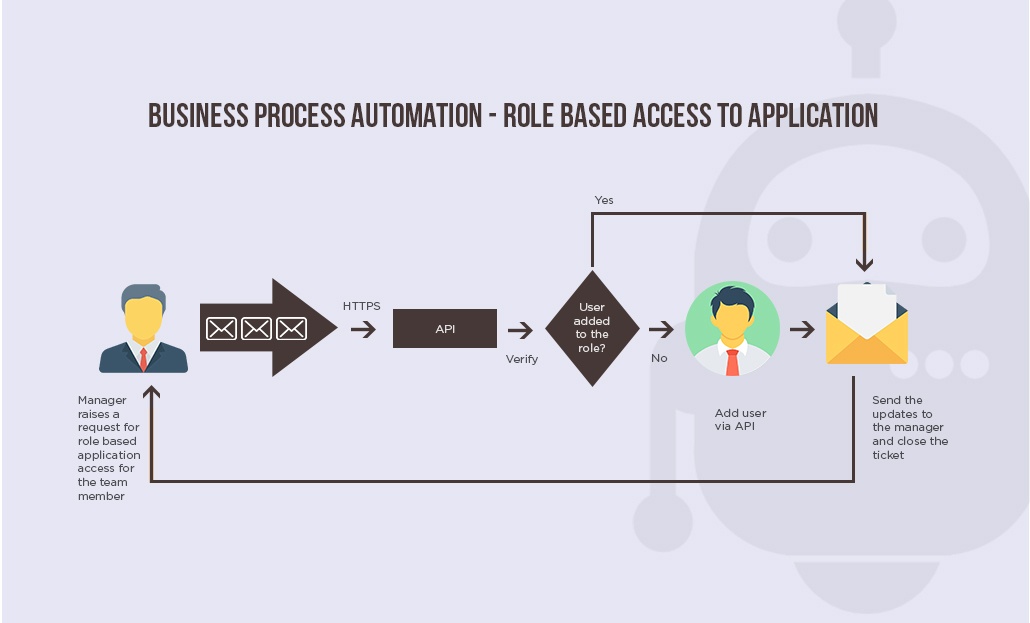 Applying similar process using BPA includes a new process flow comprising back-end access through API's calls triggered from the automation queue. Therefore, implementing automation in this process can eliminate the requirement for a huge support team while ensuring accuracy in operation.
Who Can Automate the Business Process? -Not Just IT
BPA software is considered initially with the communication and automation aspects. However, now BPA can be implemented in any type of processes, whether they are re-engineered or not. IT processes that support BPA is e-mail, imaging systems, groupware, data warehousing, management systems, online analytic processing (OLAP), and computer telephony integration (CTI).
Like Information technology, other businesses are now turning to consider the principle of business process automation. Though the process automation needs of each business vary from one another, BPA can enhance every industry.
Followings are some of the industries that can benefit from business automation:
Healthcare – The sectors in this industry are biotech, hospital, medical devices, pharma, and laboratories. The primary concerns of this industry are risk and quality management. The application of business process automation supports them in record management, project management, and electronic signatures.
Banking – BPA software supports the banking sector on automating money and credit transfer, handling budgets, and developing front and back-office systems.
Insurance - BPA can bring more relief to insurance sectors encountering problems due to uncertainty in contract approval and declining interest levels. It supports the insurance companies to respond on time to requirements, remains flexible to any transformation and gains profitability. Considerable advantages of business process automation in the insurance industry include simplifying the process, faster claim processing and better service for policyholders.
Telecommunication Industry – Prefer BPA to automate customer service, office systems, databases, billing systems, technical support and workflow management systems.
Manufacturing Industries – They demand business automation to automate CRM, manufacturing processes, ERP systems, procurement activities, and document flow management.
Processes Where BPA Is Producing a Significant Result
Though the solution of business process automation can be applied to each corner of the organization, they should be aware of which process to automate as per their strategic needs. Generally, the processes that demand extensive resources or time and are often widespread with human mistakes are ideal to start automation. Each enterprise will differ in which they automate, in accordance with their operational and strategic. The followings are some of the process areas to begin the business process automation solutions:
Rote and repetitive tasks
Document management
Purchasing
Technology back office
Finance management
Research
Manual tasks that could source human injury
Sales and marketing
Order management
Rote human resources
Tracking and alerts (by the sensor)
Impacts of Business Process Automation in Business
Speed Up Processes - Business process automation software replaces tasks that eat up energy and time. Administrative, manual and paper-based works like making copies, transferring documents and gathering signatures are some of them.
Reduce Labor Costs & Overheads – As the BPA tools perform even the most complex tasks to make an effective business, there is no need to hire extra labor to accomplish the goals. Business automation can also limit the possibility of human error. Therefore, it is an efficient way to remove manual processes while enhancing enterprise bottom line.
Clients Loyalty - Process automation technology can add an advantage in ways that clients will appreciate. The better quality of service or product enhances the positive client experience that returns client and sales loyalty.
Scale - Typically, the business success is dependent on the ability of the enterprise to grow. To place a business apart from the competitors, it should have the ability to grow at a fast rate. Business process automation solutions can facilitate monitoring and enhancing the processes. So, your business can scale at a rapid rate.
Business Process Automation Service Providers
There are plenty of business process automation tools across the world that support the effective process automation. Here are some popular tools that offer business process automation services to grow and scale the business:
Zoho Creator
com
Kissmetrics
Zendesk
Slack
MailChimp
Hootsuite
Quuu
Basecamp
UiPath
Automation Anywhere
Blueprism
Conclusion
Business automation technologies and BPA, in particular, include the power to alter the traditional nature of work in the enterprise. Business Process Automation becomes unavoidable as the demand from SME (Small and Medium Scaled Enterprises) constituting almost 97% of the global total enterprise, begins to gain strength. Businesses, who want to enforce their processes, should come forward to adopt business process automation.