The primary goals of any business are profitability and customer satisfaction. When an enterprise innovates and stays ahead of its competition, it achieves and outruns customer expectations. Several enterprises still depend on inefficient, time-consuming conventional techniques for decision-making that can't keep up with the emerging competition. Earlier, business leaders used "Gut feel" to take strategic decisions.
However, the technology upswing has given rise to resolutions in how business data is used. Analytics is one such solution as well as the best move to guarantee competitiveness in current generations. Let us understand how analytics software helps enterprises to keep their business on track.
Analytics at a Glance
What is Analytics?
Analytics can be termed as the method and quantitative & statistical technique used by an enterprise for knowledgeable business modeling and decision-making. It supports businesses to transform the enormous amount of general data into observation, vision, and patterning.
Undoubtedly, data is the most precious resource in today's enterprises. It comes in various forms and is difficult to relate, merge and analyze. Analytics technique extracts the proper meaning from the available data to enhance business productivity. It often yields those insights via an analytical report or analytics dashboards.
Evolution of Analytics
Organizations have always relied on data and analytics to enact business decisions. Revolution of the World Wide Web and the advent of innovative technologies & frameworks forced enterprises to advance by adjusting to the changes taking place. Among them, the analytics field is the one that encounters vast investment in tools, technologies, and infrastructure. In the early days, analytics were based on business intelligence and data warehousing platforms, methodologies and tools. The large data warehouses and data science revolutions enable businesses, regardless of types to increase the market share and win competitors in certain situations. The data explosions encourage the adoption of Big Data technologies and new platforms that extend analytics power. As technologies of all sorts, offering data in larger amounts like phones, devices and social media platforms, the current generations of analytics provide insights that haven't seen before. In addition, it empowers enterprises in more mature data handling to make changes in the way they act and make decisions.
The following figure depicts how analytics have evolved from performing basic reporting to involving more advanced analytics like predictive and prescriptive manner.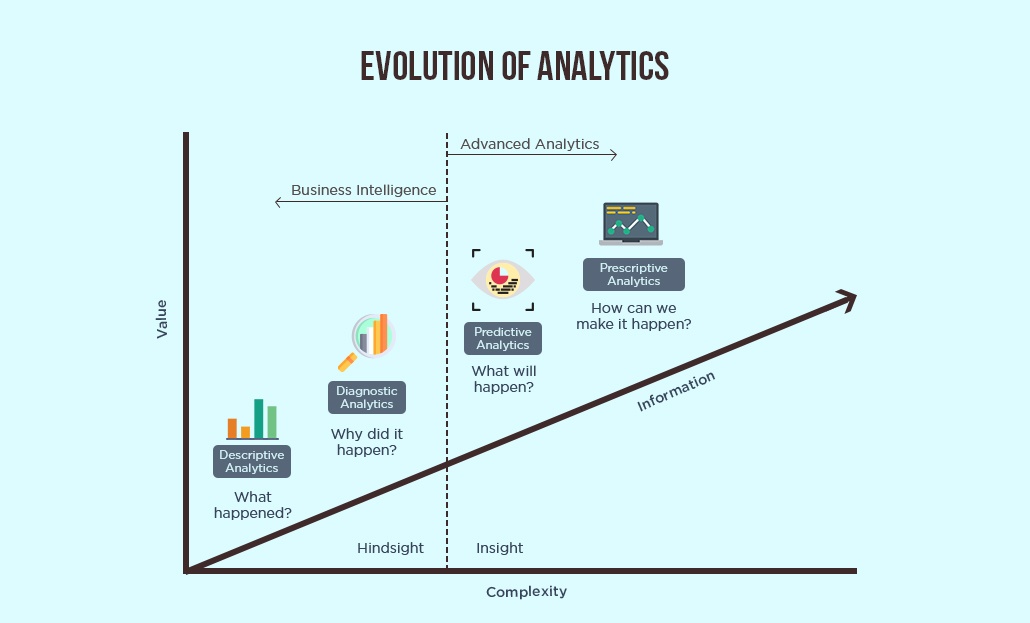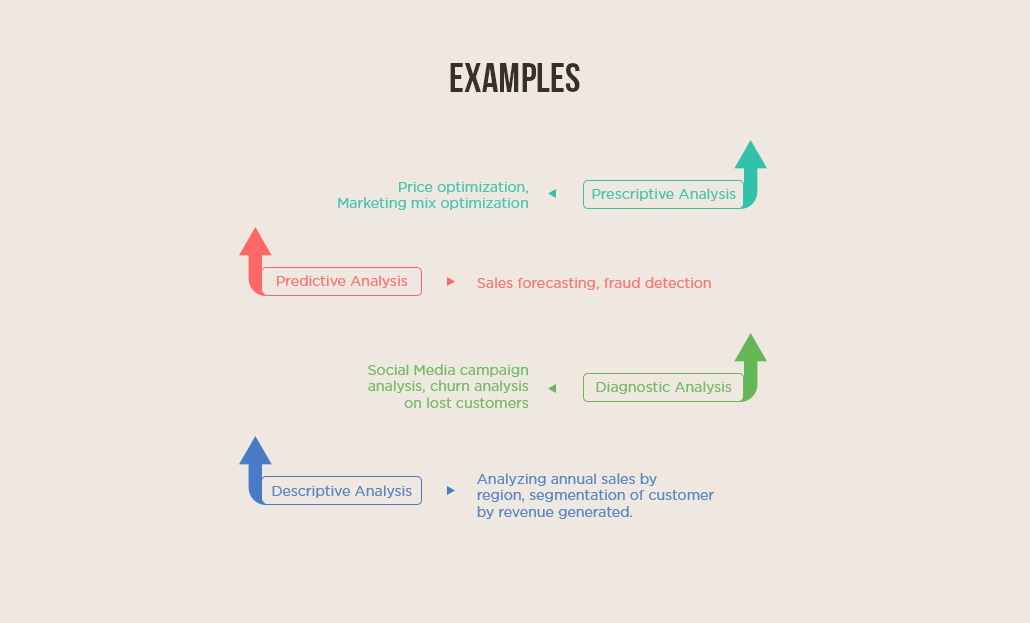 Descriptive Analytics - Descriptive analytics concentrate more on summarizing as well as reporting data. This sort of analytics focuses on what has already happened or what is currently happening.
Diagnostic Analytics - Diagnostic analytics focus less on what has happened but instead concentrates on why something happened. This type of analytics is keen on the causes and processes, not on the results
Predictive Analytics - Predictive analytics use historical data, artificial intelligence, and machine learning to forecast what will happen in the future. The gathered data is submitted into a mathematical model, which evaluates the patterns and key trends of the data. The resulting model is then applied to current information to forecast what will occur next.
Prescriptive Analytics - Prescriptive analytics employ simulations and optimization algorithms to forecast possible outcomes as well as answers. This analysis even goes beyond the predictive analytics. It highlights viable solutions to an issue and the influence of executing those solutions on the future flow
Analytics in Customer Relation and Competitive Advantage
As the data analytics solution digitizes analytics and offers a scalable platform, businesses find an opportunity to access data from any source like flat files, online data, and complex databases. Advanced analytics connect the power of data and support businesses understand their market or customer. Moreover, they also provide data-driven visual information such as reports, dashboards, and charts to the decision makers and users on the application of their choice.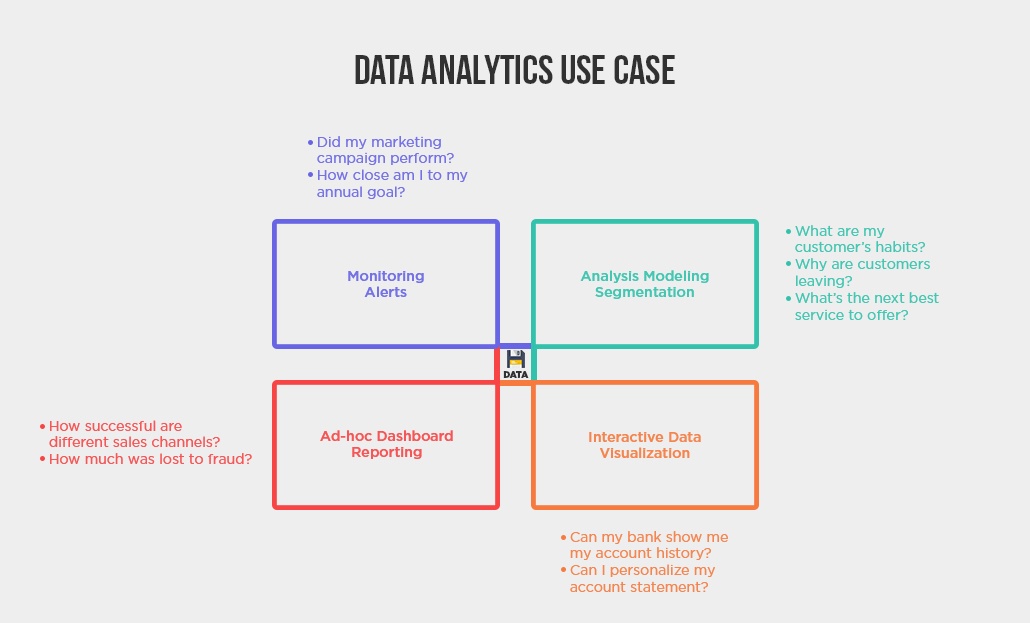 As shown above, analytics bridge the business insights and digital strategy that effort smart decisions for each user across the organizations. Thereby business and data analysis support to build better customer applications and empower the data power to keep up with the competition in the market.
Is data analytics worth the investment of money, time and resources for enterprises? The answer is yes.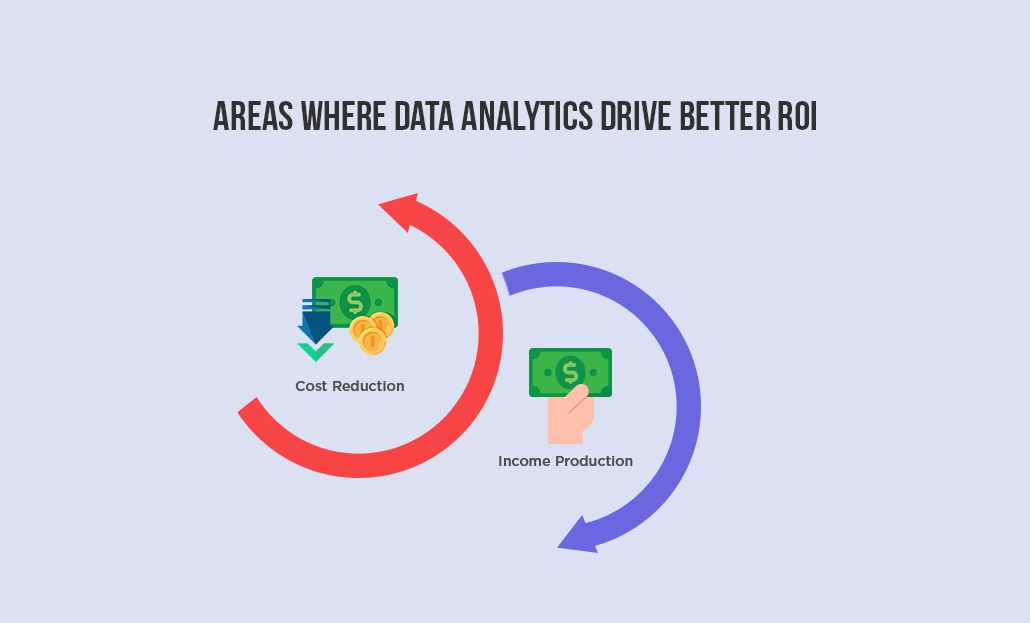 Expectedly, income production and cost reduction are the two areas that are directly related to the influence of analytics in terms of ROI. Data and facts are driving untold amounts of investment results since it is all about metrics and ROI. Quantitative analysis facilitates to predict the future that prevents the situation to react after the terrible event. In addition, they can have a significant influence on the financial performance.
Analytics are significantly useful in determining ways to enhance sales, understanding customer behavior and targeting service & product offer to certain customers. Most enterprises implement data analytics to enhance their sales and marketing performances by applying analytic power to various customer-centric processes and projects.
It helps businesses to better separate existing and prospective customers and achieves the more precise target of pricing, advertising and discount offers. Moreover, it supports to shape marketing campaigns, reduce failed marketing efforts and costs.
Financial processes have long been data made, but the growth of analytics competence has further extended its importance. It boosts the financial process credibility and value as a key business partner. Improved forecasting, better KPIs, predictable working capital, and determination of growth opportunities are the ways that analytics enhance finance functions. Therefore, customer relation and finances are the undeniable areas that enterprise most often preferred to invest in Data Analytics.
Perform Better With the Data Analytics Software
With organizations annually generating millions of terabytes of data, using an analytics tool is the ideal way to observe and uncover value from the abundant scale of data. Analytics tools process structured and unstructured data like documents, text, and emails in the company information management systems. In addition to historic performance reports, the tools enable companies to recommend better actions via predictive analytics.
These types of tools help companies to understand the success factor more quickly by merging, evaluating and analyzing the data. It also offers insights on where things go wrong and where they need to make changes. As a result, business gets a chance to enhance business processes on a regular basis by employing proper details and relevant insights. As they provide entire information in a comprehensive manner, business users can reduce the number of places that they are supposed to look in order to find the required information. In addition to timesaving, it supports to link actions to results. For example, some tools can display the metrics for entire content released through them. Hence, a business user can have one single spot to understand and compare their content metric across various platforms.
With analytics tools, enterprises no longer need to exit a business app to see the result, analyze performance and observe recommended actions - they can accomplish those inside the app itself. Similarly, they can embed reports, dashboards, syndicated data and predictive model's output into their portals and applications. Overall, the data analytics tool can make the application an effective tool to reduce cost, enhance revenues and increase customer satisfaction.
Conclusion
In this complex business ecosystem, the acceptance and importance of data analytics field has increased largely. It serves as a decision-making resource for business executives of both large companies and SMEs. Furthermore, it enables enterprises to store and evaluate a high volume of data. Even non-data scientists can conduct computational analysis, as it doesn't require a subject matter expert. There is no doubt that it would be wise to adopt analytics software to succeed as the industry matures and expands.