As you pensively sit through the Sales Presentation going through the features, benefits, strengths advantages of an offering, internally you await that one slide which plays a pivotal role in your decision of whether or not you will indulge with the firm further.
What is the magic figure they will present me with?
Cost is the major influencing factor 'To go or not to go' with a firm for your software development.
The two major cost components of software development are Infrastructure and Resources. The broad term Infrastructure accommodates multiple aspects like servers, machines, office space, software licensing, facility management and supporting services.
The next major cost component, the one which runs the show is your development workforce.
Usually, after finalizing the Idea and creating a rough design, you set out on the hunt for an all-encompassing development team that can bring your idea to life.
There are multiple routes you can take to have your software developed. Here we go through the short-term and long-term costs that are involved with hiring resources for your project, either externally or with a focus to build your in-house team.
Hiring Developers for Domestic team
Developing the software in-house requires an apt development team with the right skillset pertaining to your technology requirements. As per the survey conducted by 'Money.USnews', Software Development is ranked at #1 in the 100 Best Jobs in the US.
The Salary of a Software developer at the Mid-career level in the US ranges between $67k annually and $22hourly to $116k annually and $67 hourly.
The median for their salary lies at $85k annually and $40.74 hourly.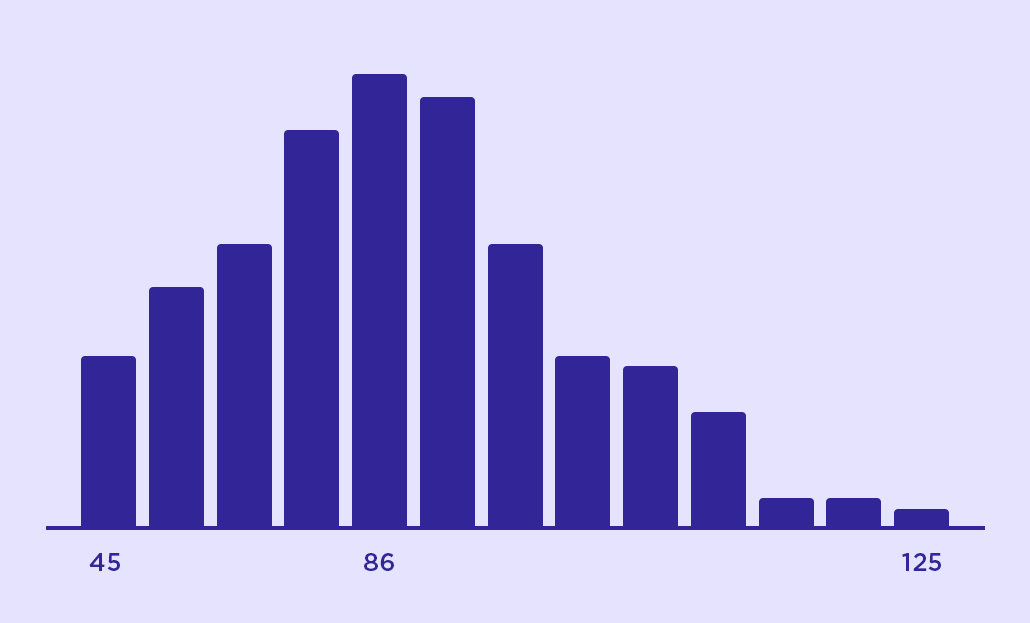 The cost of hiring a mobile application developer falls in a similar range:



This excludes other recruitment costs such as job advertisement, staffing firm costs, Immigration or moving expenses and any training if required. These factors should also be taken into account while drafting the hiring budget.
Talent Acquisition Activities

Employee Retention Activities

Brand your company as a GPTW
Build strong talent networks
Encourage Employee Referrals
Attracting and Recruiting
Assessment and Compensation
Onboarding and Alignment

Provide an opportunity to grow
Give challenging work
Foster respect at workplace
Provide apt compensation and appraisal
Healthy Work-life balance
Comfortable work environment
Take Employee Feedback
Talent Acquisition Cost
Is Talent Acquisition just about posting a Vacancy Ad?
Is salary the only element that influences hiring an efficient and effective developer? Acquiring skilled resources should be the primary focus of hiring.
According to the Society for Human Resource Management report- 'Skills Gap 2019', the United States doesn't have enough skilled workers to fill the increasing number of high-skilled jobs. In their Skills Gap 2019 survey, 75% of HR professionals having recruitment difficulty convey a shortage of skills in the candidates for Job Openings. Hence, hiring the right development expert is a tough task.
As an alternative, most organizations reach out to Recruitment Agencies/Hiring firms in search of developers with the right technology skill-sets (Unless they have an in-house recruitment team).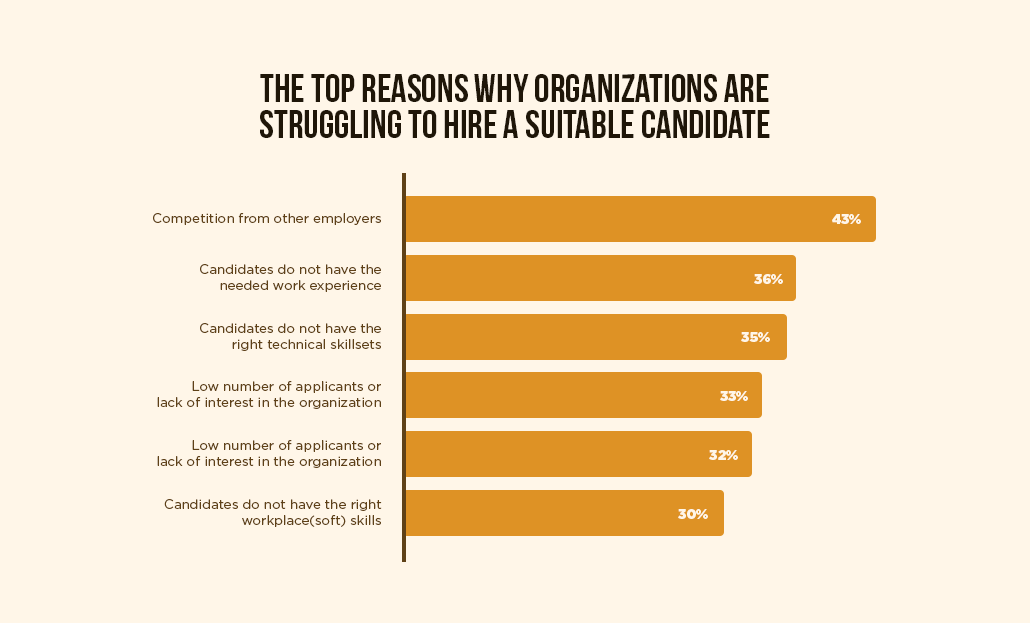 The recruitment agency evades the cost of advertising, hunting and evaluating your resource; or so it seems.
Getting an external agency can rid you of the efforts that go into talent search and the interview process, but the overhead cost is estimated to be around 20-25% of the resource's salary, per hire. That means you need to chip-in an extra 20-25% to get a new resource on-board, with recruitment agencies.
Employee Retention Costs
Is hiring a skilled developer the end of the road?
The job market balance has shifted from an Employer-Driven market to a Talent-Driven market. It has become extremely important for organizations to find ways to groom and retain development talent.
Job satisfaction is an influencing agent that affects retaining developers. Job security and Compensation are the two major factors that influence Job satisfaction.
A surprising fact is - For the millennial developers, job security is not a relevant concept. They have a more evolved notion of security, which is "Career Security". This means acquiring advanced technical skills and the opportunity to sharpen these skills at the workplace.
Most older generation employees believe that compensation should be aligned with "seniority" or the number of years an individual has spent with an organization. On the other hand, the millennial generation believes that compensation should be aligned with the cutting-edge skills one possesses and the firefighting efforts one puts into each assignment.
The competitive market has made it even more difficult to retain good developers as they always have a better offer at hand from other organizations looking to hire developers.
From a survey conducted by the Society for Human Resource Management (SHRM) of U.S.employers, more than two-thirds (72%) of organizations increased their benefit offerings to retain employees in the last 12 months.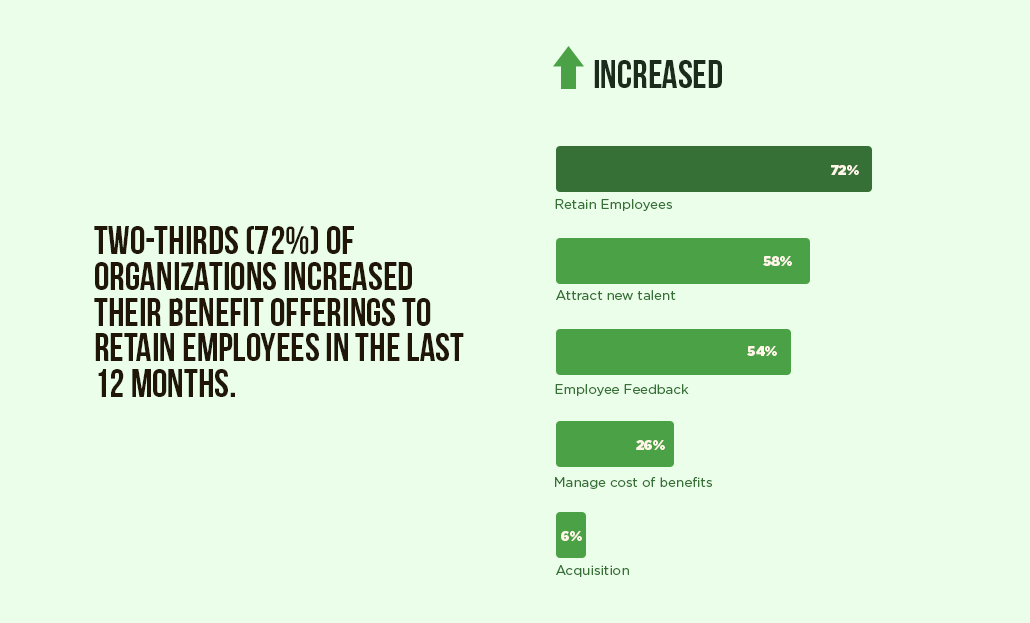 Source: 2018 Employee Benefits (SHRM)
Hence even after you get through the process of hiring a developer, the continuous process of retaining and employee engagement is an additional cost that organizations need to deal with.
The cost of hiring a developer is further influenced by the below parameters:
Years of experience
Technology skillset
Location of the Developer
Competition for Talent
This cumulative growth in the cost of hiring & retaining an expert and acute shortage of skilled resources is the reason why organizations venture towards alternatives such as outsourcing.
Hiring Freelancers
In the United States, over one-third of the workforce is currently comprised of self-employed individuals, according to the freelancer Income Report 2018. Freelancers working in the field of IT and Programming have the highest level of Job Satisfaction.
Cost of Hiring Freelancers
Freelancing rates vary based on region. According to the Freelancer Income Report 2018 driven by payoneer.com, the global average hourly rate of freelancers across all fields and 170 countries is – $19.
Their Global average hourly rate in the IT & Programming sector across 170 countries is $21.
Based on the domain and skills the Global hourly rate for freelancers is given below:

This further varies based on the technological requirement, hence the cost of hiring a mobile developer is different from the cost of hiring a web developer or a migration consultant.
The freelancer survey 2019 hosted by freelancermap.com provides us with the average hourly rates of freelancers by Continents of origin.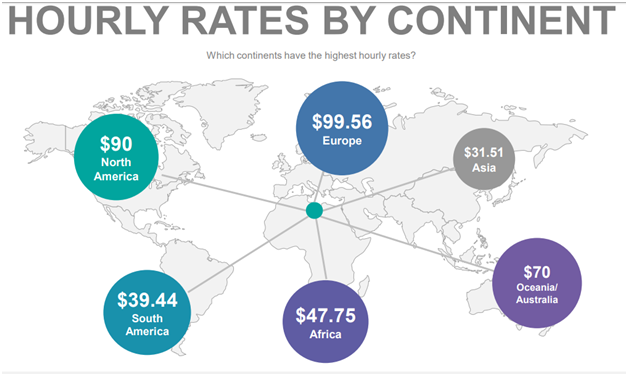 This gives us an overview of the cost of Freelancers across regions. Freelancers with a higher level of experience hold priority over others, and their country of residence also acts as an influencing factor while choosing a freelancer. Countries with the highest level of freelancers are given below: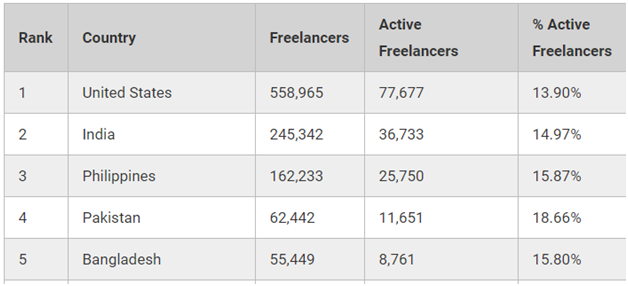 Source: Analyticshelp.io
Here are a few Pros And Cons Of Hiring Freelancers which might help you in your decision making.
Most large enterprises refrain from opting for Development Freelancers, as organizations lack the alignment to hire independent resources for a short period.
Freelancers are supposed to lack liability and trustworthiness.
Organizations lack the structure, processes, and infrastructure to support a freelancing workforce.
Freelancers can take up multiple projects at a time, not being dedicated to you.
Hiring a freelancer is a pricing war, with the lowest bidder being the winner.
There is no assurance of the quality of work.
Hiring developers as freelancers can be a good option for Startups and Small and medium enterprises, when they have:
Smaller requirements
Need resources for a short period
Want to avoid an investment for a long term
Cannot produce the required expertise in-house
You can read more about the nature of freelancing here - Freelancing: Is It Analogous To Unpredictability?
A midway to Outsourcing and Freelancing
Lack of Transparency, deviation of product from original requirements, lack of control and Increasing costs are some of the major reasons organizations are moving away from outsourcing.
An evolving concept that has caught momentum in recent years is Out-staffing. It goes beyond freelancing and staff augmentation while having complete transparency and control over your project.

Out-staffing is a modern approach to hiring developers, wherein the Out-staffing firm acts as a repository of technology experts.

These developers are on the payroll of the Out-staffing firm, and the firm takes care of the grooming, training, and retention of the resources.

On commencement of the project, the Out-staffing firm provides the entire ecosystem required by an extended development team to function. This team acts as an extended workforce of the client.

The client manages this team as their in-house developers (an extended team) and interacts with them daily, aligns with their progress and suggests a refined plan of action.

In due course, if any of the resources take an exit from the project, it is the responsibility of the Out-staffing organization to hire a replacement, bring him up-to-speed and make the whole journey feel seamless for the client.

When completely Outsourcing your project, along with the Resource cost, the software development cost is dependent on the specifications in the Contractual agreement, Additional services of solution architects, business analysts, and project managers along with the vendor fee. Also in some cases you are ambushed with hidden costs as and when you introduces changes to your product while development. This gets avoided in case of Out-staffing.

Whereas in the case of out-staffing, you are charged with the cost of the resource accompanied by a fixed vendor fee. This cost does not deviate based on the stage of the project or the development model your developers follow.
The average cost charged by out-staffing firms largely varies according to region and hence ranges between $700-$1400 per week per developer. The project management and infrastructure costs along with the vendor fees are accommodated within the cost of the developer.
Even though this provides you with a brief overview of the current costs involved with hiring developers, these rates fluctuate with the economic situation of the location.
How your software project is executed finally boils down to the right estimation and clear communication. A correct estimate is necessary to know the number of man-hours that will go into developing your software. No project has a spot-on estimate of how long it would take but involving experts and having an educated forecast is better than having a ballpark figure.
Though the overall focus of outsourcing is to look out for a cheaper labor force, the quality of resources has been a question of concern for a while. Hence it is better to evaluate the developers you hire before getting into a commitment where a long-term investment is involved.
To help you in the recruitment process, here is How Clarion Hunts Top Developer Talent.