Digital transformation has enabled small and medium businesses (SMBs) to focus on improving digital infrastructure, branding, and customer experience. Digital transformation is conquering new heights as global spending on services and technologies will reach $2.3 trillion, per a report by IDC. According to Gartner, digital transformation remains a top priority of SMBs in 2022.
So how can you implement a digital strategy for your SMB? There are many ways; for instance, you can add chat features to your website or improve digital content management procedures. Mid-market-size organizations feel more confident updating their technology with cloud computing and cost-effective enterprise solutions. Apart from these solutions, you must take several crucial steps to succeed in your digital transformation efforts.
What boxes do you need to tick to implement a successful digital transformation strategy for businesses?
1.
Promote Cooperation and Eliminate Silos
You can create a customer-centric business and increase operational efficiency for digital transformation. So, you need to dismantle silos and ensure all departments work together.
For instance, the budget for IT should not be the sole source of funding for a digital transformation effort. Other departments that stand to gain from the project should also way in.
Consider a scenario in which a bad user experience on an e-commerce website affects sales. A better eCommerce experience immediately benefits marketing and sales teams. They should oversee a portion of the budget and participate in the website's creation.
2.
Integrate Systems and Technology
For a successful digital transformation, you must ensure seamless connectivity between all of the systems in your business. However, most SMBs make the mistake of adopting numerous dissimilar solutions for their digital transformation requirements. They combine a multilingual, complex system (different formats, inputs, outputs, etc.). It results in difficulty in upgrading, collaboration, and maintenance.
Look for technologies and solutions that interact nicely with your current systems. Have broad capabilities when you scale up for a consistent, seamless digital approach. You may also use APIs to help software developers make it easier for business systems to communicate.
For instance, A great example of a digital turnaround is LEGO. The mishandling of its digital transformation was the main issue. The corporation worked in silos, making it difficult for people to comprehend what was happening. Digital media blunders diverted attention from the core business.
i.
Invest in AI and ML
Small businesses can better prepare for the digital future and invest in ML algorithms. It helps transform customer data into tailored experiences. AI imitates human intellect to recognize and respond to actions and occurrences. Programs based on events and behavior insights from ML can enhance business operations and customer experiences.
Businesses and organizations may remain ahead of the curve by using AI and ML to plan and execute a digital transformation. Real-time data analysis using AI and ML helps businesses become more responsive to events and changes in customer behavior while improving IT operations.
For instance, DHL invested significantly in an advanced quality control center. Its key characteristics include analyzing big data to estimate deliveries, in-the-moment problems, and shipment/flight movements developed through machine learning and artificial intelligence (AI).
ii.
Mobile Technology Solutions
Digital transformation owes its recent success to mobile technology. The pace and frequency of contact between businesses and their customers have drastically surged with mobile devices. Real-time data is accessible through these interactions, which is practically impossible to recreate using any other method.
A mobile-friendly interface is also essential for every company's online presence. This includes developing mobile-friendly websites, applications, and online communities for membership-based organizations.
Example - Embedded banking is a brand-new method of banking and doing business that Intergiro developed. Payroll systems, billing, and reconciliation are all automated. It integrates with apps for holding your cards, wallets, and checkouts.
iii.
IOT
Many startups have built their whole business models around their IoT product line. However, traditional businesses in various industries can also profit by incorporating cutting-edge IoT technology solutions to support their current operational strategies.
IoT-based advanced technology solutions can assist businesses in gaining and preserving a competitive edge in their sector. Companies may boost productivity, cut expenses, increase operating capacity, and provide a better customer experience by utilizing the resources at their disposal.
Example - Using Machine Learning (ML) and IoT on the streets to control and direct traffic in real time frequently illustrates IoT in action.
iv.
Cloud Computing
New advances in cloud computing technology can help alleviate issues and challenges brought on by legacy systems or security concerns. Delivering flexible, on-demand access to the resources supporting these new digital business solutions relies heavily on cloud-based infrastructure. As business goals change, enterprises can scale the infrastructure necessary to accommodate those changes. It lowers the risk of squandering IT resources, preventing investments in new digital services.
Example - A hybrid cloud is a more adaptable and reasonably priced computing platform used by Johnson & Johnson. It enables J&J to perform complex data modeling more effectively and affordably than in the past.
3.
People, Process, and

Technology
Discuss hiring and reskilling plans and methods and choose technology and plan strategies. Identify and implement the organizational components that are most important to address these needs. Purchasing technology without considering how it will affect people and processes is comparable to buying a pool without knowing how to swim.
Technology cannot solve today's problems without the necessary people and processes. Don't overly complicate the technology, as well. Start by putting the systems you require online, and then start expanding. Overloading people with too much work at once can reduce the technology's usefulness.
It's simple to fall in love with the newest technology only to realize too late that it doesn't meet the evolving demands. It is worth getting the support and buy-in needed to maximize any technology.
Check out our blog on Enterprise digital transformation best practices.
4.
Use Collaboration Tools to Link Internal Departments
Collaboration encourages transparency in the workplace, and staff members experience more satisfaction and engagement. Some popular collaboration tools you can use for your small business include:
GoToMeeting - Web conferencing software GoTo Meeting is a set of the online meeting, desktop sharing, and video conferencing software that enables users to have live online discussions with other computer users, customers, clients, or coworkers.

Slack - Slack is a messaging app created for businesses and widely used by individuals.

WebEx - An American firm called Webex by Cisco creates and markets applications for online conferencing, videoconferencing, unified communications, and contact centers.

Asana - A work management software for teams called Asana is available on the web and mobile devices.

ProofHub - An all-in-one project management and communication platform, ProofHub, makes it simple to manage teams and projects effectively.
5.
Check the Effectiveness of the Systems
Only by doing this can you be sure that your digital transformation is paying off and isn't just a time and money waste.
It would help if you considered factors like reaction times, system availability, data quality, etc., when evaluating performance. Additionally, keep a watch out for modifications in user behavior. Someone or something may not operate as it should if people start acting differently.
You obviously can't accomplish all of this on your own. You will need to rely on tools and services to monitor performance and gain insights into how you can use your existing systems.
For a consistent, seamless digital strategy, seek technologies that integrate well with your current systems. You can add a new range of adaptable capabilities when expanding. Add APIs to improve system-to-system communication in businesses.
You are additionally digitizing with widely used technology your users are accustomed to, such as the cloud, mobile applications, collaboration tools, etc. It will lower expenses and training requirements. Select the platforms and software your users use most frequently. Standardize formats and procedures to ensure smooth information flow, improve collaboration, and enhance your workflows with digital capabilities.
6.
Implement Automation & Improve Accuracy and Work Efficiency
You will discover helpful tools for business administration, from keeping track of employee attendance to calculating salaries and inventory management to updating customer data and automating email and marketing campaigns.
You can achieve maximum organizational efficiency by organizing your duties and digitizing your business processes with top automation tools for small businesses like:
IFTTT - IFTTT is a corporation that operates online digital automation systems that it makes available as a service.

ActiveCampaign - A cloud-based software platform for minor- to medium-sized organizations called ActiveCampaign, provides software for automating the customer experience.

Leadformly - Conversion-focused lead capture forms from Leadformly. Save time by using multi-step forms and pre-tested templates that help you segment audiences more effectively.

Google Ads is an online marketplace for advertising where companies may put bids to have their videos, service offers, or quick ads shown to website visitors.

WordStream - Finding the right keywords for your company's SEO and PPC campaigns can be time-consuming, but with the help of WordStream's free tool, it's a breeze.

Calendly - A software startup called Calendly creates a platform for corporate communication that teams use to plan, organize, and follow up on external encounters.

Hootsuite - A social media management tool that offers customers a unified user interface to control their online activities.
Where You Can Implement Digital Transformation Strategies for SMBs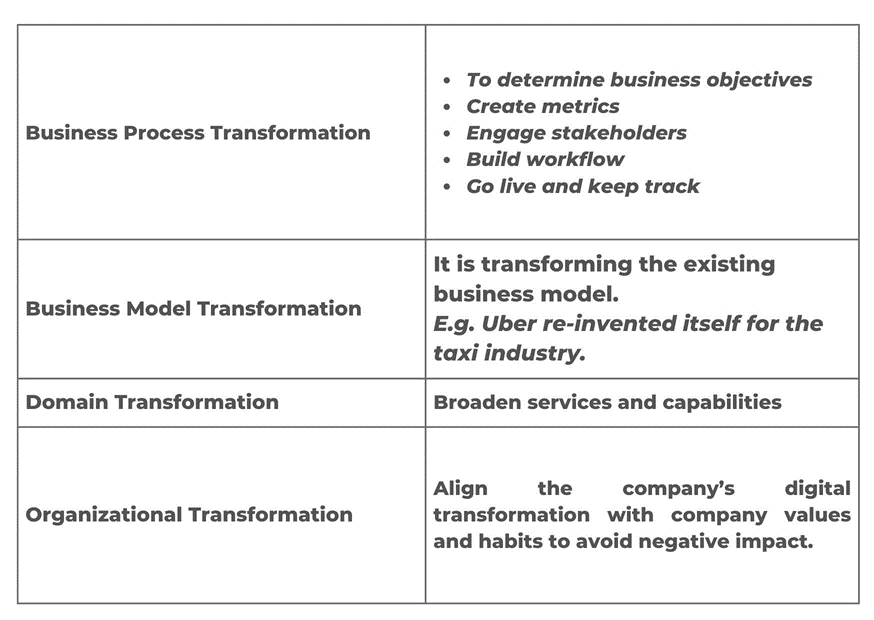 Here's a case study – Our software developers helped a client from healthcare industry improve their existing website to achieve digital transformation.
Conclusion:
It may be intimidating to begin a digital transformation. You may utilize technology with proper planning, priority, collaboration, and employee training. Workflow software for small businesses may boost productivity, cut expenses, enhance customer satisfaction, and expand your company profitably.
At Clarion, we assist your small business in embracing digital transformation. We think your #1 goal should be improving the consumer experience. So, contact us at info@clariontech.com if you want to grow your company through a digital strategy.